This past weekend I stayed at the Nines in Portland, which is a Starwood Luxury Collection hotel.
I had never visited Portland before and had heard good things about the Nines, so when I saw a reasonable fare and also a reasonable rate at the hotel I jumped on the opportunity. My rate was about $120 per night, which is a steal for a Luxury Collection hotel.
I arrived at Portland Airport in the afternoon and took the MAX Light Rail from the airport to Pioneer Square, which is right across the street from the hotel. The ride took about 40 minutes and cost $2.40. Well, it took 40 minutes on the outbound. On the return it took over an hour, since, as the conductor so eloquently put it over the PA "something's wrong with this train, so we gonna go slow." Reassuring!
There were several bellman at the entrance that immediately offered to help me with my bags, not that I needed it.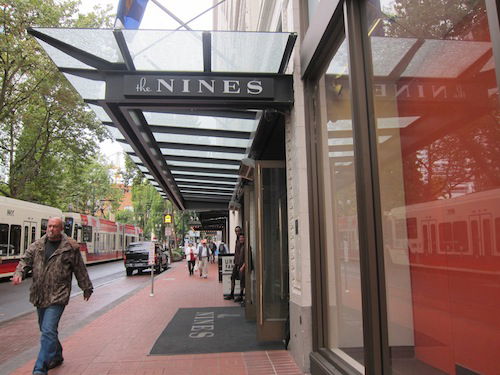 Hotel entrance
The lobby of the hotel is actually on the 8th floor, so at the entrance are only the bellman and elevators which bring you up to the hotel.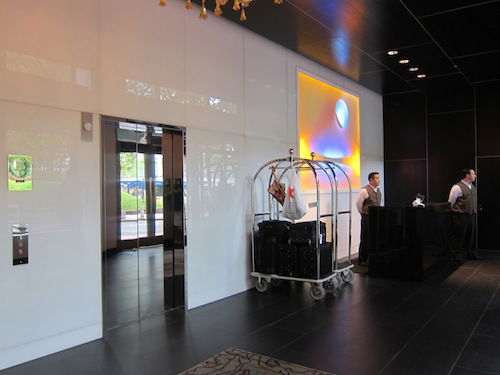 Hotel ground floor
I was really impressed by the lobby and atrium, which were nicely decorated.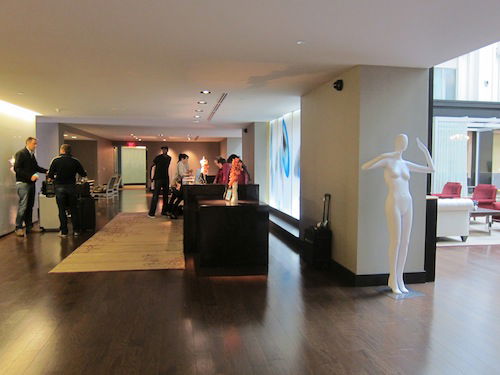 Lobby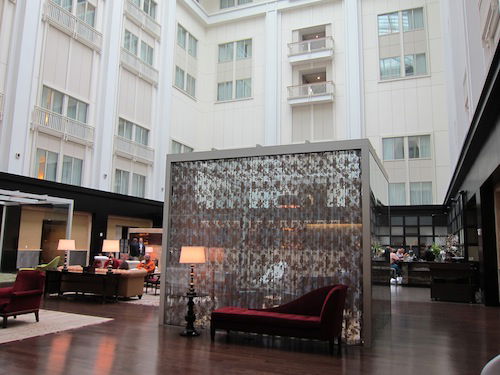 Atrium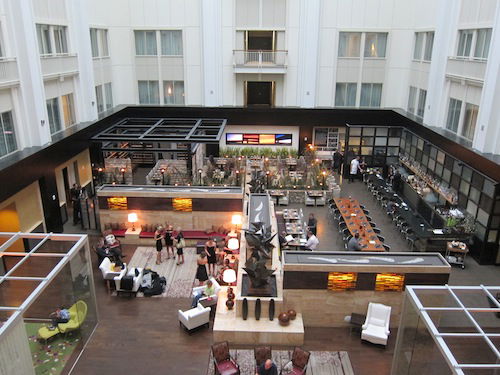 Atrium looking down
There was a short line to check-in, though once it was my turn the agent was friendly, perhaps overly so. She welcomed me as a Platinum member and informed me I had been upgraded from a superior to a deluxe room. Obviously that's not an exciting upgrade, but in this case all of the suites were legitimately full (at least according to spg.com).
She informed me of the hours the restaurants and club lounge (which I had access to) are open.
My room was located on the 10th floor, so I took the elevator up to my room. The elevator requires the key to be swiped to get on any floor other than the lobby or entrance.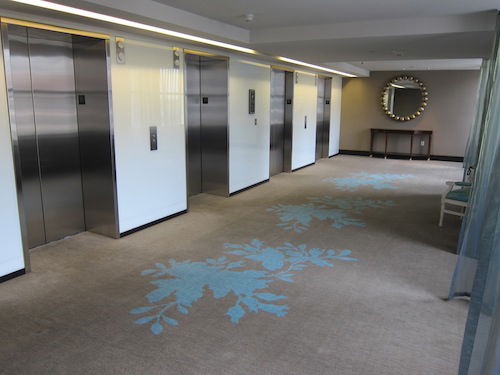 Elevators
While the hotel has a boutique feel it's quite large with over 300 rooms, and I believe my room was located as far as possible from the elevator based on the amount of walking I had to do.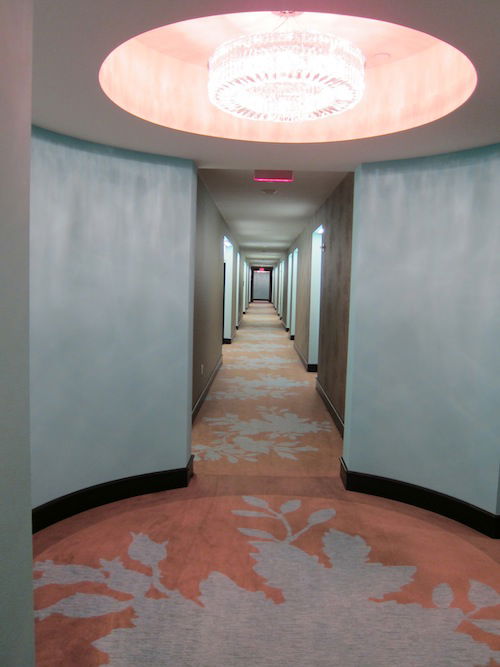 Hallway
When I first entered the room I was surprised by how big the hallway was, so figured this was actually a pretty huge "deluxe" room.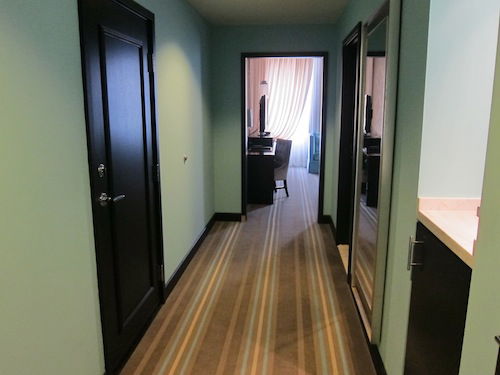 Room entrance
As it turned out the hallway was about the same size as the rest of the room, though I was traveling alone so that was perfectly fine by me. The room was really nicely decorated with an incredibly comfortable bed (I haven't slept that well in a long time), day bed, desk, and flat screen TV.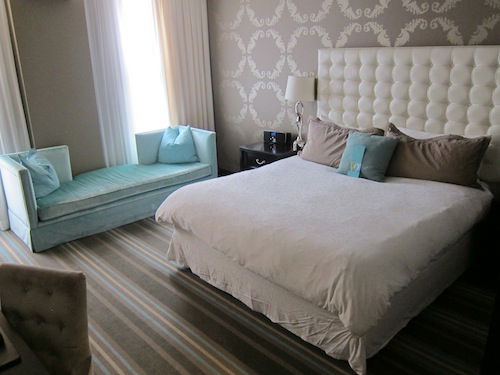 Deluxe room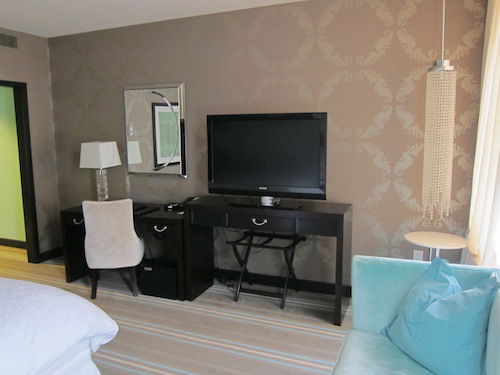 TV and desk
My room didn't have much of a view given that the Nines is right in the middle of the city surrounded by other buildings.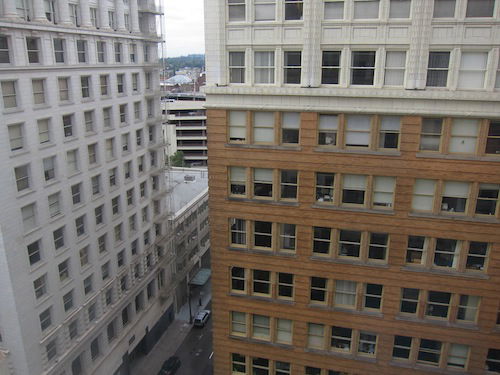 View from room
Near the entrance was a well stocked minibar, not that it matters since this isn't an Andaz or InterContinental.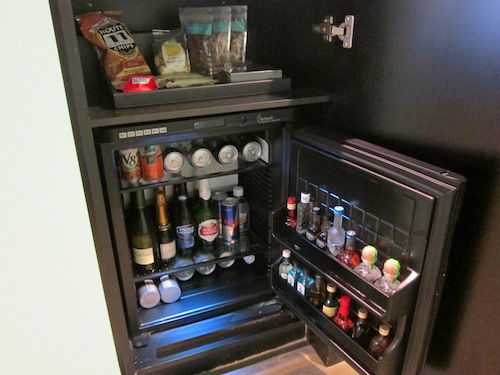 Minibar
The bathroom was a decent size and featured an enclosed shower.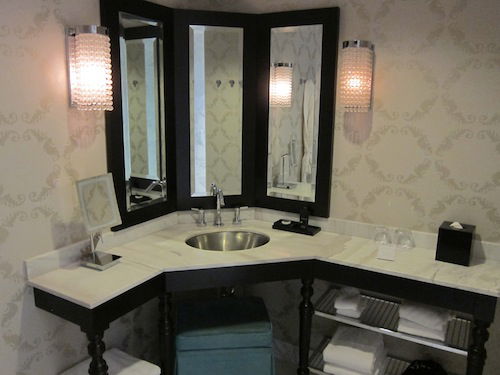 Bathroom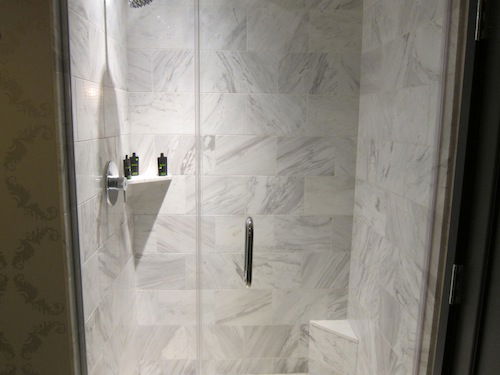 Shower
The Nines is all about the environment, so the toiletries were in cheap recycled containers. My major issue was that the containers were quite small, so I had to squeeze all the shampoo/shower gel out that I could, and the packaging material was so cheap that my hand was black from the packaging rubbing off on me.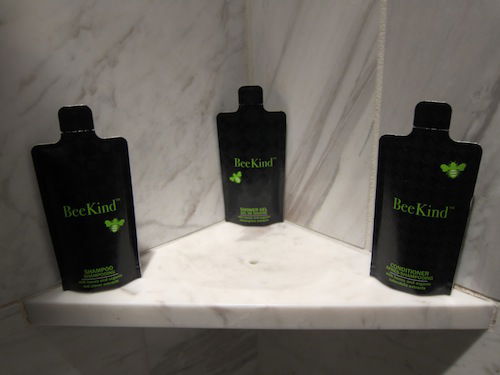 Bath amenities
One of the highlights of the hotel has to be the club lounge which is located on the 12th floor. My expectations of club lounges in the US are pretty low, so I was pleasantly surprised by this one. It easily ranks as one of my favorite "mainstream" club lounges in the US, along with the InterContinental San Francisco.
For one, the lounge is really nicely decorated and has very attentive staff that are there all day, as opposed to other club lounges that are only staffed during certain times. They're super cheery and attentive, constantly asking if guests want anything.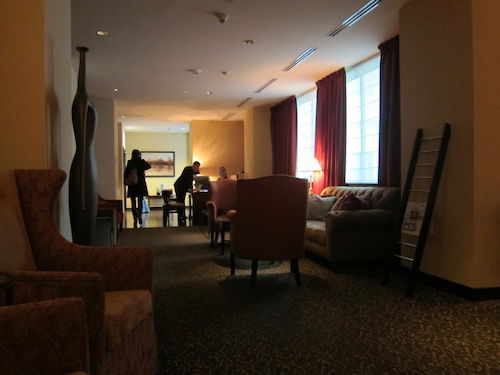 Club lounge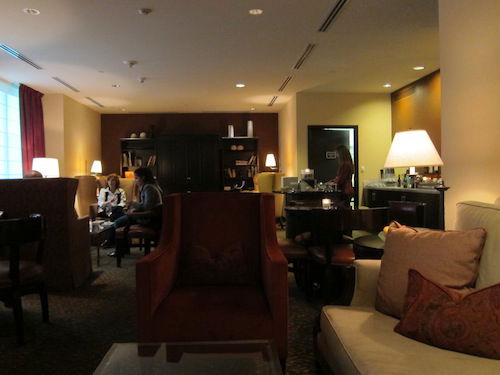 Club lounge
While I don't really drink, it's also worth noting that they serve free alcohol… all day long!
The club lounge serves evening snacks and drinks from 5PM to 8PM daily.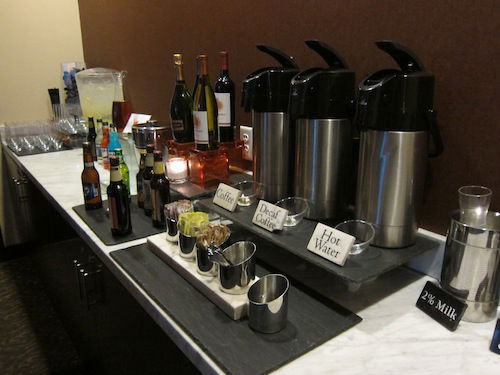 Drink display
While the spread won't fill you up and act as a substitute for dinner, it's really good stuff, especially compared to most Westin/Sheraton lounges you'll find in the US.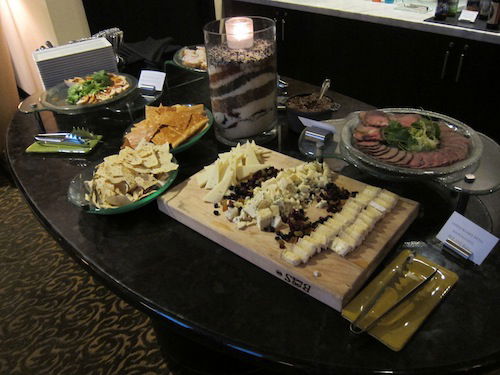 Evening spread
Now the coolest thing about the lounge is they have an evening dessert spread from 8PM till 10PM (11PM on weekends) featuring sweets and cordials.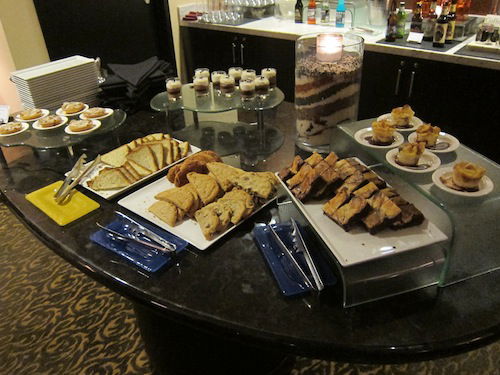 Dessert spread
They also claim to have a "mid-day snack," though I believe that consists of chips and salsa.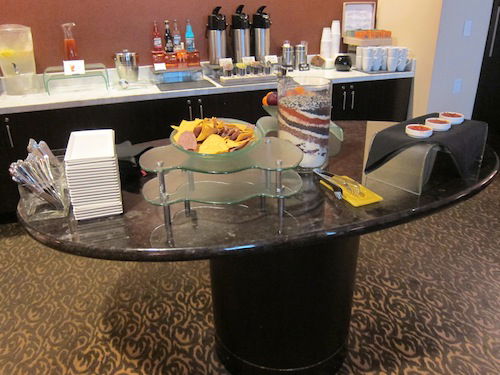 Midday "snack"
I was traveling with a friend (he got a suite upgrade… rar!) and we decided to have breakfast at the Urban Farmer restaurant, which is located in the atrium. Or more accurately, I suppose, we had brunch, given that we ate at around noon (they serve brunch until 3PM on weekends).
The restaurant was fairly empty and we were quickly seated.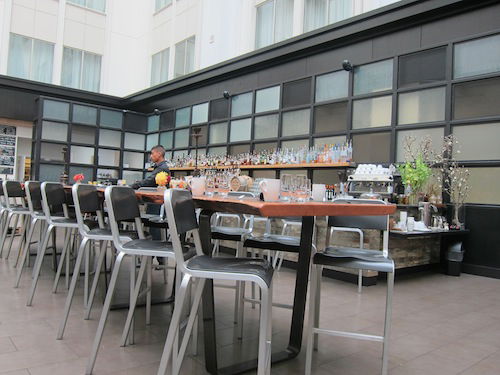 Urban Farmer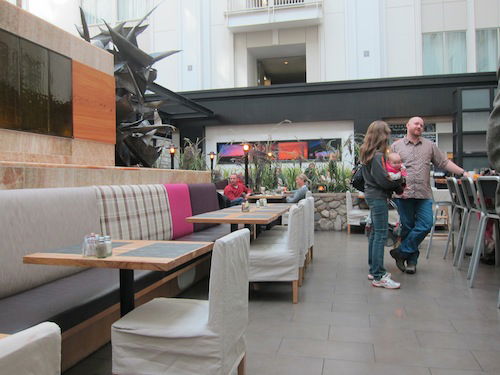 Urban Farmer
The menu had everything one could ask for, though the menu design itself drove me crazy. I never paid a whole lot of attention in college, with the exception of one consumer behavior class I took which I found especially interesting. I remember spending a whole day talking about the logic behind menu placement, and as a result this menu drove me crazy. You don't put fruit next to a shrimp cocktail!
I'm all for brunch, but darnit, bunch the lunch items together and bunch the breakfast items together, in my opinion.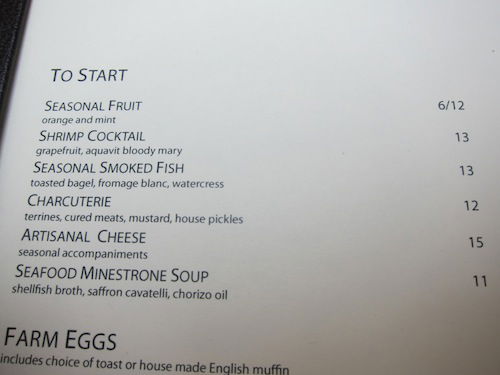 Brunch menu
Anyway, I went with quiche, which was served with an "english muffin." The quiche was really good, and the english muffin really big (and good).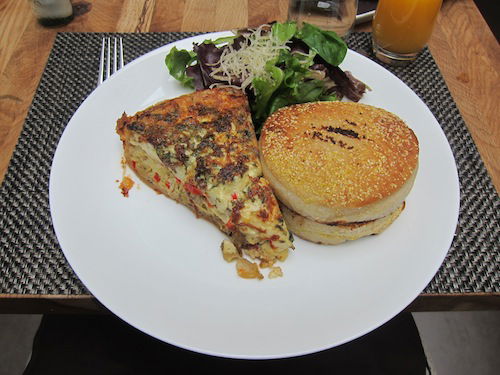 Vegetable quiche and english muffin
My friend had the huckleberry waffles.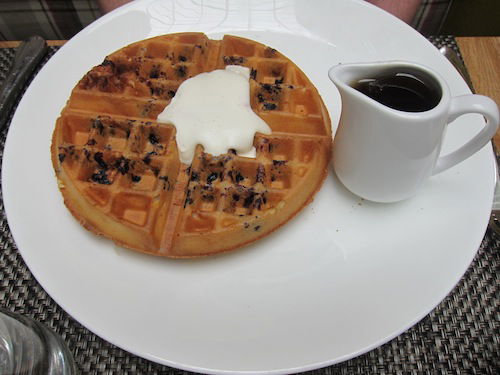 Huckleberry waffles
One of the nights we also decided to have dinner at Urban Farmer. The restaurant has a whole different atmosphere at night, so kudos to them for the transformation in ambiance.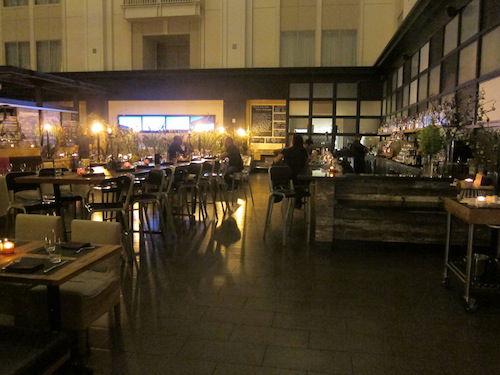 Urban Farmer at night
The restaurant is really, really serious about meat. Not only do you choose the type of meat you want, but you choose what the cow ate for the last few months of their lives.
Full disclosure, I was a vegetarian for about seven years when I was younger after I saw one of those slaughterhouse videos, so I'm still a bit "sensitive" when it comes to meat, which is why I often don't get creative with food.
Our waitress was great and explained the menu in great detail for us newbs. Nonetheless I couldn't help but chuckle as she described what a grass-fed tenderloin was — "well, for the grass-fed option the cow ate grass for the last few months of its life, and you can really taste it." I had a hard time not laughing, because I was asking myself why the heck I'd want to have meat that tastes like grass, let alone pay a premium for it.
Yes, I realize I'm terribly unsophisticated and taking it far too literally, but to the common person that just sounds a bit strange!

Menu
I ended up going with the grain-finished tenderloin, which was very good though by no means memorable.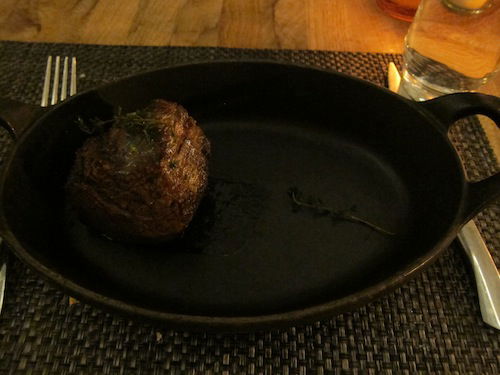 Filet
We also had a side of fries and mac & cheese, which were excellent.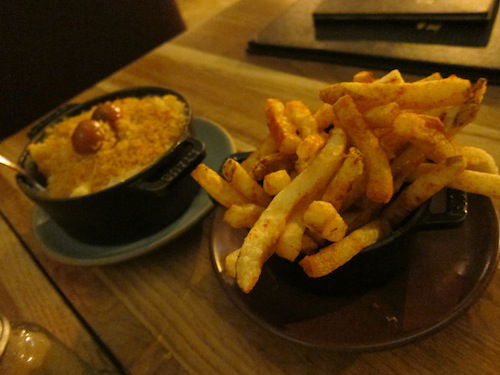 Sides
Anyway, I really like the Nines hotel. The hotel is modern, nicely decorated, and feels a lot smaller than it is. I especially like the club lounge, which is easily among the best I've been to in the US. I'd return to this hotel in a heartbeat, especially since Portland is a pretty cool city.