As long time readers may remember, last year I was invited to participate in the Starwood American Express "Stars" program. This entailed attending several cool events including the Tribeca Film Festival, the US Open, and New York Fashion Week, as well as some hotel stays at several Starwood properties in the US. The best part was that for each experience I was invited on, I was able to give away a similar experience to a lucky blog reader.
The Starwood American Express invited me to participate in their "Stars" program again this year. The first such experience was a couple of weekends ago, where I could choose a summer getaway from a list of hotels. I chose the St. Regis Monarch Beach, one of the St. Regis properties in the US that I've always wanted to visit. Best of all now that I live in Seattle it's just a short flight away.
So in the interest of full disclosure the Starwood American Express covered the cost of my flights and the hotel stay, though I was responsible for all other incidentals.
Furthermore, stay tuned till tomorrow, because between 11AM and 5PM ET I'll be giving away 30,000 Starpoints on Twitter in conjunction with my stay. I'll have a post on the blog at 11AM ET sharp with the details on how to win.
Anyway, usually I associate Orange County with nice weather, though go figure the two days we were there we had nothing but clouds and rain, while it was sunny in Seattle. We flew into Orange County Airport, rented a car, and drove to Dana Point, where the St. Regis Monarch Beach is located. It was about a 30 minute drive without traffic.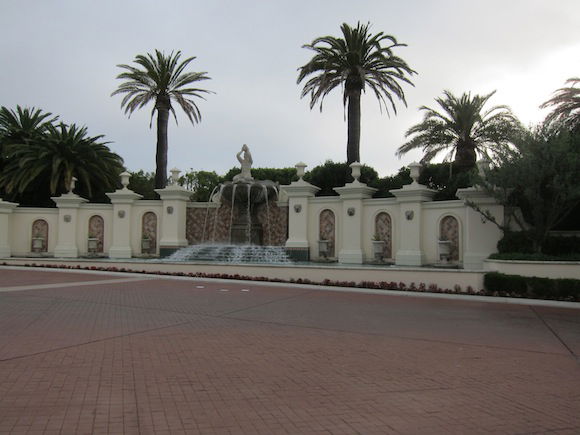 Hotel entrance
As we pulled up to the front of the hotel the bellman offered to assist us with our bags, though we only had carry ons, so declined the help. We did take them up on valeting the car, which cost $35 per night.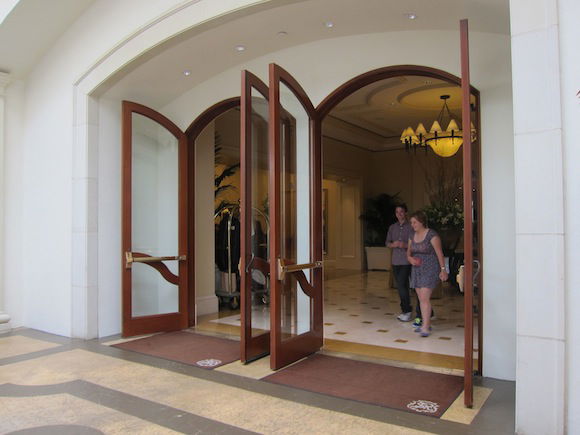 Hotel entrance
The lobby was fairly grand, certainly not as blinged out as the one at the St. Regis Bal Harbor, though still nice. The reception is located immediately inside the lobby on the left, where we were quickly helped. The check-in desks were "traditional," while I've found most St. Regis properties to have individual desks where you sit down during the check-in formalities.
The check-in process was efficient and I was offered the Platinum amenity, for which I chose breakfast. Unfortunately no room upgrades were available, which I wasn't surprised by given that the hotel showed as sold out for an entire week prior to our stay.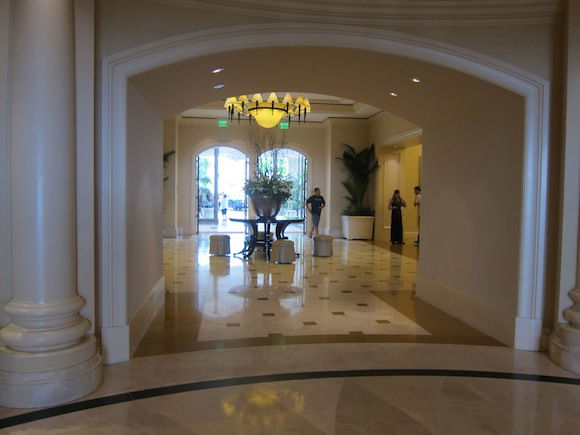 Lobby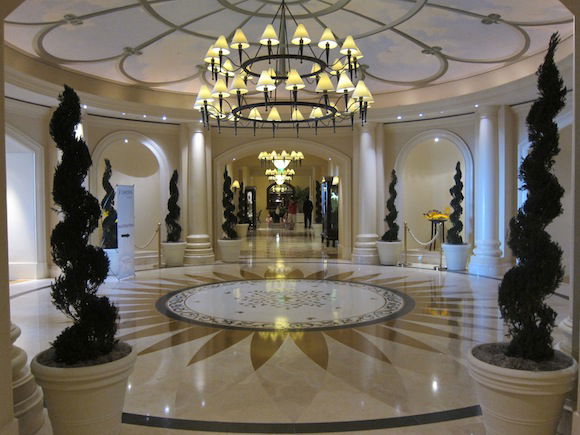 Lobby
The lobby is located on the fifth floor, and then most guest rooms are on lower floors. We were on the third floor, room 329.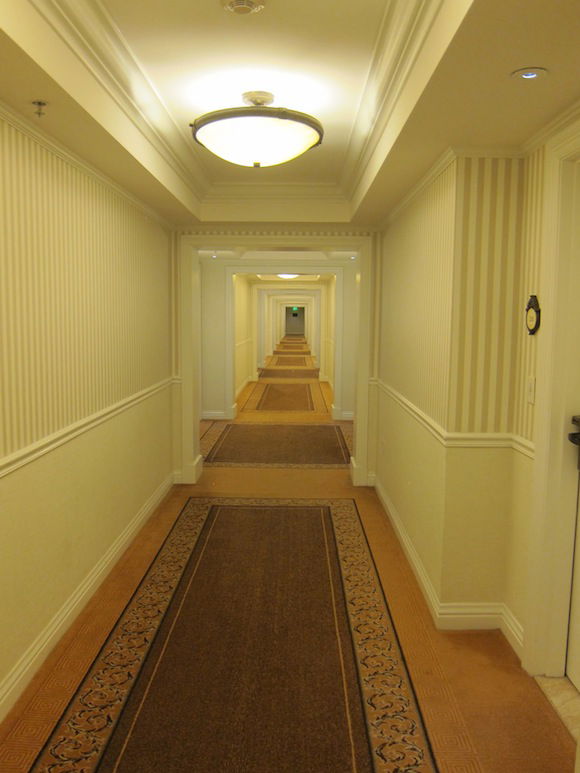 Third floor hallway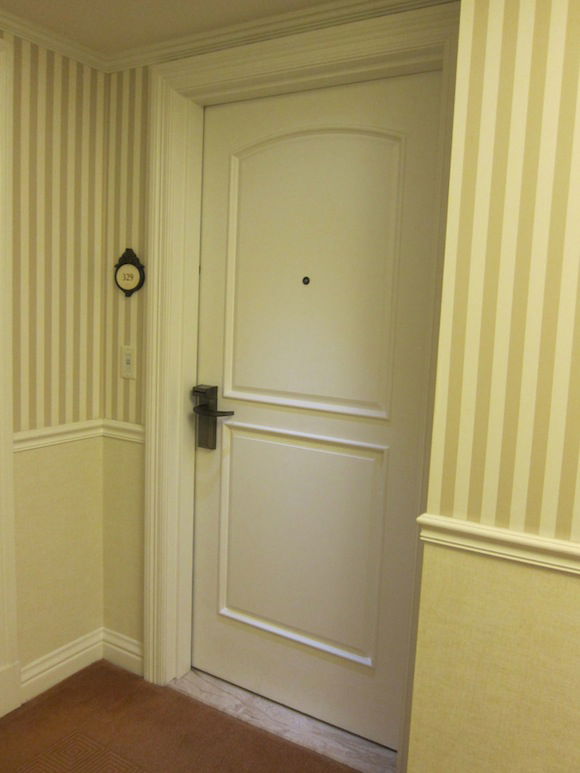 Our room
The room itself was extremely spacious for a standard room and felt "fresh" given that this isn't a brand new hotel or anything.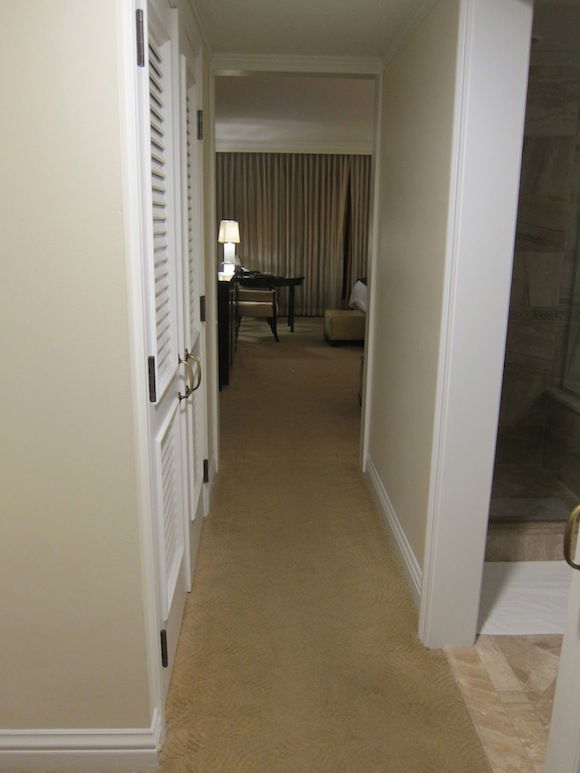 Room entrance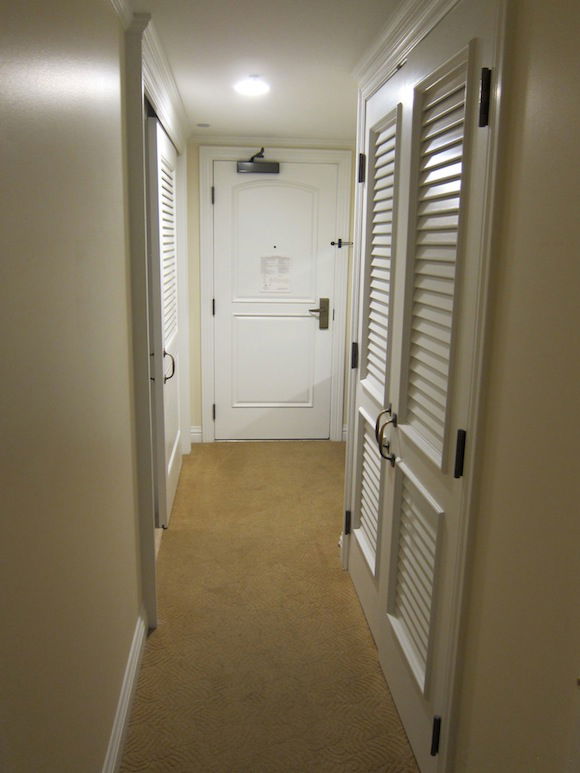 Room entrance
The room had two extremely comfortable queen beds, a desk, and a flat screen TV.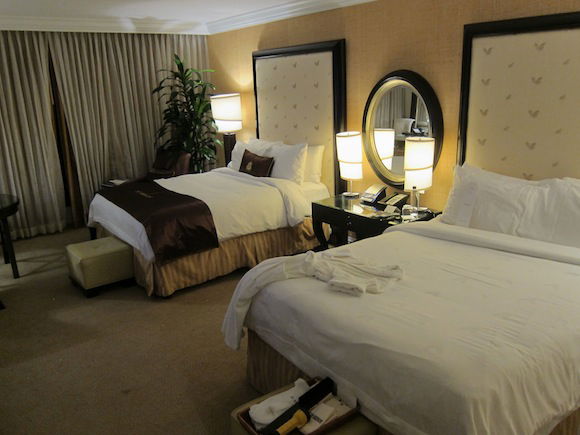 Queen beds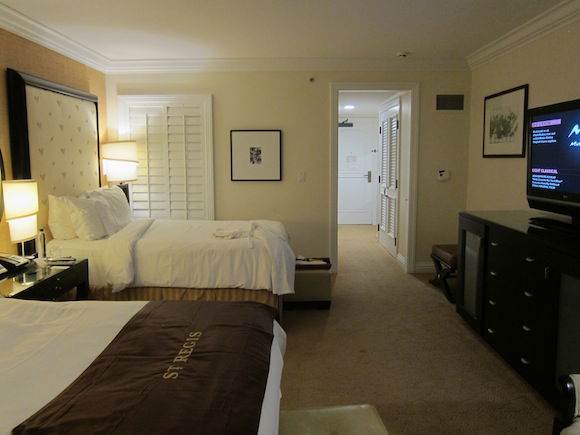 Queen beds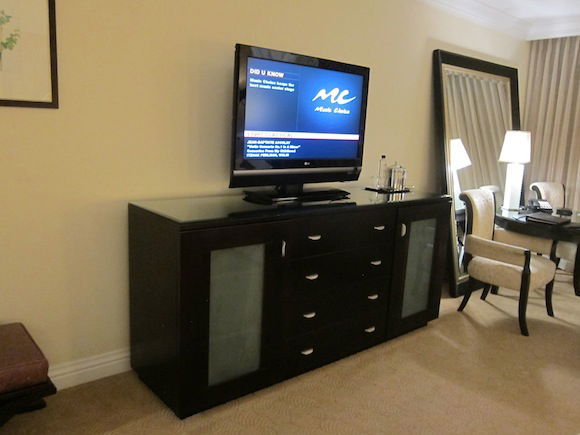 Flat screen TV
There was Music Choice music playing on the TV as we arrived, though I couldn't help but laugh at the ad they were running.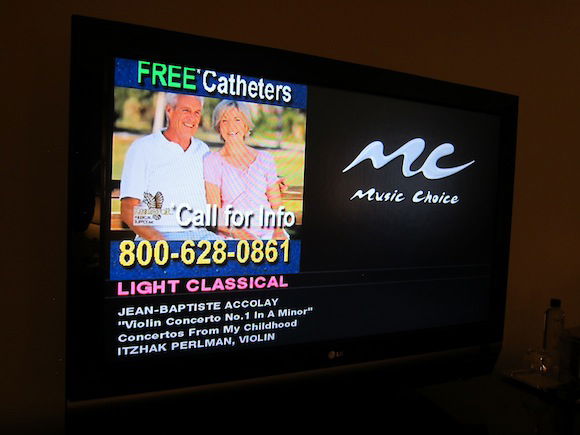 Seriously?!
By the window was a desk with two padded chairs.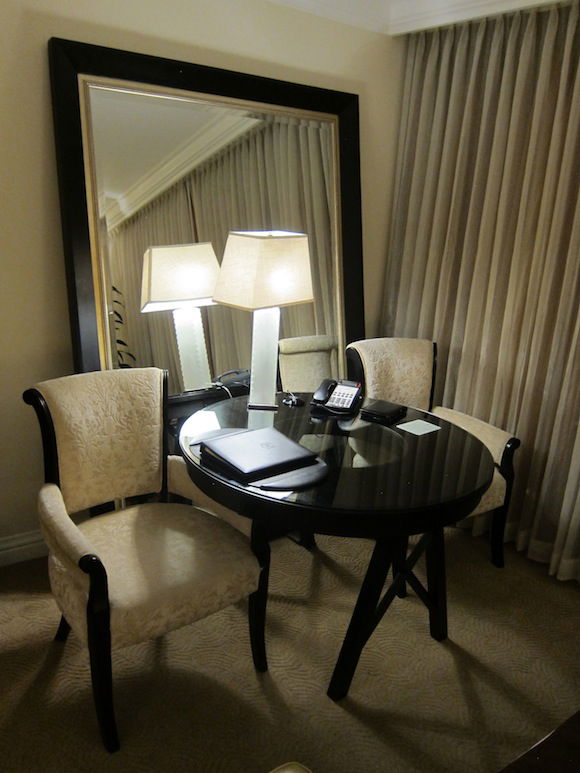 Desk with chairs
On the desk was a card and welcome amenity consisting of pralines and macarons.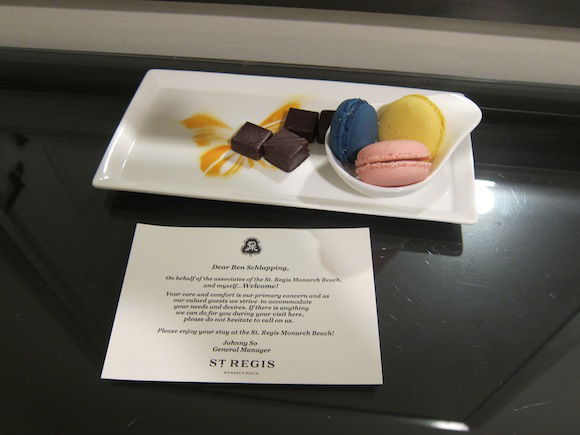 Welcome amenity
Then there was a patio. Unfortunately, the room didn't have a view of the pool, but rather of the backside of the hotel.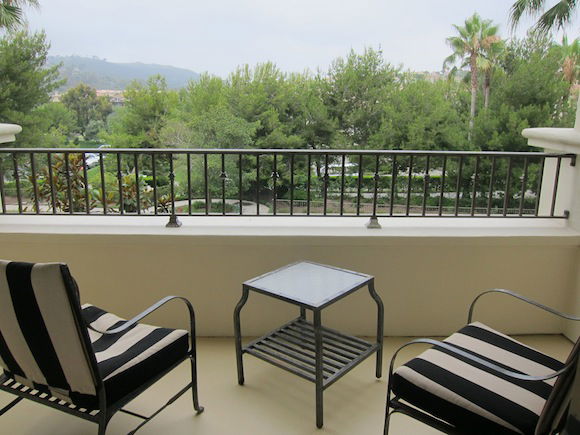 Patio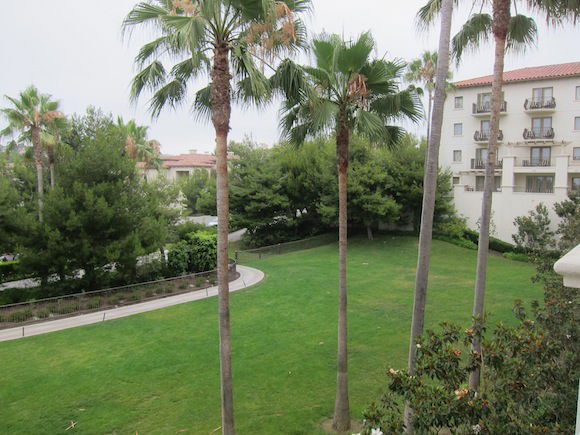 View from the patio
The bathroom featured double sinks, a soaking tub, a walk-in shower, and a toilet in a separate room.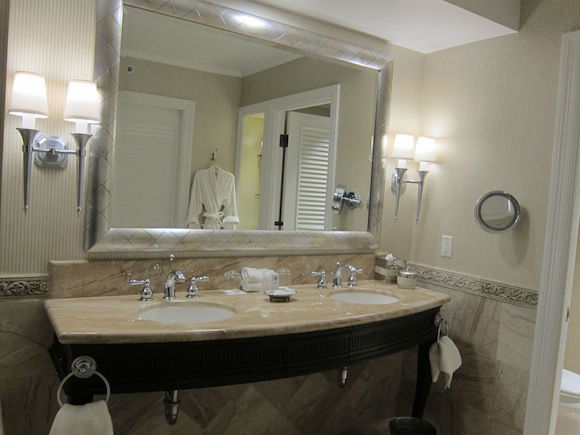 Double sinks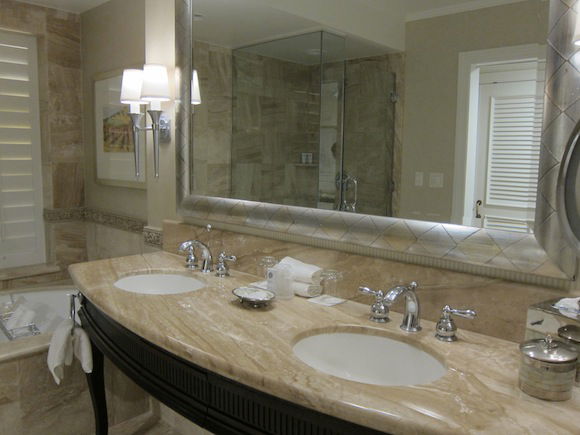 Double sinks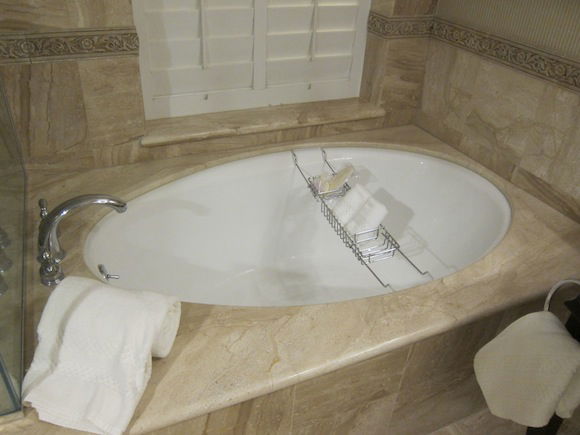 Bathtub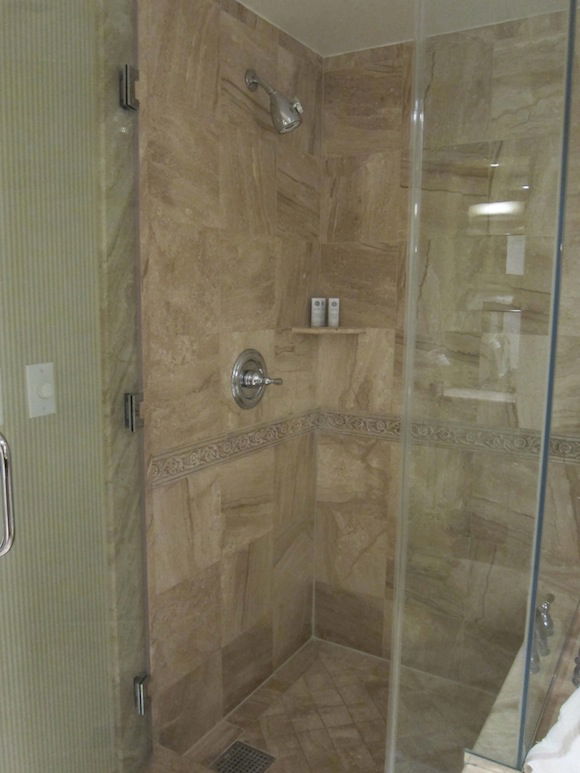 Walk-in shower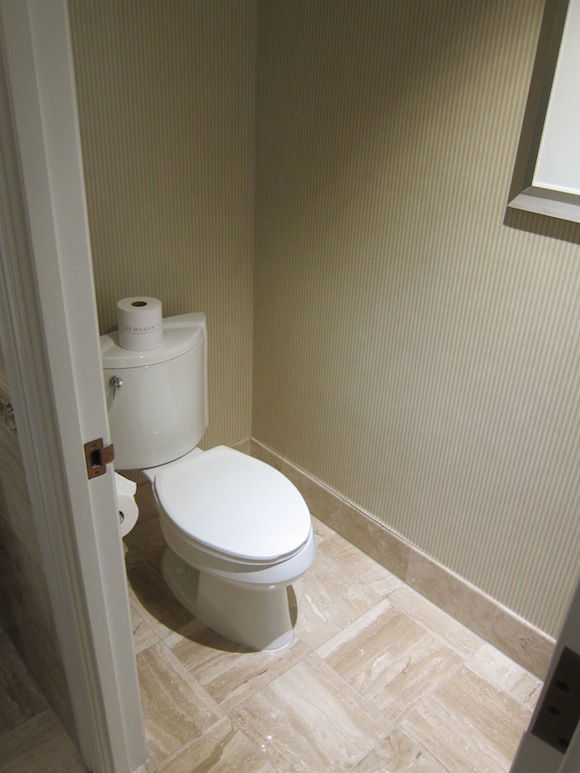 Toilet
As is the norm at St. Regis properties, the toiletries were Remede branded.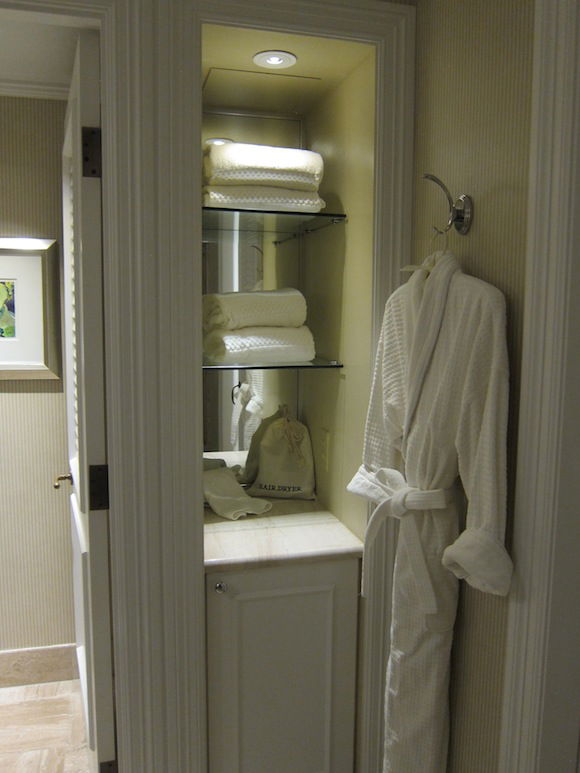 Towels and bathrobes
Breakfast is served daily at Motif restaurant from 6:30AM till 10:30AM. As a Platinum member the breakfast benefit consisted of a $20 credit per person. We could either order off the a la carte menu or eat from the buffet for a $13 upcharge per person. That seemed worthwhile, so that's what we did.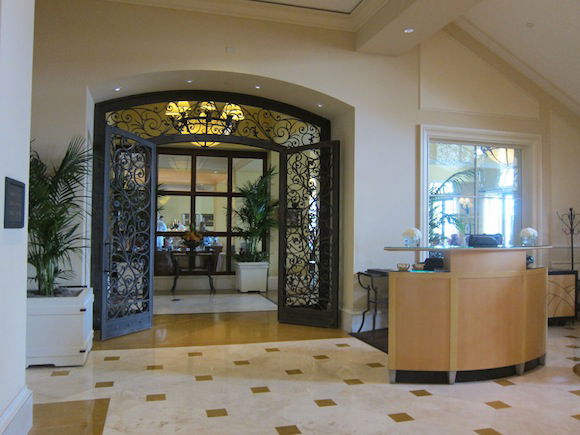 Motif Restaurant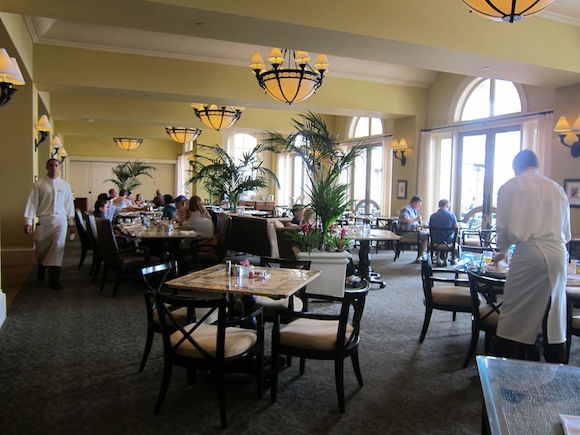 Motif Restaurant

Menu
The buffet consisted of all kinds of cold options like pastries, muffins, croissants, cereal, yogurt, muesli, salmon fresh fruit, etc.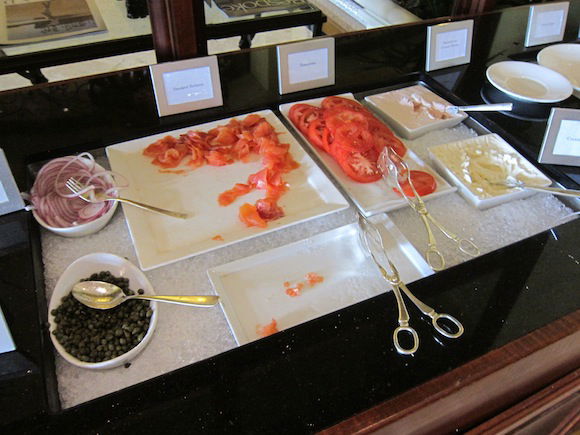 Breakfast buffet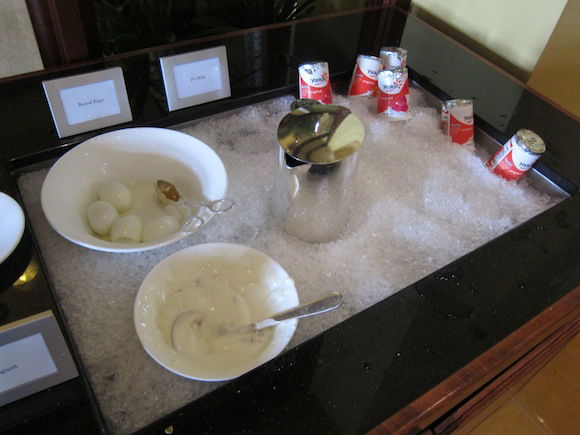 Breakfast buffet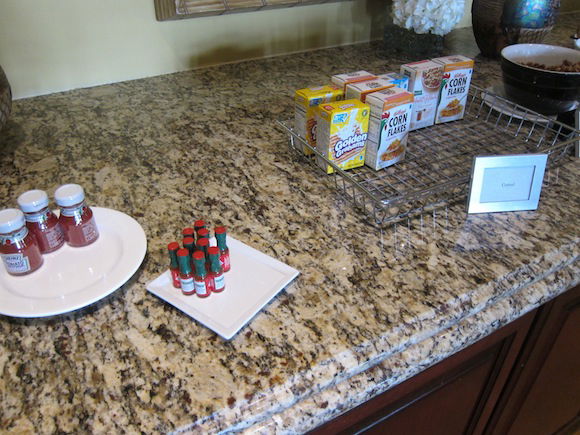 Breakfast buffet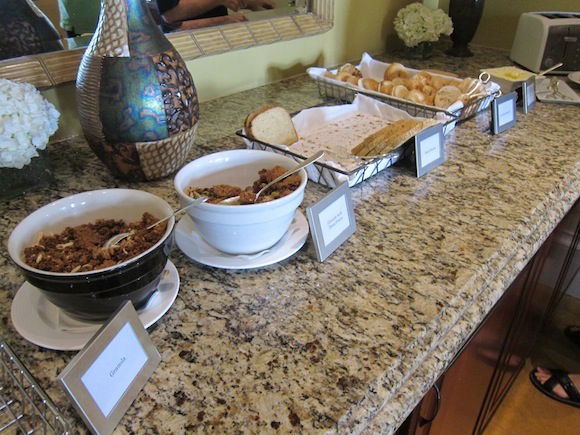 Breakfast buffet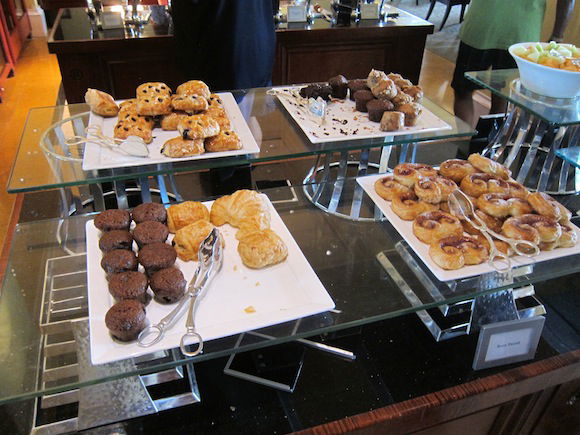 Breakfast buffet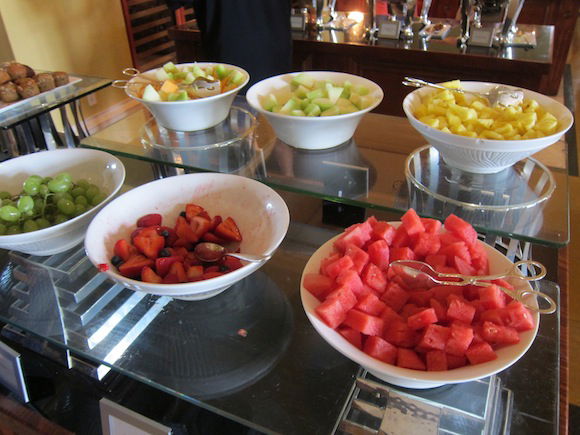 Breakfast buffet
Then there were some hot dishes like scrambled eggs, eggs benedict, sausage, breakfast potatoes, as well as an omelet station.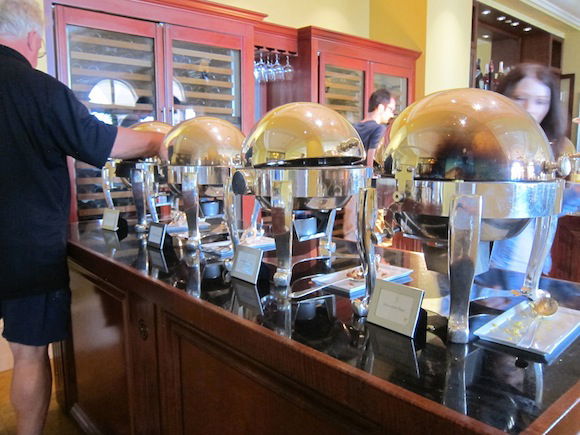 Breakfast buffet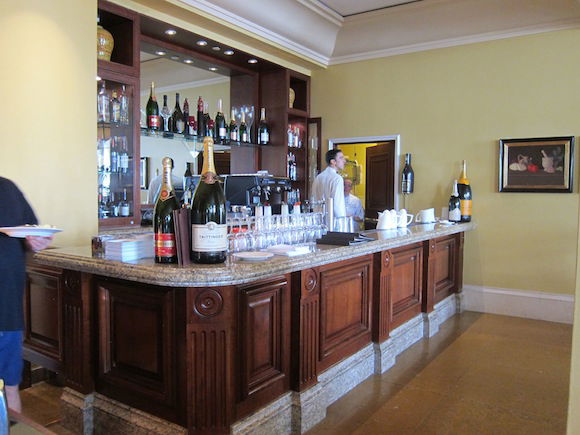 Breakfast buffet
In terms of the hotel's other facilities, there's a very nice pool located at the bottom of the resort, which can be accessed either by elevator or by descending the rather grand exterior staircase of the hotel.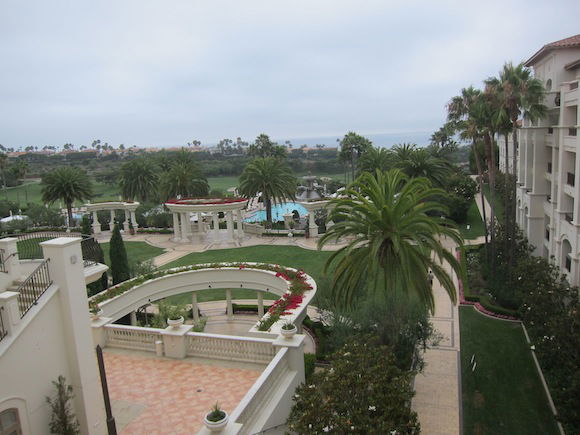 Pool view from hotel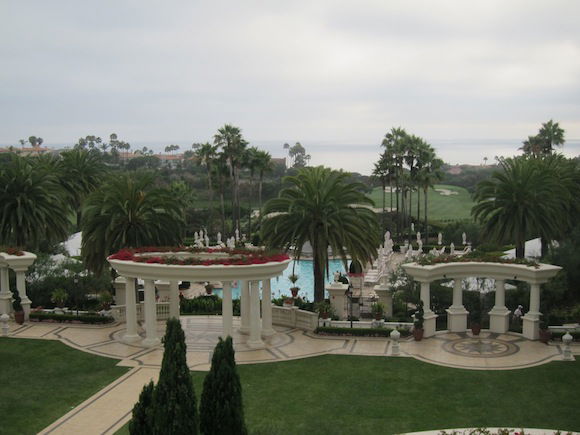 Pool view from hotel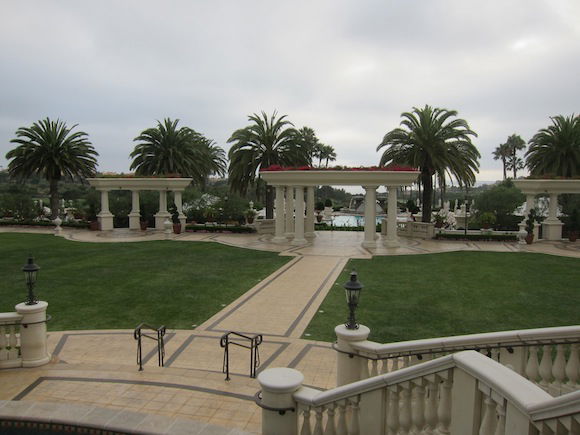 Pool view from hotel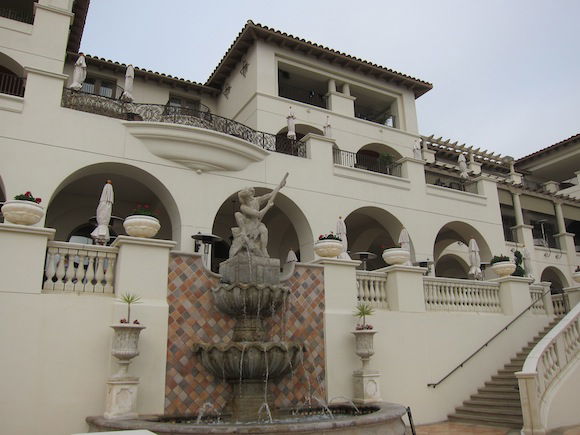 Hotel view from pool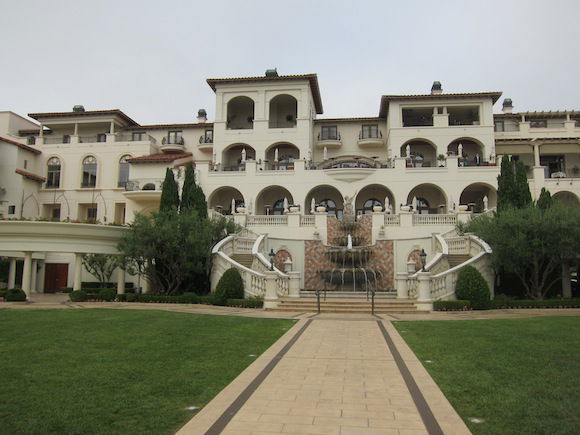 Hotel view from pool
The pool was beautiful, though go figure the sun didn't shine once in the two days we were there, which must be some kind of a new record. So we spent most of our time driving around, since it's not all that fun to lay out at a pool when it's cloudy and in the 60s.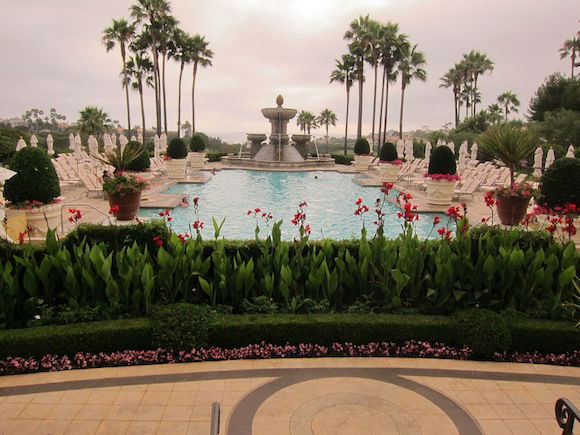 Pool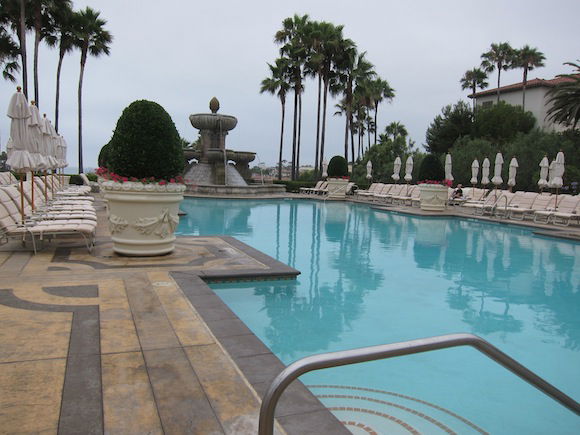 Pool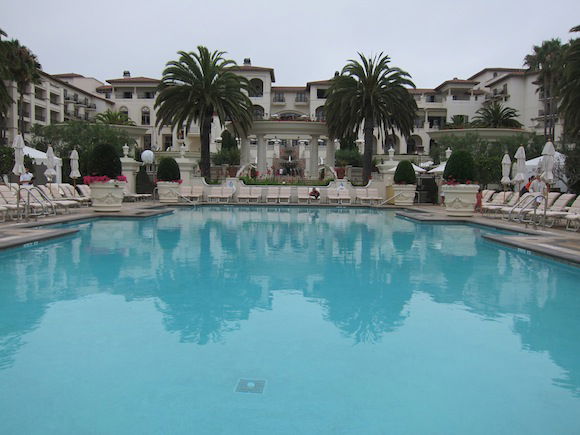 Pool
In addition to the main pool there was a lap pool over at the spa.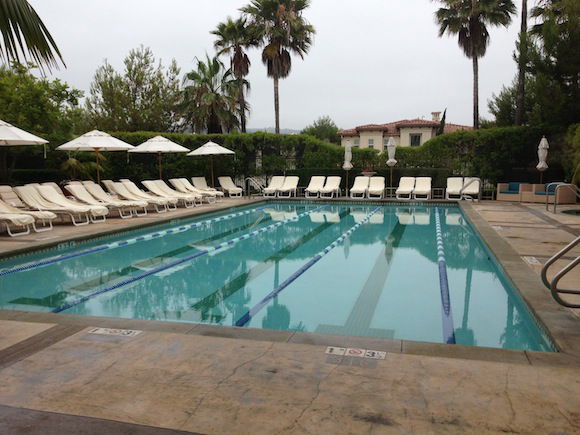 Lap pool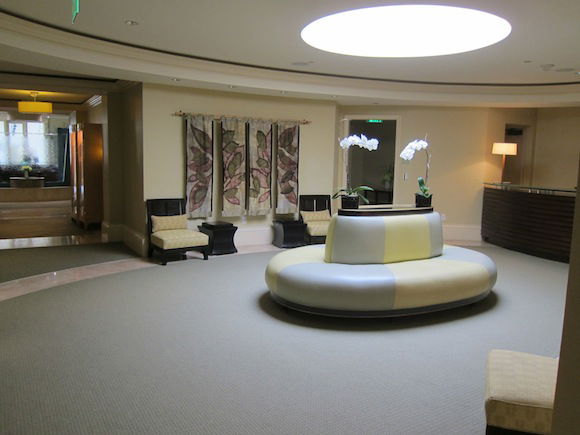 Spa
The gym was nice and always busy, which I guess shouldn't be surprising for Southern California.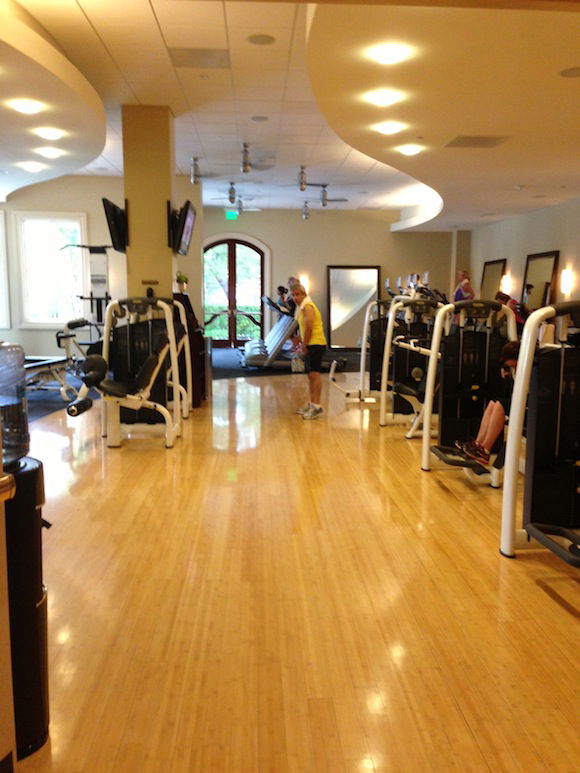 Gym
Anyway, despite the weather I had a great stay on the whole. Rates at this hotel are usually $375+ per night, which isn't surprising given that this is Dana Point. The hotel seems to be sold out almost every weekend, often weeks in advance, so it seems to have a pretty big "following." That's no surprise given the amount of money people in the area have and the desire for a weekend getaway, I assume. If you're looking for a week long vacation or a nice relaxing pool, this place probably isn't for you. But if you're looking for a weekend getaway at a "hip" SoCal hotel, the St. Regis is where it's at.
The hotel is a category six Starwood property, making it 20,000 Starpoints per night (with the fifth night free) or if cash & points is available that's 10,000 Starpoints plus $180 per night.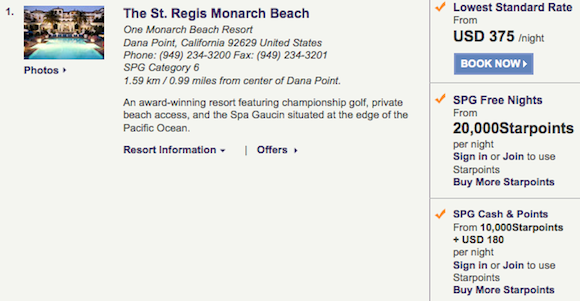 Thanks for reading and remember to stay tuned till 11AM ET tomorrow for a chance to win 30,000 Starpoints from the Starwood American Express.