I had to spend a night near San Francisco Airport this weekend because I attended Fleet Week on Sunday. I originally booked the Crowne Plaza SFO, which is adequate although has tiny rooms, but thanks to the recent Accor promotion I decided to try out the Sofitel in Redwood City. While it's by no means a convenient airport hotel, it had a free airport shuttle and my room was free, so I figured why not. I had three vouchers totaling $180 to burn, and booked a $130 rate which included a $50 hotel "credit." That's pretty reasonable, given that the Crowne Plaza was around $100.
I was also spending only 12 hours at the hotel. Given that I had $180 I needed to spend and had a room rate of essentially $80 ($130 minus $50 in hotel credit), I had $100 to spend on incidentals in 12 hours.
My first adventure with the hotel was the airport shuttle. As soon as I landed from Seattle I called up the front desk of the hotel to ask how often the shuttle runs. Our conversation went something like this:
Me: Hi, can you tell me when the next shuttle from the airport is?
Agent: The shuttle runs every hour, but the 10PM is sold out.
Me: So when's the next available shuttle?
Agent: It's at 11PM, but you can't make a reservation.
Me: So you don't accept reservations for the shuttle?
Agent: Right.
Me: So how do you know the 10PM shuttle is booked out?
Agent: Because six people are already booked on it, it's sold out.
Me: So you do accept reservations for the shuttle?
Agent: Yes.
*confused*
Me: Any chance I could stand by for the 10PM shuttle?
Agent: No, it's already booked out.
Me: And you know for sure that everyone is going to show up and that no one's flight is delayed?
Agent: Yes.
Me: Ok, thanks.
Fortunately another FlyerTalker was on my flight down to San Francisco, so he was nice enough to give me a ride (and also learned never to trust me with navigation again). I realize this isn't exactly an airport hotel, but a shuttle with only six seats? Yuck!
Anyway, when I got to the hotel I was quickly checked in, and while the agent was polite, she wasn't particularly informed. My rate included a $50 hotel "credit," so I would have assumed she'd explain that to me, but I had to ask. When I asked she gave me a confused look. Then she just mentioned I had a room with a king bed, when in fact I was upgraded to a junior suite. It seems to me like it would make sense to mention this, both to try and build a loyal customer (like getting an upgrade on a flight) and to encourage me to book a similar room for a future stay. If I show up next time and receive a normal room when booking the same type of rate, I'd be disappointed. My most memorable check-in experience was at the InterContinental Paris due to the way the front desk agent phrased on sentence — "Mr. Lucky, as you are a Royal Ambassador we have taken the liberty of upgrading your accomodations to ________." It's all about the presentation.
My room was on the 4th floor, and was a junior suite, as I said. It was well furnished, although rather shabby-chic, for lack of a better term. The room was separated by a small wall. My first "purchase" was internet. Wireless internet was handled by T-Mobile and was $6.99/day, but it appeared as if I'd have to pay T-Mobile directly, so I instead went with the wired Sofitel internet connection, which was $8.99/day.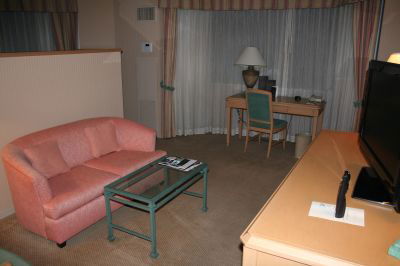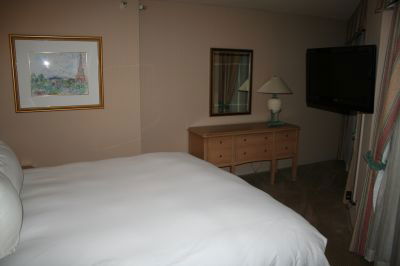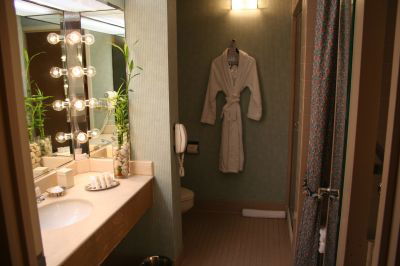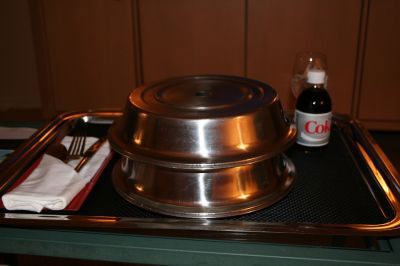 I was starving, so then ordered room service. I know I sound like someone on Trip Advisor complaining about room service, but the prices were what I would expect from a top end luxury hotel. I know Sofitel tries to position themselves as a luxury brand, but a hotel that has $90/night rates and isn't exactly top notch shouldn't be charging these kinds of prices. $16 for a simple salad and $4 for one of those eight ounce glass bottles of Diet Coke is robbery. Then of course they add the wonderful $2 delivery fee along with 19% tip, plus a space for "additional tip." Since I had so much of Accor's money to blow, I gave the guy an extra couple of bucks.
The beds were very comfortable (I slept as well as I'll ever sleep outside my timezone), and the front desk people working in the morning were extremely friendly. I forgot my toothbrush at home, which they happily supplied me, along with toothpaste and a couple bottles of Evian water on the house. Impressive.
I was going to invite my friend Pat for breakfast (since I had hotel "credit" to blow), but unfortunately her car got stolen overnight so that didn't work out. I wasn't particularly hungry, so decided I'd forget about the rest of the incidentals. I checked out with the vouchers, and the lady said "you have $40 more you have to spend, do you want to go buy something else?" No reason to waste the money, so I went to the bakery and picked up a bunch of fancy danishes for FlyerTalkers at Fleet Week that might be hungry.
Overall I had a great stay and for the rate I paid (or Accor paid for me) I might just return if I had to stay at the airport. It's by no means a true luxury hotel, but it's several notches above any airport hotel I've stayed at in the US.