I recently had an overnight in Denver enroute to Colorado Springs, and was originally hoping to stay in downtown Denver. Unfortunately almost everything was sold out due to some medical conference, so I instead stayed at the Element Denver Park Meadows, which is maybe a 20 minute drive from downtown Denver. It worked out well since it was between Denver Airport and Colorado Springs.
Most importantly, at least for the purposes of this review, it was my first stay at an Element property. Element is one of Starwood's newer brands, and is intended to basically be the extended stay brand of Westin hotels. For whatever reason I had been avoiding them in the past, thinking they wouldn't be that good. I did the same with Aloft hotels until I actually stayed at the one at San Francisco Airport, which I loved.
Anyway, I booked the Element at a rate of $119 for the night. This is a category two Starwood property, and a free night redemption was available for 4,000 Starpoints, or cash & points was available for 2,000 Starpoints plus $35. I value Starpoints at 2.2 cents each, so with that in mind I should have probably either booked a free night award (valued at ~$88) or a cash & points award (valued at ~$79), though I decided to book a paid rate instead. Starwood's second quarter promotion is offering double base Starpoints plus 500 bonus Starpoints for booking through the app, meaning I'd be earning ~1,100 Starpoints for the stay, which I value at ~$24.
As you can see the math still favors booking cash & points, though I generally try to avoid burning Starpoints when possible. So yeah, I've written a paragraph about why I booked a cash rate, only the math doesn't add up. Joy. 😀
Anyway, I arrived at the hotel in the early afternoon, and couldn't help but think that it looked like an office building and storage unit from the outside.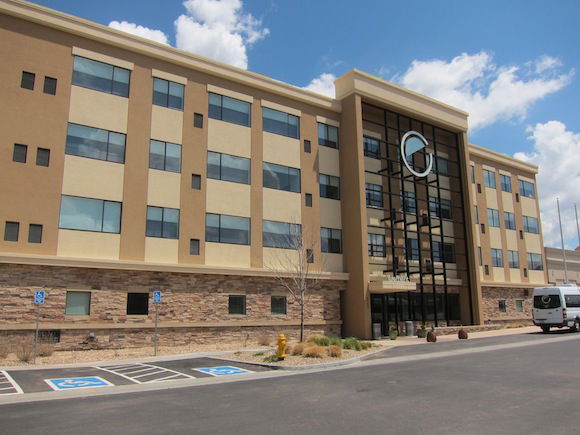 Hotel exterior
The lobby was located immediately inside the door and to the left, and I was promptly helped. The agent was friendly and processed by check-in within minutes.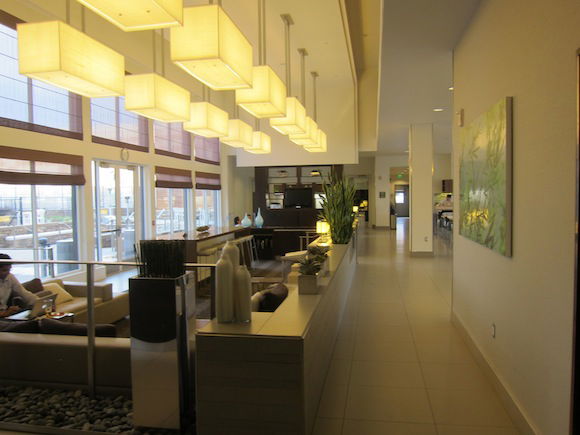 Lobby
I took the elevator up to the third floor, where my room was located. The hallways are modern, though I found the ceiling leather strap "decorations" to be a bit odd.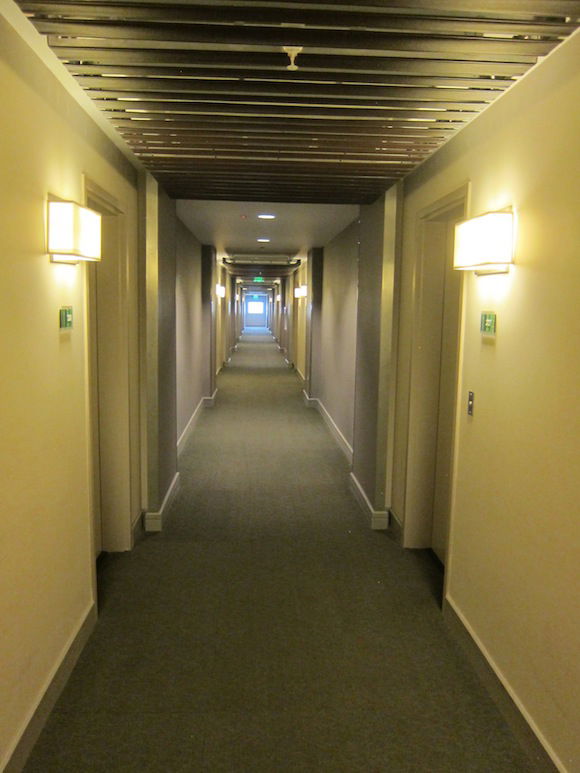 Hallway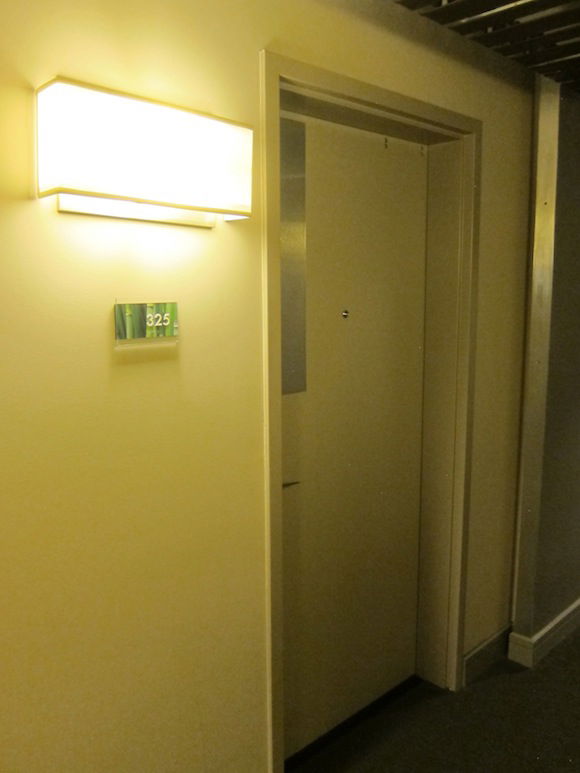 My room, 325
The room itself was lovely, and featured a king size bed, large couch, desk, and kitchen. The bed was a Westin Heavenly Bed, which is pretty tough to beat.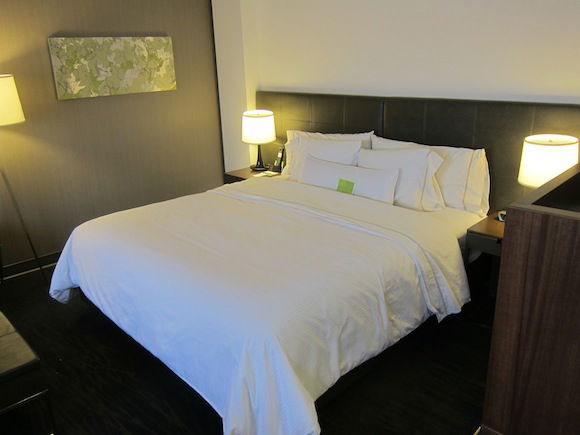 Bed
The couch faced the swiveling flat screen TV, so you could watch TV from the kitchen, couch, or bed.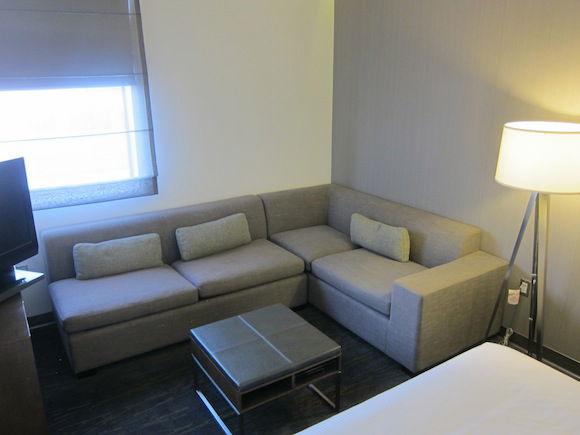 Couch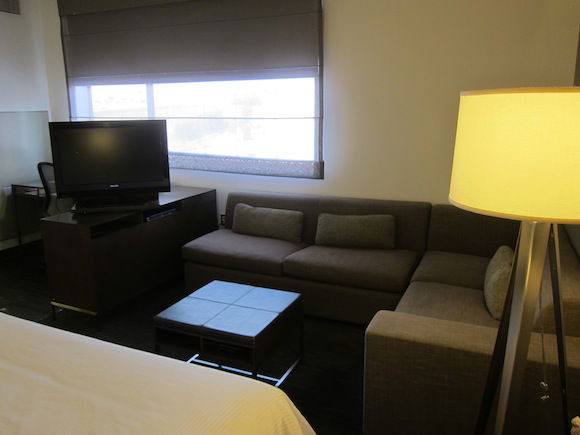 Couch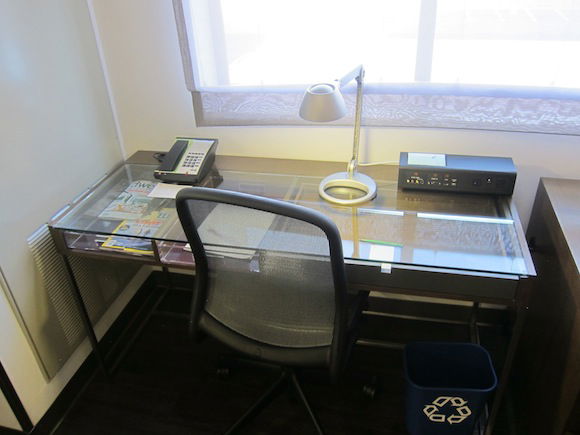 Desk
The kitchen was massive, and even featured a counter with some bar stools under it at which you can eat.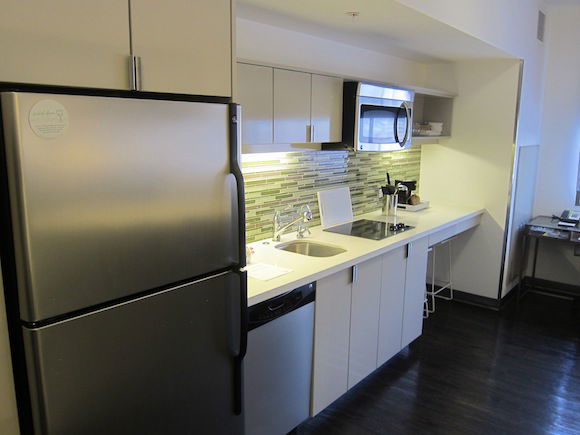 Kitchen
Waiting on the counter as a welcome gift were a bottle of Perrier and yogurt covered pretzels.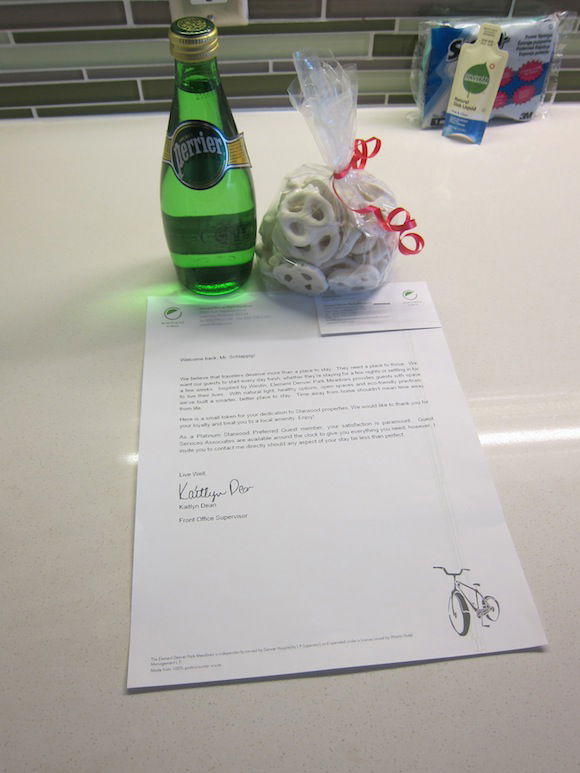 Welcome gift
The room featured views, of, well… I think they speak for themselves.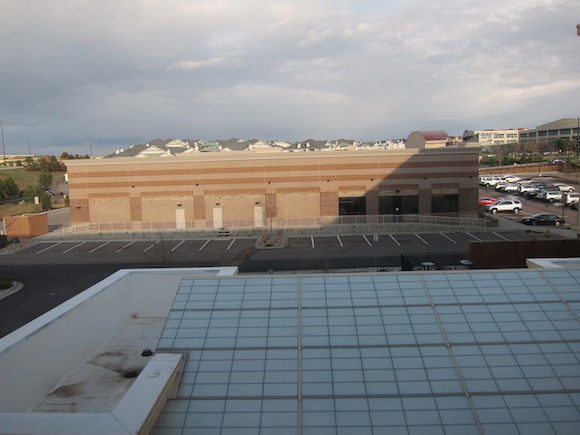 View (or lack thereof)
Then by the entrance was a bathroom with a sink, toilet, and walk-in shower.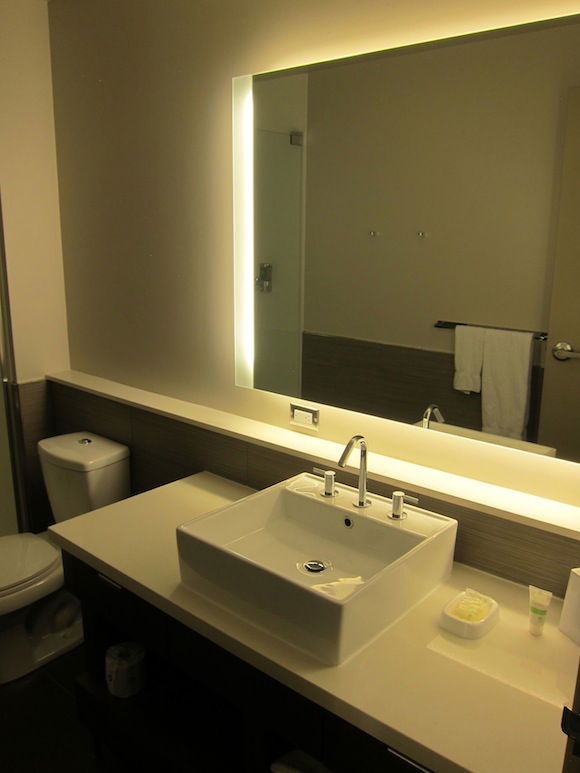 Sink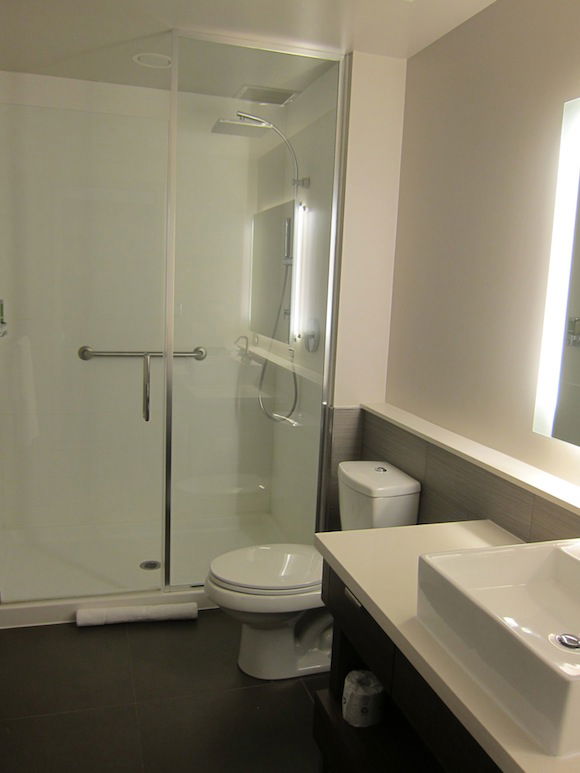 Shower and toilet
The shower water pressure and temperature control were rather good.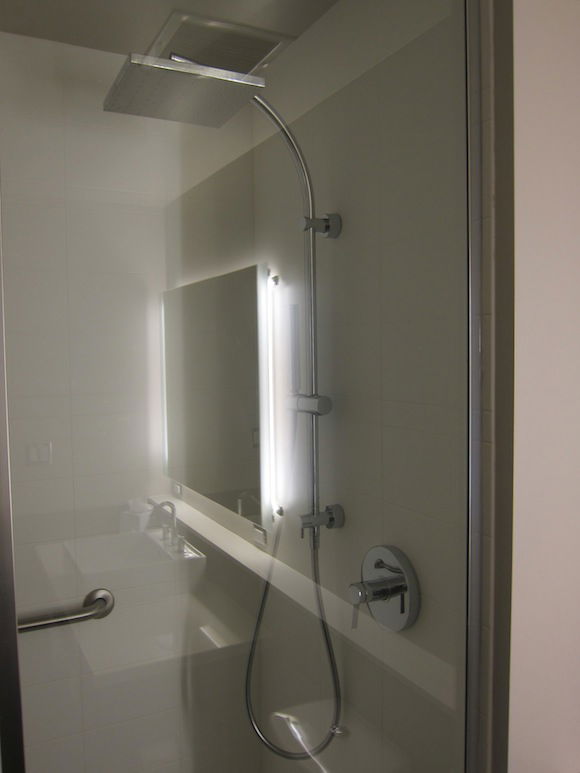 Shower
Much like Aloft properties, the shower has dispensers instead of individually packaged toiletries, which I don't mind one bit as long as the products are reasonably high quality and the dispensers work well, both of which were the case.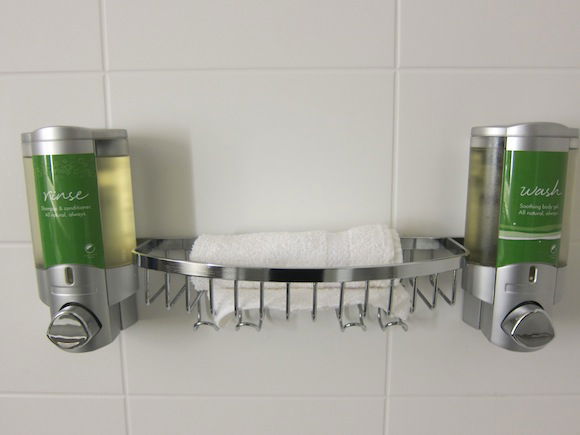 Dispensers
One of the cool features of Element properties is that an evening happy hour and breakfast are included for everyone. Both are offered in the lobby, which boasts plenty of comfortable seating and is actually a nice place to get a bit of work done.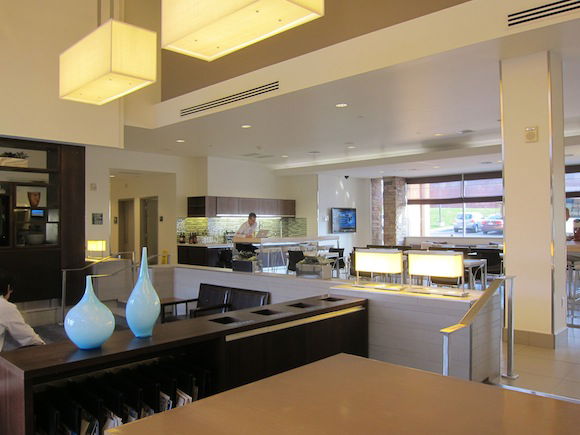 Lobby
The evening reception was quite nice and featured complimentary wine, beer, soda, water, etc. There were also chips with salsa. Actually kind of sad that the evening reception at an Element is nicer than in the club lounge at a US Westin, where they charge for alcohol.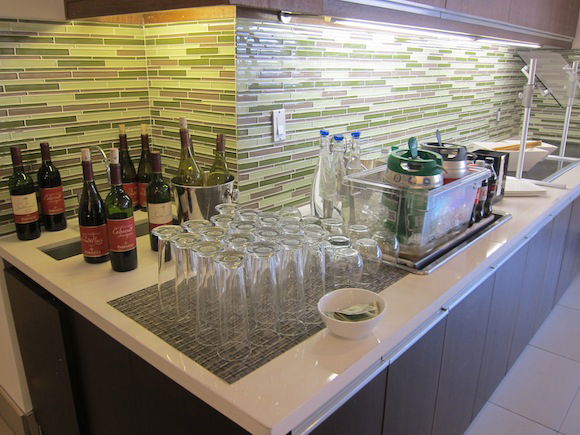 Evening reception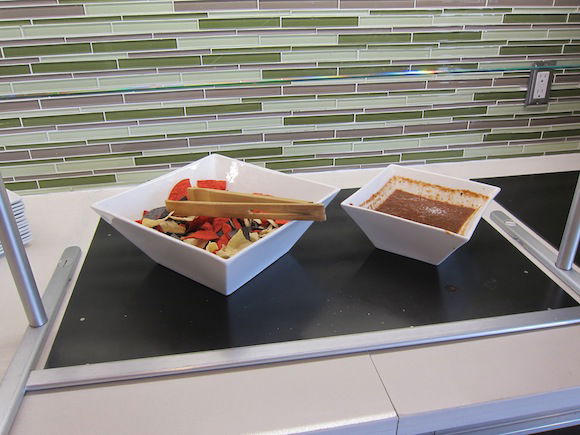 Evening reception
Unfortunately I overslept for breakfast, so didn't get to see what that spread was like.
The hotel also had a simple though nice gym on the ground floor, with plenty of equipment including free weights.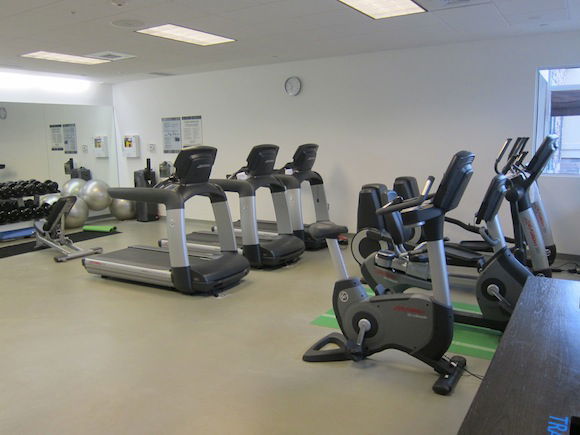 Gym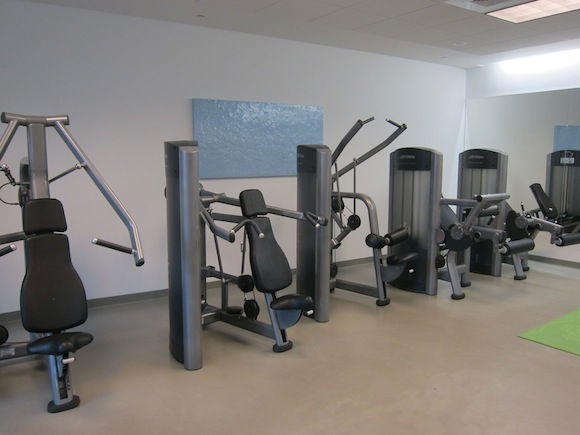 Gym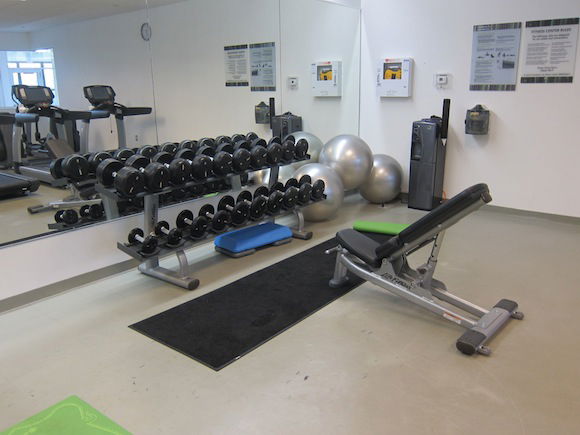 Gym
There was also a small indoor pool.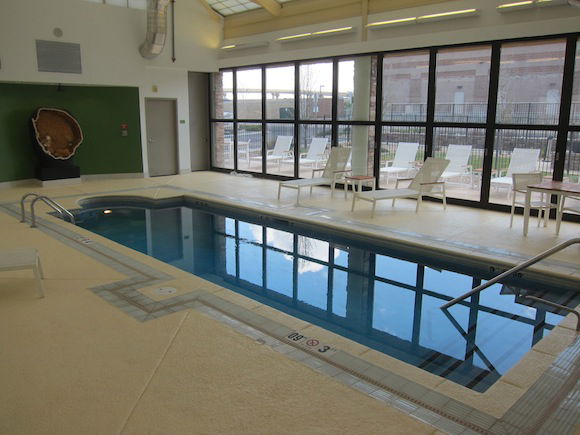 Pool
And a patio.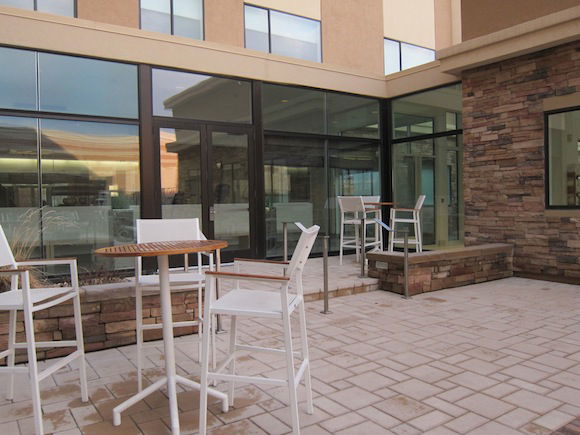 Patio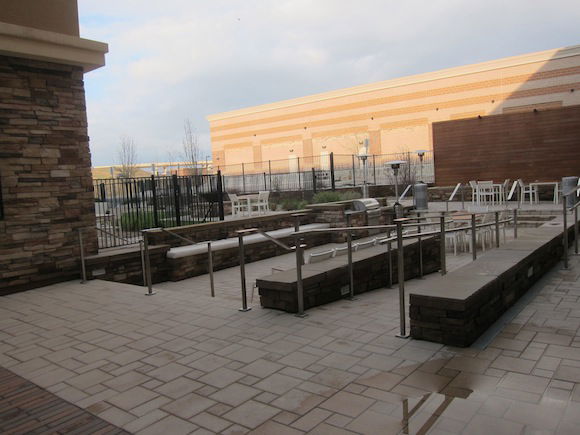 Patio
On the whole I loved my first Element stay. The rooms were modern, spacious, and clean, the service was generally friendly, and the free breakfast and happy hour are more than you'd get at a "full service" hotel. I can't help but feel like hotels are kind of coming full circle in terms of their offerings. There are lots of budget brands that have offered free breakfast since the beginning of time, but I still find it interesting that Elements offer free drinks in the evening for all guests, when Westins don't even offer free drinks to club guests.
Have you stayed at an Element? If so, what did you think?