There's an interesting story of a 21 year old woman who was kicked off a Spirit Airlines flight between New Orleans and Fort Lauderdale on Wednesday. However, there's something about this story that makes it different than the countless other stories we've heard of people being kicked off planes.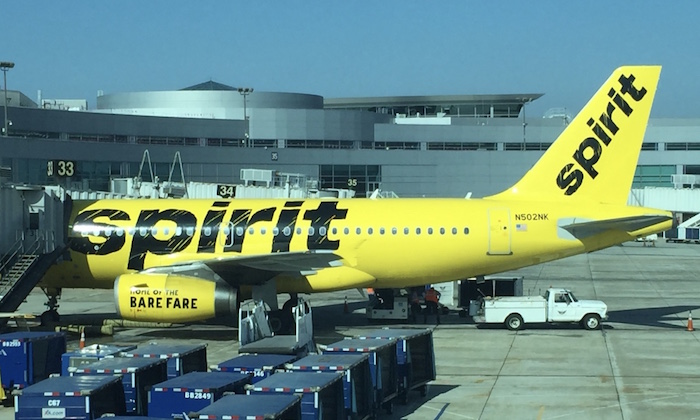 The lady claims she was kicked off for showing too much cleavage, while the airline claims she was kicked off for her behavior, though an airline spokesperson acknowledges that the crew commented on her cleavage. Here's a news clip about the incident, including an interview with a Spirit Airlines spokesperson, and also an interview with another passenger:
A Spirit Airlines spokesperson had the following to say:
"Nobody was taken off a plane because of cleavage. People are taken off of planes because of their behavior. The flight attendant made that decision, and as she was leaving, she said, 'By the way, you might want to cover up,' It was more of a personal statement to her."
Here's a picture the passenger provided of her cleavage:
The passenger admitted to having a beer at the airport before departure, but she claims she wasn't intoxicated, and that case is supported by nearby passengers:
After assuring all THREE flight attendants that although she & her companion had been finishing a beer before boarding, but was not drunk & would be fine, they left her alone for a few minutes, then came back and said her bosom was too exposed!

Granted she was well endowed and wearing a lowcut top, but she was covered. They claimed they had had complaints.

She tried to pull her top up further to cover more, each time another flight attendant came with the same issue, telling her in loud and rude tones that she'll have leave the plane if she can't get them covered.
That passenger was also kicked off the plane, apparently after trying to give the crying lady a tissue, and I guess some confrontation with the crew followed.
Her story matches what the other passenger said, that the flight attendants first told her she was being loud and belligerent. Apparently that was cleared up (or they dropped it for a bit), and then they started talking about how exposed she was. The passenger says "I feel awful, I can't sleep. It's really affecting me, actually." Her lawyer also makes an appearance.
Bottom line
While there's no denying that flight attendants have a lot of discretion nowadays, this story makes me scratch my head, and I'm tempted to give the passenger the benefit of the doubt here. Why? Because even Spirit Airlines' spokesperson confirmed that the crew mentioned she was too exposed, though more as a "personal statement to her."
You don't decide to kick someone off a plane for one reason, and then give them a personal recommendation how they should dress, if they're not violating any rules. This isn't the Dr. Phil show.
Still, I'm not sure what the crew's motive would have been for kicking her off. Some are reporting that the flight was full and that they then allowed on a commuting flight attendant after the passenger was kicked off. I assume they didn't put a target on this lady's back specifically, but rather perhaps there was a bit of an argument, at which point the crew decided to have her removed.
Regardless, I definitely don't think Spirit is completely in the right here, even by their own version of the story. You don't make a "personal statement" about someone's appearance after kicking them off a plane.
What do you guys make of this story?
(Tip of the hat to View from the Wing)