In the interest of full disclosure, One Mile At A Time earns a referral bonus for anyone that's approved through some of the below links. These are the best publicly available offers that we have found for each card. Opinions expressed here are the author's alone, not those of the bank, credit card issuer, airlines or hotel chain, and have not been reviewed, approved or otherwise endorsed by any of these entities. Please check out my advertiser policy for further details about our partners, including American Express, Capital One, Chase, and Citi, and thanks for your support!
The US Travel Association has been promoting their "Daily Getaways" deals for the past month, and we've seen several good deals on things like hotel points, discounted gift certificates, and Las Vegas packages.
While the most popular deals generally sell out within minutes, some of the other packages are still available.
The promotions technically end on May 20th, but could of course sell out earlier, so if you're interested in one of these packages I'd purchase sooner rather than later.
IHG Rewards points
This was the biggest offer of all the Daily Getaways deals, and there are still several packages available if you're considering purchasing IHG points:
The cost per purchased point through this promotion is ~0.565-0.6 cents per mile, which is very reasonable. Ben values IHG Rewards Club points closer to ~0.7 cents each, as they can indirectly be purchased for that amount, and all of these rates fall under that threshold:
| # Of Points | Cost | Cost Per Point | # Of Packages | Limit |
| --- | --- | --- | --- | --- |
| 15,000 IHG Rewards Club | $90 | 0.6 cents/point | 1,000 | 5 |
| 25,000 IHG Rewards Club | $150 | 0.6 cents/point | 1,000 | 4 |
| 50,000 IHG Rewards Club | $293 | 0.586 cents/point | 1,500 | 4 |
| 100,000 IHG Rewards Club | $565 | 0.565 cents/point | 3,850 | 3 |
I presently have an abundance of IHG points, but if you don't this is a decent rate to purchase points:
High-end hotels like many InterContinental hotels are 50,000 points per night, which means you're paying ~$300 for a stay that would be much more expensive
If you're traveling with a family to Europe, IHG hotels tend to allow three or four people in a room at a greater frequency than other brands, making mid-range properties an even better deal
And of course PointBreaks properties can be a fabulous deal if they work with your plans, at just 5,000 points per night
So with a specific plan in mind, buying IHG points through Daily getaways can be a great deal, but I of course wouldn't make a speculative purchase here.
Loews Hotels
Loews offered several different suite packages through Daily Getaways, and there are two remaining.
There were only five of each package available to begin with, so I don't imagine there are many remaining.
These packages are valid for stays between June 1, 2016, and June 30, 2017. The exception is the Loews Miami Beach, where the packages are only available January 1 through June 30, 2017, since the hotel is being renovated this year. There are some blackout dates, though the promotion terms don't specify what exactly they are. Presumably they won't be super restrictive, unless you're trying to travel the week of Christmas/New Years.
While these can be a good deal for a specific person, I don't see either of these getting much traction with the miles and points crowd. While $1000 for a suite in New York that generally sells for over $2500 is certainly a phenomenal deal, there are plenty of hotels in New York, and myriad ways to book them.
Universal Studios tickets
Ticket packages to both the Hollywood and Florida Universal parks are still available, offering a bundle of tickets at a discounted rate:
Universal Studios Hollywood is offering four 2-day park tickets for $500
Universal Orlando is offering four 3-day park tickets for $850
I am not an expert on Universal, but these prices seem a little high. Our Costco has annual passes for Universal Hollywood for $109 (granted, with blackout dates), but that alone suggests there are probably more creative ways to buy park tickets if you don't need a four pack.
If there are four of you traveling though, and over peak dates, this could be a good value.
Diamond Resorts
I'd stay away from this one, honestly.
Daily Getaways is advertising $525 for a 5-night stay at any Diamond Resorts property worldwide. However, there are only 71 participating properties, none of which I've heard of previously, and none of which look particularly nice.
Many of these hotels are also listed on online travel sites for less than $105 per night, so I don't think this is a deal.
Omni Hotels
Omni offered several combinations of discounted hotel stays during Daily Getaways, and there is one package remaining for 2 nights at a Select Omni Hotel for $245.
This package is only available at the following Omni properties:
If you have trips planned to these cities this could represent a nice savings, but the restrictions kill this one for me.
Wyndham Rewards points
While advertised as one free night at any Wyndham property, you're really buying 15,000 Wyndham Rewards points with this deal.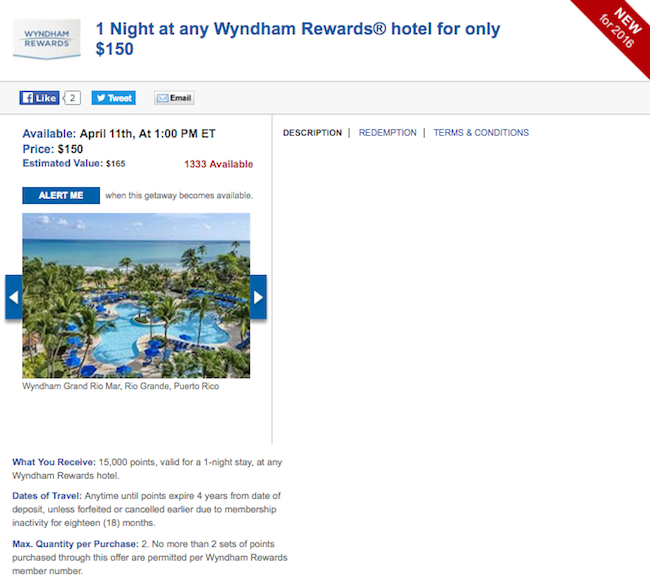 The points are deposited directly into your Wyndham Rewards account, and those points are valid for up to four years from the date of deposit. However, 18 months of account inactivity can cause those points to expire prematurely.
While Wyndham does have some nicer properties in the Wyndham Grand collection, the best value here is likely on the low end.
As Travis has detailed, Wyndham's Go Fast allow you to redeem 3,000 Wyndham points and a variable amount of cash for the majority of their properties. This means you can get a hotel for as little as $58 — not a particularly nice hotel, certainly, but if you have a summer road trip or are visiting places with limited hotel options, this is worth checking out.
Which credit card should I use for Daily Getaways purchases?
In the past there were additional discounts for using American Express cards, but this year you can use any card and receive the same rate.
The other thing to keep in mind is that Daily Getaways purchases are processed by Daily Getaways, and not the program from which you're buying points. In other words, if you're using this promotion to buy IHG Rewards Club points, your purchase will be processed by Daily Getaways and not by IHG (therefore it doesn't count as hotel spend).
However, Daily Getaways is categorized as "Travel – Travel Agencies" in their own right, so you'll want to use a card that gives you bonus points on travel.
With that in mind, I'd choose one of the following:
Bottom line
None of the remaining Daily Getaways are killer "must buy now" packages, but in the right circumstances these can still be some compelling offers.
If you're interested in one of these deals, I'd certainly pick it up sooner rather than later!
Did you end up purchasing any Daily Getaways deals? Which ones?