Yesterday I wrote about how it's now possible to redeem World of Hyatt points for suites online, and this is creating some interesting opportunities.
"Premium suites" are inconsistent
World of Hyatt is the only major hotel loyalty program that lets you redeem points for suites at a fixed cost. Hyatt lets you redeem for either "standard" or "premium" suites, though it's up to individual properties to define which suite falls into each category:
At some hotels, premium suites are simply standard suites with premium views, and are marginally more expensive if paying cash
At other hotels, premium suites are truly special suites that are often exponentially more expensive than standard suites if paying cash
For context, here's Hyatt's award chart by category: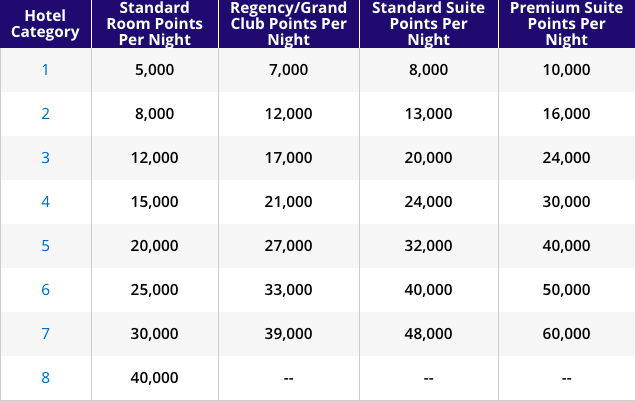 I've spent quite a bit of time playing around on hyatt.com and looking at how different hotels are categorizing suites, and that has been quite fun. There are some really cool opportunities available.
Check out this premium suite redemption
Reader Zach points to what's possibly the most interesting premium suite opportunity I've seen.
The Cape is a Thompson Hotel in Cabo San Lucas. This is a Category 6 World of Hyatt property, meaning that a free night costs:
25,000 points in a standard room
40,000 points in a standard suite
50,000 points in a premium suite
What makes this opportunity so interesting is some of the premium suites that are available. Most notably, this property has the "Penthouse Villa with Ocean View" as one of the premium suites, so you could book it for 50,000 points per night.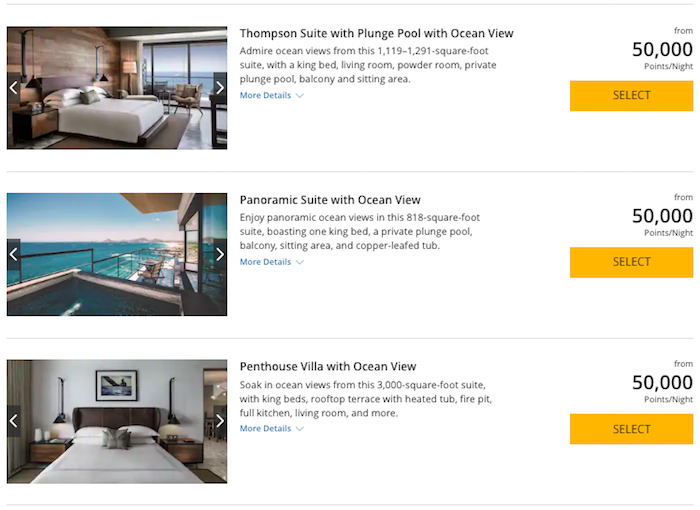 This is a room that ordinarily retails for $3,700 per night after factoring in taxes and fees (which are extremely high in Mexico).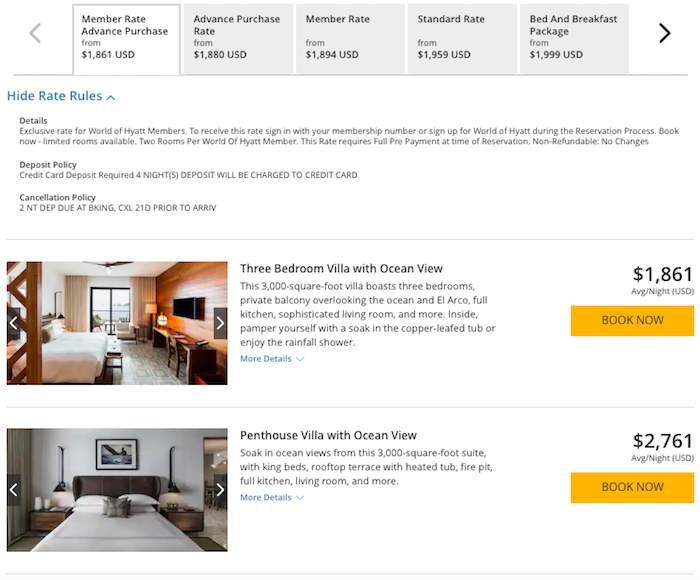 For example, a four night stay would cost $14,794 if paying cash.

The Penthouse Villa with Ocean View is described as having 3,000 square feet of interior space, including three bedrooms with king beds, a living area, and a kitchen. Then there's a 2,000 square foot rooftop private balcony featuring lounge seating, wet bar, barbecue, and plunge pool.
You can actually book this room on points for up to six guests, which is the first time I've seen any room bookable with points for that many guests.
The generic room description says that a stay in this villa includes daily breakfast for all guests at The Ledge Restaurant, plus a private roundtrip airport transfer for up to six passengers in a luxury SUV, plus a private pool cabana one day. It's not explicitly stated that this is included when redeeming points, but given that it's part of the overall room description, I'd expect it would be.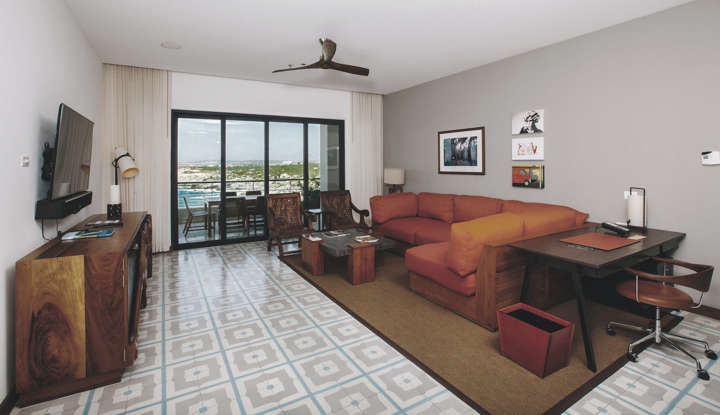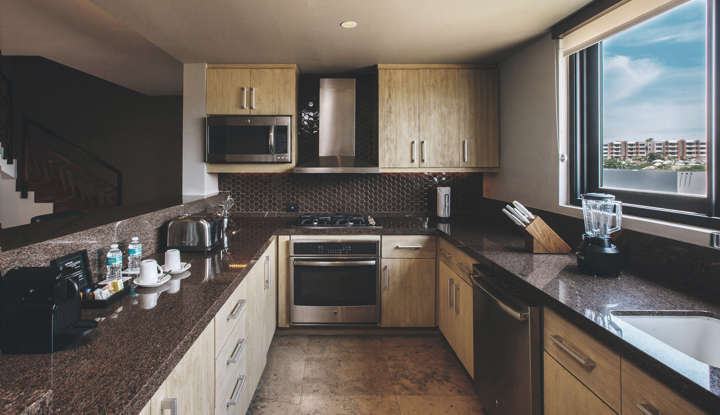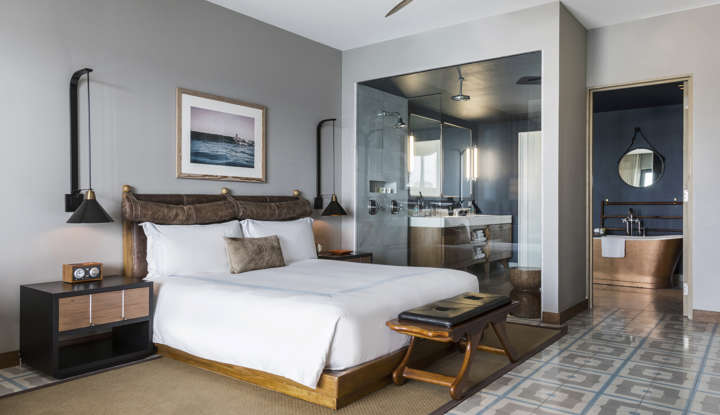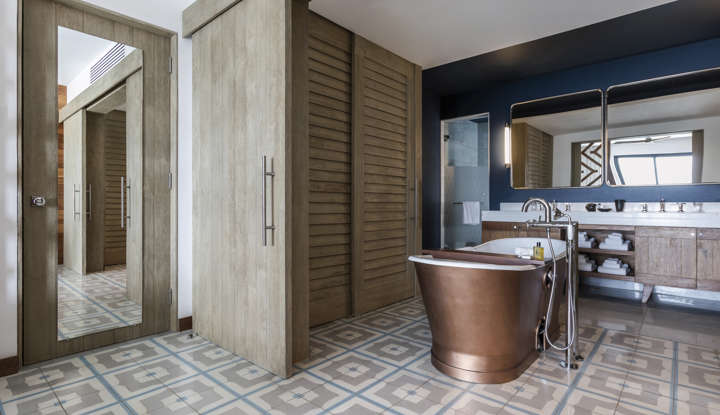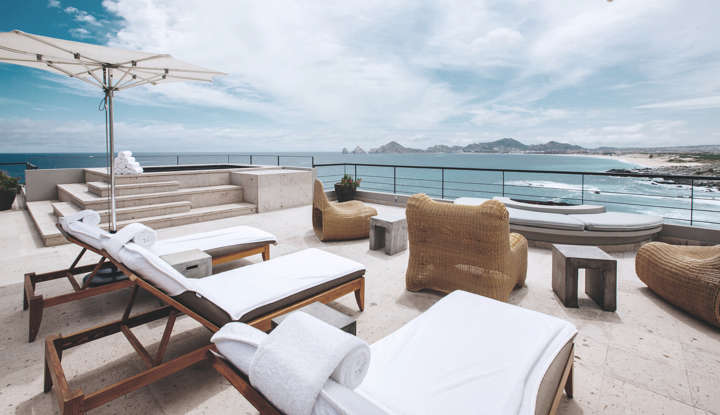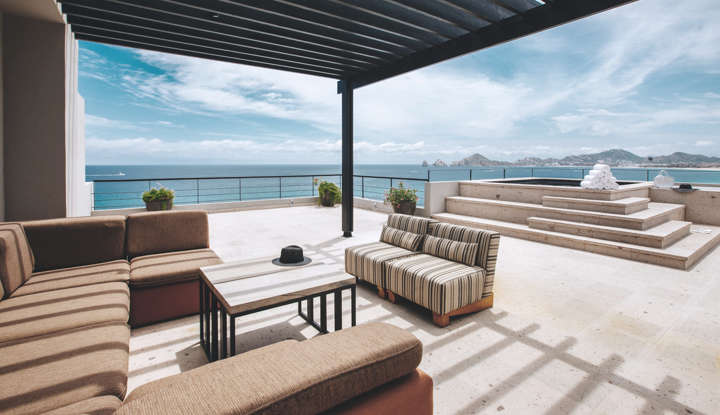 For me this was worth a speculative booking
I have no plans to go to Mexico anytime soon, but this seems like an amazing value using points. Personally I've gone ahead and made a speculative booking for next year, and I'll see how the current situation evolves. The hotel has a 21-day cancellation policy, so I have a lot of time to make a decision.
While The Cape is known as a party hotel, having a three bedroom villa with 5,000 square feet of interior and exterior space gives you quite the opportunity to distance from others.
Bottom line
I'm thrilled to see Hyatt bring suite redemptions online, since it makes it easy to see just which suites are bookable with points. While there are a lot of incredible opportunities, being able to redeem 50,000 points per night for a three bedroom villa with a 2,000 square foot outdoor terrace seems pretty awesome.
It goes without saying that there are lots of considerations with travel at the moment, but for some this may be worth a speculative booking many months out. This might be an even better value than redeeming for a stay at Calala Island.
If you are going to visit in the coming months, you can also get 15-25% off World of Hyatt redemptions for stays through October 8, 2020.