Hello from Doha! I just got off the 12 hour flight from New York in Qatar Airways' new Qsuites business class, which the airline introduced last year. This is Qatar Airways' new business class suites with doors, for which they have the slogan "First in Business." They're essentially making the claim that this is a first class product at business class prices. Yaroslav shared a review of his experience with Qsuites between London and Doha last June, and in this post I wanted to share my initial impressions.
So, how was Qsuites? Is this actually a revolutionary business class experience, or just a mediocre seat that they slapped a door on? Keep in mind how efficient this configuration is, as they managed to install these seats in the same space as the old business class cabin without reducing the seat count.
Well, I've gotta say, Qsuites is an astoundingly good business class product. This has to be the most innovative and well thought out business class seat I've ever sat in.
The layout of the cabin as such isn't that innovative. This is essentially a staggered configuration, and in a way it reminded me a lot of Etihad's Business Studio. There are four seats per row, and in each row seats alternate between being closer to the aisle, closer to the window, etc. Some seats face forwards, while others face backwards.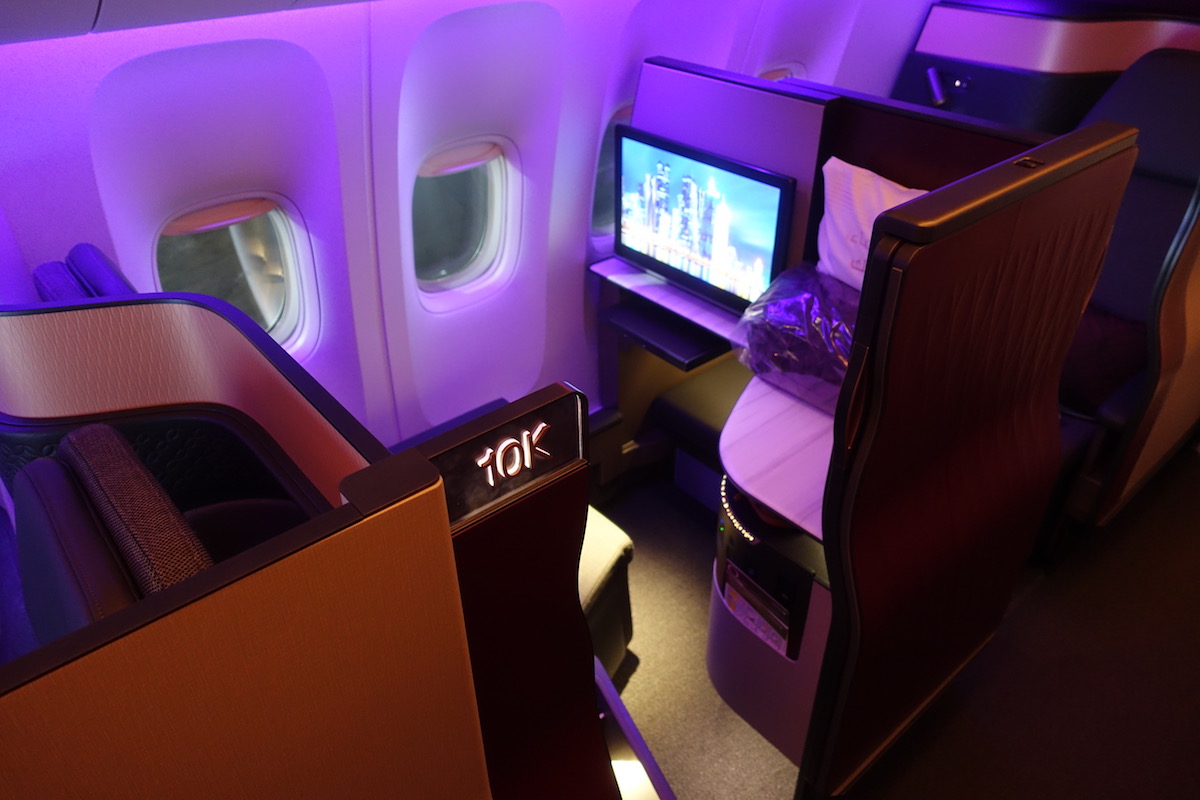 One brilliant aspect of the design is how it works for just about anyone. If you're a solo traveler you can grab a window seat. If you're a couple you can grab two seats in the middle and turn them into a double bed. If you're a family of four you can grab four adjacent seats in the center section, and turn them into a bigger suite. On my flight people were enjoying all of those features, from single travelers to couples to families. Absolutely brilliant.
While this is really just a modified staggered configuration, what impressed me was how well designed everything was. The suite had a counter on which you can store things or place a drink or snack, a large storage bin, easy to use and logically placed controls, two USBs and a 110v outlet, a big entertainment screen, etc.
I'm writing this as I'm sitting in my Qsuite, and I'm just looking around in amazement at the fact that this is business class. Personally I don't find the seat to be claustrophobic one bit, and if you do find it to be claustrophobic you can just leave your suite door open, and that solves that issue (just about everyone always had their suite door closed, so you still have extra privacy even if you don't close your own door). By the way, the door can be opened and closed manually, and slides and stays shut really easily.
The seat is also surprisingly spacious in bed mode. When you recline your seat you can lower one of the armrests, and then your bed is even wider. I'm a side sleeper and I like to bend my knees when sleeping, which can be tough on a plane due to the limited space. However, I had no issues sleeping in my preferred position, which is fairly rare.
So, are there any downsides to the seat? Yes, a couple.
Personally I found the seat to be too hard. When you sleep there is a mattress pad they give you, but it's really thin and doesn't make much of a difference. I didn't find the seat to be so hard that it was a problem, but I would have preferred it to be significantly more cushioned.
Next, the process of reclining the seat can be a bit awkward. If you're sitting upright and then recline the seat you may at first think that the footwell is really tight. That's because the seatback is tall, so once you recline you have to shift your body up at least six or so inches. The same issue is true when you put the seat back up, where you'll have to slide down on your seat again in order to stay seated.
Qsuites bottom line
What Qatar Airways has done with Qsuites is genius. As far as I'm concerned this is by far the best business class hard product in operation. The bones of the seat aren't that different than Etihad's Business Studio, but the addition of the door, the exceptional attention to detail in the design, and the high level of customizability based on where you're seated, really set this product apart.
Otherwise my favorite business class product is the Apex Suite, though I think this has the edge.
Add in Qatar's industry leading soft product with dine on demand, an amazing food and drink selection, pajamas, and much more, and you do easily have the world's best business class.
I can't wait to try the Delta One Suite as well as Singapore's new business class in the coming weeks to see how they compare.
If you've flown Qsuites, what was your experience like?