The State of Qatar will soon be launching an interesting new campaign, called "Reflect Your Respect." It will launch June 20, 2014, and is being set up by a group of Qatari women trying to promote modesty and prevent "immoral behavior."
They'll be handing out pamphlets to visitors entering the country with "helpful tips" of how to be respectful of local customs, suggesting that if you're a visitor you're expected to act like a local.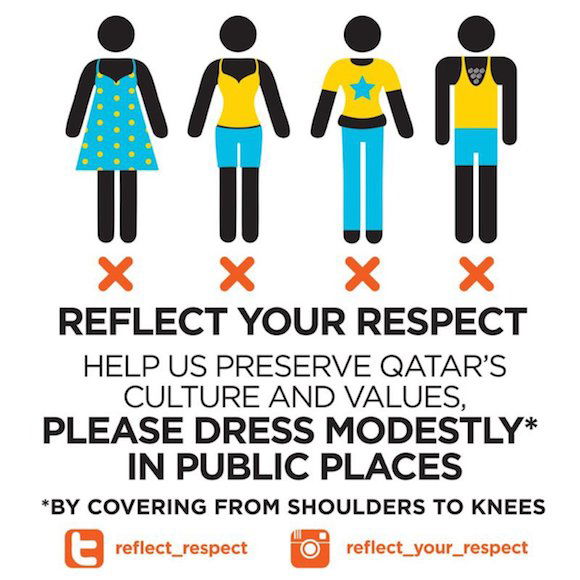 Now, I can really appreciate the idea behind it, since ultimately it's better to proactively be made aware of these customs than to find out the hard way. I mean, I wish that upon landing in Japan the first time there was someone handout out pamphlets about not tipping and other customs. That's actually kind of useful in high context cultures.
Here are some of their tips:
Qatar is an Islamic state and being respectful to its culture will help you enjoy your stay.

Women should dress modestly, and men should not be shirt-less in public
Public displays of affection and intimacy are strongly discouraged
Ask permission before taking a picture of anyone you don't know
Drinking alcohol is strictly prohibited, except inside hotel bars

Clothing

Men and women should dress modestly as a courtesy to both Qataris and Muslims. Swimsuits and beachwear are acceptable at the hotel beaches (don't forget sunscreen), but it is not appropriate to show too much skin in other public areas. Tops should cover the shoulders and upper arms, and skirts or shorts should fall to or below the knee. Women are not obliged to cover their hair. Visitors should be thoughtful of their clothing particularly in the Holy Month of Ramadan.
Qatar has even set up a Twitter and Instagram for their "Reflect Your Respect" campaign. So it would seem that as a guy you shouldn't wear shorts that don't at least cover your knees.
Not sure how exactly that works within the context of the 2022 FIFA World Cup, which Qatar is working tirelessly to host…
Bottom line
On the plus side, I can appreciate what they're trying to do here. It's actually pretty innovative that they're trying to set up a social campaign around this.
I'll leave it at that…