As I posted about a bit ago, Qatar Airways had a puzzling error at one of their ads at the Paris Air Show. They had an ad about their new business class product, though oddly they chose to make it specifically about the 787, even though there are other aircraft in the fleet which have the same product. The only problem was that based on the window shades, they included a picture of the A380 business class seat rather than the 787 business class seat (which seems like a minor distinction, but it's also literally the only thing which distinguishes the two products).
Anyway, I wouldn't have posted about this now, except for the fact that this is the second Qatar Airways fleet snafu in a day. Qatar Airways just Tweeted a picture of an A350 landing… only they captioned it as an A380:
While I don't speak Arabic, here's part of the translation, per Google Translate: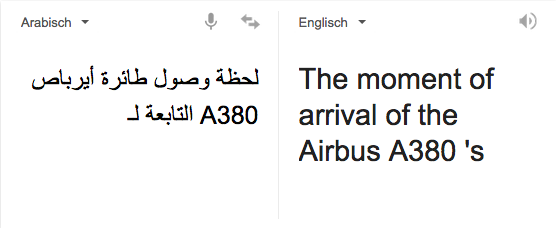 You do have to wonder if the same person is behind both of these, and is just desperately in need of some fleet education. Then again this is Qatar Airways, where mistakes are fixed by people being fired. Al Baker is known to fire cabin crew mid-flight if he's not happy with their service, so I doubt this will be much different.
And while we're talking about Akbar Al Baker, Qatar Airways just placed orders for 14 more 777s at the Paris Air Show. The best part, no doubt, was that he managed to throw in a snide comment about Delta in the process:
"I hope that the gentleman at Delta knows that we are creating even more jobs in the United States by ordering more airplanes" from U.S. jetmaker Boeing, Al Baker said in a barely veiled reference to Anderson.
Impressive! That's perhaps the most reserved shade that Al Baker has ever thrown at Delta's CEO!
And on yet another separate note, could Al Baker look any more excited to finally be able to show off his new babies at the Paris Air Show? That badge placement hardly seems to be a coincidence!
A selection of #QatarAirways' fleet showcased on the opening day of #PAS15. http://t.co/Qc0AqIi2Sp pic.twitter.com/7nVF2sP5PS

— Qatar Airways (@qatarairways) June 15, 2015
I really do love that airline!
(Tip of the hat to @zolagola25)