While Qatar Airways orders a ton of new planes, they're also known for being one of the toughest clients of Airbus and Boeing. That's probably largely because their CEO, Akbar Al Baker, is quite demanding, to put it mildly.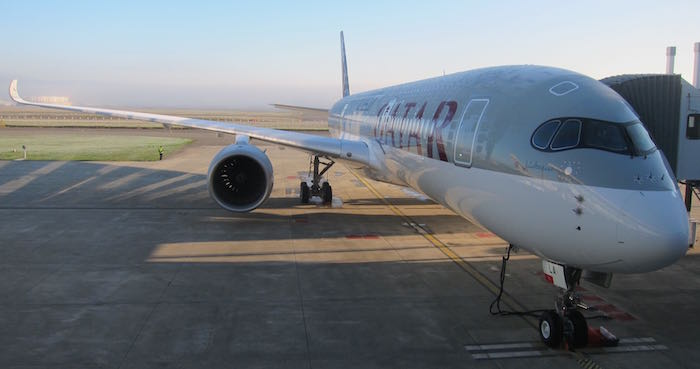 Qatar Airways was the launch customer for the A350, and the airline also has over 80 of them on order, between the A350-900 and A350-1000. That's more than any other airline. However, it looks like Qatar Airways doesn't want all the A350s they've ordered. Bloomberg reports that Qatar Airways has canceled four A350 orders. Specifically, these are planes that were nearing completion, but were somewhat delayed. When delivery of planes is delayed beyond a certain point, the airline has the ability to get out of their contract:
Delivery issues stem from the manufacturer, Akbar Al Baker, Qatar's chief executive officer, said in response to questions after Bloomberg reported the cancellation plan earlier. The airline's A350 contract includes a clause allowing it to scrap handovers that are delayed beyond a certain point, Airbus said, adding that the planes will be reallocated to other customers.
Qatar Airways is within their right to terminate the contract due to the delay, but here's the puzzling part — Qatar Airways is angry that they're not getting their planes fast enough, and claim they're having to put off destinations as a result of this:
"We are asking Airbus to deliver it faster. The delay is from Airbus."

"I have to scream at Airbus to get my planes faster. I am nearly eight destinations behind schedule because of delays in aircraft deliveries. I hope this will be resolved during this year."
If you're desperately behind on planes, and are having to put off destinations due to a plane shortage, wouldn't you negotiate with Airbus some compensation for the delay (which is a standard practice), rather than canceling the orders for three planes which have already been assembled?
To me, this suggests a likely explanation — Qatar Airways is experiencing weaker demand due to a variety of issues (not the least of which is their current diplomatic issues with their neighbors), they've ordered too many planes, and they'll do what they can to reduce their capital expenditures as much as possible.
Again, Qatar Airways is within their right to cancel these orders, but their story doesn't make sense. You can't say "damn you, we have a shortage of planes and want these delivered faster," but at the same time cancel orders for planes that are almost ready to go.
This sure seems to me like a way to save money and face.
What do you guys make of Qatar Airways' A350 order cancelation?