Update: In early 2020, Qatar Airways increased their stake in IAG to 25.1%.
Qatar Airways is taking a page from Etihad's playbook, as they've just announced a deal whereby they'll take over a 9.99% stake in IAG, which is the parent company of British Airways and Iberia. The deal is worth $1.7 billion, and comes at a time when IAG's stock is at an all time high.
Here's the press release Qatar Airways has put out regarding the deal:
As part of efforts to enhance operations and strengthen existing commercial ties initiated through codeshare agreements with IAG as well as its membership of the oneworld alliance, Qatar Airways has acquired a 9.99% stake in IAG.

Non-EU shareholders of IAG including Qatar Airways are subject to an overall cap on non-EU ownership as a result of the requirement for EU airlines to be majority owned by EU shareholders. Qatar Airways may consider increasing its stake further over time although this is not currently intended to exceed 9.99%.

"IAG represents an excellent opportunity to further develop our Westwards strategy. Having joined the oneworld alliance it makes sense for us to work more closely together in the near term and we look forward to forging a long-term relationship," said His Excellency Mr. Akbar Al Baker, Group Chief Executive of Qatar Airways.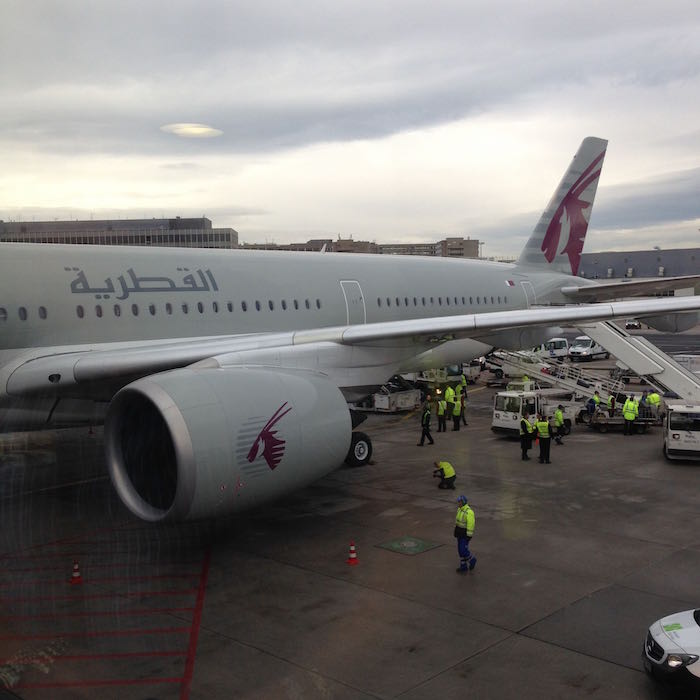 We've seen Etihad Airways buy stakes in airberlin, Alitalia, etc. But this is the first time we've seen Qatar Airways buy a stake in such a major airline. What's the logic?
Qatar Airways' business model
I think it's really important to understand how Qatar Airways views themselves. The same is largely true for Etihad Airways.
Qatar Airways isn't a for profit airline. They're entirely government owned, and I'd be willing to bet if you asked Akbar Al Baker to his face whether Qatar Airways makes money, he'd proudly say "no."
Why? Because Qatar Airways views themselves as a vital part of building up the infrastructure in Doha. They know they can't be a major international city without a real airline. I guarantee you they wouldn't be hosting the 2022 World Cup if it weren't for Qatar Airways. In the Middle East, you need a state of the art airport and airline if you want to see your economy grow outside of oil.
So for many Middle Eastern countries, airlines are an investment in the country's infrastructure. And that's why I think many of us are left shaking our heads at some of the decisions they make, because we're used to seeing companies that simply want to maximize their bottom line.
In this case the difference is that the shareholders are the government and not private investors, and they have different goals.
The ME3 want more access to the west
The big three Middle Eastern airlines want more access to the west.
Etihad presently owns stakes in Aer Lingus, Air Serbia, Air Seychelles, Alitalia, Darwin Airlines, and Jet Airways.
The ultimate goal for them is to get cozy with EU regulators, so they can get more service to the west, and also more service within the west. The Middle Eastern airlines would love to be able to set up a hub in Europe and operate flights to the US from there. In other words, they want more flights like Emirates' Dubai to New York flight, which goes via Milan, with pick-up rights on both sectors.
Here's a press conference that Akbar Al Baker did last year which I think perfectly sums up their goals with flights to the west:
I guess it can all be summed up by him saying "it's not correct for Western European airlines to dictate government policies." And by buying a stake and getting cozier with British Airways, I think this is one of the things they're hoping to work on. British Airways is much less likely to claim they're at an unfair disadvantage against the Middle Eastern airlines when they're partly owned by one.
Strategic alliance between British Airways and Qatar Airways?

It's interesting how Akbar Al Baker seem to suggest that this means the two airlines will work more closely together. Qatar Airways is already the only of the three major Middle Eastern carriers which has joined an alliance, and it certainly could make sense for them to strengthen a relationship with another carrier beyond that.
That being said, you'd think that would be independent of any stake they have in the company. If a joint venture/strengthened partnership makes sense, it should make sense regardless of whether they have a stake in the airline or not..
I'm curious to see what they do. Emirates has been hugely successful with their Qantas joint venture, though I'm not sure what British Airways brings to the table for Qatar Airways. Qatar Airways already offers a lot of service to London, and also, serves a lot of other European destinations directly, so I don't think they really need "help" in Europe.
The one thing I could see is British Airways increasing service to Doha for more connection opportunities through codeshares. Or maybe in theory Qatar Airways could allow more options for British Airways passengers to get to Australia, though Qatar Airways' route network to Australia is quite weak.
Bottom line
At some point all of these stakes get a bit funny. So Qatar Airways will have a stake in British Airways, which is taking over Aer Lingus, which Etihad has a stake in. Fun stuff, eh? 🙂
What do you think of the 9.99% stake, and what do you think Qatar Airways' play is here?