Qatar Airways consistently has great business class fares, especially for travel to the US. I've written in the past about some great fares they've had out of Cairo, Colombo, etc. Here's an incredible fare which may be more practical for those vacationing in "major" cities in Asia.
Qatar Airways has a ~$1,500 roundtrip business class fare from Bangkok to Los Angeles (it's not valid in the other direction — you have to originate in Bangkok).
This fare is very much subject to change (so I'd book as soon as possible if you're interested), but as of now the basic terms are as follows:
Valid for bookings through October 31, 2016
Travel permitted January 10 through March 23, 2017, and anytime after May 5, 2017
Minimum stay of seven days and maximum stay of 30 days
While you can use ITA Matrix and Google Flights to search availability, you're best off booking directly on Qatar Airways' website to get the best price
For example, the below itinerary is ~$1,489 roundtrip:
How many miles can you earn?
If you credit these flights to American AAdvantage you'd earn 150% elite qualifying miles. The trip is 23,136 "butt-in-seat" miles, so altogether you'd earn:
23,136 redeemable miles (if you're Executive Platinum you earn a 120% bonus, meaning you'd earn 50,899 miles)
34,704 elite qualifying miles
$4,627 elite qualifying dollars (for travel in 2017 — elite qualifying dollars for this fare are calculated as 20% of the distance flown)
Who is this fare useful for?
Obviously this is a great fare for any oneworld flyer based in Asia who would like to visit the US. Getting this cheap of a fare in paid business class is almost unheard of, and you'd be earning a lot of miles through American AAdvantage for this fare.
But this fare can even be useful for North America based flyers, at least for the crazy among us. Say you're planning a vacation to Asia. Book an award ticket to get to Asia, then use this fare to get back to the US, and then you can use the return of this trip to start your next trip.
Qatar's 777 business class
Qatar Airways' flight between Doha and Los Angeles is operated by their 777, featuring fully flat forward facing business class seats. This product isn't as good as what they offer on the A350, A380, and 787, but it's still fairly solid. As far as their soft product goes, I think Qatar Airways has the best in the sky.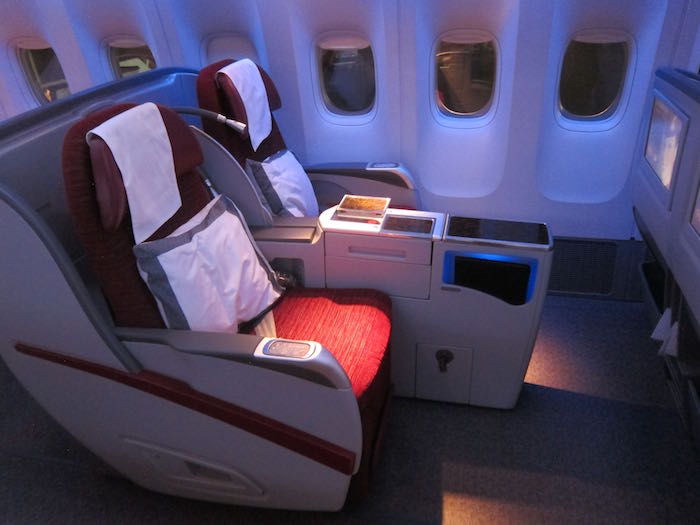 Bottom line
This is an incredible business class fare, and for AAdvantage members is a great way to get a head start on 2017 elite qualification. As an Executive Platinum member you can pick up 50,000+ redeemable miles, 35,000+ elite qualifying miles, and nearly $5,000 "elite qualifying dollars."
Anyone taking advantage of this incredible business class fare?
(Tip of the hat to rbAA)