Well, it looks like another European airline is going out of business. As reported by Aviation24, PrivatAir announced today that they've filed to commence insolvency proceedings. Per a statement from the airline:
"It is with great sadness that PrivatAir SA, Switzerland, announces today that it has filed to commence insolvency proceeding in Switzerland. Likewise its subsidiary PrivatAir GmbH in Germany has also filed for insolvency today.

Over the past few weeks, a number of events have had a significant impact on the companies' future business forecast and viability, which forced the companies to file for insolvency."
For those of you not familiar with PrivatAir, they're a Swiss airline that was founded in 1977 and headquartered in Meyrin. Between their Swiss and German businesses, they've operated a fleet of five planes, including two Boeing 737s and three Airbus A319s.
They typically leased these out to other airlines, and over the years have operated flights on behalf of Lufthansa, Swiss, and SAS. For example, I remember flying them about a decade ago between Newark and Dusseldorf.
Most recently I wrote about how this airline was supposed to once again take over Lufthansa's flight between Pune and Frankfurt, which Lufthansa was otherwise operating with a regionally configured Airbus A319 (I also called this the world's worst business class flight).
To be honest, I hadn't been following along that much with PrivatAir's struggles. The extent to which I've kept up with the airline is as it relates to the charters they've operated on behalf of other airlines.
However, it seems that they haven't been fully utilizing their planes recently, and I imagine that was part of what led to this.
I'll be curious to see what happens to PrivatAir's five aircraft, given the interesting premium-heavy configurations they're in.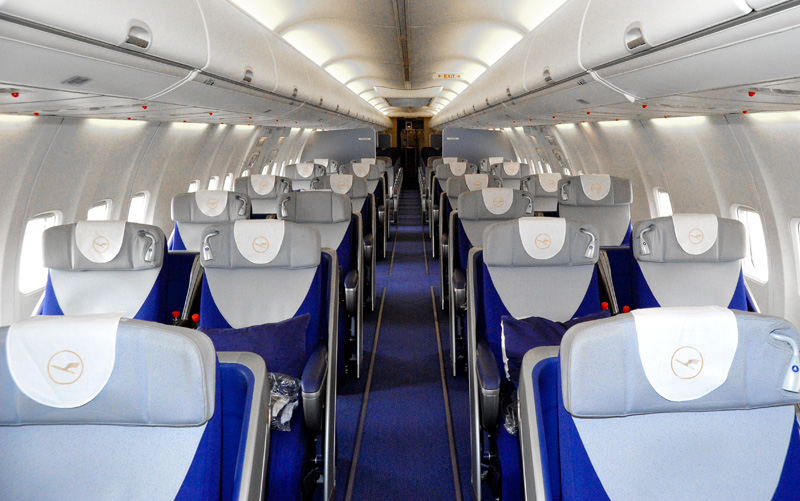 The cabin of one of PrivatAir's 737s
I'm also curious to see what this means for Lufthansa's flight between Pune and Frankfurt. It seems like it's either time for them to cancel the route, or to specially configure a plane to operate it.
Anyone have a better sense of what exactly went down with PrivatAir?