I spent a good deal of time in the US late last year and was horrified to see the amount of single use, plastic packaging in use everywhere.
This was particularly evident in chain hotel rooms with their coffee machines. There were individual packs with sugar, creamer, a napkin, and a stirrer or straw, all wrapped together in plastic.
So if I wanted a single serve of sugar, I had to open the entire pack.
On a flight there's also loads of plastic used to wrap all sorts of things — blankets, amenity kits, pajamas, cutlery sets, as well as using plastic for cups and cutlery anyway. Each airline will have a slightly different recycling program, but it would be my guess that most of this plastic makes its way into landfill.
Hi Fly is a Portuguese charter airline. We've written about them before as they have been operating flights for Air New Zealand and Norwegian (among other airlines), as they struggle with engine replacement accelerations on their Boeing 787 Dreamliners.
On December 26, 2018, Hi Fly operated the world's first flight (from Lisbon, Portugal, to Natal, Brazil, using an Airbus A340) with no single use plastic.
We couldn't be prouder of being the first airline to perform a completely Single Use Plastic Free Flight. The first step to our ultimate goal to turn all our flights completely Single Use #PlasticFree by the end of 2019. #TurntheTideonPlastic #A340 #9HSUN pic.twitter.com/sTLl6eDCBk

— Hi Fly (@hifly_airline) December 27, 2018
This meant no plastic cups, no plastic cutlery, no plastic packaging. They used bamboo to replace some of these items.
Hi Fly plans to completely phase out all single use plastic by the end of this year.
They have explained this initiative as:
We can no longer ignore the impact plastic contamination has on ecosystems, as well as on human health. We know, too, from the feedback we have received from client airlines and passengers, that it's the right thing for the airline to be doing.
I am a bit surprised to see that Hi Fly was the first airline to do this, as it would have been a decent cost and logistical burden on them to do so, and given they are a charter airline (meaning they are not marketing or selling tickets themselves), I'm surprised this was a priority for them.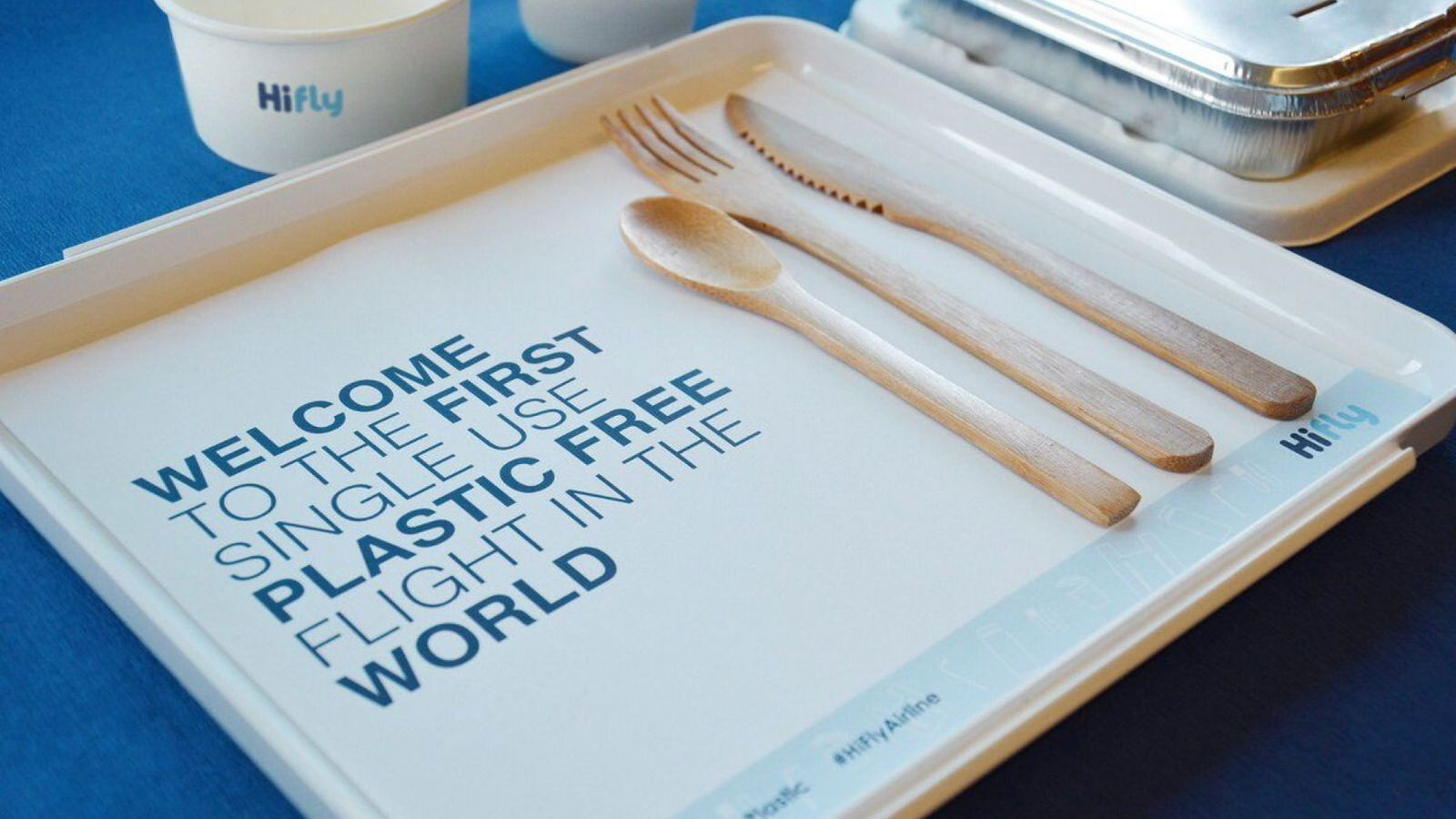 I would love to see other airlines follow this, but then there is the consideration of how an airline delivers clean, new amenities to passengers without sealing them properly. I hate wasting plastic but would want my blanket somehow sealed to indicate it had been washed before using it.
Perhaps they could wrap some items in paper or a different recyclable/degradable material?
Bottom line
Hopefully other airlines will follow this initiative, although these will undoubtedly be more expensive than plastic options, so I would be surprised to see low cost carriers do so.
I could see smaller boutique airlines, like JOON, adopting this and then using it as a selling point.
One of the reasons plastic has become so popular around the world for things like cutlery is because it is so cheap to manufacture — bamboo will be more expensive.
While the logistics of implementing an optional "plastic free surcharge" might be too complicated, it would be nice to see airlines introduce some sort of initiative to make this work.
Would you be willing to pay more for a flight with no single use plastic used?