On January 8, 2020, a Ukraine International Airlines 737-800 was shot down after takeoff from Tehran, killing the 176 people onboard. Iran initially denied that they did this, claiming that the plane had a catastrophic engine failure, but very quickly changed their tune.
Well, reports now suggest that another commercial plane was "almost" shot down on approach to Damascus, Syria, early yesterday morning.
Cham Wings Airlines A320 diverts due to missiles
As reported by The Washington Post, this incident involves Cham Wings Airlines, a private Syrian airline, which was operating flight 514 from Najaf to Damascus very early Thursday morning.
The flight was operated by a 27 year old Airbus A320 with registration code YK-BAB. Note that most of the information we have about the incident comes from a Russian Defense Military spokesperson. I'll share what he says, though of course you can draw your own conclusions, and for that matter probably shouldn't take everything he says at face value.
According to the source, Israeli fighter jets had fired eight missiles at targets near Damascus early Thursday morning, and in response Syrian forces fired anti-aircraft missile defense systems.
The Airbus A320 was almost caught in the middle of this. Russia is accusing the Israeli air force of using the A320 as a shield from Syrian air defenses.
As the source describes it, using civilian aircraft to deter Syrian forces from responding to attacks was "becoming a signature feature of the Israeli air force," and he said that "unfortunately, such operations of Israeli strategists do not care in the slightest about the lives of hundreds of absolutely innocent civilians."
After the situation became apparent, the Cham Wings Airlines flight diverted to the Russia-controlled Hmeimim Air Base nearby.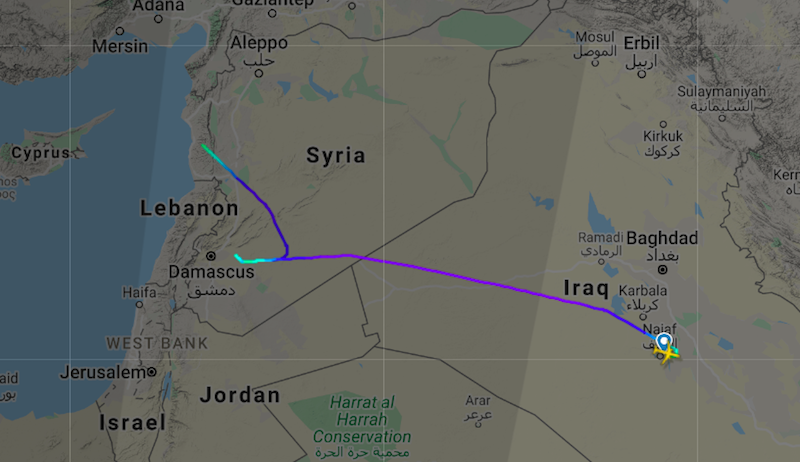 According to the source:
"It was purely thanks to the prompt actions of air traffic controllers at Damascus airport and the effective operation of the automated air traffic control system that the Airbus 320 passenger plane was promptly rerouted from the Syrian air defense area of engagement and safely landed at the nearest reserve airfield — the Russian air base Hmeimim."
The A320 has since returned to service, and has already operated several more flights.
Bottom line
Obviously this is inherently political, and any discussion about Israel and Syria politics is bound to get a big reaction. That's not the point of this post, though — I'm writing about this because an A320 diverted to an air base to avoid being hit by missiles, and that's pretty significant.
Whether Israel knew of the risk is something we don't know for sure, as the only "on the record" comments I've seen with this story have come from a Russia Defense Military spokesperson. Israeli representatives have refused to comment, one way or another.
Fortunately the plane landed safely…