Growing up, all I ever wanted to be was a pilot. It was all I thought about day and night. Funny enough I didn't want to be a pilot for a US airline, but rather for a foreign one. I don't know why, but it always seemed more exciting to me. Being a Cathay Pacific pilot was my biggest dream, though airlines like Emirates, Lufthansa, etc., were also on my mind.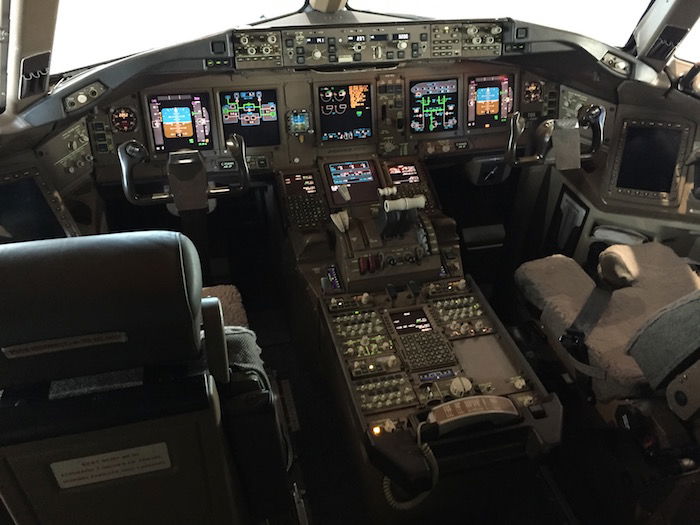 While my obsession with planes hasn't died one bit (I still look up every time I hear the noise of a jet), over time I've realized that a career as a pilot isn't for me.
Still, every time I board a non-US airline and hear an ex-pat pilot announcement, I can't help but say "ah, that could have been me." I reflect back to when I was a little kid and would sit at the dinner table telling my parents about how I wanted to be a pilot. Every. Single. Night.
Of course I'm not complaining one bit about my gig right now, but that won't stop me from daydreaming about a different life occasionally.
Even now that I don't want to be a pilot, I'm still fascinated by ex-pat pilots. Are they based in their home country or the airline's home country? How often do they fly? How long have they been living there? How do they like it? What were they doing before that? How is the cockpit culture when you have multiple nationalities on every flight?
While over the past couple of decades pilot hiring at the US legacy carriers has been slow, there has been explosive growth internationally, and airlines in the Gulf, Asia, etc., are looking for pilots like crazy. For someone with location flexibility, this presents amazing opportunities to make a lot of money and fly much bigger planes you'd be flying in the US. I have a friend who used to be a regional jet pilot in the US, and now flies the Emirates A380. Talk about an upgrade!
For example, check out this (well produced) video about a Qatar Airways 777 captain based in Doha:
Or this (painfully produced) video about being an ex-pat pilot at Hainan:
Or this video about Vietnam Airlines recruiting ex-pat pilots:
Anyway, there was a Bloomberg article published a couple of days ago about the huge demand for pilots in China, and how they're recruiting from all over the world, in many cases offering huge pay to get pilots to move there.
They supposedly need to recruit 100 pilots a week for the next 20 years in order to keep up with the demand for growing air travel in China, and can basically take on as many pilots as they can get. Per the article:
Giacomo Palombo, a former United Airlines pilot, said he's being bombarded every week with offers to fly Airbus A320s in China. Regional carrier Qingdao Airlines promises as much as $318,000 a year. Sichuan Airlines, which flies to Canada and Australia, is pitching $302,000. Both airlines say they'll also cover his income tax bill in China.

Recruits preferring to live outside China earn a bit less but are offered free flights home to visit family members. Also on the negotiating table: signing bonuses, overtime pay and contract-completion payouts. Earlier this year, Ross saw the monthly paycheck of a pilot he placed at Beijing Capital Airlines: $80,000.

By comparison, the average annual salary for senior pilots at major U.S. airlines such as Delta is $209,000, according to KitDarby.com Aviation Consulting. Some U.S. regional airlines pay $25,000 or less, according to the Air Line Pilots Association, representing more than 52,000 pilots in the U.S. and Canada.
Now the $80,000 per month number seems way off (perhaps that was one month that included a big sign-on bonus, or something), but the pilot pay in China is still huge.
If you look at the wasinc.aero job listings page, you'll see more realistic numbers (which are still sort of insane). For example, an A320 captain at Beijing Capital Airlines can make up to $300,000.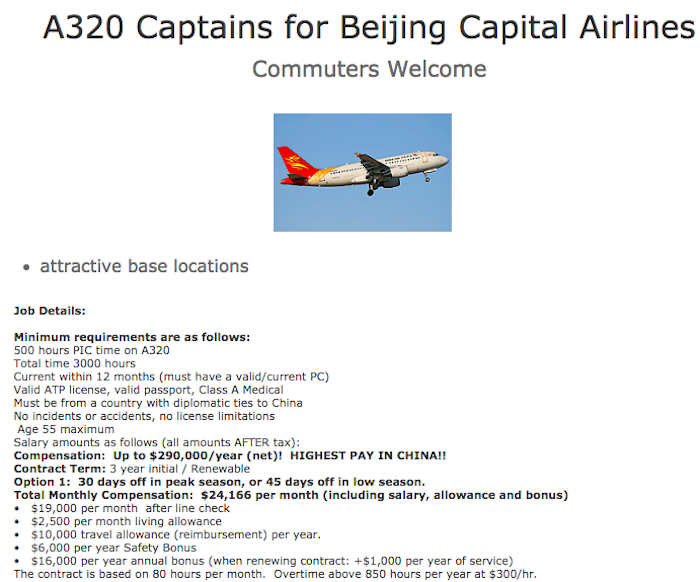 The only reason I mention all this is because I'm always fascinated by ex-pat pilots. On my Fiji Airways flights last week, I had an American captain on the way and an Australia captain on the way back. I've had American captains all the time on Cathay Pacific and Emirates, and on my recent Hainan flight even had an American captain.
So if you're flying a Chinese airline and have a captain with an unexpected accent, now you know why they're over there.
(Tip of the hat to RB)