A few days ago I wrote about the fascinating currency exchange black market in Uzbekistan. Uzbekistan has an unstable currency, and as a result, the official exchange rate is very different than the unofficial exchange rate.
Officially one USD gets you ~4,120 UZS (Uzbekistan Som), while unofficially one gets 7,000+ Som. That means the black market rate gets you ~70% more. Uzbekistan is cheap as could be to begin with, and only gets cheaper if you exchange money unofficially.
This doesn't require going into some shady exchange shop, or anything, but rather just about anyone who has money will gladly exchange your USD, from a taxi driver to a restaurant.
I didn't know about this black market exchange rate before going to Uzbekistan, so I didn't bring much cash. Fortunately Matthew brought quite a bit of cash, so we could exchange some at the better rate.
We thought this would be an opportunity to basically get 40% off our hotel bill, so on our last night (yesterday), Matthew exchanged about 200USD on the black market, which got him a couple of big stacks of bills.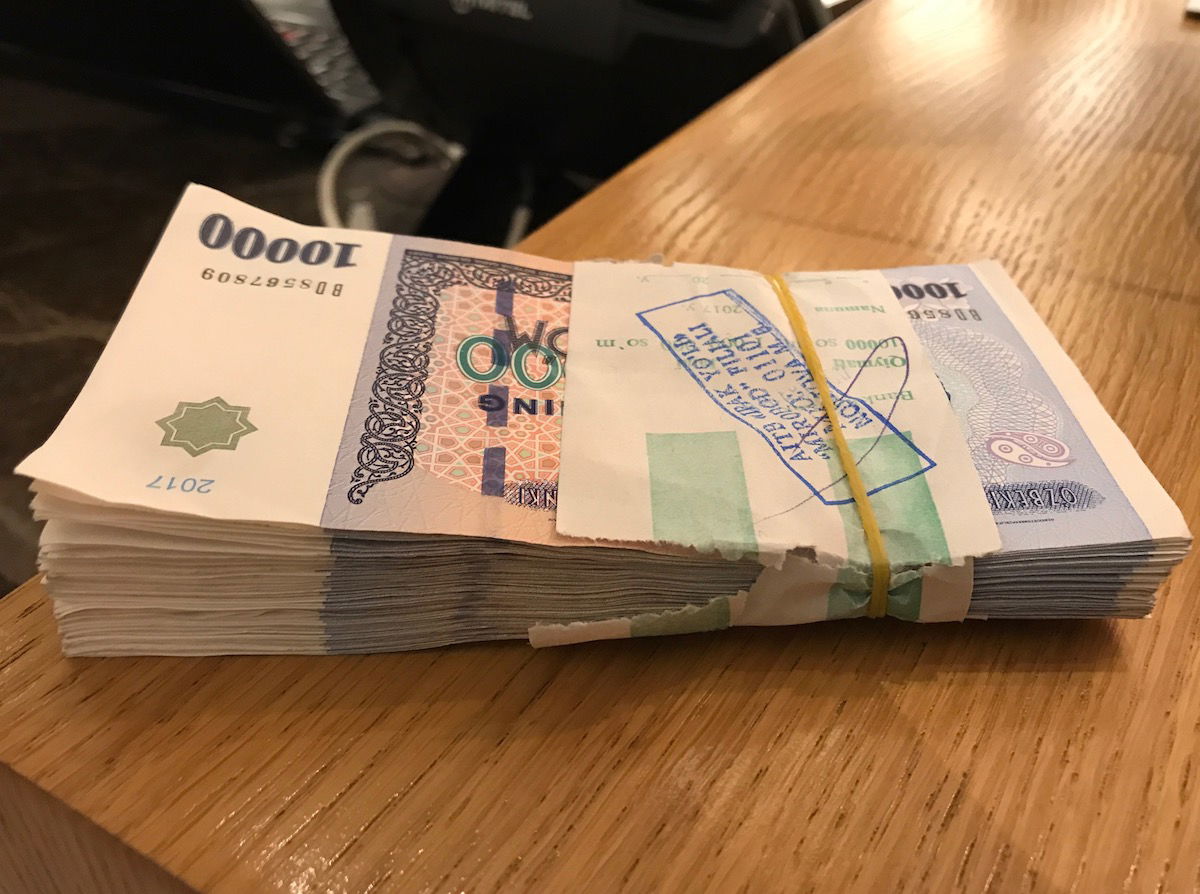 Unfortunately it didn't work out quite so well at check-out this morning, as we were informed that foreigners aren't allowed to pay a hotel bill in the local currency. More accurately they can't pay for the room rate with local currency, while incidentals could be paid with it.
Now of course I get where they're coming from. I suppose on some level they're trying to prevent what we tried to do. However, this is the first time I've stayed at a hotel that doesn't let you pay your bill in cash in the local currency, even when it's priced that way. Instead we had to pay by credit card and were billed in USD.
As much as I always recommend avoiding dynamic currency conversion, at this hotel it wasn't an option. There's a first time for everything, I suppose.