"Would you like to pay in [local currency] or US Dollars?"
It's a question virtually anyone with a US-issued credit card has been asked when checking out of a hotel abroad.
When you're using your credit card abroad, you should always pay in the local currency. Always. I don't even know why hotels offer the option of paying in another currency, since there's zero upside to paying in USD. Why?
Many credit cards have no foreign transaction fees nowadays, which usually use a market conversion rate (or very close to market)
For cards with foreign transaction fees, you'll typically still be charged the foreign transaction fees for things billed in USD outside the US (because it's about where the purchase is processed and not necessarily the currency in which it was processed)
The currency conversion rates hotels use are terrible
So while I'd love to see hotels suggest guests pay in local currency (since a lot of people don't realize they're better off paying in local currency than USD), I'm happy when they at least give the option of which currency to pay in, which they almost always do (and should).
But not yesterday when checking out of the Hilton Queenstown. I was given my bill, which showed everything in NZD. The total was 1,163NZD, and when I signed the credit card slip I noticed he had billed me in USD — the total was 806.96USD. The slip even said the rate included a commission of 2.05%.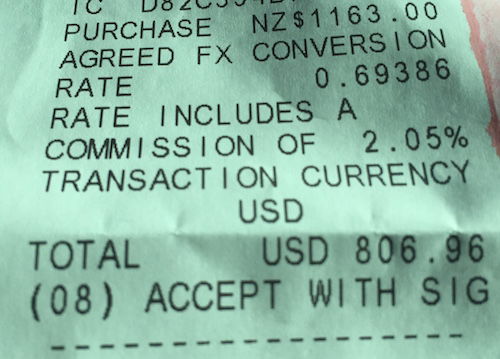 So just how far off was the currency conversion? Using today's exchange rates, 1,163NZD should be 762.57USD.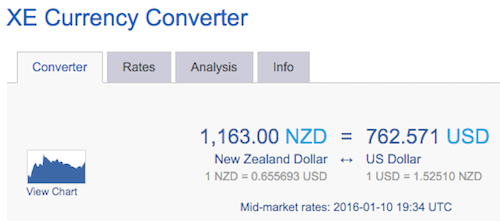 Instead I was charged 806.96USD — that means I was overcharged by $44.39, or 5.8%.
I called the associate out on it and asked why he didn't give me the option of paying in NZD. He said "oh, they train us to just charge in the currency of the card." I explained to him that not only does that translate to a terrible conversion rate, but the receipt even said there was a further 2.05% fee. His response was "are you sure?"
Unfortunately I was in a rush to catch my flight, since there was one person working at reception on a Monday morning after the hotel was sold out for the entire weekend, and I had to queue for 20 minutes before I was helped. I also didn't want to delay the people behind me. I'll be following up with the hotel, though, on principle, and ask them why they're training their employees this way.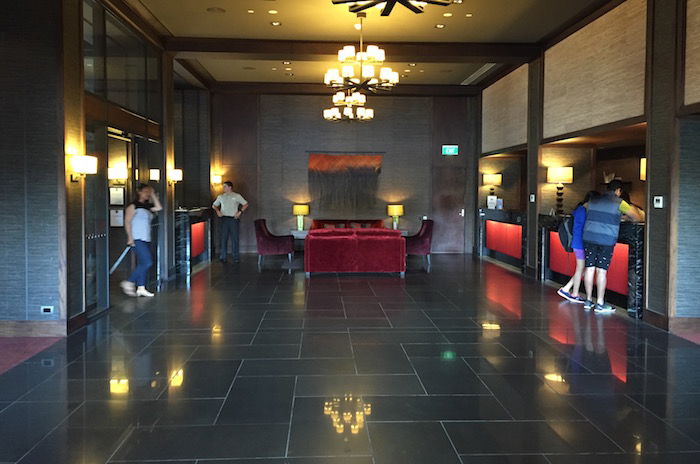 To the major hotel chains: I really wish this is an issue you'd tackle globally. I stay with hotels like Hilton, Hyatt, Starwood, etc., because I expect they train certain standards globally to avoid scams. Sure, some major hotels have hidden/ridiculous resort fees, etc., but would it be too much to ask that the major hotel chains train their individual hotels about this "scam," because it's costing guests a lot of money?
Anyone else face these currency conversion scams at hotels?