In the interest of full disclosure, OMAAT earns a referral bonus for anyone that's approved through some of the below links. These are the best publicly available offers that we have found for each card. Opinions expressed here are the author's alone, not those of the bank, credit card issuer, airlines or hotel chain, and have not been reviewed, approved or otherwise endorsed by any of these entities. Please check out my advertiser policy for further details about our partners, and thanks for your support!
I just wrapped up a four night stay at the Park Hyatt St. Kitts. This property just opened last year, and I know a lot of you have either already stayed here, or have upcoming stays at the hotel.
As many Hyatt loyalists can attest to, it's nice to have a luxury points property so close to the US, which is likely why there's so much interest in the hotel. Oh, and the hotel also had one heck of a promotion shortly after opening.
So while I'll have a full trip report soon, in this post I wanted to share my initial impressions of the hotel. In no particular order:
I love how accessible the property is
As a World of Hyatt Globalist member I've traveled around the world to stay at Park Hyatts, so I just have to acknowledge how nice it is to vacation at a resort that's only one timezone away.
It was a quick nonstop flight from Miami to St. Kitts (which I easily booked with British Airways Avios), and from there it was just a 20 minute drive to the hotel.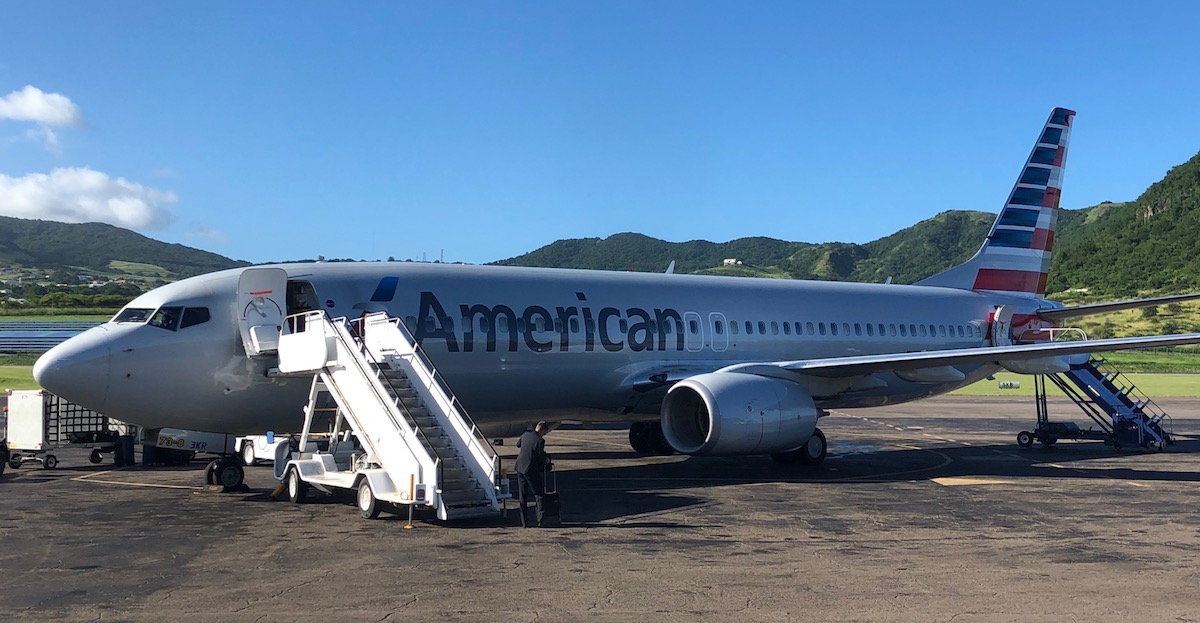 American 737 arriving in St. Kitts
As much as I love flying 20 hours to visit a hotel I love, over time I'm really enjoying being able to take a simple plane ride to get somewhere and not have to deal with jetlag.
The beauty of this hotel is that while it's not that far from the US, you still feel like you're a world away.
The property and rooms are beautiful
They did a phenomenal job with the design of this hotel, in my opinion. While there are some minor design choices I would have probably done differently, overall they did an excellent job building a hotel that feels high end, is well organized, and has a consistent theme. I really liked this resort.
Park Hyatt St. Kitts entrance to reception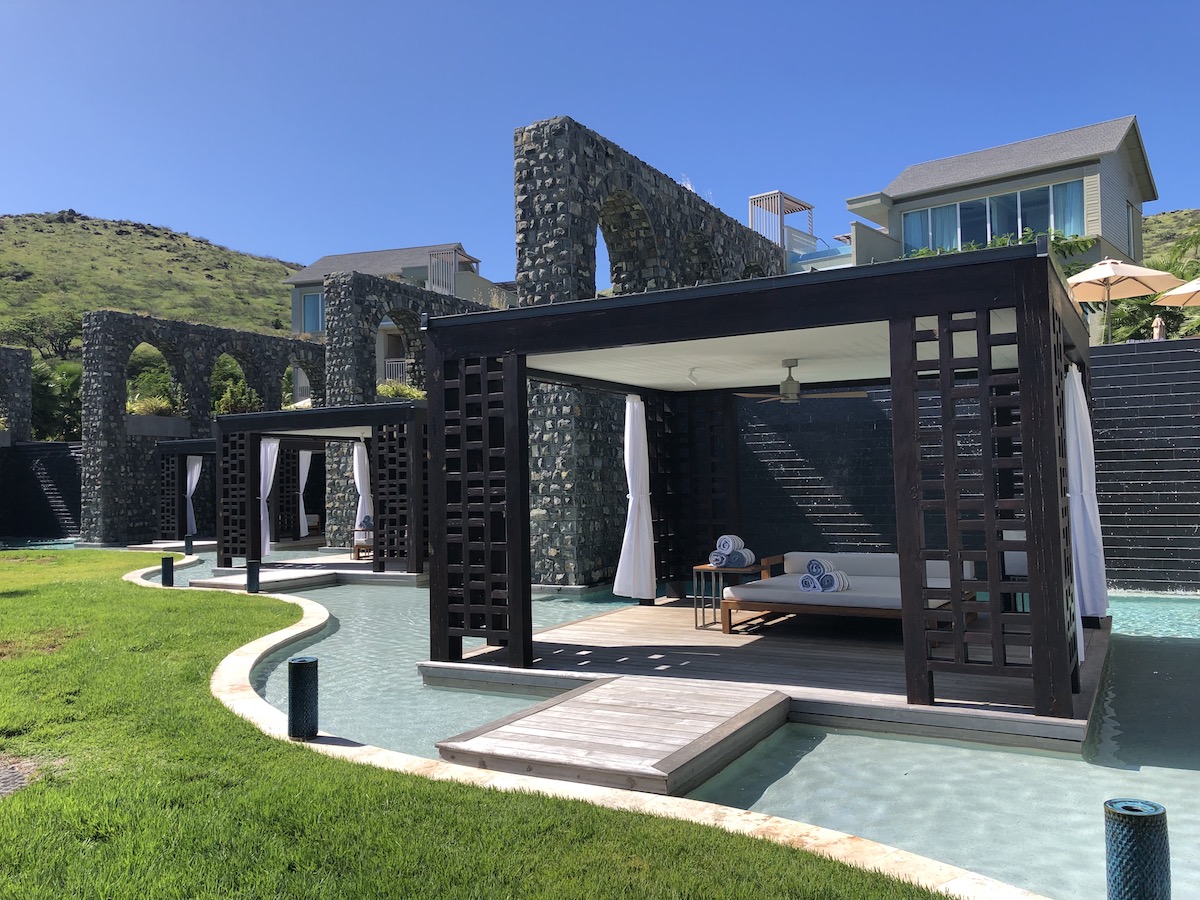 Park Hyatt St. Kitts cabanas

Park Hyatt St. Kitts property
The service was excellent
When it comes to vacationing at a resort, the quality of service makes a huge difference to me, given how much you interact with employees.
I was so impressed by the friendliness of the employees. Across the board everyone was genuine, friendly, and attentive, and the service exceeded my expectations.
Breakfast is a feast
If you are a Hyatt Globalist member or book a rate including breakfast, boy are you in for a treat. We were entitled to the full $45 breakfast at The Great House.
The Great House indoor seating
The check we signed for breakfast (though it was included)
This included a huge buffet (not fully pictured below), plus a selection of entrees from the menu. The entrees were meals in and of themselves.
The Great House breakfast buffet

The Great House breakfast entree

The Great House breakfast entree
Every morning I woke up looking forward to breakfast. Mmmm…
The food across the board was exceptional
I feel like this is worth writing about separate from breakfast. While breakfast was a treat, the rest of the restaurants here are great as well. The hotel has three restaurants:
The Great House is the hotel's main restaurant, and is open for breakfast, lunch, and dinner
The Fisherman's Village is the outdoor seafood restaurant, and is open for lunch and dinner
The Stone Barn is the fine dining restaurant, and is open for dinner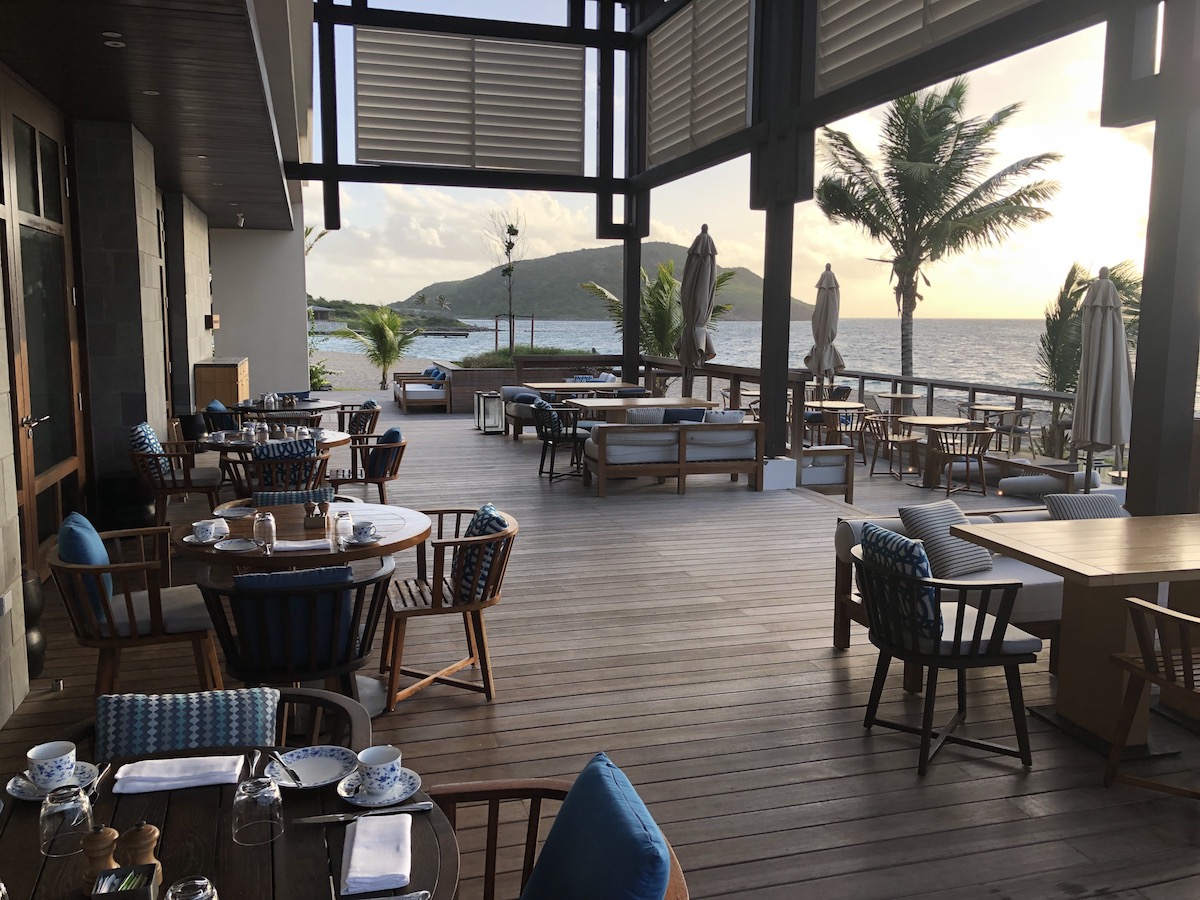 The Great House outdoor seating
The Stone Barn
The Fisherman's Village
Dinner at The Stone Barn
We didn't have a bad meal here, and it's rare that I say that at a resort. Huge kudos to chefs Pankaj and Rahul, along with their team.
You don't come here for the beach
While the Park Hyatt is located on the beach, the beach is actually sort of not great. It's not a bad beach by any stretch of the imagination, and we enjoyed walking up and down the beach every day.
However, the sand isn't powdery and white, there's seaweed on the beach, and the water isn't that clear. So it's a fairly nice beach (especially if you're coming from a snowstorm in New York), but not the nicest beach you'll find in the Caribbean. While some people relaxed on loungers on the beach, I didn't really see people swimming.
Fortunately the pools are lovely. There are two pools — the main pool is massive, while the adult only pool is one level up, and is nice as well.

The Park Hyatt St. Kitts main pool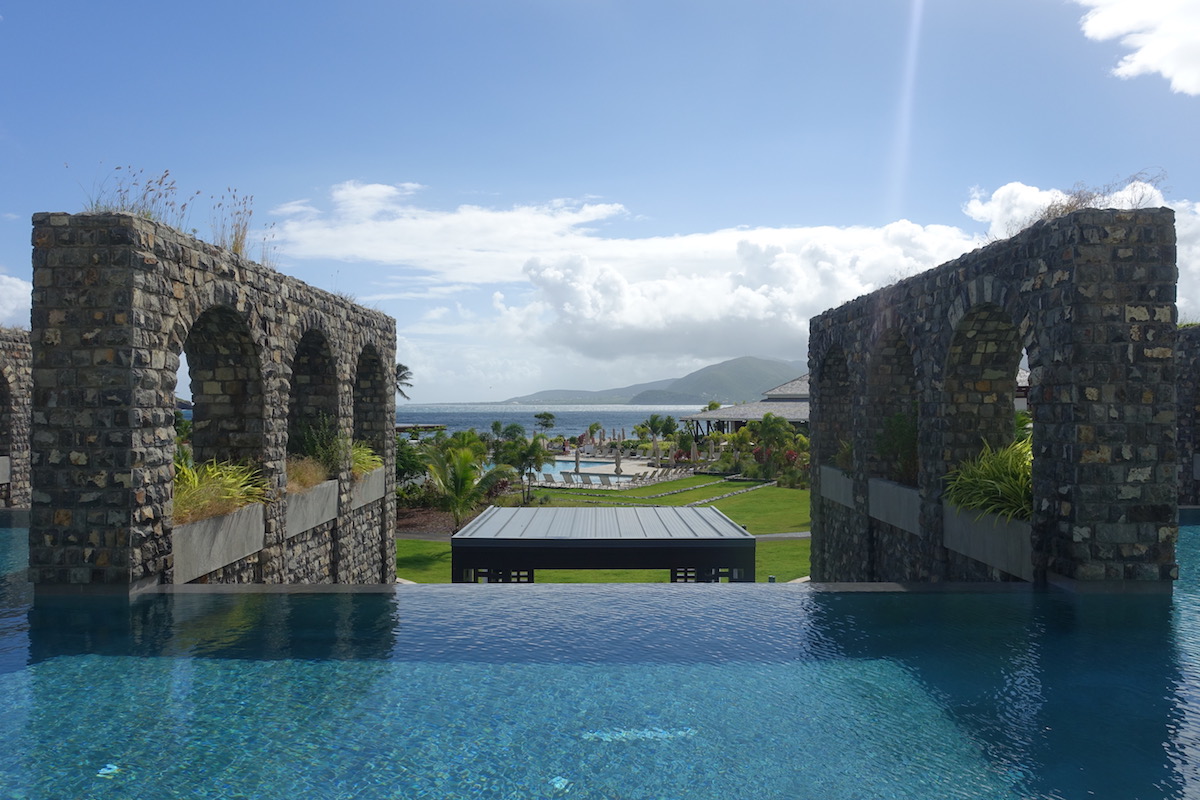 The Park Hyatt St. Kitts adult pool
The Park Hyatt is a ways from town
The Park Hyatt is located in Christophe Harbour, which is at the far end of St. Kitts.
On one hand it's really nice to be that secluded, especially since St. Kitts gets tons of cruise ships, and you're on exactly the opposite side of the island. St. Kitts is a fairly small island, and I imagine you'd feel the 10,000+ cruise ship visitors that are on the island some days on the other end.
On the other hand, you're also a ways from the town, so it takes 20+ minutes to drive to the other side of the island. There are a couple of restaurants and bars nearby, but not many.
Prices are… about what I expected
I'm sure a lot of people are wondering what prices are like once on property. I'd say prices are about what you'd expect at a luxury property in the Caribbean. That's to say that they're definitely not cheap, though they are a bit cheaper than what you'd find in the Maldives, for example (which I'd expect, since it's more accessible).
Cocktails were $11-15, lunch mains were $15-25, dinner mains were $25-40, etc. This doesn't include the 12% tax and 10% service charge, which adds up.
So this hotel isn't cheap, but I didn't think the prices were unreasonable either.
To give examples of the two "extremes," here's the poolside lunch menu:
And here's part of the dinner menu at the fine dining restaurant:
There were some minor shortfalls
I always like to be balanced in reviews, so I feel like I should mention the following:
The mattress in our room was too hard for my liking
This is going to sound silly for some, but to me single ply toilet paper has no place in a luxury hotel
There were some minor service issues which resulted from a bit of disorganization (rather than service issues resulting from a lack of caring); for example, we ordered room service twice, and both times our trays sat outside our room for about 24 hours, which seems unnecessary (and we didn't place them there, but rather housekeeping put them there when our room was done being cleaned)
We plan to return to the Park Hyatt St. Kitts
This is the biggest endorsement I can give the Park Hyatt, since I'm not generally someone who likes to return to the same destination.
Ford and I both agreed that we'd return to the Park Hyatt St. Kitts in a heartbeat. That's because to me the hotel strikes a beautiful balance between being easily accessible from the US, offering great opportunities to earn and redeem World of Hyatt points (in low season I'd probably pay cash, while in high season I'd probably redeem points), I can use a suite upgrade there as a Globalist, and we just found the entire experience so relaxing.
We loved enjoying a leisurely breakfast, lounging around the pool, taking a nap in the afternoon, and then having a great dinner. We really didn't do a whole lot at all while in St. Kitts, and frankly that's what we needed right about now.
We stayed for four nights, and we didn't want to leave.
We're even thinking of just planning a trip here for next Christmas and taking the whole family, since it seems like a great use of points.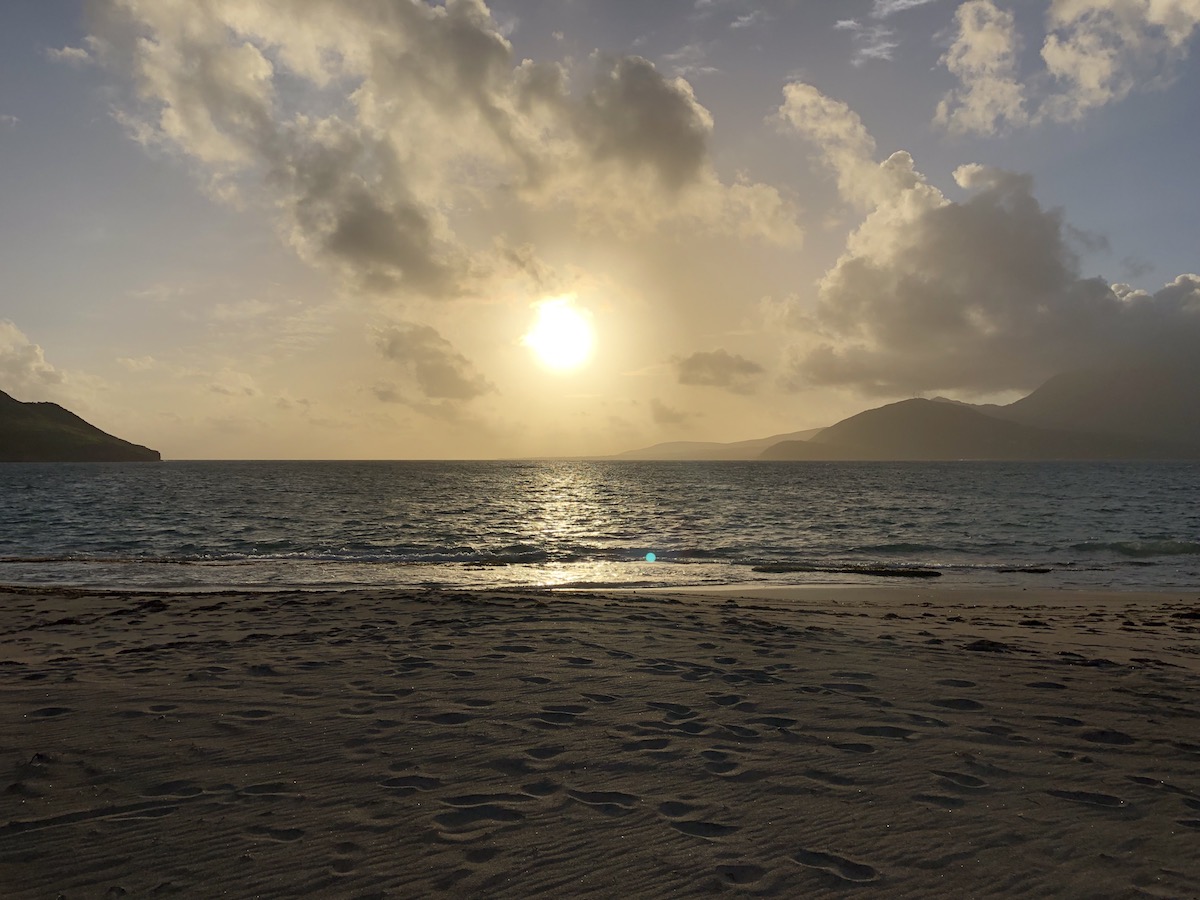 Want to book the Park Hyatt St. Kitts?
There are two best ways to book the Park Hyatt St. Kitts. If you're traveling in high season and rates are high, I'd recommend redeeming World of Hyatt points.
This is a Category 7 World of Hyatt property, meaning a free night costs 30,000 World of Hyatt points.  There are many easy ways to acquire World of Hyatt points.
If you're booking a paid stay, I highly recommend booking through a Hyatt Privé advisor. By booking through a Prive advisor you can typically book whatever the standard rate is (including any fourth night free offers), and receive the following additional perks:
A $100 property credit per room per stay
A one category room upgrade confirmed within 24 hours of booking, subject to availability (room-to-room or suite-to-suite)
Daily full breakfast for two in the hotel's restaurant
Early check-in (as early as 9AM) and late check-out (as late as 4PM), subject to availability
A welcome gift and letter
The hotel even has a promotion at the moment for the high season where you can get a fourth night free and more.
If you'd like to make a Prive booking, Ford would be more than happy to help, and can be reached at [email protected] Other Prive advisors are also welcome to leave their contact info below.
If you've visited the Park Hyatt St. Kitts, what was your experience like?