I get asked a lot about hotels in the UAE, in particular in Dubai. Out of habit I've often stayed at the Park Hyatt Dubai, which I like for a few reasons:
It's really close to the airport, so is great for a quick overnight
It's a bit removed from the city, so really feels more like a secluded resort than a city hotel
As is the case with most Park Hyatts, service is a bit more personalized and intimate than at a mega hotel
I recently stayed at the Grand Hyatt Dubai for the first time, and figured I'd write a brief comparison between the two properties, prior to writing my full review. The funny thing is that I get reader feedback all the time from people that both love and hate both properties, so I figured it would help to kind of set expectations properly.
Comparing rooms
Both hotels are a bit past their prime and in need of an update, in my opinion.
That being said, the Park Hyatt rooms have a clear edge. They're more in line with the typical Park Hyatt minimalist and modern theme.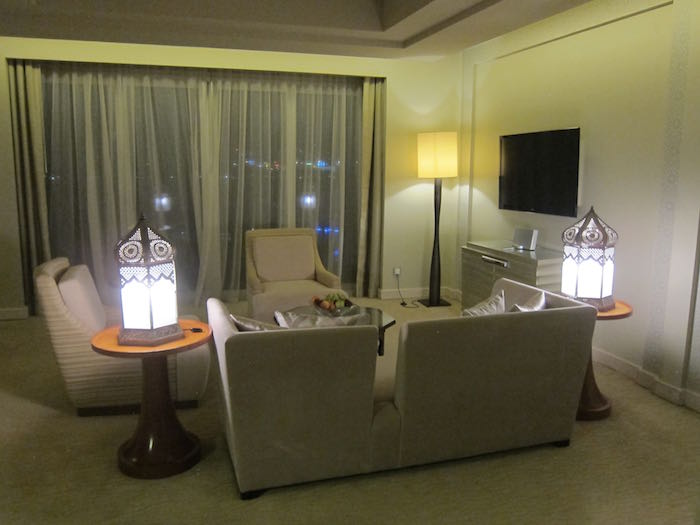 Park Hyatt Dubai Park Suite living room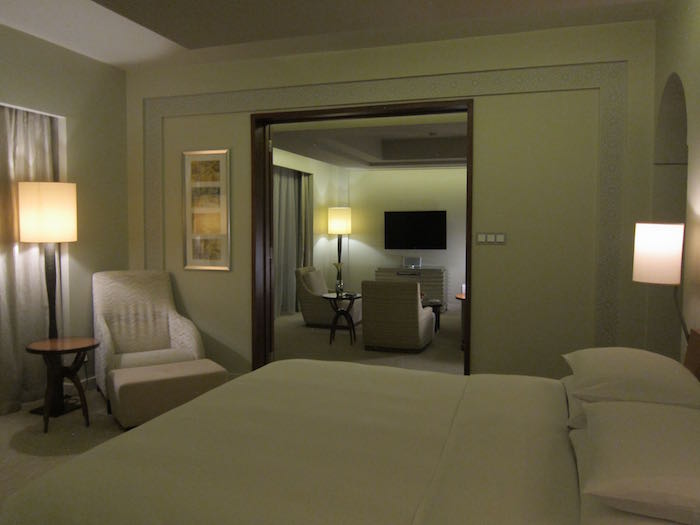 Park Hyatt Dubai Park Suite bedroom
The Grand Hyatt rooms are spacious as well, though the hotel is even more past its prime. The hallways all have a bit of an odor as well. Nothing that can't be tolerated, but you can smell that the hotel is past its prime, if that makes any sense.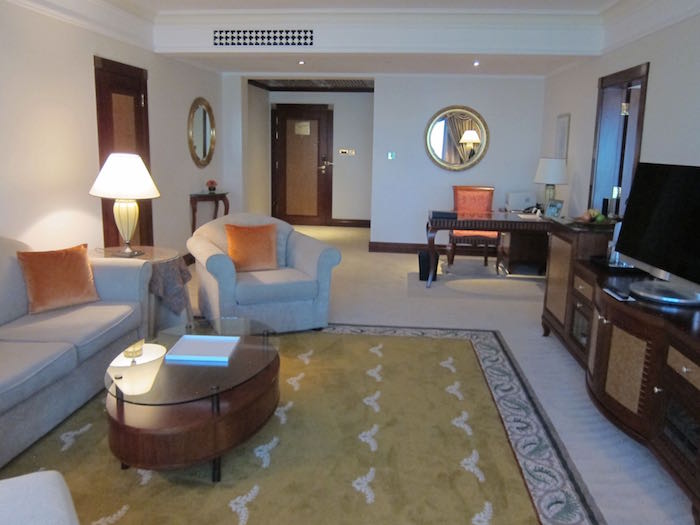 Grand Hyatt Dubai Grand Suite living room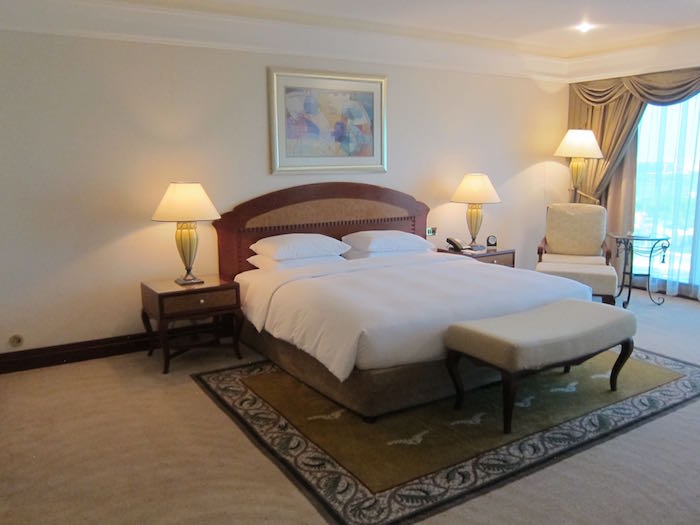 Grand Hyatt Dubai Grand Suite bedroom
Comparing locations
The two hotels are located on opposites sides of Dubai Creek. That means both hotels are very close to the airport, and about a 10-15 minute drive from Dubai Mall, and 20-25 minute drive to Dubai Marina.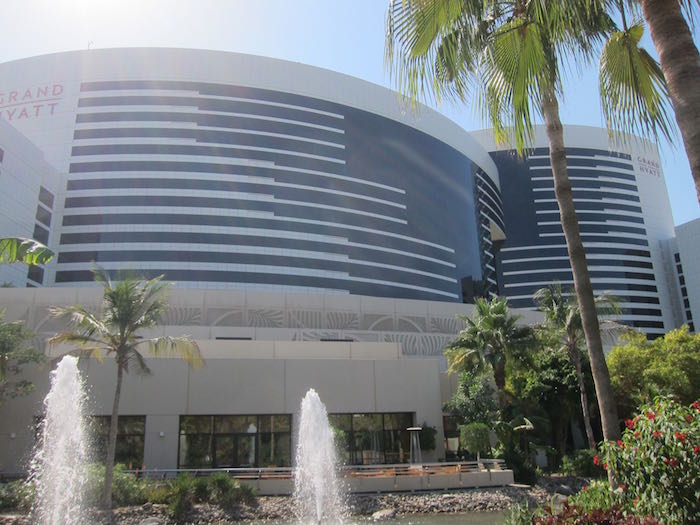 Grand Hyatt Dubai exterior
Maybe I'm weird, but I love being in the Dubai Creek area. It's nice to be close to the airport, and I don't mind the short drive to get into the center of the city given that the hotels feel so removed and private in comparison to some of the "city" hotels.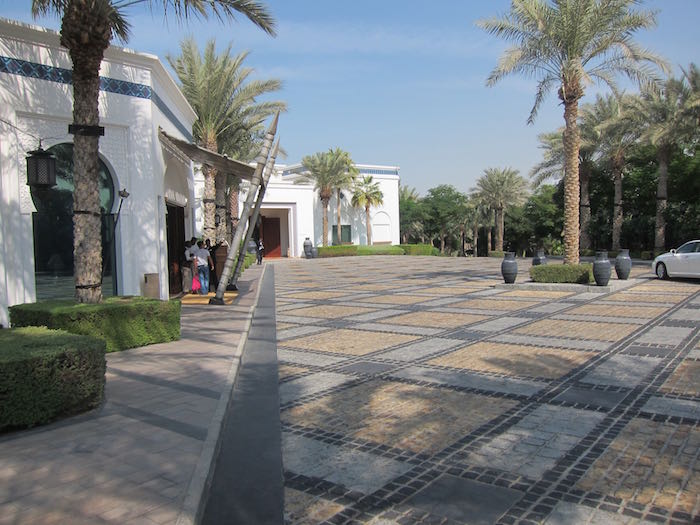 Park Hyatt Dubai exterior
Club lounge vs. breakfast
The Park Hyatt Dubai doesn't have a club lounge, meaning as a Diamond member you receive complimentary breakfast in the hotel's restaurant, Cafe Arabesque. While the service in the restaurant isn't great, the food spread itself is quite good, in my opinion.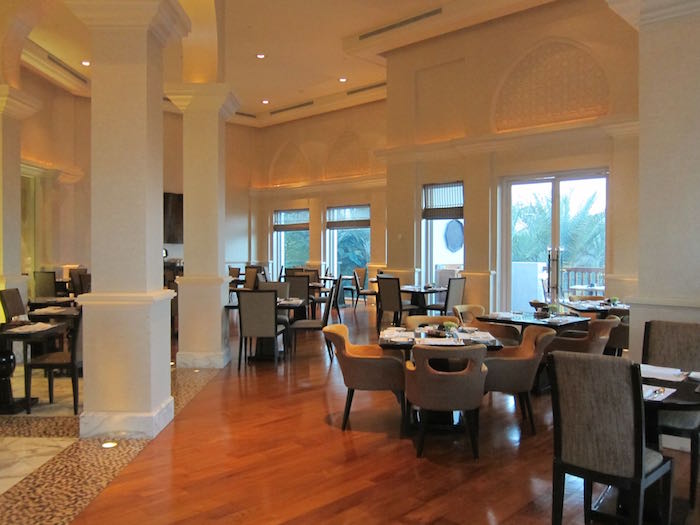 Park Hyatt Dubai Cafe Arabesque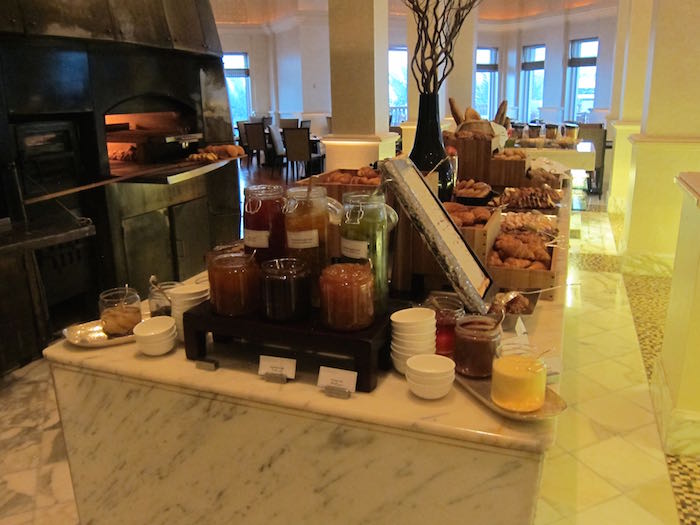 Park Hyatt Dubai Cafe Arabesque breakfast spread
Meanwhile the Grand Hyatt has a club lounge, which you receive access to as a Diamond member. As far as club lounges go, it's a very nice one, with an extensive breakfast and evening spread.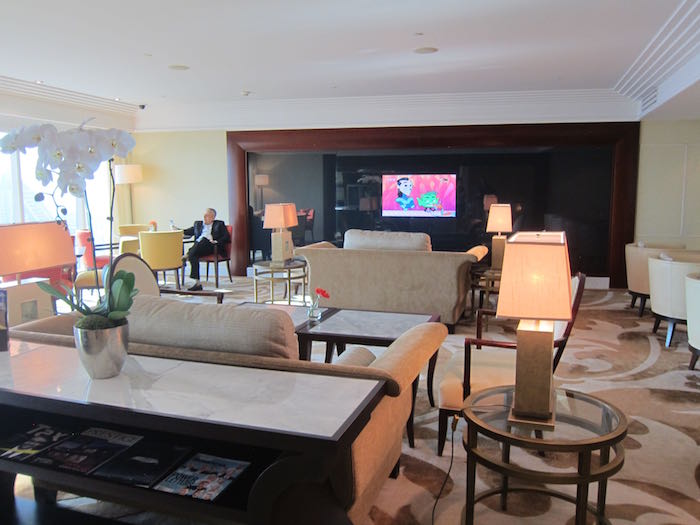 Grand Hyatt Grand Club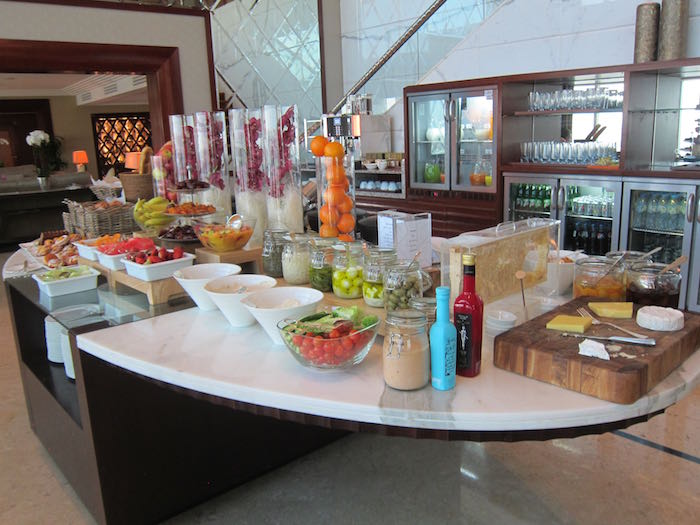 Grand Hyatt Grand Club breakfast spread
Obviously restaurant breakfast is going to be better than lounge breakfast, but then again in the lounge you also get evening snacks and drinks (and given the price of alcohol in Dubai, that can be pretty valuable).
Comparing dining venues
As I mentioned above, both hotels are a bit removed from the city center, so if you want to eat off property you'll have to take a taxi.
I do think it's worth talking about dining venues, especially for hotels in the Middle East. Outside the Middle East you'd rarely go to a hotel restaurant unless you were staying there, though keep in mind that in the UAE hotel restaurants are the only ones that serve alcohol (for the most part), so many of them are "destination" restaurants.
While the Park Hyatt has a couple of fairly good but expensive restaurants, the Grand Hyatt has over a dozen restaurants, from Indian to Italian. So you can find great dining options there just about any hour of the day.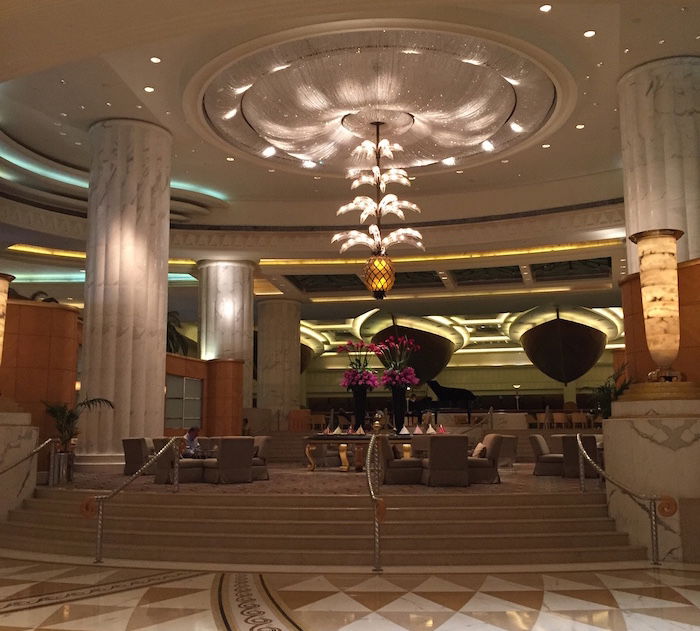 Grand Hyatt Dubai lobby
Comparing service
The Grand Hyatt Dubai has three times as many rooms as the Park Hyatt Dubai, so as you'd expect, service reflects that. While I don't think the Park Hyatt Dubai has amazing service, it's certainly more attentive than at the Grand Hyatt.
That being said, service in the club lounge at the Grand Hyatt is excellent, so you don't really get the mega-hotel feel there.
Bottom line
The two hotels are clearly intended to target different audiences, which is why Hyatt has two hotels so close to one another without really cannibalizing business:
If you're looking for something that feels like a private, secluded resort, the Park Hyatt is your best bet
If you're looking for a hotel with a lot of action, great restaurants, a club lounge, and more of a Vegas hotel feel, the Grand Hyatt is your best bet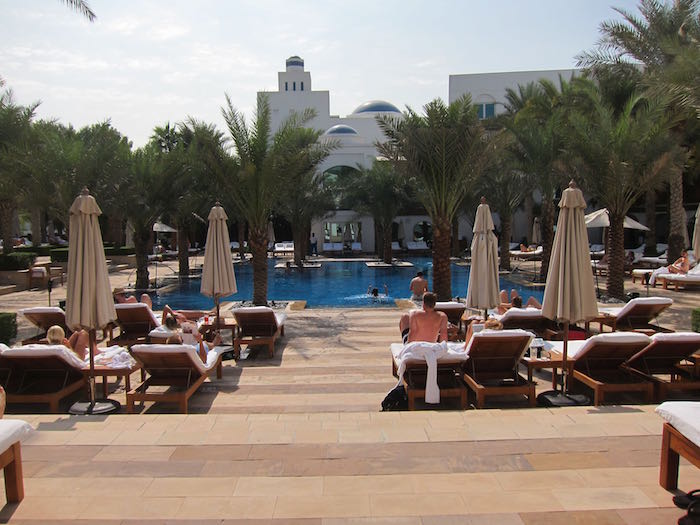 Park Hyatt Dubai pool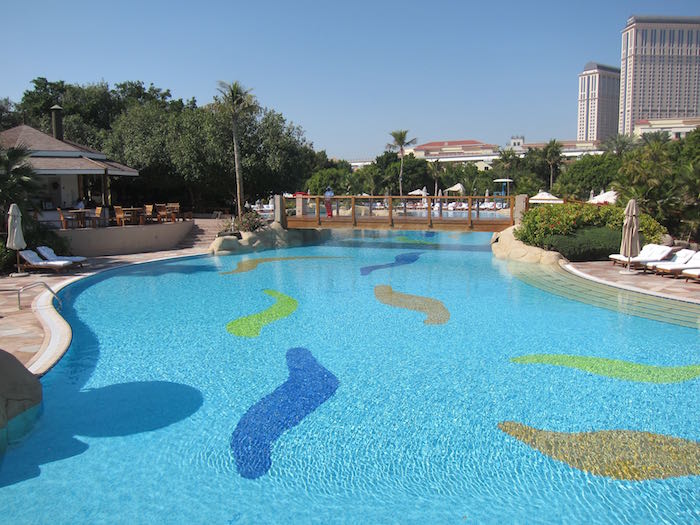 Grand Hyatt Dubai pool
Even though I've done both hotels, I don't write either of them off for future stays.
I do generally prefer Park Hyatt properties, and comparing the hotels head-to-head I think I prefer it, but at the same time there's something to be said for the awesome club lounge and all the great dining venues at the Grand Hyatt.
Do you have a preference between the Grand Hyatt Dubai and Park Hyatt Dubai, or do you have another hotel preference in Dubai?