This is a holiday weekend, when more flights tend to be oversold than usual. As luck would have it, I made out like a bandit on Saturday by volunteering for a later flight from Salt Lake City to Las Vegas.
A little background: I used the companion certificate from my Platinum Delta SkyMiles Credit Card to book a trip this weekend from DC to Vegas. Like many people with Monday-Friday jobs, I try to use holiday weekends for travel, to take advantage of the extra day off…but fares tend to be expensive. For me, this is a good use of companion certificates (I also have one from my Alaska Airlines Visa Signature Card) – that second ticket costs much less than it otherwise would.
My experience getting bumped on Saturday
Anyway, after arriving for my connection in Salt Lake, I get to the gate and the Delta agents are looking for three volunteers to be confirmed for a flight tomorrow morning to Vegas. They offer $600 in compensation. Nobody bites. They raise it up to $800 and two people take the bait. They announce that they're still looking for one more person, and they're offering $1,000!
I texted both Ben and Tiffany to see what they thought.
Ben's reaction was basically "you've got to be kidding me – why wouldn't you take that?"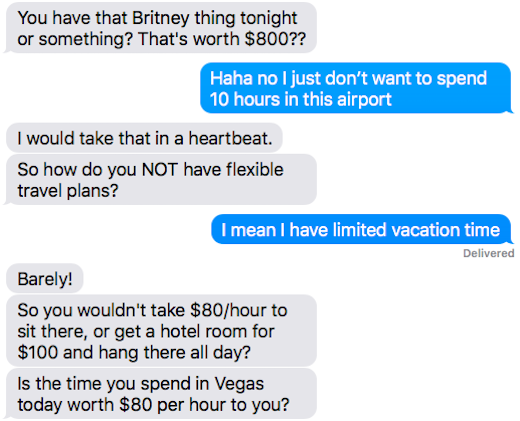 Note: Yes, I will be seeing Britney.
Tiffany, who I think was born with a gene that makes it impossible for her to resist being helpful, found a Southwest flight I could take that would get me into Vegas only slightly later than originally scheduled for $179 – I'd still come out over $800 ahead!
So I stepped up and volunteered. And that's how I hit the jackpot before I even arrived in Vegas.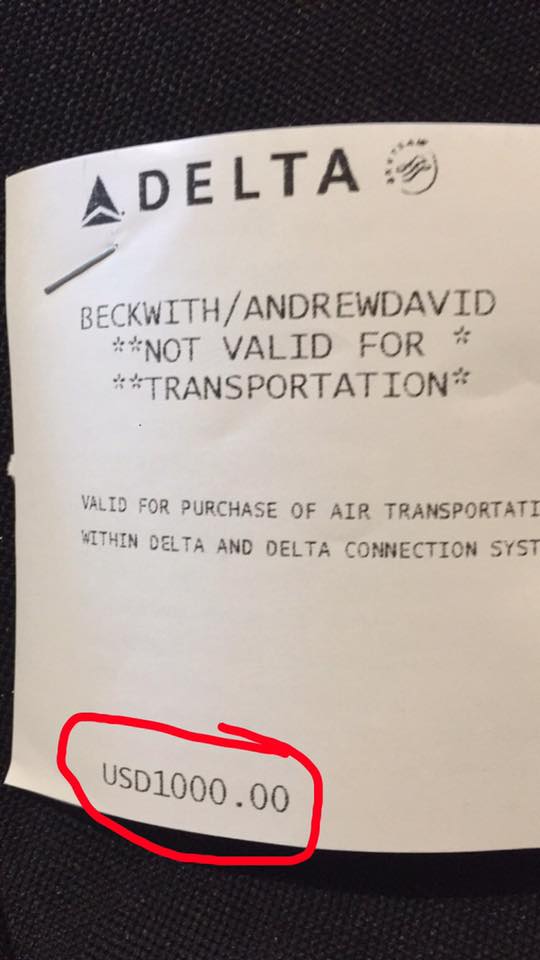 Better yet, Delta was able to confirm me on their 1:55 pm flight the same day, which would get me in only about 3 hours later than my original flight! Score!
Why Don't More People Volunteer?
This seems like an amazing deal – accept a 3-hour delay in exchange for $1,000. (To be fair, they originally announced that they could only confirm space on tomorrow morning's flight – but I figured I could find another airline or even drive to Vegas if I wanted to – it's about 6 hours from Salt Lake.)
Still, I hesitated. Why?
Ben said he thinks people might not understand how these vouchers work, and thus might be reluctant to accept them. Fair enough – though I've used them in the past, so that wasn't an issue for me. (Also: Ben doesn't have to worry about running out of vacation days at his job!)
Of course, it can also be logistically difficult to take a later flight: you may be traveling with several people, you may have other reservations (car, hotel, restaurant) that need to be modified, and you might have checked baggage to deal with.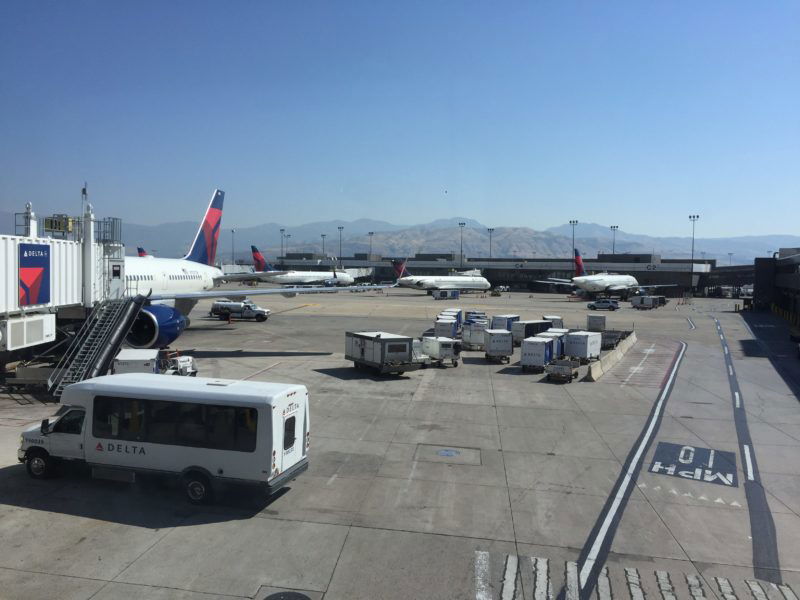 My theory is that a big part of the reason people don't step up is the endowment effect. In a nutshell, people are less willing to give something up that they already have. Imagine if you were booking a trip online and found that if you fly on Saturday, you would pay $250, but if you fly on Sunday, the trip would not only be free but the airline would give you $500 toward a future trip. I bet a lot of people would take that offer.
But when you're already at the airport and you're offered essentially the same deal, far fewer people will bite. The idea of losing a whole day of your vacation is not appealing.
One final note: it's crazy to me that the airline spent about $2,600 to bump three people from this flight, only to have us confirmed on a flight three hours later. If the gate agents had a better way of verifying that they could confirm bumped passengers on the next flight (rather than one the following day), I bet they could have found people to volunteer for less compensation.
If you're interested in maximizing your chance of getting bumped (and potentially earning some nice travel credit), check out this post. One caveat: as was the case on my flight, you could potentially get a higher offer by waiting to see if anyone volunteers for the initial offer. By waiting it out, I made an extra $400, since the initial offer was only $600. But, of course, you're taking the risk that others will volunteer before you.
Has anyone else taken a bump offer recently?