China Eastern has today revealed details about a new subsidiary they're launching. We knew this was coming, though the whole concept has to make you wonder.
China Eastern has ordered planes from Comac
Historically China Eastern has exclusively operated Airbus and Boeing planes, though later this year they'll take delivery of their first-ever plane from Comac, an Aerospace company owned by the Chinese government.
If China has their way, they'll eventually be competing with Airbus or Boeing, or at a minimum will be able to supply planes for their massive domestic market.
Looking specifically at China Eastern's order for Comac planes, the airline has ordered
20 Comac C919s, which is a narrow body plane that seats around 170 passengers, and is intended to compete with the Airbus A320 and Boeing 737
35 Comac ARJ21-700s, which is a regional plane that seats around 80 passengers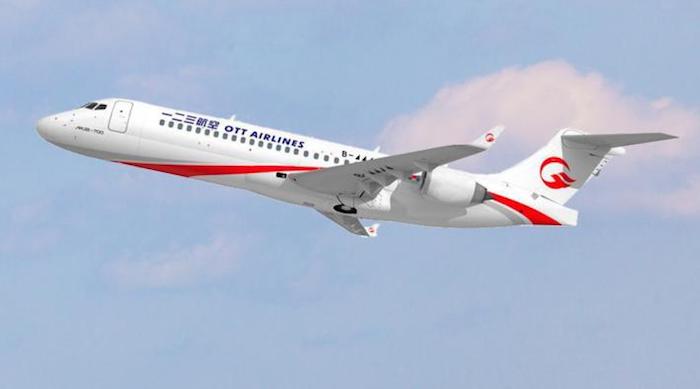 So far these planes have almost exclusively been ordered by Chinese airlines. It more or less seems like the government is pushing these on airlines. In August 2019 Air China, China Eastern, and China Southern all placed orders for the ARJ21 on the same day, and I imagine that's not a coincidence.
Note that Comac has had significant delays with these planes, and the C919 program is running five years behind schedule, and reports suggest that there's no end in sight for these problems.
China Eastern creating subsidiary for these planes
We've known that China Eastern would create a subsidiary specifically for these Comac planes, and today we learned the details of that.
Later this year China Eastern will be launching OTT Airlines, which will exclusively operate these Comac planes. "OTT" translates to "one two three," and it will be the first commercial airline to exclusively operate Comac planes. As the company explains:
"OTT can be understood as 'on time travel,' meaning that the journey is always on time. It can also be understood as 'over top travel,' implying that we will offer an incomparable flight experience to customers."
Riiiiight…
OTT Airlines will primarily operate domestic flights in the Yangtze River Delta and nearby regions.
The airline will be taking delivery of their first ARJ21 later this year, and then eventually the C919 will join their fleet as well. China Eastern is expected to be the launch customer for the C919, but who knows when that plane will actually be ready to enter service.
What's the logic of this subsidiary?
I could understand if China Eastern were creating a subsidiary exclusively for the smaller regional jets, but I do find it strange that they're essentially putting all Comac produced planes in one subsidiary.
This wasn't the plan in the past, as China Eastern was supposed to take delivery of all of these planes directly, and not for a subsidiary.
The truth is that I don't know what to make of this, though I do find it a bit strange. I'm not sure what the logic is, though a few things come to mind:
Is the airline worried about the operational reliability or safety of these planes, and wants to separate this operation sufficiently from China Eastern's brand?
Are there regulatory concerns about selling connecting tickets (including through partner airlines) on planes that aren't certified by most safety authorities around the world?
Does China Eastern want to do a side-by-side analysis of maintenance costs, reliability, etc., to further get a sense of whether Comac is a real alternative to Airbus and Boeing?
I'm sure there are plenty of other possible explanations, but those are the first that come to mind.
Perhaps what's telling here is that I haven't actually seen anything about what will make OTT Airlines different other than the planes — it doesn't sound like China Eastern is planning a proper ultra low cost carrier or anything.
I can't think of any other airline that launched a subsidiary with the express purpose of operating planes from a new manufacturer.
Bottom line
It's interesting that China Eastern has changed their mind about what they'll do with their China-built Comac planes — rather than having them join China Eastern's fleet, they'll instead form a new subsidiary with them.
I'm not sure what exactly their motivation is, though I do find it curious. Then again, it's not like Boeing nowadays has a reputation for quality and transparency, so perhaps it's not fair to be too critical of Comac.
What do you make of China Eastern launching OTT Airlines? Would you fly with them?