In terms of overall benefits, I consider the oneworld alliance to be all around best. That's because as a oneworld Emerald member I receive access to international first class lounges, like the Qantas First Class Lounge Sydney, Cathay Pacific First Class Lounge Hong Kong, etc.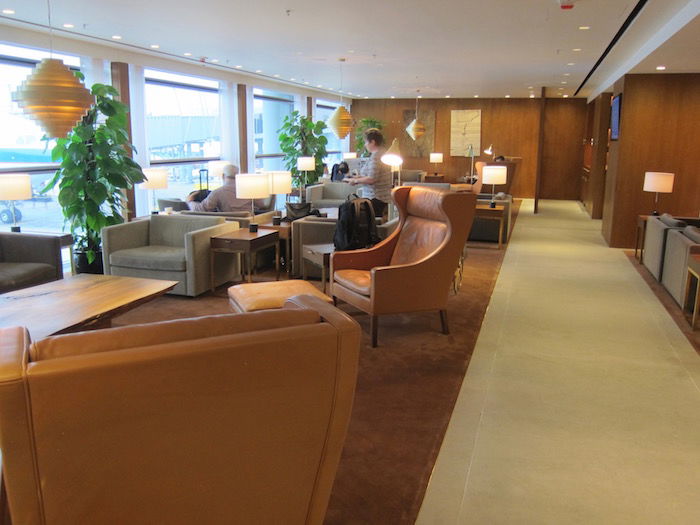 But that's not the only area in which oneworld excels. For a long time, oneworld has offered a relatively seamless travel experience to those connecting between oneworld flights on separate tickets. How so?
If you're booked on two separate tickets on oneworld carriers, you've been able to check your bags through to your final destination
If you're booked on two separate tickets on oneworld carriers, you've been protected in the event of a misconnect or cancelation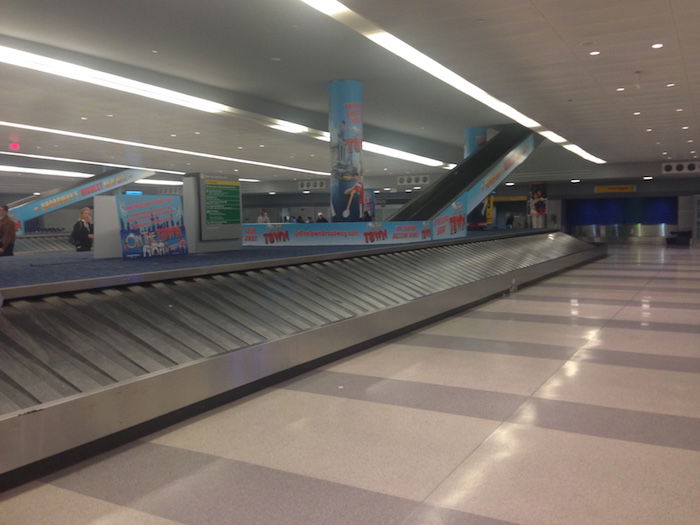 In other words, say you book a ticket on American from Los Angeles to London, and then a separate ticket on British Airways from London to Rome. In Los Angeles, American would have to check your bag through to Rome, and if your American flight from Los Angeles to London were delayed, British Airways would have to accommodate you on the next flight, at no extra cost.
That's no longer the case. As of June 1, 2016, the oneworld alliance has eliminated these benefits for passengers booked on separate tickets. Oneworld carriers no longer have to check your bags through to other oneworld carriers if booked on a separate ticket, and no longer have to protect you in the event of a misconnect when on separate tickets.
Airlines are in theory free to go above and beyond, though in practice it's no longer a policy, so I sure wouldn't count on airlines going above and beyond.
Obviously if you're booked on a single ticket spanning multiple oneworld airlines, you'll still receive these benefits. This change is reflected on cxagents.com as well: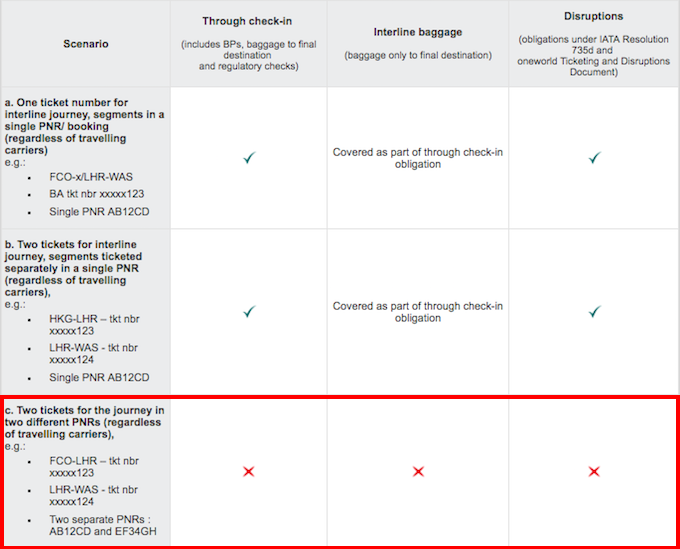 So, why is oneworld making this change? Per a oneworld spokesperson quoted on AusBT:
Blunt says the interline rules were relaxed to encourage travellers to book their entire journey on one reservation, as this obligates all airlines involved to help you reach your destination – even if onward connecting flights have to be re-booked or re-routed by the airlines at no charge to the customer.

"Experience has shown that using separate tickets for different sectors presents multiple problems in delivering an alliance's through check-in/customer support promise," Blunt reflects.

"As anyone who has stood in a check-in line behind someone doing this can testify, that can be a lengthy process," Blunt explains.

"And this at a time when, in response to the preferences of the majority of customers, check-in and baggage drop are now moving towards self-service and online options," which don't usually provide this functionality.
So they're basically doing it because they want you to book on a single itinerary, which I suppose I can't blame them for in theory, but in practice this was really a point of differentiation for oneworld.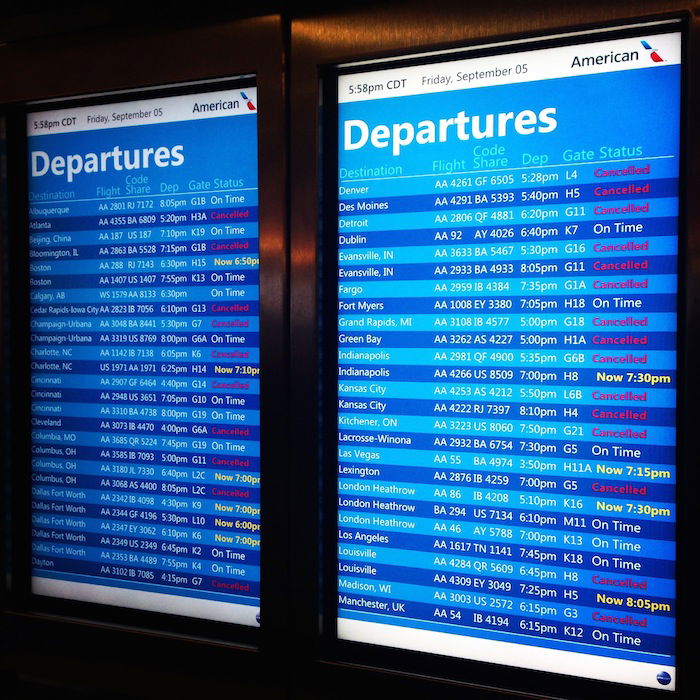 Bottom line
Unfortunately the oneworld alliance no longer stands out for offering a seamless travel experience or better protection when traveling on multiple tickets. This is a real shame, because there were so many instances where it was beneficial to be on multiple records (for example, if you found a cheap ticket to London and then wanted to redeem Avios for a connection within Europe, if your plans changed last minute so you added another ticket, etc.).
Now you'll have to leave time to claim your bag, clear immigration, etc.
It's a shame that they're eliminating this benefit, as it's one I've used a couple of times. It was brilliant, and put me at ease when traveling with oneworld.
How do you feel about oneworld ruining the interline experience for those on multiple tickets?