Lately we've seen a lot of travel brands get creative when it comes to generating revenue. With so many businesses having liquidity issues, we're seeing companies offer a deal if you pay now for travel later. We've seen many hotel brands sell gift cards at a discount, and Omni has just become the latest brand to do so.
Omni Hotels & Resorts is offering a 25% bonus when you purchase a gift card:
You can receive a $25 digital bonus for every $100 in gift cards purchased, up to a maximum of $4,000
You can purchase a physical or digital gift card, though the bonus will come in the form of a digital gift card no matter what
Omni gift cards are exclusively valid for stays at US properties
You can spend the extra dollars on anything you want, from room rate, to food, to spa services
Omni gift cards don't expire, and I don't see anything indicating that the bonus gift cards expire, though that's also not stated explicitly
There's no published end date for this promotion, so it could be pulled at any time
You can read the full Omni gift card terms & conditions here.
While I won't personally be taking advantage of this promotion, I did try out the purchase process. I added a $1,000 digital gift card to my "cart," and then the $250 in extra value was added automatically.
However, that came in the form of 10 bonus cards worth $25 each. I sure hope those are consolidated, or else using all of them at check-out during a hotel stay could be quite time consuming.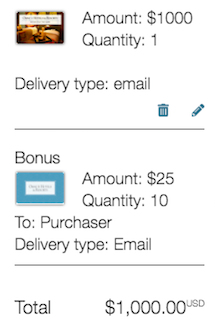 For those of you not familiar with Omni Hotels & Resorts, the group has roughly 60 properties in the United States, Canada, and Mexico.
Bottom line
Omni Hotels & Resorts is offering up to a 25% bonus on gift card purchases. If you're a frequent Omni guest this could prove to be worthwhile, as it appears to me that the gift cards don't have an expiration.
Personally I won't be taking advantage of this. Perhaps for all the wrong reasons, Omni is one of the biggest hotel groups that I almost never think about. I don't think I've ever stayed at an Omni, even though the company has dozens of hotels in North America.
Does anyone plan on taking advantage of this Omni gift card promotion?
(Tip of the hat to Doctor Of Credit)