Well this has been a fun few weeks.
For reasons we still don't understand (but which don't seem to have been due to anything we did), our MailChimp account was shut down, making it impossible to send out our daily/weekly newsletters. After a few false starts, we've been able to get things mostly set up with MailerLite, which has been great to work with, though we're still ironing out a few wrinkles.
In the turmoil, it's more than possible that some of your email subscriptions didn't make it through the transition. So, if you like receiving emails from us and want to continue, please take a few moments to confirm you are subscribed to everything you'd like to be subscribed to.
Daily, weekly, & more
With the new system, you can still customize your email preferences. Even though we only send one email per day, we often hear that can lead to too much inbox clutter, especially when people are traveling, as most people also check the blog directly or follow us on social media.
You can still receive the daily digest with all the posts from the day (choose the "Daily" setting) — this is sent around 5PM Eastern
If that's too many emails for you, the "Weekly" option will send a recap of the posts from the week on Saturday afternoons
You can also opt-in to the (extremely) occasional promos and deals emails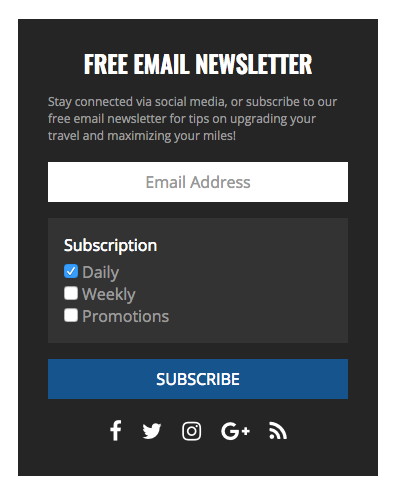 Check your subscription
If you've been receiving the daily email, you should continue to do so. But, you'll want to check and be sure you're still subscribed (if you want to be, of course), and then can edit your preferences as well.
The easiest way is to enter your email address into the subscription box. You should get a message telling you whether or not you're subscribed, which will then let you confirm/change/cancel your subscriptions.
Adjust spam filters
Going forward, emails will be sent from [email protected], so you'll want to edit any filters or whitelists accordingly.
This shouldn't be that big of a deal, and hopefully, everything works as-designed, but if you run into any problems please let us know! And thanks as always for reading!