For the past several years Norwegian has grown like crazy, as they've expanded both their short-haul and longhaul network.
While many people may be familiar with Norwegian's transatlantic flights between North America and Europe, the airline has a lot more routes than that.
Norwegian also operates tons of flights within Europe (which Europeans are no doubt familiar with), and even operates flights within the Caribbean, and from the Caribbean to the US and Canada.
We know that Norwegian has been struggling financially, and the airline is undergoing a major restructuring. So the airline is now altering their strategy from being focused on growth to being focused on profitability, and that means the airline will shrink significantly.
Well, Norwegian has just revealed some huge cuts to their route network. Norwegian will be ending all Caribbean operations as of the end of March 2019. The airline started flying to the Caribbean about four years ago, and at the moment operates the following routes:
Fort-de-France to Fort Lauderdale, Montreal, and New York JFK
Pointe-a-Pitre to Fort Lauderdale, Montreal, and New York JFK
Cayenne to Fort-de-France and Pointe-a-Pitre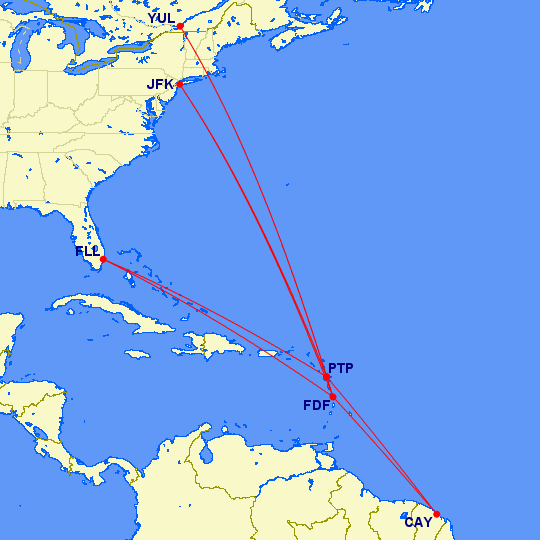 I believe those are the only routes they're operating at the moment, though it's possible there are more. For a while the airline was operating even more routes to the Caribbean (including out of Providence), but most of them have been cut.
A Norwegian spokesperson explains that the airline hasn't achieved the desired profitability for these routes.
The timing of these cuts is funny to me, since I hadn't fully realized just how many routes they had until recently. I was considering taking Air France's fascinating flight from Miami to Cayenne (with several stops), and had considered flying back on Norwegian. I guess that's not happening anymore.
Are you surprised to see Norwegian cut their Caribbean route network?
(Tip of the hat to Aviation24)