In the interest of full disclosure, One Mile At A Time earns a referral bonus for purchases made through some of the below links. These are products and services we use ourselves, and are the best offers we know of. Check out our Advertising Policy for further details. Thanks for your support!
In the interest of full disclosure, One Mile At A Time earns a referral bonus for anyone that's approved through some of the below links. These are the best publicly available offers that we have found for each card. Opinions expressed here are the author's alone, not those of the bank, credit card issuer, airlines or hotel chain, and have not been reviewed, approved or otherwise endorsed by any of these entities. Please check out my advertiser policy for further details about our partners, including American Express, Capital One, Chase, and Citi, and thanks for your support!
This post will be an anecdote of my experience trying to maximize credit card rewards in Sweden. I'm lucky to have a US Social Security Number, giving me access to the incredibly generous sign-up bonuses and rewards in the US. However, there are other options and ways to take advantage of credit card offers for those of us living abroad. As they say, if there's a will, there's a way.
When I turned 18, I signed up for the Norwegian Reward credit card. It offers a return of 1%, which is obviously better than the 0% I was earning with debit cards. However, Norwegian CashPoints weren't getting me closer to my next international first class trip. In July I set out to explore more of the Swedish credit card market. I knew there had to be a way to maximize SAS' credit cards, both with American Express and Mastercard.
Originally, I was turned off by the high annual fees. The most popular SAS American Express card cost the equivalent of $150 per year. It didn't seem to have a signup bonus either. Luckily, just a month later American Express started an aggressive campaign, offering their lowest tier card for free and waiving the annual fee for the popular Premium Card. Not only that, but I realized I could earn 6,000, 12,000 or 18,000 point sign-up bonuses through other people's referral links.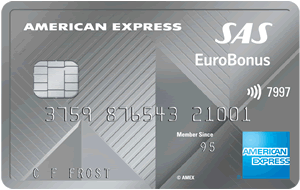 Furthermore, American Express lets you refer almost an unlimited number of people once you have a card. Now that the SAS Classic card had a $0 annual fee, there was nothing stopping me from referring anyone and everyone: my aunt, my aunt's best friend, and best friends' brothers, etc.
In two months, I went from thinking that the Swedish credit card market was useless to earning tens of thousands of SAS points from my SAS Premium card, which I paid $0 for the first year.
I hadn't even considered using SAS' Eurobonus program since there were no short-cuts to earning points. Well, for the next months it was smooth sailing, and together with starting to credit my flights to SAS, I earned a few hundred thousand miles. I had no idea it was about to get even better.
I'd read into SAS' Mastercards, and ultimately decided it was better to go with American Express. However, this December I learned about an insane offer with their most expensive Mastercard, called Eurobonus World Premium.
If you've earned 50,000, 100,000, or 200,000 SAS miles in a year, you unlock a benefit called FlyPremium. At each milestone, you get unlimited award tickets in SAS Plus within Europe, SAS Plus worldwide, and SAS Business worldwide, respectively, for the point-price of economy. The best part? Points earned via credit card spend and referrals count!
Suddenly, having earned just over 200,000 points, I could buy roundtrip tickets to anywhere in SAS' network for 60,000 points (the price of economy) roundtrip in business class. This enabled me to buy my mother and my aunt business class tickets for Christmas to visit me at college. Four months earlier, I could never have dreamed of giving them a gift like that!
Moral of the story
I'd always assumed those of us living outside the US couldn't truly take advantage of credit card points. My confirmation bias lead me to ignore the possibilities that were hidden in the terms and conditions of these Swedish cards. In a way, the combination of my SAS American Express and Mastercard is more beneficial than any card I have found in the US.
So, go out and research your local credit card market. If I can find credit card rewards of this caliber in a semi-socialist, anti-big bank country, I'm sure you can too! Just because we don't have big, flashy sign-up bonuses doesn't mean you can't accelerate your point earnings toward the trip of a lifetime.
What other great programs have you found outside the US?