United Airlines' app has long been the best in the industry. It has just been taken to the next level for situations where you encounter irregular operations, completely negating the need to wait in a long customer service line at the airport.
United app's amazing features during irregular operations
United has today announced how its mobile app is officially rolling out new features that travelers will appreciate during irregular operations. It's always frustrating to have flight disruptions, and if you don't have elite status or access to a lounge, many think the best thing to do is to wait in a very long line at a customer service counter.
Fortunately with United's app updates, that will no longer be needed, thanks to the self-service tools that have been rolled out. Note that some of these features have already been tested over the past several months, but this is now consistently available.
What can customers expect? If a flight is delayed by more than 60 minutes or canceled, customers will automatically see options on the home screen of the United app. Here's how this works:
You can click the link in the automatic text notification you get about a delay or cancelation, or can head straight to the mobile app, where you should see a prompt
Once there, you'll see the flight you were rebooked on, and also have the option to look at other flight options that are available, based on your preferences
You'll be able to follow the status of your checked bag, and see when it was checked in, loaded onto your flight, and arrived at your final destination
If your delay is long enough, the app will show options for receiving hotel, meal, and/or rideshare vouchers, if eligible
If you're not finding what you're looking for, there's an option in the app to call, text, or video chat with United agents virtually, who can offer the same assistance as the agents at the airport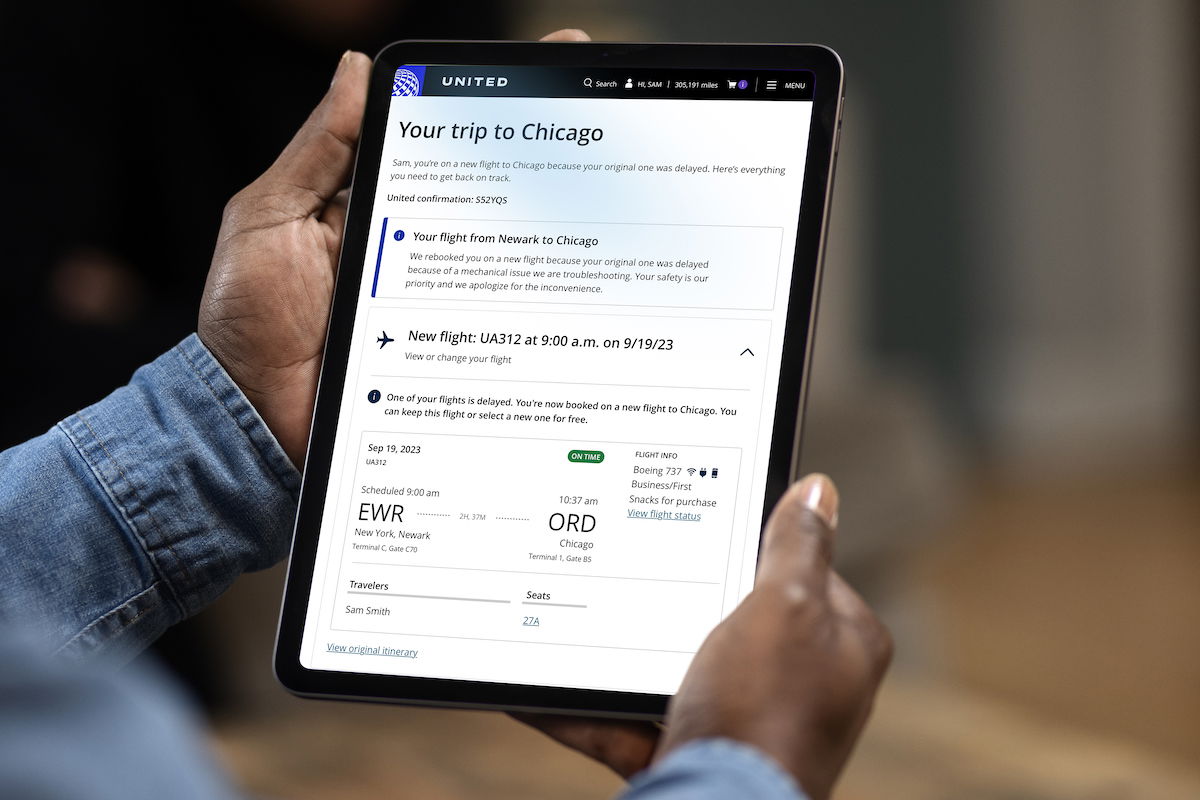 Here's how Linda Jojo, United's Chief Customer Officer, describes this innovation:
"Our goal is to get our customers to their destination on time, but we know things don't always go as planned and that's when a tool like this can make a real difference. Our new mobile app feature offers more transparency, saves time and reduces stress for our customers, and it shortens lines at customer service desks so our employees can better assist passengers with complex issues or questions. Plus, it's another example of United's continued investment in new technology and tools."
United's app & website are simply amazing
United deserves a huge amount of credit for its website and app, which are by far the best of the "big three" US carriers. In particular, the app is so functional, and lets you do just about everything on your own.
I think we can all agree that when it comes to tech, United is best, followed by Delta, followed by American. I mean, American doesn't even let you apply a mileage upgrade or systemwide upgrade through the website or app, but rather you have to call. And let's not even talk about JetBlue, which makes American's tech look like United's, by comparison. 😉
Now, there's a certain irony to United investing so much in tech off the plane, while the airline greatly lags both American and Delta when it comes to high speed Wi-Fi inflight. United is finally trying to catch up, but the airline is so far behind its two biggest competitors on that front.
Bottom line
United Airlines' app has awesome new features for irregular operations. In addition to being able to rebook flights, you can also receive meal, hotel, and rideshare vouchers through the app, and can even be connected to a live representative. This is something that United has been working on implementing for quite some time, and it's now official. Well done, United!
Do any OMAAT readers have firsthand experience with United's app rebooking features?