A couple got married on a Southwest Airlines flight a few days ago, and apparently it wasn't planned.
Why a couple got married on a Southwest Airlines flight
According to the story, on Tuesday, April 19, 2022, Pam and Jeremy joked that they should hop on a plane and get married in Las Vegas. They both quickly realized that the other wasn't kidding, so they booked a flight for Sunday, April 24, 2022, on a competing airline.
The couple was scheduled to fly from Oklahoma City (OKC) to Dallas (DFW) to Las Vegas (LAS), and after flying from Oklahoma City to Dallas, they arrived at DFW and found out that their connection was canceled (presumably they were flying American Airlines). While that was bad luck, things got better from there:
Another passenger on the canceled Dallas to Las Vegas flight overheard Pam and Jeremy discuss how they could still get to Las Vegas in time for their wedding
Chris happened to be an ordained minister, and offered to marry the couple
The three went online, and booked the last three seats to Las Vegas on a Southwest Airlines flight
They then hurried across town to Dallas Love Field
During boarding, the captain noticed Pam's wedding dress and asked her about it (yep, the couple were traveling in full wedding attire, just for the fun of it, allegedly)
Pam joked to the pilot that they should just get married on the plane, and the captain allegedly said "let's do it"
So the crew sprung into action, using toilet paper and streamers as decorations
A flight attendant stood in as Pam's Maid of Honor, a professional photographer happened to be on the flight, and pulled out her camera for official wedding photos, and another passenger passed around an old notebook for fellow passengers to sign with well wishes
Below are some pictures Southwest Airlines shared of the inflight wedding.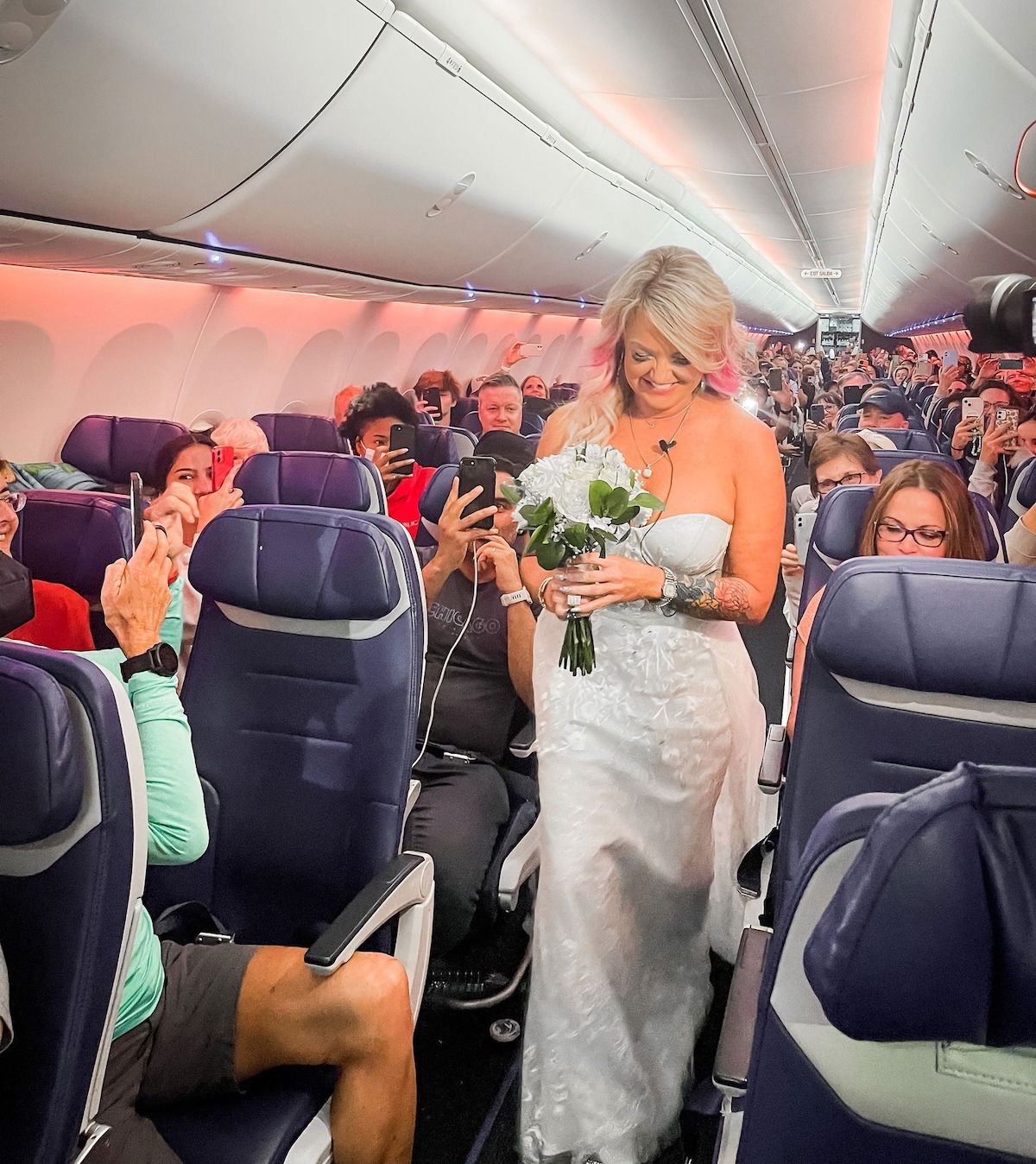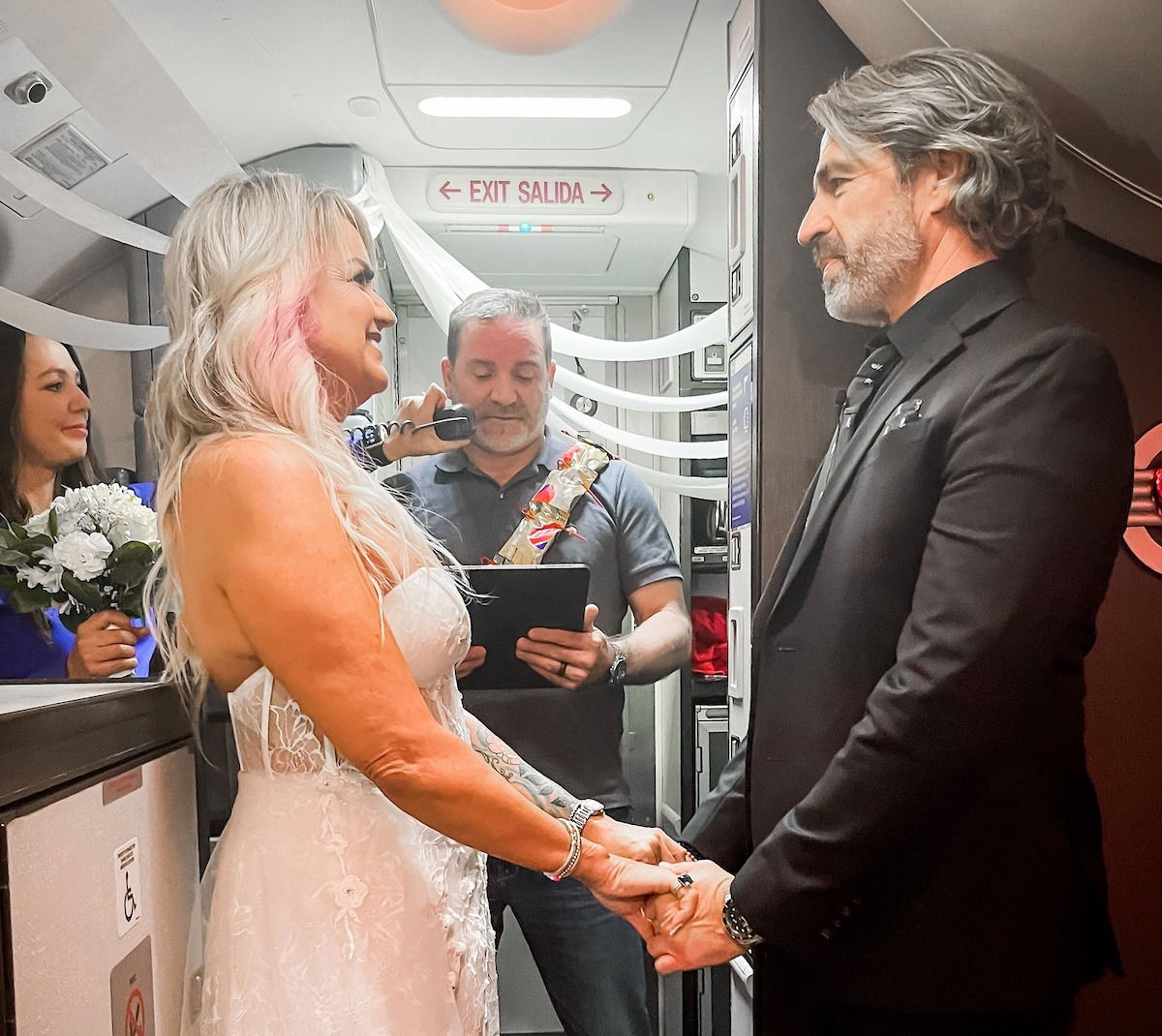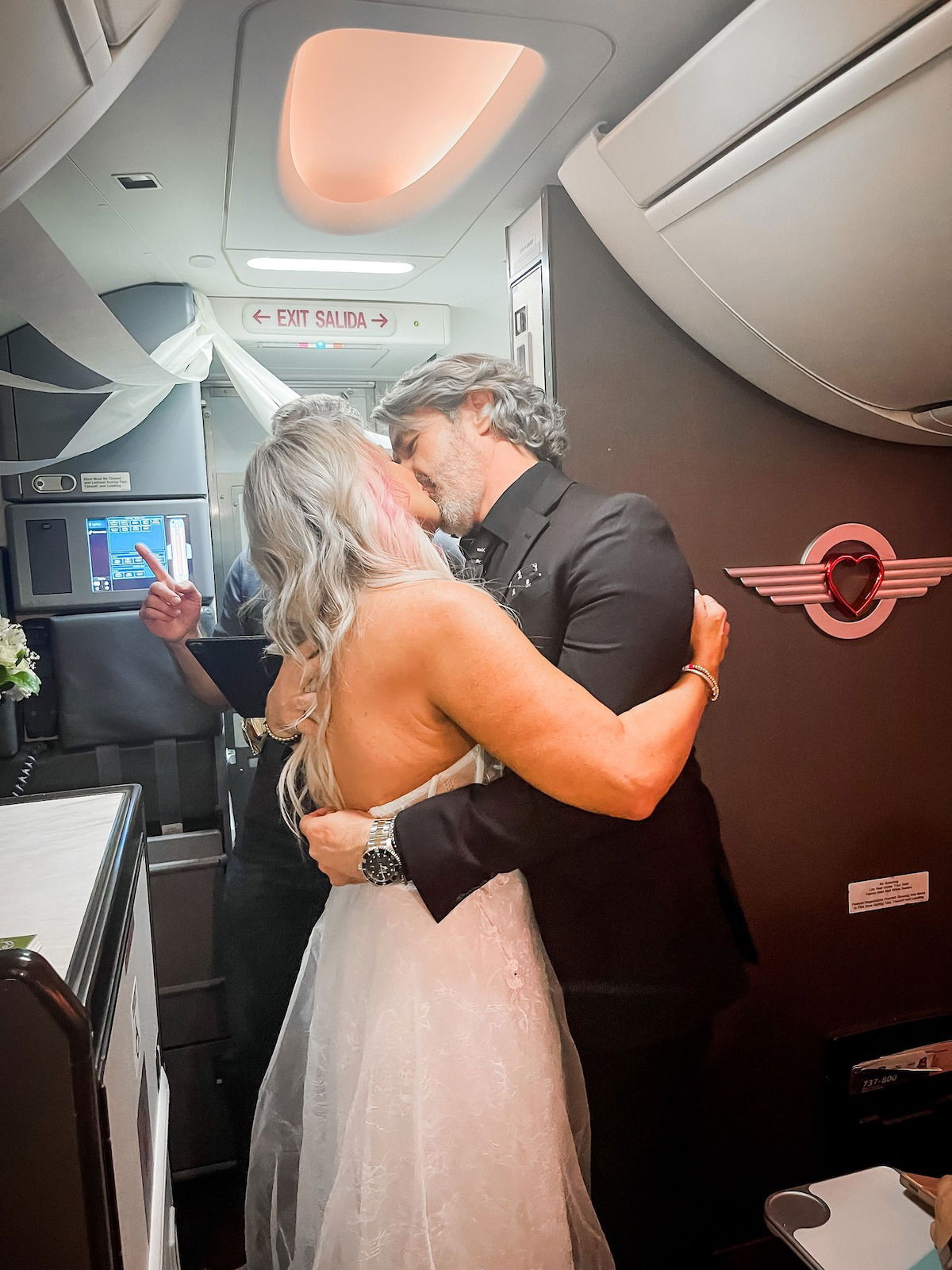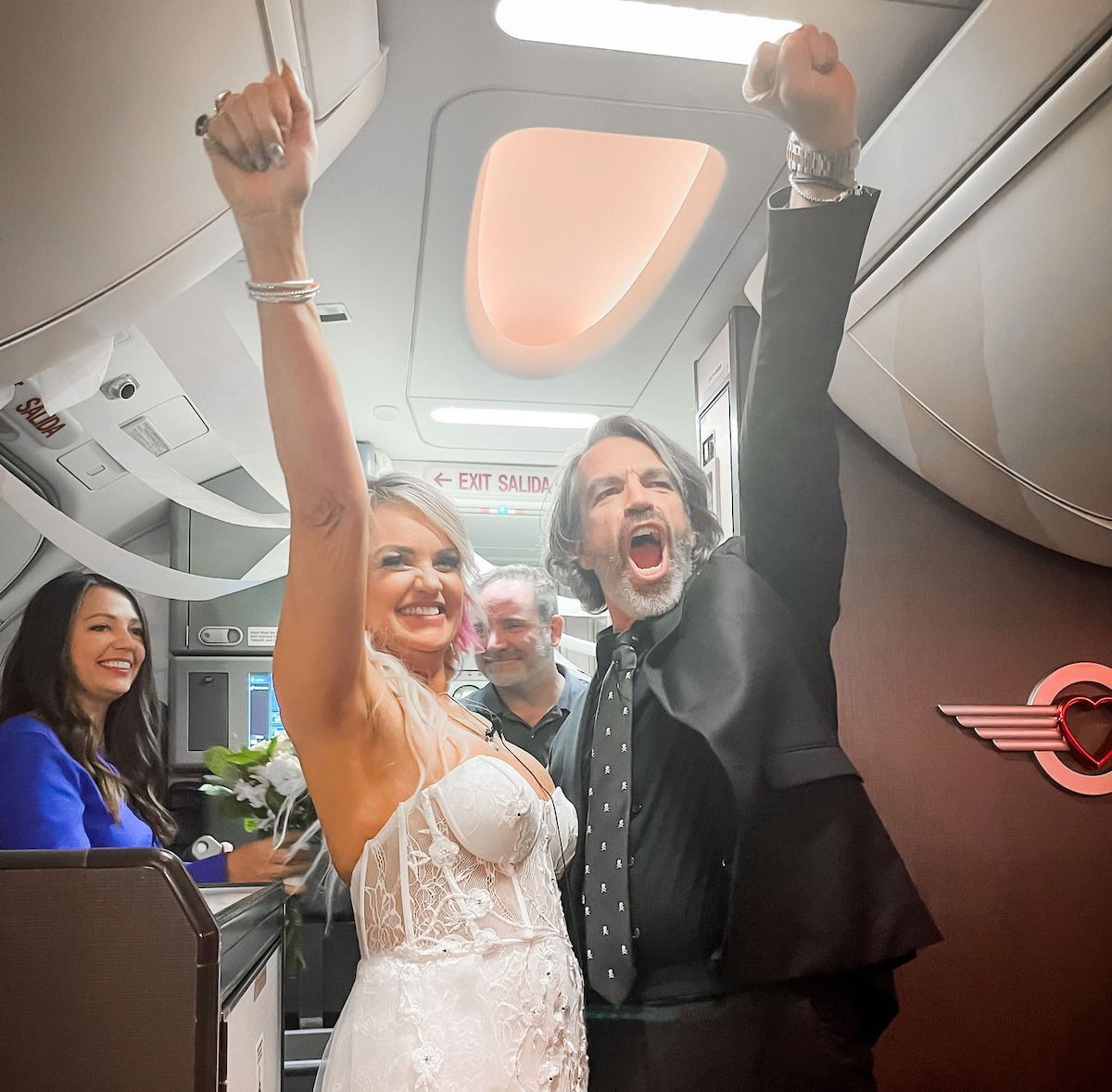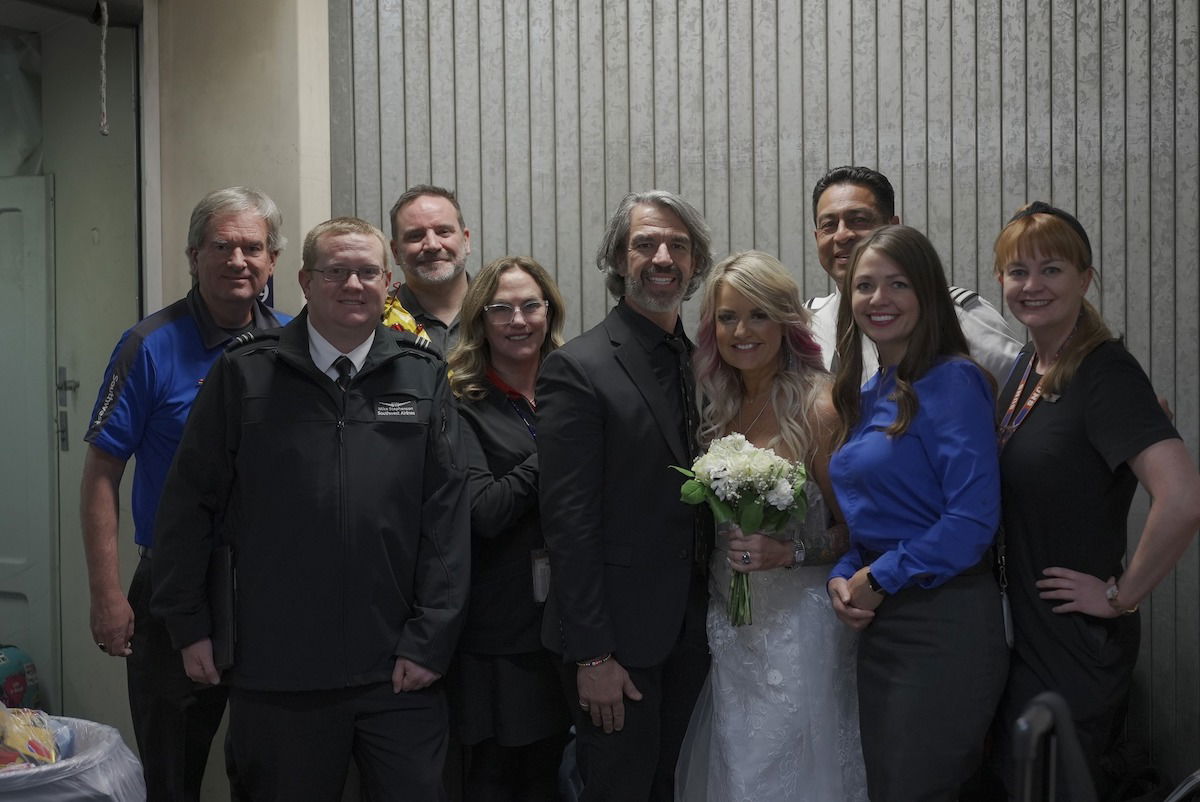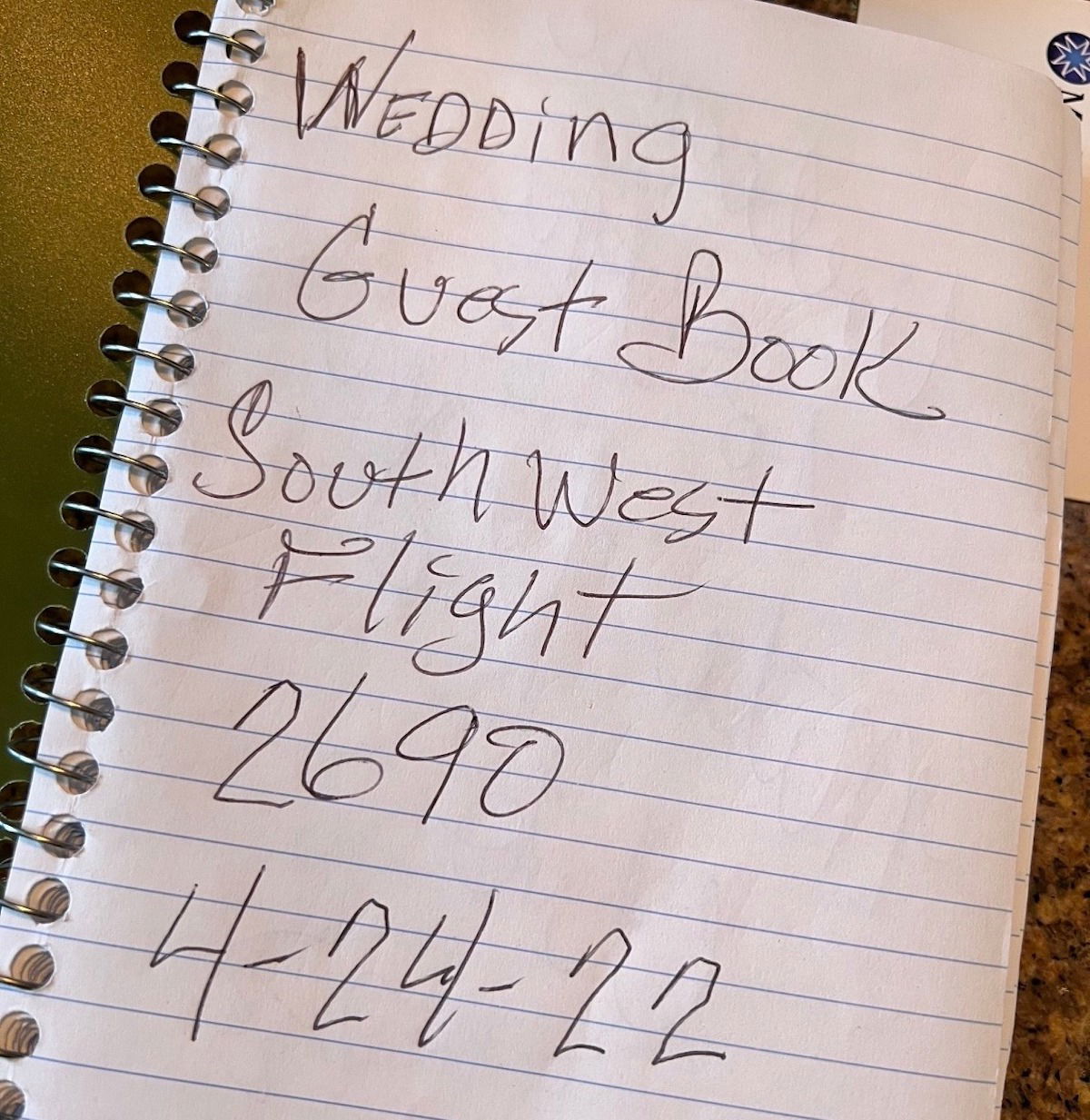 What an awesome story!
This isn't the first time we've heard of someone getting married inflight. For that matter, roughly a year ago a Southwest Airlines pilot got married inflight. What sets this latest story apart is that it wasn't planned this way, but rather was an on-the-spot decision.
However, a lot of things had to happen for it to play out this way:
Their flight from Dallas to Las Vegas was canceled, causing them to miss their wedding appointment
An ordained minister happened to overhear their situation
The couple happened to be traveling in their wedding attire
There happened to be exactly three seats left on a Southwest flight to Las Vegas, and the minister happened to be onboard with booking that as well
The crew happened to suggest that the couple should get married on that flight
There happened to be a professional photographer on the Southwest flight
I'm going to take all of this at face value, but suffice it to say that a lot of stars had to align for this to play out the way that it did.
Bottom line
On Sunday, a couple decided to get married onboard a Southwest Airlines flight from Dallas to Las Vegas. The couple was traveling to Las Vegas to get married (which was a spur of the moment decision to begin with), and then several factors combined to make this a reality.
What a story, and all the best to the newlyweds!
What do you make of this Southwest inflight wedding story?