A Russian government aircraft just flew from Moscow to Washington, which has to be one of the more interesting flights to operate today. I've had several OMAAT readers ask what exactly is going on, so let's take a look at the details…
Russian jet flies from Moscow to Washington
Today (Tuesday, June 27, 2023), a Russian-built Ilyushin Il-96-300, belonging to the Russian government's fleet, flew from Moscow (VKO) to Washington (IAD). The plane, which has the registration code RA-96018, is roughly 15 years old, and operated with the flight number RSD898.
The flight took a total of 11hr41min, and as you'd expect, it didn't exactly take a direct routing, given all the airspace restrictions that Russian registered aircraft are subjected to. The aircraft first flew almost directly north, before turning west over Finland and Sweden, and then flying southwest, avoiding Iceland and Canada.
Of course under normal circumstances, a Russian jet would be banned from flying a route from Moscow to Washington, so what was the purpose of this flight, and why was an exception granted?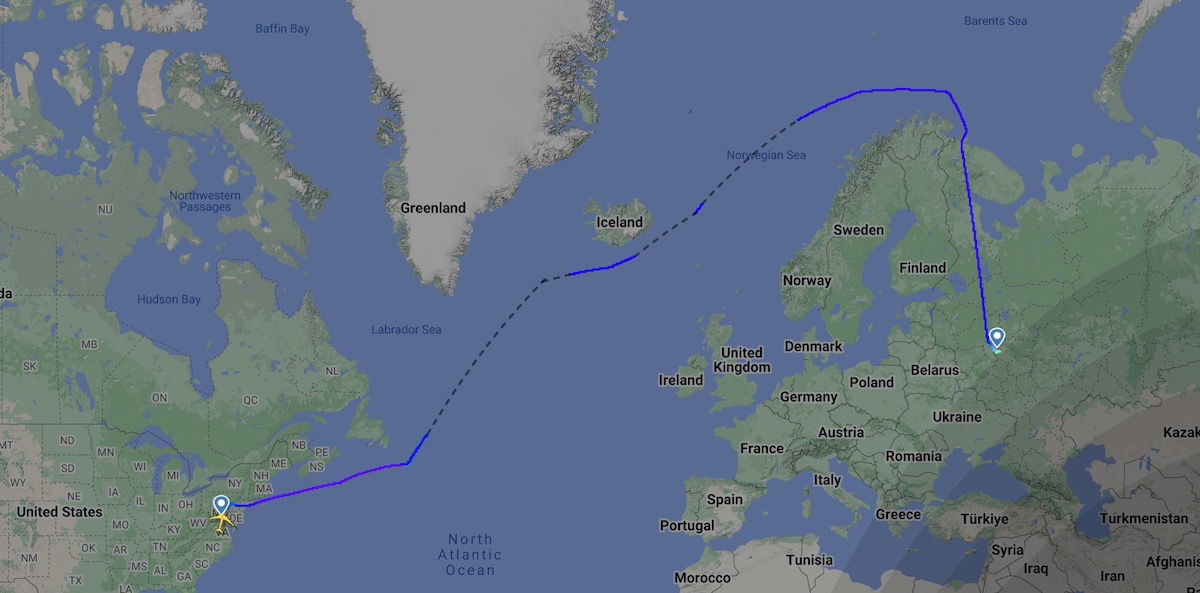 I'm curious to see when the aircraft returns to Moscow. I'm not sure if they have enough crew and this is a special enough mission that they can return right away, or if it will operate the leg back to Moscow tomorrow.
What was the purpose of this flight?
Why would a Russian government jet suddenly be flying to Washington? According to Russian Foreign Ministry spokeswoman Maria Zakharova, here's the explanation:
"A number of information resources have become excited about the Russian plane, which is heading to the United States. No sensations. It will take out Russian diplomats who were ordered by the US authorities to leave the country in connection with the completion of a three-year stay. This is not about expulsion, but about restrictions on the work created by Washington for Russian foreign institutions."
That reasoning isn't too surprising. While a Russian government jet would ordinarily be banned from the United States, exceptions are made for these kinds of reasons. This isn't the first such flight since Russia's invasion of Ukraine, and all the restrictions that have been put in place since.
In March 2022, a Russian government jet flew from St. Petersburg to Washington. That flight had a more exciting backstory, as its purpose was to pick up 12 expelled Russian intelligence operatives from the Russian Mission, who were accused of espionage.
Today's flight raises a question I'd be curious to know the answer to. What's the reason for sending a government plane, rather than just sending the diplomats on commercial flights (you can connect on Emirates, Turkish Airlines, etc.)? Is it because there are so many diplomats? Is it out of an abundance of caution? Is it because of the state of the relationship between the US and Russia, and just to make a point? Or…?
As an avgeek, I can't help but wonder what the interior of this jet is like, and what kind of service there is onboard. If anyone has any insights, I'd love to hear 'em! Below is a video I found about Putin's plane, which is the same type of aircraft.
Bottom line
An Ilyushin Il-96-300 belonging to the Russian government has just flown from Moscow to Washington. As you'd expect, the routing was far from direct, as the flight avoided the airspace of the European Union, Canada, etc.
As it turns out, this flight is operating to transport Russian diplomats who have to leave the country after a three year stay.
What do you make of this unique Moscow to Washington route?
(Featured image courtesy of Dmitry Terekhov)