I guess I shouldn't be surprised that racists like this exist, though I am surprised that people would act this way so openly, especially while on the job? Who am I kidding, unfortunately that's not surprising nowadays either, as much as I wish it were.
Marriott folio contains racist Asian slur
On June 13, 2022, a couple spent a night at the Courtyard by Marriott in York, Pennsylvania. Things turned sour at check-out and after leaving the hotel. Here's how 37-year-old Jamie Chung describes the treatment that he and his 35-year-old girlfriend Tierney Oberhammer received:
"My girlfriend and I were checking out of the Marriott, and the front desk clerk said my last name, 'Chung,' with a strange emphasis, like she was mocking an Asian accent. We clocked it, but decided not to make an issue of it. We got back to New York, opened the invoice, and saw that they'd written the racial slur 'Ching and Chong' on it. Pretty bold and brazen."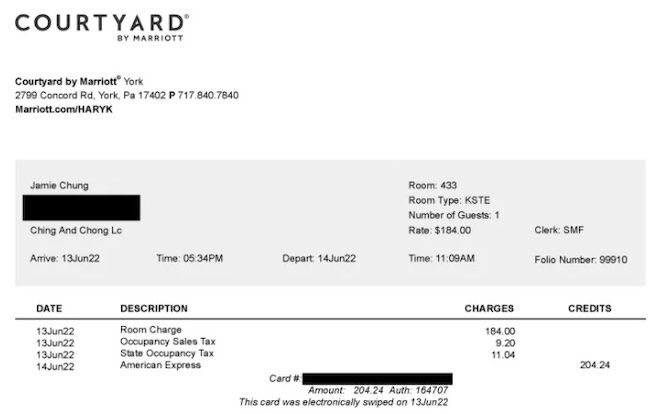 What is wrong with people?! It's bad enough to think that way, but to put that in writing on a folio is beyond stupid. Did the front desk clerk not think that the customers would see, and felt better just having written that? Or did the front desk clerk just want to get fired?
How did Marriott respond to this incident?
The couple reached out to Marriott corporate after the incident, emphasizing that they didn't want the employee to be fired, but rather wanted to know what would be done to train people to avoid this in the future. Here's what Chung claims the response was from Marriott:
"The response that we received from Marriott executives was disappointing. They tried to shift blame and give excuses rather than take responsibility for what happened on their watch, under their roof. They have tried to distance themselves from the incident by pointing out that it occurred at a Marriott franchise."

"They suggested a clerical accident, a typo, led their front desk clerk to enter a racial slur into the invoice. Their response did not give us the impression that they take this incident seriously."
C'mon, surely no one believes that this was a clerical error or typo?! That's a really bad defense.
While Marriott executives allegedly offered hotel points to the couple, they weren't willing to answer questions about the details of sensitivity training around topics related to racism.
Now, in fairness, Marriott has around 120,000 employees worldwide, so of course there are going to be some (very) bad and racist apples among them. Call me naive, but I don't think this employee addressed the folio to "Ching and Chong" because they didn't know better and didn't receive sensitivity training around this. Rather I think they're just a racist who doesn't care.
So I don't think it's Marriott's fault directly that one of its properties had one racist employee. What I do think Marriott is at fault for is the caliber of people that properties often hire, and not creating an environment where people value their careers.
Bottom line
A Courtyard by Marriott sent an email folio to a customer, addressing someone with the last name "Chung" as "Ching and Chong." It's hard to chalk that up to a typo, but rather this seems like blatant racism. It's disappointing that Marriott couldn't do more to make this couple feel like the situation was being taken seriously.
What do you make of this Marriott incident?
(Tip of the hat to Joe)