This is yet another reminder to always keep your seatbelt fastened when seated…
Delta A350 hits severe turbulence on approach to Atlanta
This incident happened on Tuesday, August 29, 2023, and involves Delta Air Lines flight DL175 from Milan (MXP) to Atlanta (ATL). The flight was operated by a three year old Airbus A350-900 with the registration code N576DZ.
The 9hr47min flight was routine, until the approach. About 40 miles northeast of Atlanta, the jet encountered severe turbulence. Of the 151 passengers and 14 crew members, a total of 11 people were injured, and were taken to a local hospital. Fortunately none of the injuries are life threatening.
According to a Delta spokesperson:
"Delta Care Team members are mobilizing to connect with customers on Delta Flight 175 that experienced severe turbulence before landing safely in Atlanta Tuesday. Our priority is taking care of our customers and crew who sustained injuries. We are grateful for the first responders who met the aircraft to provide medical attention and who are transporting the injured to the hospital."
Aviation is obviously an incredibly safe form of transportation, so we often forget the simplest way we can protect ourselves when flying, which is to wear our seatbelts. While crews are often aware of turbulence, it can be hard to predict severe turbulence. So always buckle up when seated, and especially buckle up when the seatbelt sign is on.
What's noteworthy about this incident
A couple of things stand out about this story.
First of all, in a summer of unprecedented transatlantic demand, I'm surprised the flight was less than half full. Delta's A350-900s have 339 seats (well, at least this version, which is an ex-LATAM plane), and there were just 151 passengers, for a 45% load factor. I get that a lot of kids are back in school, but for a transatlantic flight before Labor Day (the traditional end of the peak summer travel season), that seems mighty quiet!
Second of all, if this turbulence happened about 40 miles from Atlanta, odds are that the crew was already preparing the cabin for landing, and that the seatbelt sign was on. So I can understand how crew members could've been injured, though I wonder how many of those 11 injuries were passengers, given that they should have been in their seats with their seatbelts fastened.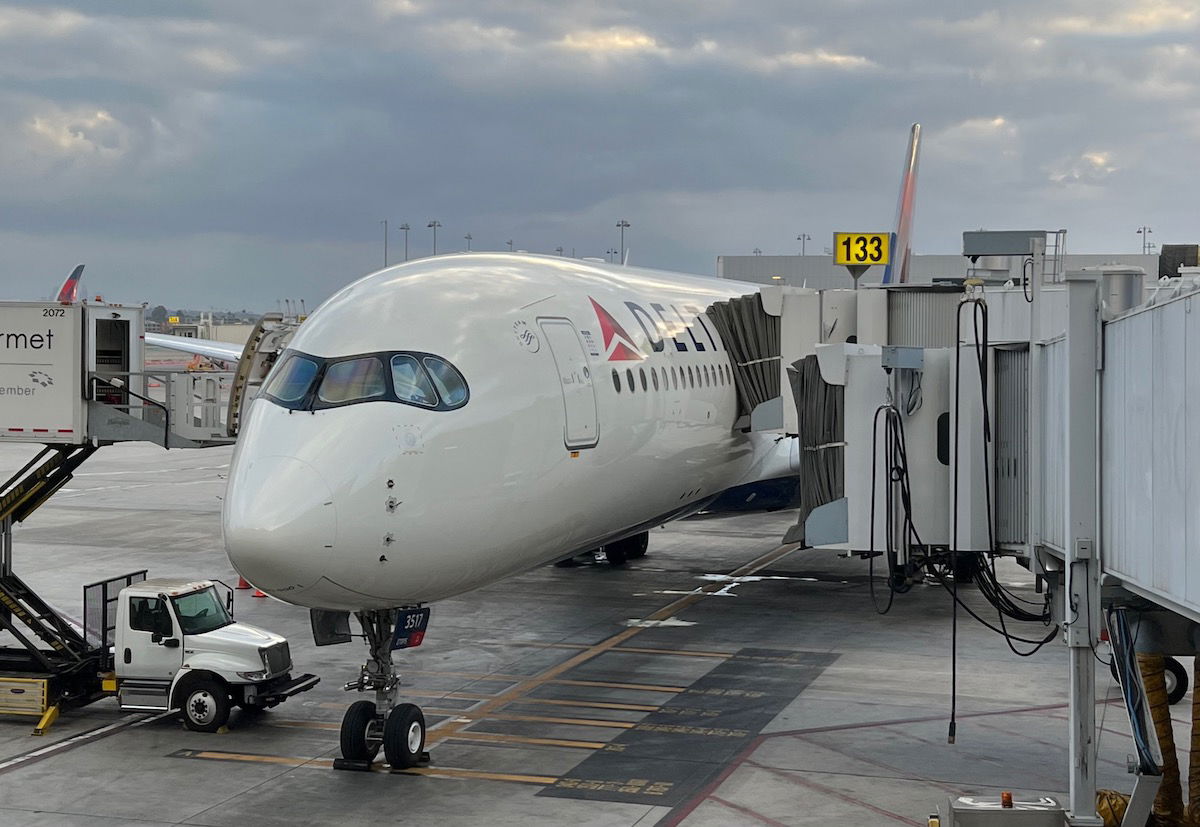 Bottom line
A Delta Airbus A350 encountered severe turbulence while on approach to Atlanta Airport yesterday, leading to 11 injuries among passengers and crew. I guess it's good that the flight wasn't that full and that this happened during descent (when the seatbelt sign was presumably on), or else a lot more people could have been injured. Hopefully those who were injured make a quick recovery.
What do you make of this severe turbulence incident?