In late 2021 we learned the details of a new Canadian ultra low cost carrier, and the airline has now put tickets on sale for travel as of this spring.
Lynx Air, a new Calgary-based ULCC
Lynx Air will be a new Calgary-based ultra low cost carrier (ULCC), and plans to launch flights as of April 2022. The airline is taking delivery of three Boeing 737 MAXs leading up to launching operations, and has firm orders and lease agreements in place to acquire a total of 46 aircraft over the next seven years, to meet anticipated demand.
The airline promises low fares and great customer service. Lynx Air 737 MAXs will have 189 seats, with 28-30″ of pitch, so it'll definitely be tight.
Merren McArthur has been named CEO of Lynx Air. She has served as CEO of Tigerair Australia, CEO of Virgin Australia Regional Airlines, and founding CEO of Virgin Australia Cargo. Here's how McArthur describes plans for the airline:
"We are excited to bring competition and choice to the Canadian aviation market at a time when Canadians are yearning for the opportunity to fly again, whether it be to see friends and family or to take a long-awaited holiday. We have created an ultra-affordable fare structure which is focused on simplicity, transparency and choice. Our à la carte pricing will empower passengers to pick and pay for the services they want, so they can save money on the trip and spend where it counts – at their destination."

Lynx Air isn't a totally new company
The concept of Lynx Air isn't coming out of nowhere. Enerjet is the Calgary-based company behind Lynx Air. The charter airline was founded in 2006, and commenced operations in 2008. The airline primarily transported oil sand workers to job sites in Alberta, and also had contracts with tour and holiday operators.
However, for a while the airline didn't have any planes, and just had 737 MAXs on order, for this new concept. Interestingly this isn't the first time that Enerjet has thrown around this idea — around five years ago, Enerjet also planned to launch a new low cost carrier, which used the temporary placeholder name FlyToo. The airline had trouble launching due to issues with getting adequately capitalized, specifically due to Canada's laws against foreign airline ownership.
Lynx Air is the latest attempt by Enerjet to get this airline concept off the ground, and based on flights now being on sale, it looks like it might actually be happening this time around.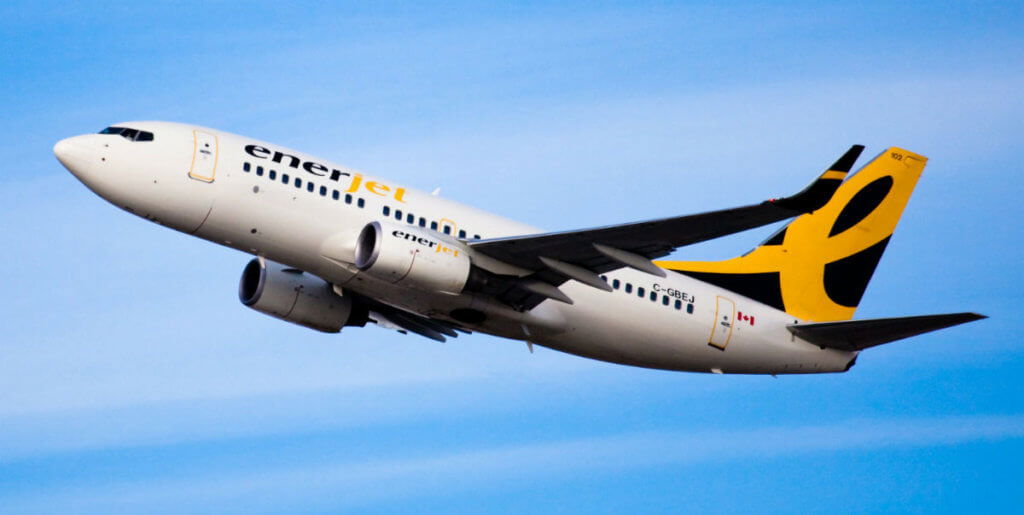 Lynx Air routes & fares
Lynx Air will launch operations as of April 1, 2022, with service to the following five airports:
Calgary (YYC) to all four other destinations
Kelowna (YLW) to Calgary and Vancouver
Toronto (YYZ) to Calgary and Vancouver
Vancouver (YVR) to all four other destinations
Winnipeg (YWG) to Calgary and Vancouver
All-in one-way fares start at just 39 CAD, and in the longer range markets (like Toronto to Vancouver) fares start at 79 CAD. Those are some incredibly low prices, and that'll no doubt bring additional choice for Canadian consumers.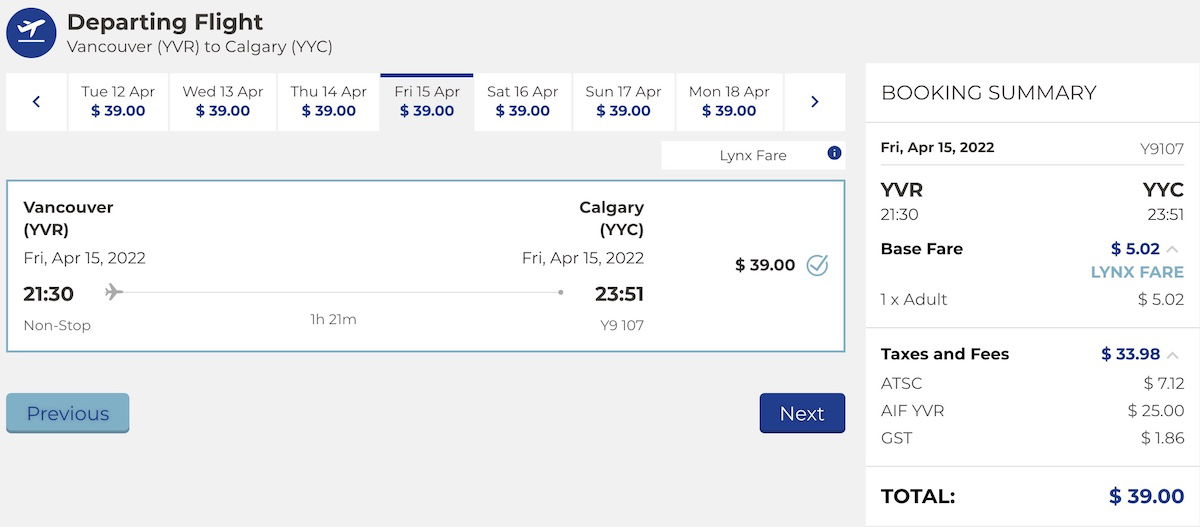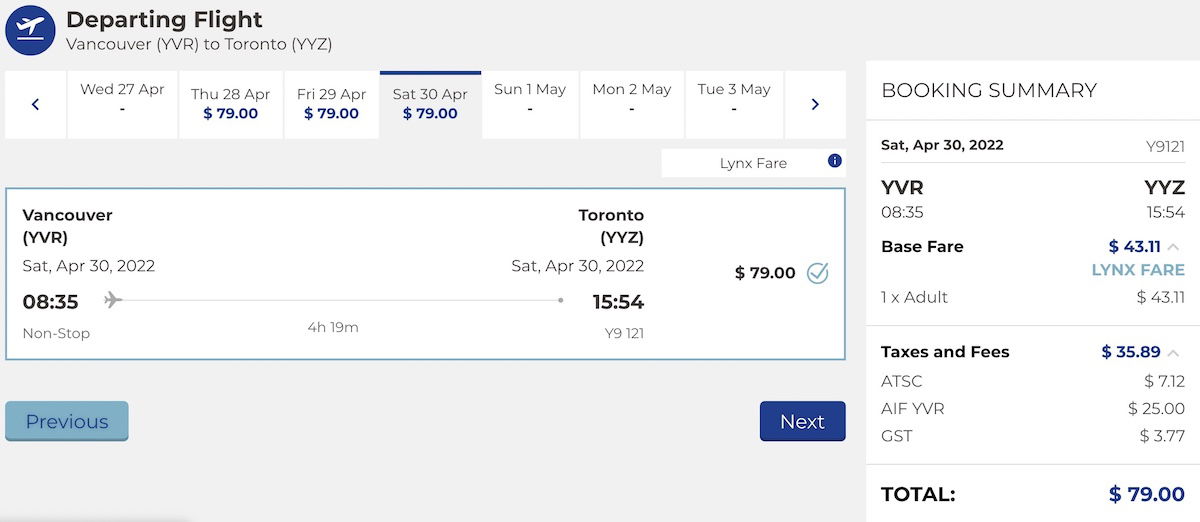 The lowest fares only include one personal item, which has to be stored underneath your seat. Virtually everything else costs extra. Looking at a one-way fare from Vancouver to Calgary, here's how much ancillaries cost:
A seat assignments costs 10.50-42 CAD
A carry-on bag costs 31.49 CAD
A first checked bag costs 41.99 CAD, and a second checked bag costs 62.99 CAD
Priority boarding costs 10.50 CAD
So as you can see, the cost of a fare will increase significantly if you're not traveling light and want to select a seat.
Canadian aviation is becoming more competitive
Historically Canadian aviation wasn't particularly competitive, at least on domestic and transborder routes, with Air Canada and WestJet being the big players. However, there's no denying that Canadian consumers will benefit from a lot more competition, especially among ultra low cost carriers. In addition to the low cost carriers of Air Canada and WestJet (Rouge and Swoop), you have airlines like Flair, OWG, Porter, Sunwing, and more.
I can't help but wonder just how much competition the Canadian market can sustain. Canada has a population of just 38 million people, and while it's a country with a lot of travel (both Canadians trying to leave the country in winter to enjoy warm weather, and foreigners coming to Canada in summer and winter to enjoy the natural beauty), there are still limits to how much total demand there is.
For example, Flair and Lynx Air each plan to acquire roughly 50 Boeing 737s, and offer an ultra low cost carrier business model. Is there really room for that much competition, especially year-round? Time will tell, I suppose…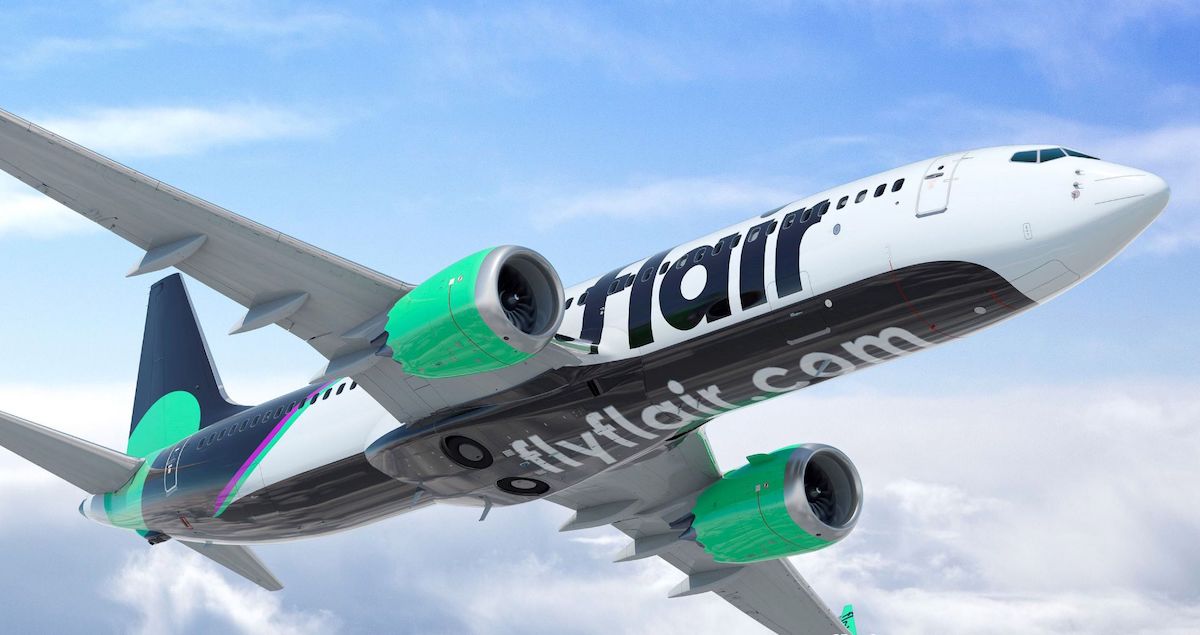 Bottom line
Lynx Air will soon become Canada's newest ultra low cost carrier, as the airline plans to launch flights as of April 2022 with Boeing 737 MAXs. While the branding is new, the concept behind this airline has been in the works for a very long time. It's nice to see this finally become a reality, with tickets on sale.
What do you make of Lynx Air?