Did you know that Lufthansa operates a twice monthly flight between Frankfurt and Strasbourg, with a huge business class cabin, and with disproportionately expensive fares? Neither did I, until I stumbled upon this FlyerTalk thread.
Lufthansa's twice monthly Frankfurt to Strasbourg flight
Two times per month, Lufthansa operates a route between Frankfurt, Germany (FRA), and Strasbourg, France (SXB). At just 111 miles, this is also one of Lufthansa's shortest routes. The route is so short that it's ordinarily operated by a bus… except for those two times per month.
These flights typically operate around the middle of each month, from Frankfurt on Mondays, and to Frankfurt on Thursdays, with the following schedule:
LH1072 Frankfurt to Strasbourg departing 1:25PM arriving 2:20PM
LH1073 Strasbourg to Frankfurt departing 2:05PM arriving 3:00PM
Even though the flight operates with the above patterns, tickets aren't sold on the Strasbourg to Frankfurt flight on Mondays, and tickets aren't sold on the Frankfurt to Strasbourg flight on Thursdays. So the plane operates with passengers in one direction, and empty in the other direction.
What's the logic for this route? Well, Strasbourg is the official seat of the European Parliament, and the European Parliament meets for 12 sessions each year (so once per month).
In order to transport people there, Lufthansa sells tickets on this route that coincide with that schedule. By the way, while it's claimed that the European Parliament meets for around four days per month, in reality they're only "working" two full days, as they arrive in the afternoon on Monday, and leave around the same time on Thursday.
There are a couple of things that make this even more interesting:
Nearly two-thirds of the plane is business class, as the business class cabin goes all the way back to row 16 (there are just 25 rows on the Airbus A319)
The fares on this route are exorbitant; if you just want to fly from Frankfurt to Strasbourg roundtrip, you'll pay over $1,000 per person in economy, which comes out to over $5 per flown mile (admittedly if you're connecting to other destinations, fares will be different, and in some cases may be lower)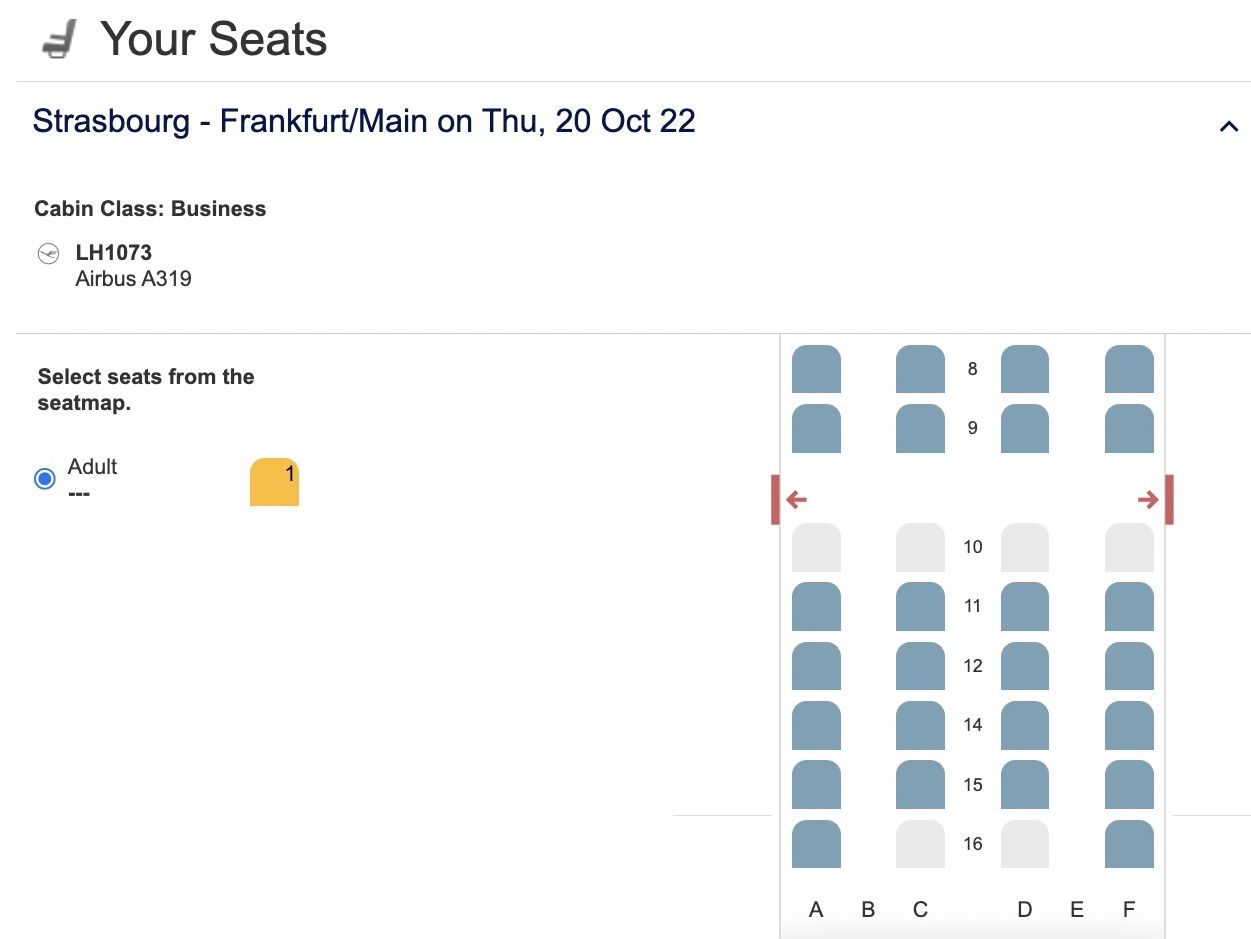 Is this flight reasonable, wasteful, or both?
Lufthansa offers several daily services between Frankfurt and Strasbourg, though only by bus… except when government officials want to travel, and then suddenly a plane is operated. Also keep in mind the issue isn't just that a plane is being used for a 111-mile flight, but also that it flies empty in one direction.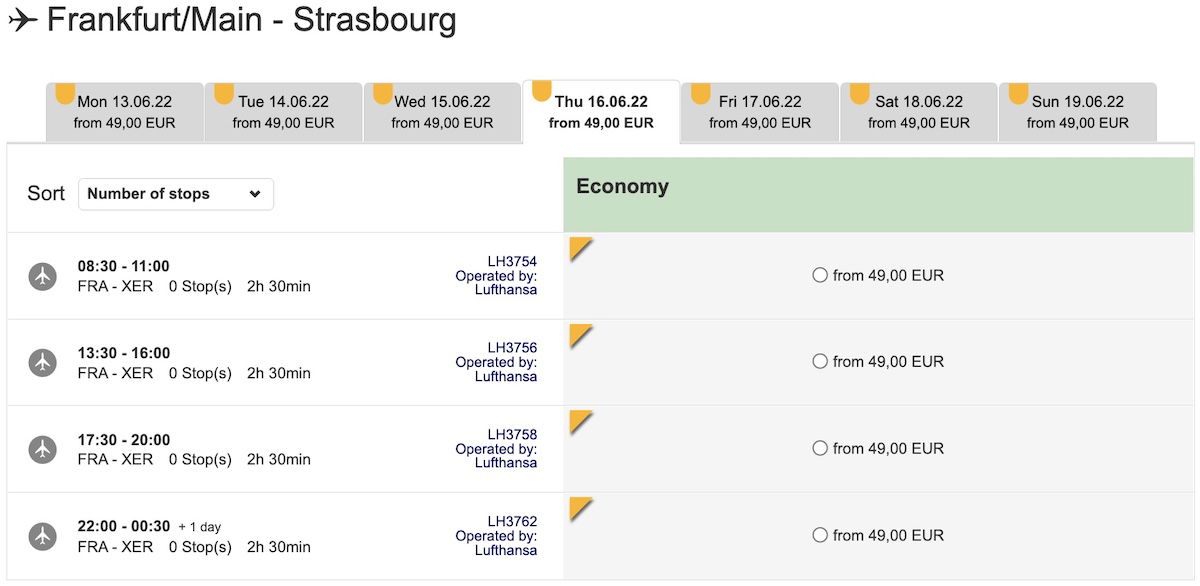 We've seen several European Union countries start to add bans and restrictions on short haul flying on environmental grounds, but that same logic obviously isn't applying here.
Now, in fairness to this service:
Many people on this flight are presumably connecting beyond Frankfurt, heading to other European Union countries; at the same time, "regular" passengers traveling from Strasbourg to other destinations on Lufthansa need to first take a bus, and what makes this flight even worse is that it's totally empty in one direction
In many cases these are high ranking government officials, and presumably if this flight didn't exist, they might travel on private jets, which would be even worse; in order words, these people probably wouldn't otherwise take a bus
Regardless of political affiliation or beliefs, it's just generally accepted that high ranking government officials travel via wasteful means that are discouraged for others; I mean, the US President (regardless of political party) travels almost everywhere on a 747
I'm tempted to book this flight some time, because I imagine it must be a very interesting crowd on board…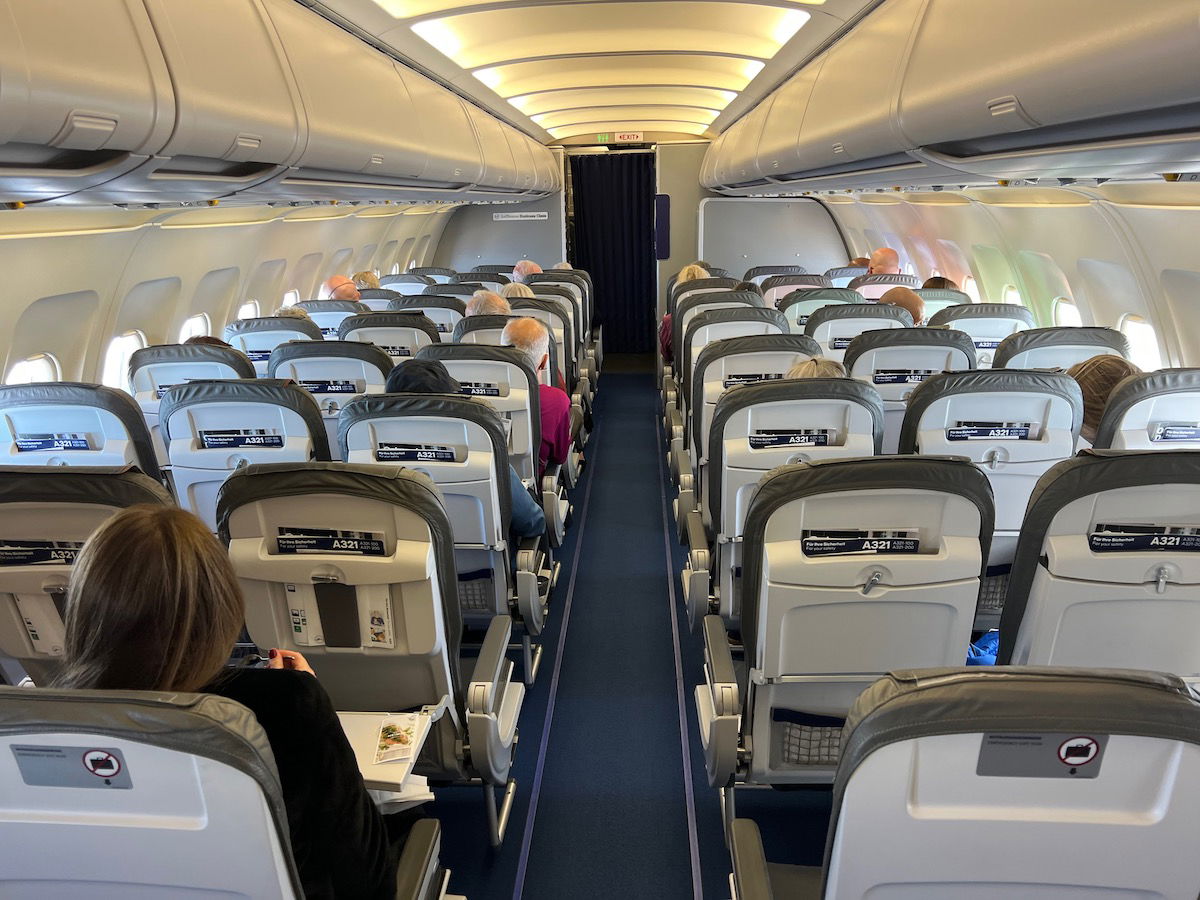 Bottom line
As an avgeek I love discovering seemingly random routes, and I'd consider Lufthansa's Frankfurt to Strasbourg flight to be one of those. While Lufthansa usually operates a bus between Frankfurt and Strasbourg, twice a month the airline flies between the two cities. That coincides with when the European Parliament meets.
So twice a month the airline flies between Frankfurt and Strasbourg with an A319 that has a huge business class cabin, and the flight is empty one-way on each of the journeys.
What do you make of Lufthansa's Strasbourg shuttle?