If you put your feet on a table in an Ethiopian Airlines lounge, you may be docked miles, or may even have your status downgraded. I kind of love it.
Ethiopian will deduct miles or downgrade status for misbehavior
The awesome Sean M. passes on the sign he saw in the Ethiopian Airlines Sheba Platinum & Gold Lounge at Addis Ababa Airport (ADD). As you might expect, there's a sign sharing basic "terms and conditions for lounge use," including the following:
Bringing outside food or taking out food is not allowed
It is not allowed to remove food leftovers, beverages or periodicals from the lounge
Unpacking or repacking commercial items in the lounges is strictly prohibited
Laying down on the floor, sofas or resting your feet on the tables is not allowed for the sake of other customers and the cleanliness of the lounges and the furniture therein as well
But this is where it gets fun. The sign then lists "possible corrective actions to be taken in violation of the above terms and conditions." And no, the corrective action doesn't involve getting kicked out of the lounge. It's much worse than that — Ethiopian Airlines is coming after your miles and status:
For your first offense you'll have 2,000 miles deducted
For your second offense you'll have 5,000 miles deducted
For your third offense you'll have your elite tier downgraded to Silver status for six months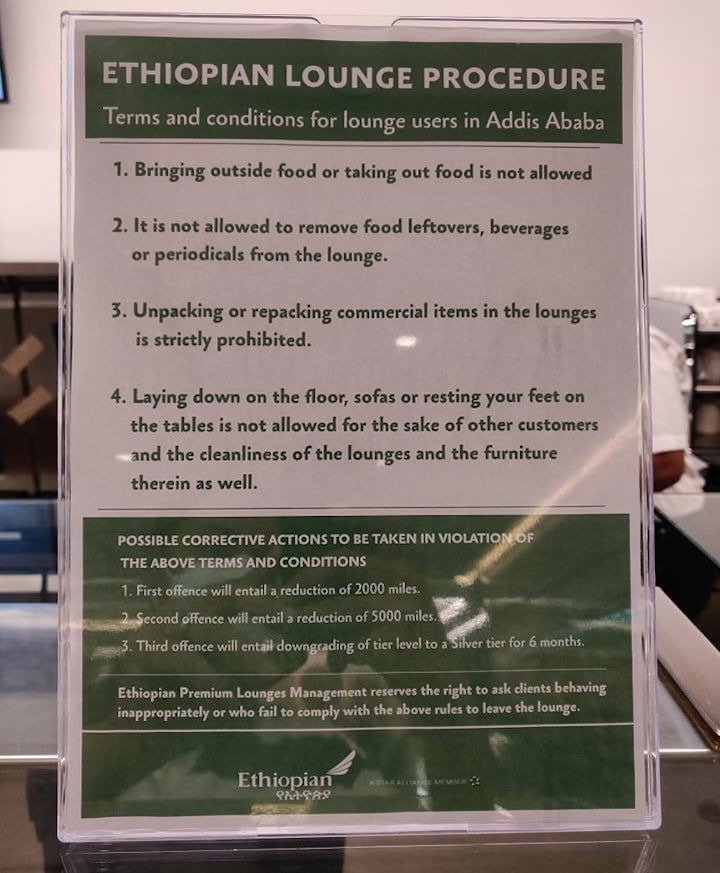 This is kind of amazing…
There's so much to like about this policy:
I would have loved to be in the board room when they came up with this punishment; did one person say "maybe we should threaten to kick people out if they break the rules," and someone else was like "nope, I think we should just progressively dock them more miles and then downgrade their status?"
The trick to misbehaving in Ethiopian Airlines' lounge (assuming you unpack commercial items while having your feet on the furniture, and then take a roadie with you) is to just access the lounge through Star Alliance Gold status with another program; presumably Ethiopian Airlines is only docking miles and downgrading status for members of the ShebaMiles program
Could you imagine if this policy existed in the Admirals Clubs at DFW and MIA? American AAdvantage could undo the miles issued through the SimplyMiles promotion in one day
Ethiopian Airlines isn't the first airline to go after elite status as punishment for misbehavior; Aeroflot has threatened to revoke elite status for those who are disruptive aboard
Bottom line
Ethiopian Airlines has perfectly reasonable rules of conduct for lounge visitors, but what's interesting is the punishment for misbehaving. The airline is threatening to deduct 2,000 miles for the first instance of misbehavior, 5,000 miles for the second instance of misbehavior, and a downgrade to Silver status for the third instance of misbehavior.
Whether or not this is enforced is anyone's guess, but I kind of love where the airline is coming from.
What do you make of Ethiopian Airlines' lounge rules?