Emirates has today formally unveiled its new livery. It's not life changing, but it does feature some subtle yet significant differences.
Emirates modernizes aircraft livery
Emirates is one of the world's most recognizable brands, and the airline has done very little to change its livery in its roughly 38-year history. For the first time in 24 years, the airline has rolled out a change to its livery.
So, what has been updated?
The signature gold "Emirates" lettering across the main body in English and Arabic is bolder, and 32.5% larger
The "emirates.com" website URL has been dropped from the design
The A380 winglet design has been changed, with a red color and Arabic calligraphy facing outward, and the Emirati flag facing inward
While the tail features the Emirati flag as before, it's now intended to look more like it's "fluttering"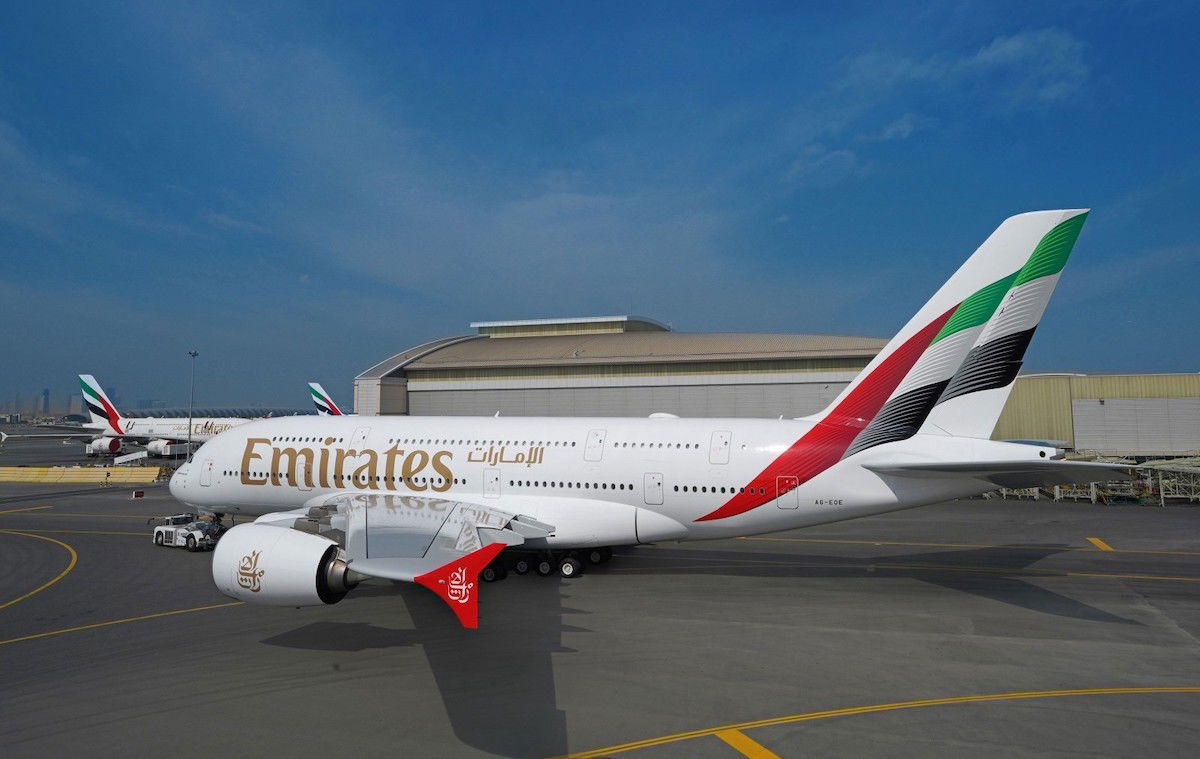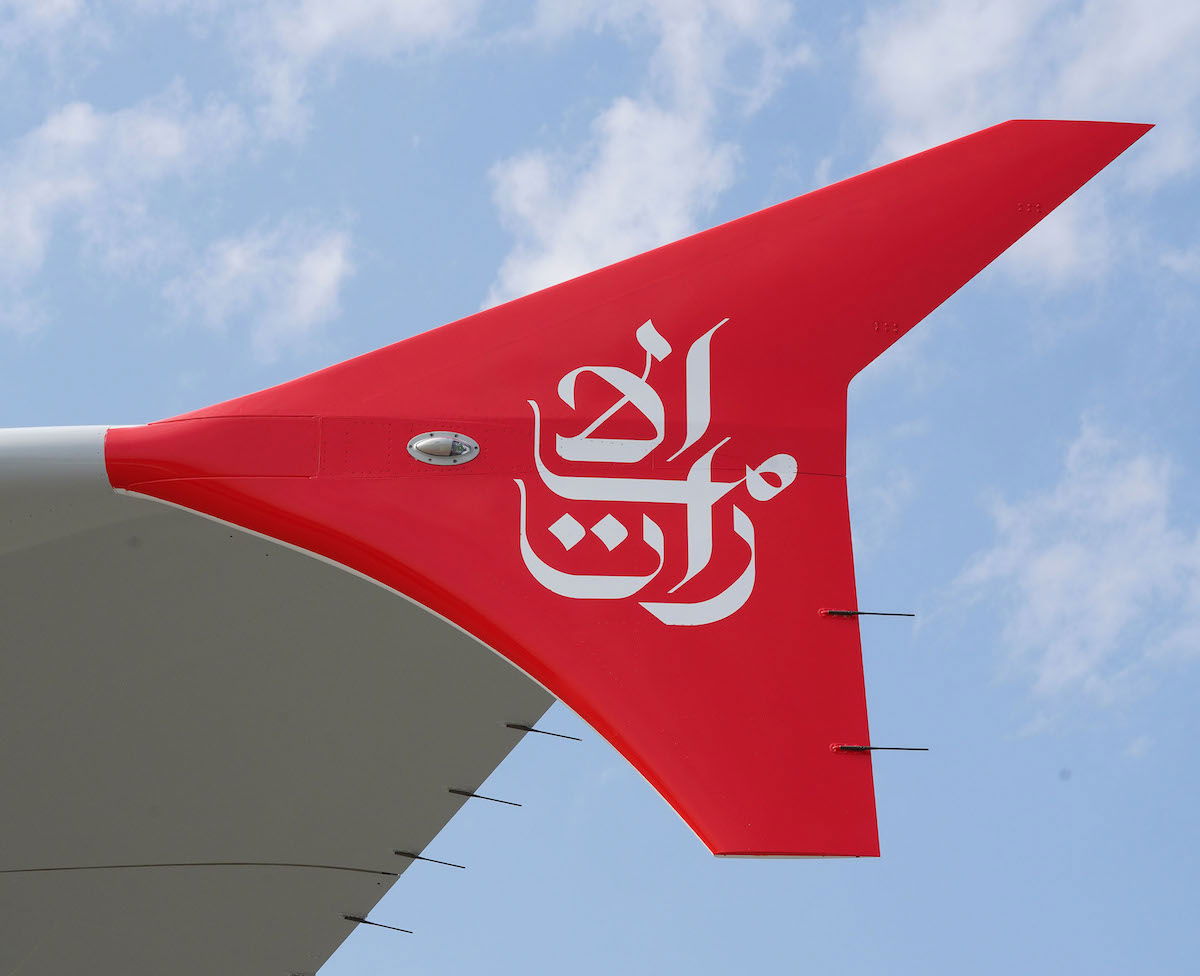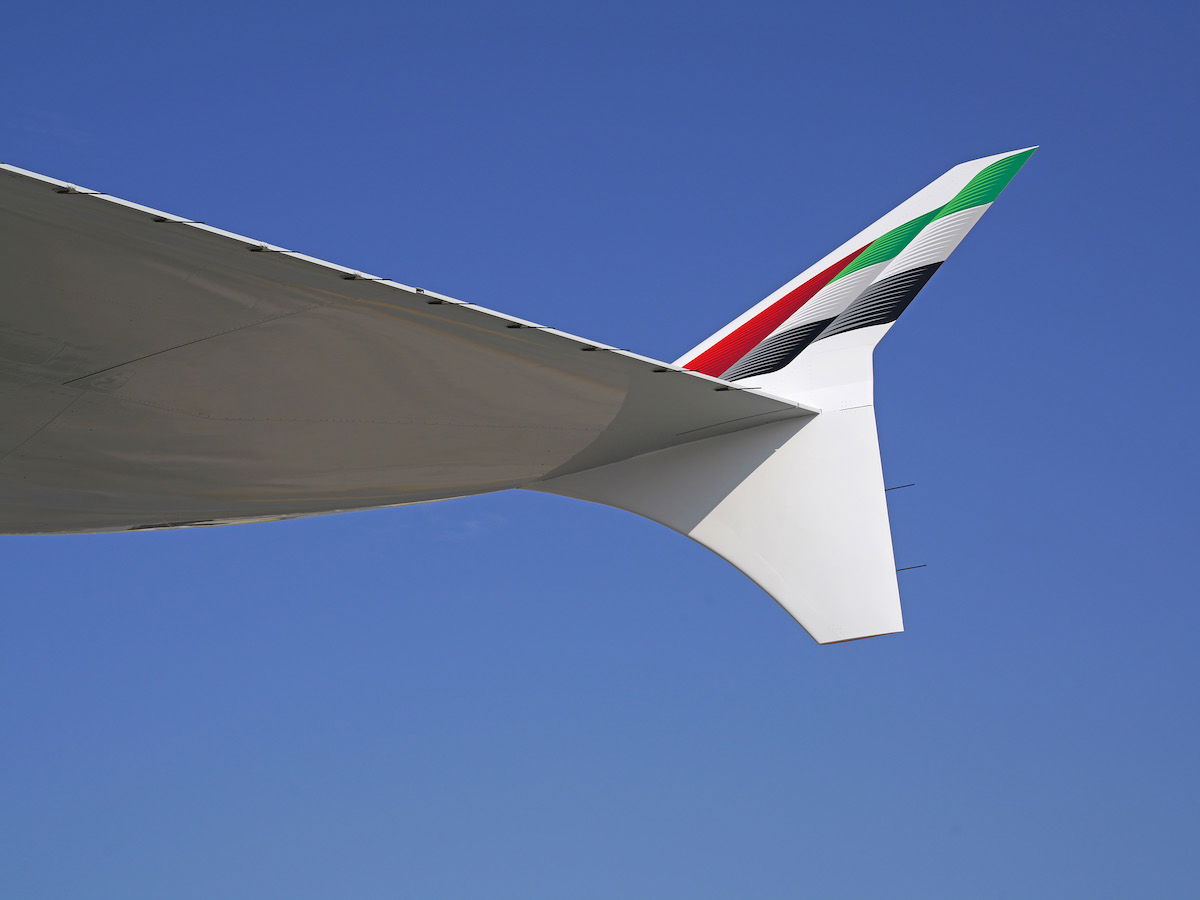 As a point of comparison, below is what the previous livery looked like on an Airbus A380.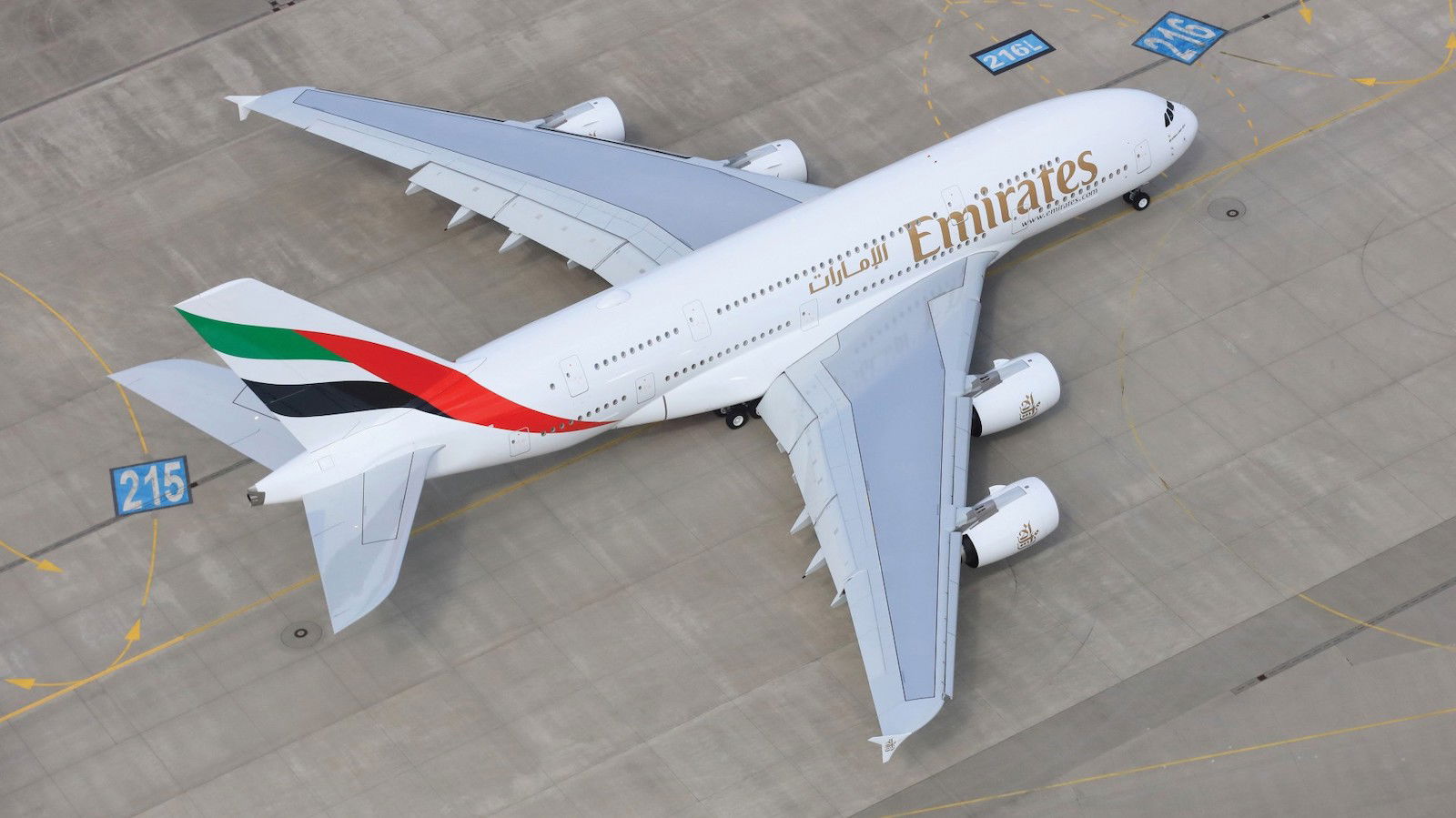 The first aircraft to feature this new livery is A6-EOE, a roughly nine year old Airbus A380, which has rolled out of Emirates Engineering this week after its makeover. For its first flight back in service, the plane will fly to Munich on March 17 as flight EK51.
The new livery will gradually be rolled out across Emirates' fleet. 24 aircraft, including seven Airbus A380s and 17 Boeing 777s, are expected to feature the new livery before the end of 2023. All newly delivered Emirates aircraft will feature the new livery, with the next new planes being the Airbus A350s that will be delivered as of August 2024.
This is only Emirates' third livery iteration since the company launched in 1985. The airline had the same livery until 1999, and at that point it was updated as Emirates took delivery of its first Boeing 777-300.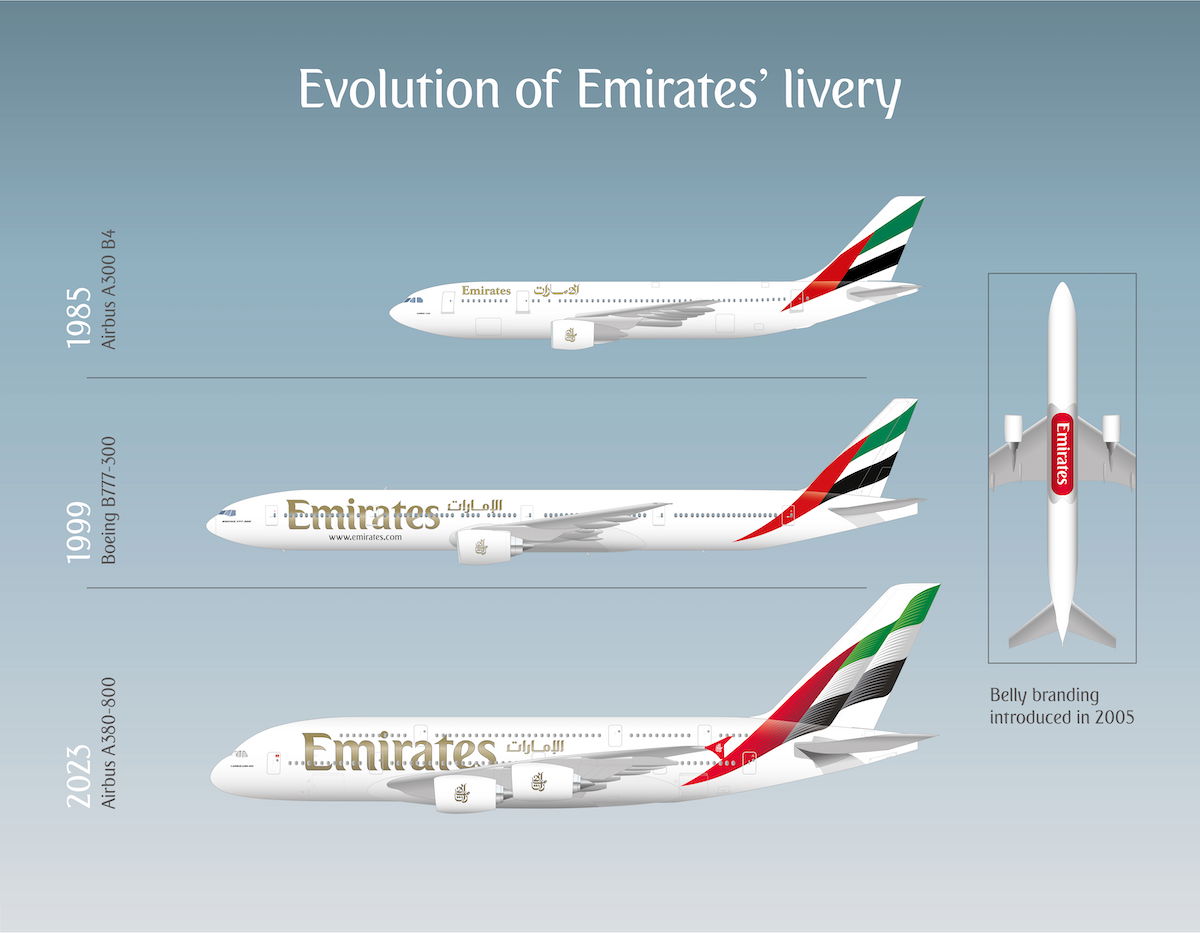 Here's how Emirates President Tim Clark describes the new livery:
"Aircraft livery is the most instantly recognisable brand real estate for any airline. It's a visual representation of our unique identity, something we wear proudly, and display in all the cities we fly to around the world. We're refreshing our livery to keep it modern, without losing the key elements of our identity such as the UAE flag on our tailfin and the Arabic calligraphy."
My take on Emirates livery changes
Let me preface my comments by acknowledging that us avgeeks care more about liveries than the average consumer. Emirates is such an iconic brand with global recognition, and amazingly enough the airline has made so few changes to its livery over the past decades.
I find that my take on new liveries tends to evolve over time, as I start to see planes "in the flesh," and as I become accustomed to the liveries. There are some new liveries that I hated at first and ended up loving, and vice versa.
As I see all the changes to Emirates' livery, I'm not sure what exactly to make of them. My first impression is that the livery kind of looks like something that an avgeek put together in 10 minutes in photoshop. It almost doesn't look real.
Individually, there are changes I like. For example, I appreciate how "Emirates" is written larger, and how "emirates.com" has been removed from the body of the aircraft (that seemed unnecessary). Furthermore, it's cute how the winglets now have the Emirati flag on them.
While I can appreciate that Emirates probably wanted a more realistic-looking flag, the tail design almost looks like clip art. As noted by a Twitter user, it seems that Emirates is more or less copying Aeroflot here, as the airline has the same exact type of fluttering flag design on its aircraft tails (except with the flag of Russia, rather than the flag of the United Arab Emirates).
Bottom line
Emirates has formally unveiled its new livery, which is the first redesign we've seen in 24 years, and only the second redesign in the carrier's nearly 40 year history. The changes are fairly minor, but should still be noticeable for anyone paying attention.
I'm not sure what exactly to make of the new livery. I'll reserve judgment for when I see it in person.
What do you make of Emirates' livery changes?