A former Delta Air Lines flight attendant is suing the company after she was fired for a cartoon she shared on her Facebook page.
Delta fires flight attendant for Facebook post
Former Delta flight attendant Leondra Taylor has filed a lawsuit against the airline this week, accusing the company of racial discrimination and retaliation. Taylor had worked at Delta for 13 years, and was dismissed in April 2021, because of a cartoon she shared on her Facebook page.
Taylor shared the below cartoon, intended to be from the 2020 presidential debates. It depicted Trump wearing a Ku Klux Klan hood, with the caption "Thank You Mr. President, For Wearing Your Mask."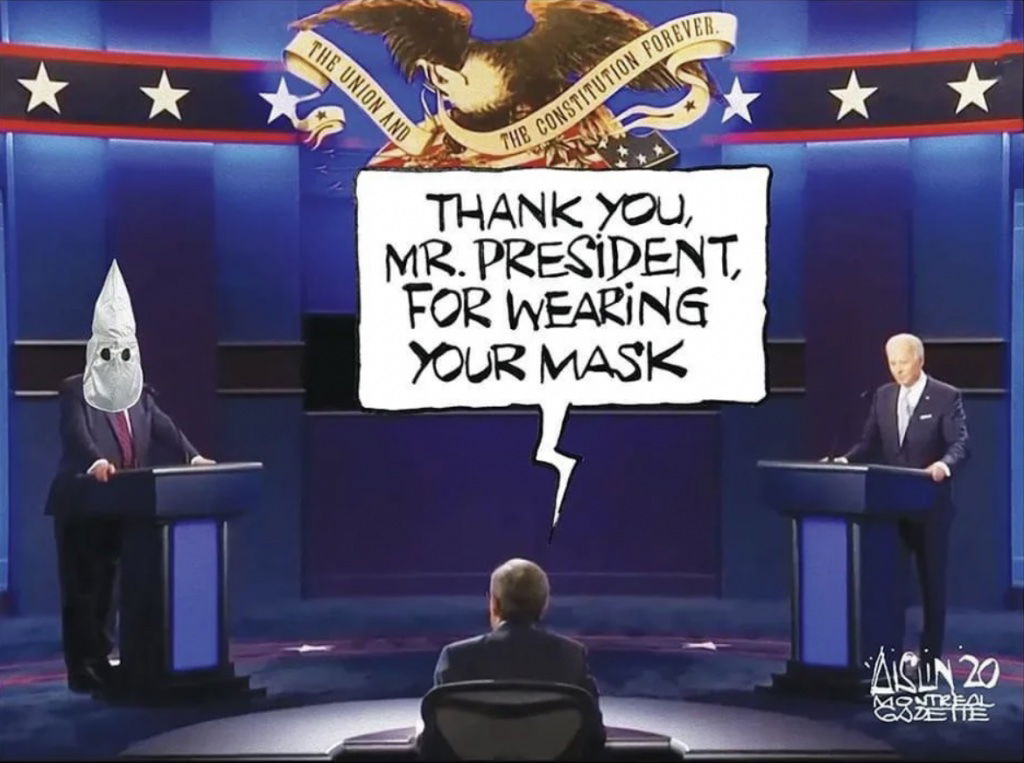 Airlines have strict guidelines about social media use for employees, and Delta has among the strictest policies. While Delta doesn't prohibit its employees from political discussions on social media, the airline prohibits "using hateful, racist or other discriminatory language or images, advocating violent or illegal acts, participating in hate groups, or shaming others."
How did this all come to light? Taylor had helped in a case against another Delta employee involving social media use. Another Delta flight attendant had allegedly posted a picture of Michelle Obama sitting next to a monkey wearing similar clothing. Taylor said she was offended by the racial implications of the post.
That flight attendant ended up being fired. Taylor was at that point accused of making a post on Facebook celebrating that dismissal, though no proof of that was ever found. This allegedly got Delta to investigate Taylor's Facebook page, which brought up the above picture.
Flight attendant now suing Delta over being fired
Delta ended up suspending Taylor in February 2021, and then dismissed her in April 2021. The reason? The airline claimed that her post on social media was racially motivated and political, in violation of the company's social media policy.
Taylor acknowledged that the post was political, but denied that the cartoon was disrespectful, hateful, or discriminatory. According to the lawsuit:
"In fact, her post was quite the opposite. It simultaneously made a statement about Trump's denial of the need for COVID protective measures, and that racial discrimination against African Americans was a systemic issue starting at the top, with the then president."
While Taylor tried to get Delta's conflict resolution panel to review the case, Delta's human resources department has allegedly not handed over the details of the case.
Taylor is accusing Delta of racial discrimination, in violation of the Civil Rights Act. She claims that non-Black employees haven't been subjected to the same harsh punishments for similar breaches of the company's social media policy.
Keep in mind that Delta flight attendants aren't unionized, and there continues to be a big unionization effort at the airline. Presumably it's not just pay and working conditions that makes some flight attendants want to unionize, but also stuff like this.
Now, this situation isn't totally unprecedented. Just recently I wrote about how a former Southwest flight attendant had been fired for harassing other Southwest employees with her anti-abortion stance. She recently won a lawsuit, and was awarded $5.3 million.
Meanwhile in 2020, Delta fired a flight attendant who made repeated comments on social media about "Antifa," Black Lives Matter, etc., calling people "scrawny black anarchists."
A Delta spokesperson issued the following statement about this situation:
"When Delta employees intermix Delta's brand with conduct or content that does not reflect our values of professionalism, inclusion and respect, that conduct can result in discipline or termination. While personnel issues are considered private between Delta and its employees, the circumstances described by our former employee are not an accurate or complete explanation of the company's termination decision."
Bottom line
Delta fired a flight attendant for posting a cartoon that depicted Trump wearing a KKK hood with a caption thanking him for wearing his mask. Delta's social media policy prohibits employees from using hateful, racist, or other discriminatory images, shaming others, and more.
This former flight attendant is now suing, accusing the airline of racial discrimination and retaliation. I'm curious to see what comes of this lawsuit…
(Tip of the hat to Paddle Your Own Kanoo)