While this is probably a case of "all's well that ends well," this is still a pretty noteworthy incident, as reported by The Aviation Herald.
Delta plane lands six feet short of Amsterdam runway
This incident involves a nearly 20-year-old Delta Air Lines Airbus A330-300 with the registration code N802NW. The plane operated DL134 from Detroit (DTW) to Amsterdam (AMS), departing on the evening of January 11, and landing on the morning of January 12.
The plane was coming in to land at Schiphol Airport, and was assigned runway 22, which is 6,627 feet long — that's the shortest runway at the airport. With good weather conditions, this runway wouldn't ordinarily be used for jets this size. However, winds at the time were 27 knots and gusting to 38 knots, and the winds were almost a direct headwind for the runway, which is why this was being used for many arrivals.
Unfortunately at 7:52AM local time, the aircraft's main landing gear touched down ahead of the paved surface of the runway, in the grass. This was roughly six feet ahead of the start of the paved runway. It's also worth clarifying that the pilots weren't just six feet off here with their landing — the "aiming point" for landing is quite a bit further down the runway.
This landing caused damage to two runway threshold lights. Fortunately no one was injured, and the plane rolled out without further incident and taxied to its gate.
The runway was closed for around an hour following the incident, for repairs to the runway lights to take place. Dutch investigators are now examining the incident. I'm curious what comes of the investigation — what caused the pilots to touch down so early, and should they have accepted this runway assignment?
Below you can see a picture that shows where the plane touched down.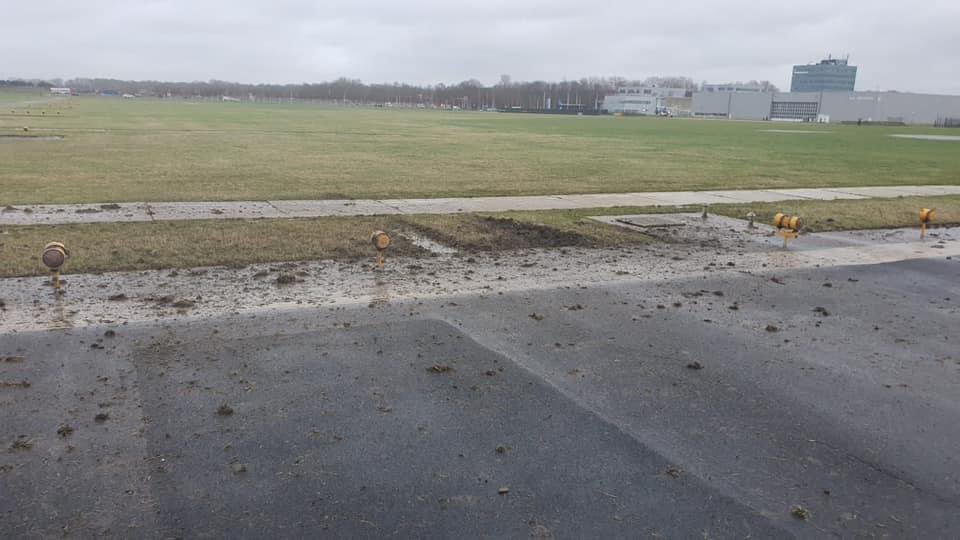 The A330 will be ferried back to the United States
The Airbus A330 involved in this incident was supposed to operate Thursday's Amsterdam to Boston flight, DL259. That flight ended up being canceled.

Instead the current plan is for the plane to be ferried back to the United States this afternoon. Specifically, the plane is expected to be flown to Minneapolis (presumably for maintenance) at 4PM on Friday, as DL9936. It'll be interesting to see how quickly this plane is back in service.
Bottom line
A Delta Airbus A330 touched down in the grass at Amsterdam Schiphol Airport, just six feet short of the start of the runway. The plane was landing on a short runway in not ideal weather conditions, but of course that doesn't excuse or explain what happened.
While some runway lights were taken out, fortunately it seems the plane hasn't sustained major damage, and no one was hurt. I imagine this could have ended very differently if the plane had touched down even earlier.
What do you make of this Delta landing incident?