Capital One mileage transfers are finally available once again, after being down for roughly two weeks.
Capital One mileage transfers were "down for maintenance"
One of the great things about Capital One miles (whether issued as Spark miles or Venture miles) is that they can be transfered to airline and hotel partners, typically at a 1:1 ratio. This is the best way to get outsized value with your miles, and it's also why I value Capital One miles at 1.7 cents each.
Between September 23 and October 7, 2022, Capital One mileage transfers were unavailable. When you went to Capital One's page for converting rewards into partner currencies, each partner had a note next to it saying "Down for Maintenance," telling people to "please check back later."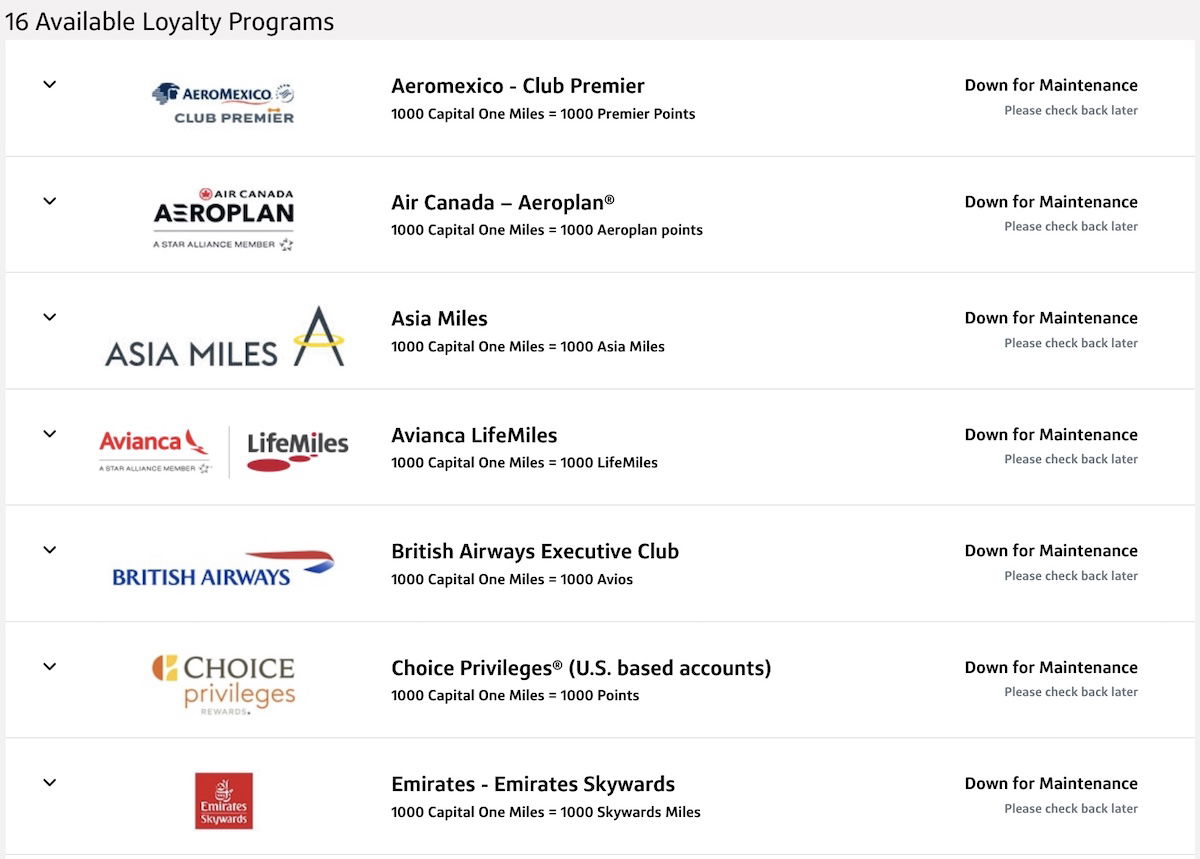 While this feature was unavailable for 14 days, fortunately it has finally been resolved, so it's once again possible to make mileage transfers. If you've been wanting to make a mileage transfer, you can resume doing so now.
Why were Capital One mileage transfers down?
Capital One claimed that the mileage transfer feature was down so that some system improvements could be made:
We are currently making system improvements to some of our rewards platforms, and because of that they are temporarily offline. We will let you know when they are available.
In the past we've certainly seen situations where transferable points currencies weren't transferable for some amount of time to a particular partner. This can happen for a variety of reasons. However, suffice it to say that this Capital One situation was a bit different — we've never seen a transferable points currency essentially just shut down for a period of around two weeks.
The good news is that things are back to normal, and it doesn't sound like there was anything nefarious going on here, in the sense that Capital One isn't ending its mileage transfer program without notice. Nonetheless, I share peoples' frustration about mileage transfers being down for so long:
If this was actually for planned system improvements, some advance notice should have been given, so that members could make any transfers in advance
There should have been a note on Capital One's website providing more details to cardmembers about what was going on and when transfers were expected to become available again
After all, this is a major points currency, and two weeks is a not-insignificant amount of time for this functionality to be down. This leads me to believe that these "system improvements" may not have been planned, and rather that something happened that caused this to be required immediately.
Bottom line
Capital One mileage transfers are once again available, after being down for a period of two weeks. This was apparently due to some upgrades being made to the rewards platform.
I'm happy to see this functionality back, and hope we don't see another unannounced program outage again. This was indeed frustrating, and I think Capital One should have communicated this better.
Were you impacted by Capital One mileage transfers being down?