Biman Bangladesh Airlines has outlined plans to resume flights to the United States, though the details sure make you wonder…
Biman Bangladesh plans to return to United States
Biman Bangladesh has filed with the United States Department of Transportation (DOT), starting the process for getting a foreign air carrier permit. Specifically, the airline wants to launch flights between Dhaka (DAC) and New York (JFK) or Newark (EWR) using a Boeing 787-9.
The major catch is that Bangladesh doesn't have a Category 1 rating with the United States Federal Aviation Administration (FAA), which prevents the airline from adding flights to the United States. However, this filing is based on the carrier's belief that the country will be upgraded to a Category 1 rating as the FAA and the Civil Aviation Authority of Bangladesh (CAAB) "continue their joint work." No exact timeline for that is provided.
Biman Bangladesh wants to operate this route using a Boeing 787-9, and intends to fly from Dhaka to New York with an intermediate stop in Izmir, Turkey (ADB). That's a mighty interesting choice for a transit point — it's not clear yet if the flight between Turkey and the United States would operate as a fifth freedom flight.
While the nonstop flight would be 7,880 miles, the route via Izmir would cover a total distance of 8,869 miles, so it adds roughly 1,000 miles to the journey. However, it would allow the airline to avoid Russian airspace and the Polar route, instead flying over the Atlantic in both directions.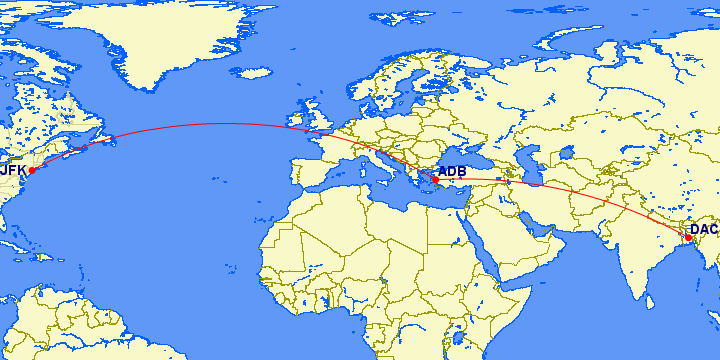 The filing also requests the right to operate this service via other points, including Amsterdam (AMS), Abu Dhabi (AUH), Birmingham (BHX), Brussels (BRU), Delhi (DEL), Istanbul (IST), Manchester (MAN), or Rome (FCO). Clearly the airline just wants flexibility with its filing.
Biman Bangladesh last flew to New York in 2006, when the airline operated a route via Manchester. So if this route were to eventually resume, it would be nearly 20 years after the last such service, but with a different intermediate point.
For years, Biman Bangladesh has been expressing its intention to return to New York, though has stopped short of actually making filings with the DOT. So this is far from a sure bet, especially when you consider that this is contingent on Bangladesh getting a Category 1 rating with the FAA.
Biman Bangladesh's fleet currently consists of 21 aircraft, including six Boeing 737s, four Boeing 777s, six Boeing 787s, and five De Havilland Dash 8 Q400s. On top of that, the airline is expected to order 10 Airbus A350s soon.
Biman Bangladesh may lose $53 million per year on the route
Biman Bangladesh's filing with the DOT contains the planned financials for the route, and reveals that the airline is expecting it may lose over $53 million in the first year. With 260 roundtrip yearly flights (5x weekly) and a 70% load factor, the airline anticipates revenue of close to $100 million and costs of over $153 million. Those aren't exactly great margins.
Biman Bangladesh is owned by the government, so presumably the primary motivation for this route would be prestige and business ties, rather than this necessarily being a money maker.
I also fail to see how the airline would have much of a competitive advantage here. It's not like this flight would be nonstop, and with an intermediate stop, this wouldn't be considerably more convenient than any of the other one-stop routings available between Dhaka and New York.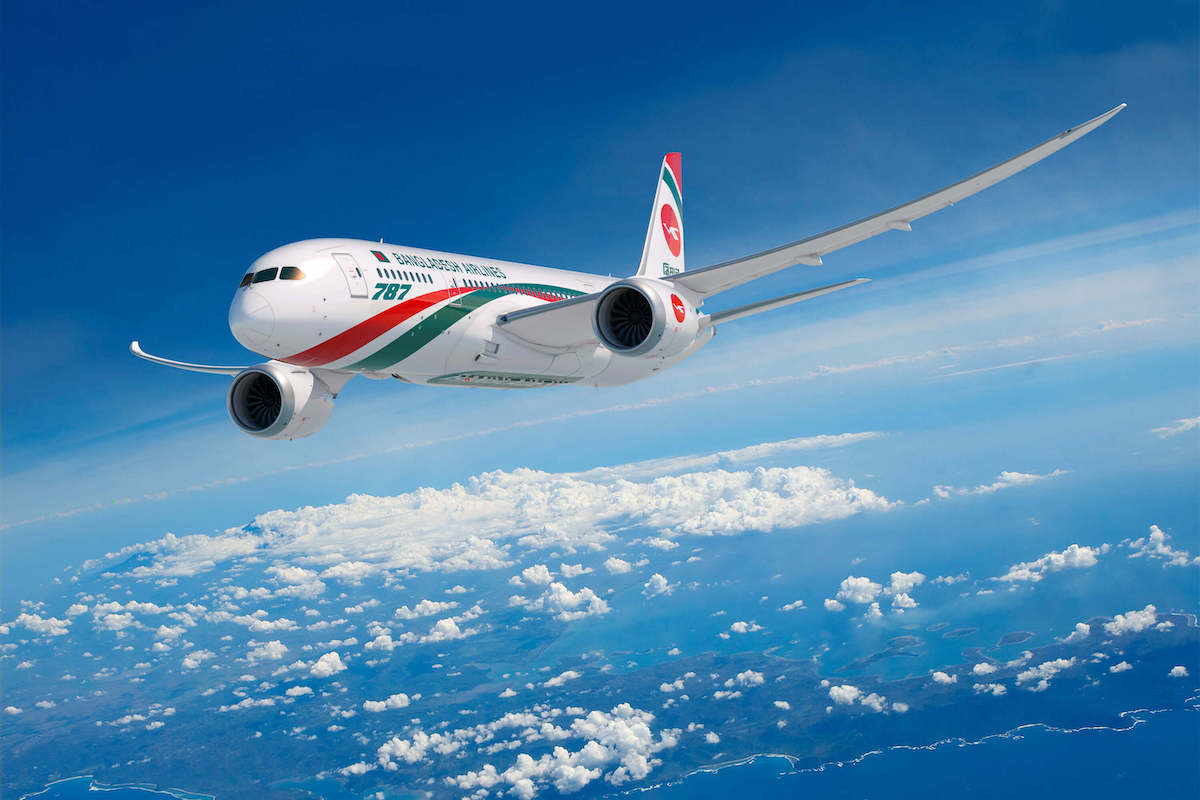 Bottom line
Biman Bangladesh is starting the process of once again resuming flights to the United States, for the first time since 2006. The airline hopes to fly from Dhaka to New York using Boeing 787s, with an intermediate stop in Izmir.
The airline has a massive uphill battle here. For one, Bangladesh needs a Category 1 FAA rating before any of this is possible. Then there's the whole question of how long this route has been sustained, given that the airline could see itself losing $53 million per year operating this route.
What do you make of Biman Bangladesh launching New York flights?