As flagged by @IshrionA, this is a rather odd concept that seemingly came out of nowhere.
The basics of airline startup Bermudair
A company named Bermudair has filed with the United States Department of Transportation (DOT), requesting a foreign air carrier permit. The airline startup wants to launch operations as soon as permission is granted.
Bermudair intends to initially fly two leased Embraer E175 aircraft. The planes have the registration codes VQ-BLU and BQ-BLW, and these are both roughly 10-year-old planes that used to operate for Flybe (which has gone out of business… twice). The planes do indeed show as having already been transfered to Bermudair, which is interesting.
Even more intriguing is that Bermudair intends to configure its E175s with just 30 business class seats. For context, while operating for Flybe, this planes had 88 economy class seats, so capacity will be cut by nearly two-thirds. Yow!
The airline has named three initial routes, as it intends to fly from Bermuda (BDA) to:
Boston (BOS) — once per day, 6x weekly
Fort Lauderdale (FLL) — once per day, 6x weekly
White Plains (HPN) — twice per day, 6x weekly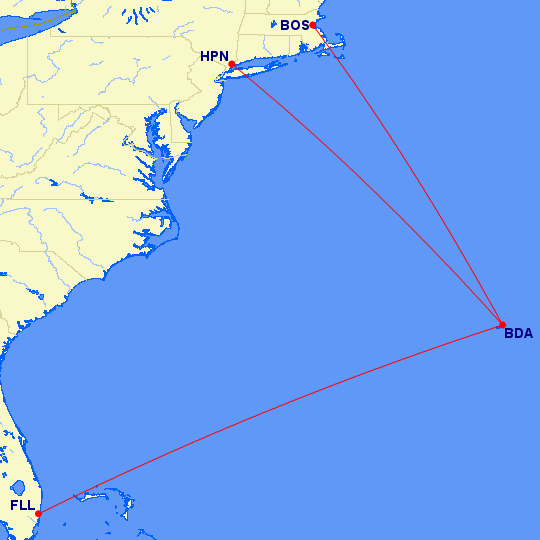 For those wondering who is behind this airline, the CEO is Adam Scott, while the CFO is John Bavister. They're both also behind Odyssey Airlines, which was an airline startup that intended to operate all-business class transatlantic flights from London City Airport (LCY) using Airbus A220s. That concept was initially unveiled over a decade ago, but the airline still hasn't launched.
My take on the Bermudair business concept
I love writing about airline startups, regardless of how real they might be. To Bermudair's credit, the airline has already filed with the US DOT and seems to have started the process of acquiring these two jets, which is a lot more than can be said about quite a few other "airline startups." So this isn't a teenager pulling a prank, with no intent of actually starting an airline.
That being said… this is a very strange business model, and I don't see any planet on which this makes sense. A few thoughts:
I suspect the reason for the 30 business class seats is so that the airline can be a Part 135 operator (similar to JSX), which means that pilots can be hired with fewer hours
This would be a ridiculously spacious configuration, as the seat count would be reduced by roughly two-thirds; for example, with 88 seats there would be 22 rows in a 2-2 configuration, while with 30 seats you could have 10 rows in a 1-2 configuration, with seats having well over 60″ of pitch
While I understand Bermuda has a fair bit of business demand (insurance, asset management, etc.), that alone doesn't justify launching routes like this; these aren't markets with New York to London levels of demand
I just don't get the economics of this concept; how are you going to fill 30-60 business class seats per day at high fares year-round between the United States and Bermuda?
This concept makes no sense to me, and I'd say odds that this airline won't launch. I'd love to be wrong, of course, since this is an intriguing concept. But if you're going to start an all-business class airline, it seems like Bermuda to the United States isn't necessarily the first market you'd consider.
Bottom line
Bermudair is an airline startup that intends to operate all-business class flights between Bermuda and the United States using former Flybe Embraer E175s. Not only that, but the company intends to configure these planes in an all-business class layout, with just 30 seats.
This airline seems "serious," in the sense that regulatory filings are being made, and planes are being leased. Whether or not the carrier actually launches is a different story, though…
What do you make of the Bermudair concept?