For a limited time, you can earn 60,000 Amex Membership Rewards points for opening a business checking account that potentially doesn't have any fees. This seems like a pretty great opportunity — I've opened an account, and was pleasantly surprised by how easy it was, so I'll share my experience below.
I wanted to post a reminder of this offer, as it will be expiring on Tuesday, January 3, 2023, so this is your last chance to open an account and earn the bonus.
American Express Business Checking basics
American Express Business Checking is Amex's business checking account concept. Here are some the basics of how this works:
The checking account offers a 1.3% APY on balances of up to $500K
The debit feature offers the ability to earn one Membership Rewards point for every $2 of eligible debit purchases
Membership Rewards points can only be redeemed for deposits into your checking account, unless you have another card earning Membership Rewards points, in which case they could be redeemed the same way as there (meaning you could transfer them to airline & hotel partners)
This is integrated into the Amex app, so that you can manage this checking account along with all of your other Amex accounts
There are no monthly maintenance fees for keeping an account, and no domestic ACH fees, domestic incoming wire fees, or international incoming ACH fees
You can get fee-free ATM withdrawals at 37,000 MoneyPass ATM locations nationwide

Ultimately if you're already in the American Express ecosystem, then this is a pretty competitive business checking account, especially if you like to self-service your account. Obviously Amex isn't a traditional bank and doesn't have branches, but for many of us that's not an issue.
You do need to have a business to open one of these accounts (as you may have guessed based on the name), though sole proprietorships do qualify.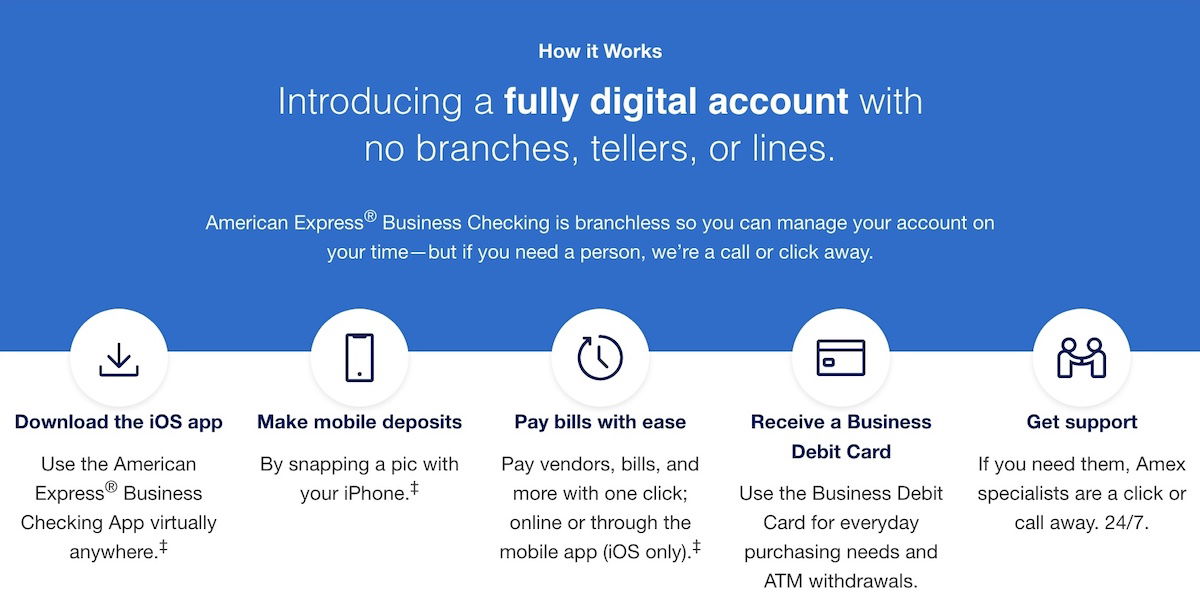 Earn 60K points with American Express Business Checking
There's a fantastic incentive to apply for an Amex Business Checking account right now. If you apply by Tuesday, January 3, 2023, you can earn 60,000 Amex Membership Rewards points. In order to earn this bonus:
You need to make eligible deposits of $5,000 or more within 20 days of opening your account
You need to maintain an average account balance of $5,000 for 60 days
You need to make 10 or more qualifying transactions within 60 days of account opening
For those wondering about what would be considered a qualifying transaction:
Qualifying transactions are mobile deposits, and electronic transactions, including ACH, wire, and bill payments
Business debit card transactions and deposits using the Redeem for Deposits features are not qualifying transactions
Those requirements seem easy enough to complete. To be clear, debit card transactions don't count toward the requirement, though electronic transfers from other accounts do count toward this, and should be an easy option.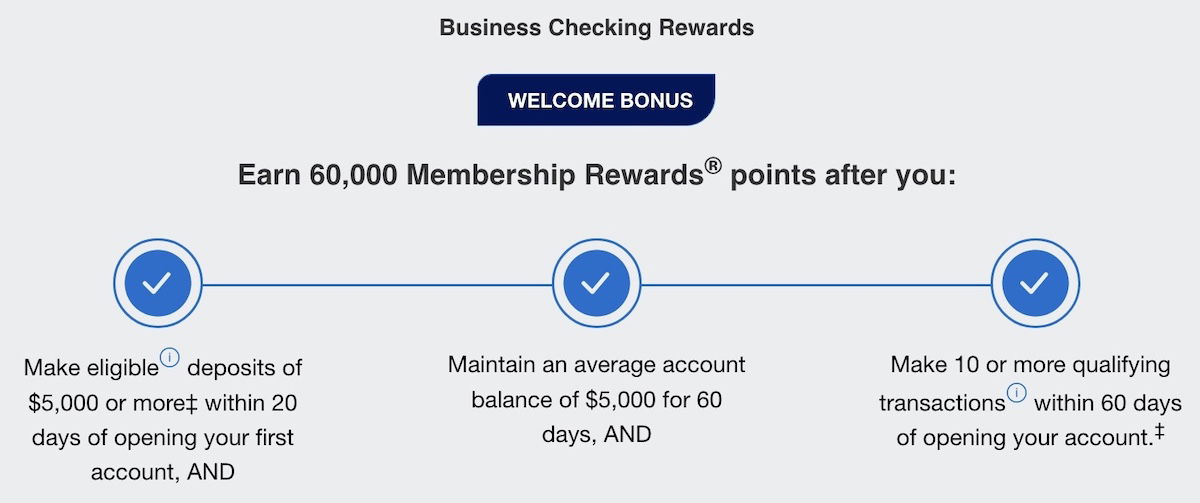 My experience opening an Amex Business Checking account
This opportunity sounded too good to pass up, so I've opened an Amex Business Checking account for my business, and figured I'd report back on my experience. I was very pleasantly surprised by how easy the whole process was.
If you have an existing Amex account, most of your information will be pre-populated during the application process. Furthermore, you can link any existing bank accounts Amex has on file, so you don't even have to enter that information manually.
To briefly go through the application process, first you'll want to log-in with your existing Amex credentials.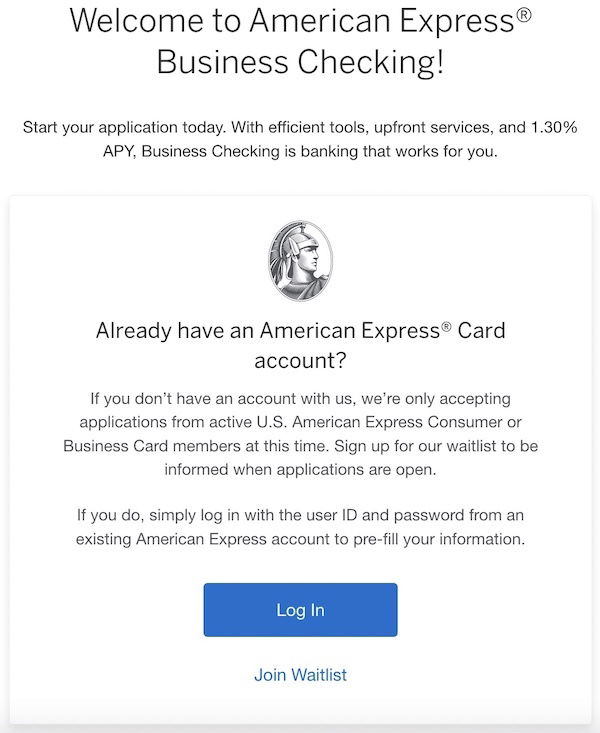 You'll then be able to start your application by selecting which Amex account you want to "pull" information from for your application. I chose one of my business cards.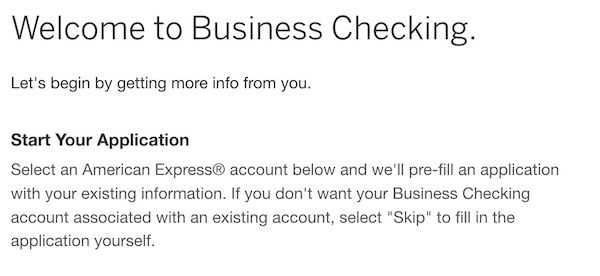 A lot of the information is already pre-populated, but you do have to enter things like your social security number, etc.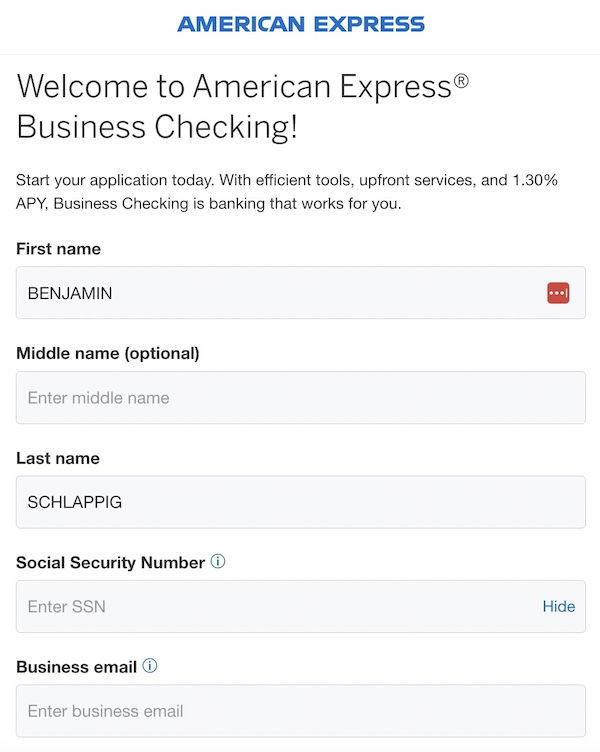 Then you have to answer a series of pretty straightforward questions about your business.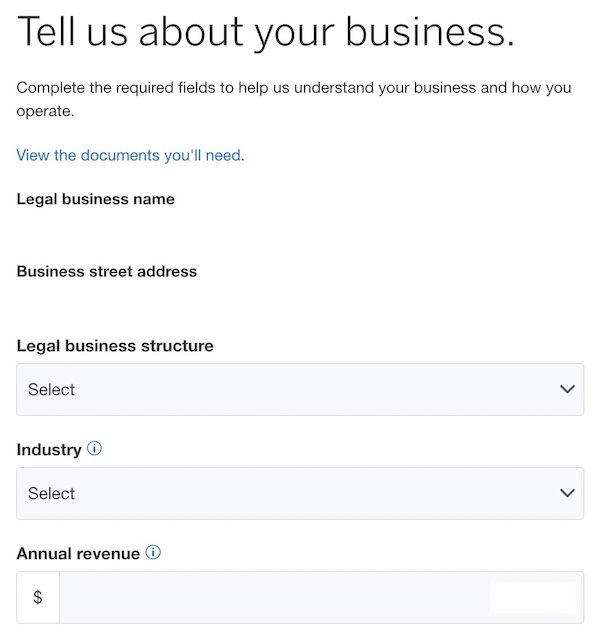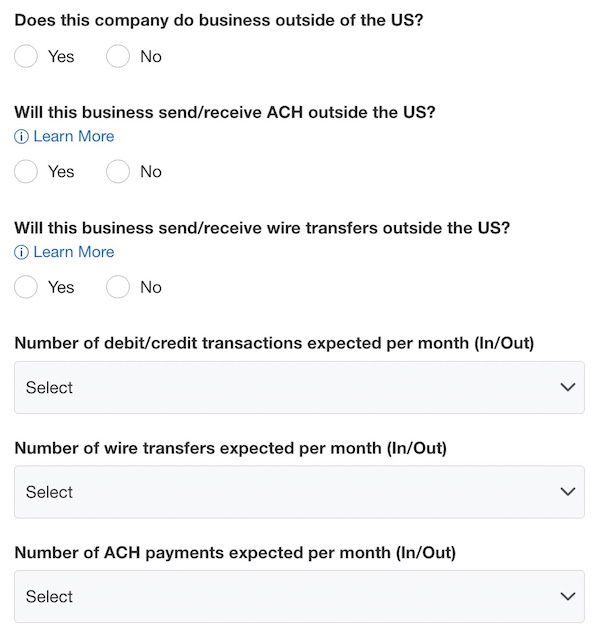 At that point I could submit my application, and I was instantly approved — woot! Note that some people are reporting having to upload business documents, but that wasn't something I was asked for during my application process.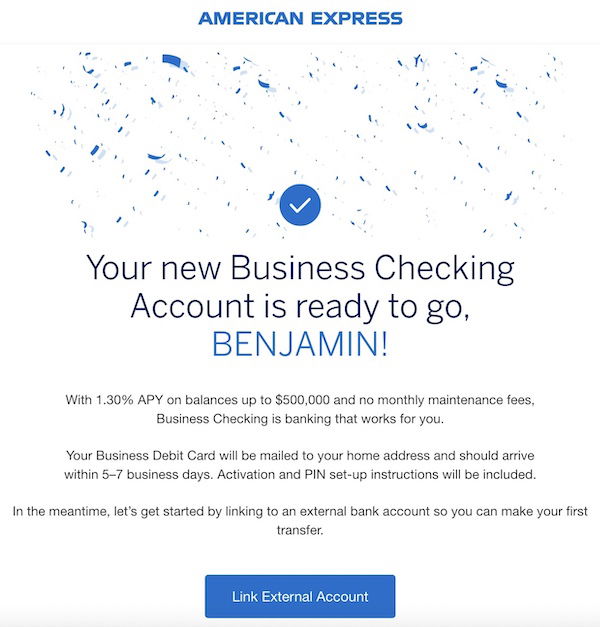 I could then link my bank account. This was easy, since I could just link the business checking account already associated with my Amex business cards.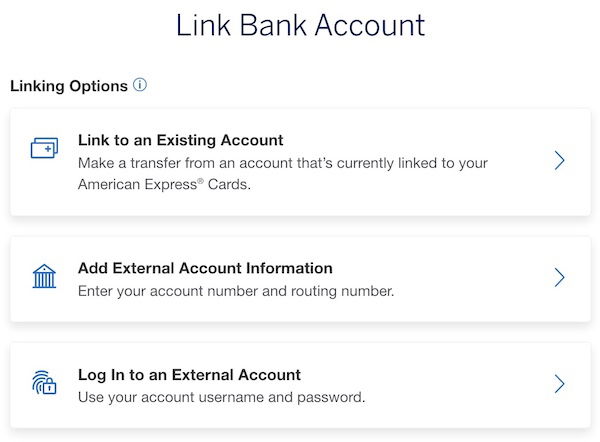 I have to say, I really like the dashboard for the Amex Business Checking account. It's nice how it's integrated into your Amex account with all of your cards, and it's easy to use. There's even a tracker on your dashboard showing how you're doing with your activities toward earning the welcome bonus.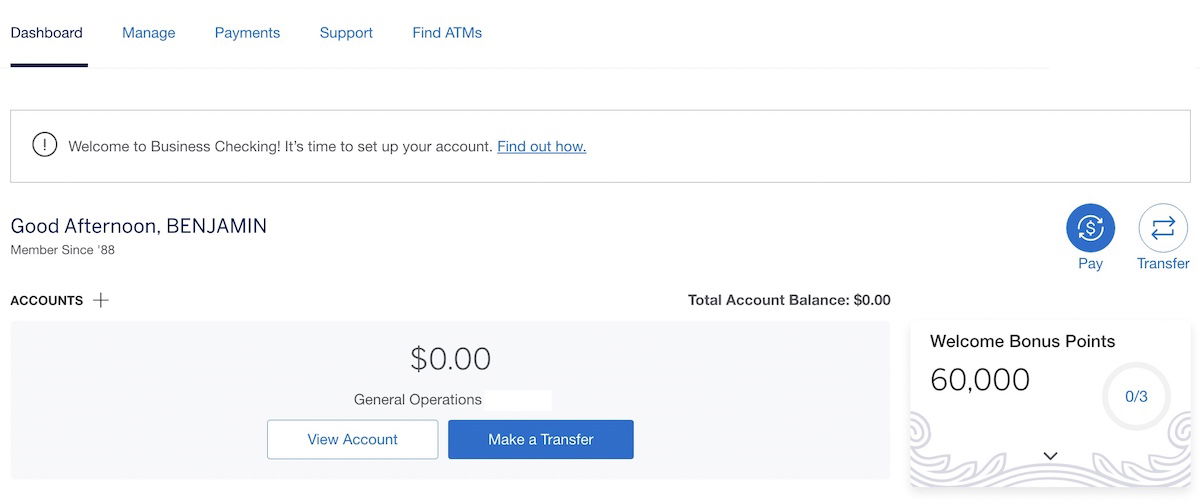 I've now also completed the 10 transactions required to unlock the bonus. How did I do that? Well, I had initially funded my account with $5,000, which is the average balance amount you have to keep in your account for 60 days. However, I then decided to simply make nine more transfers to my account, for $1,000 each.
I could even make multiple transfers per day (they just have to be at least five minutes apart if they're duplicate amounts). I figured this was a good idea anyway, since the interest rate here is higher than for my standard Chase business checking account.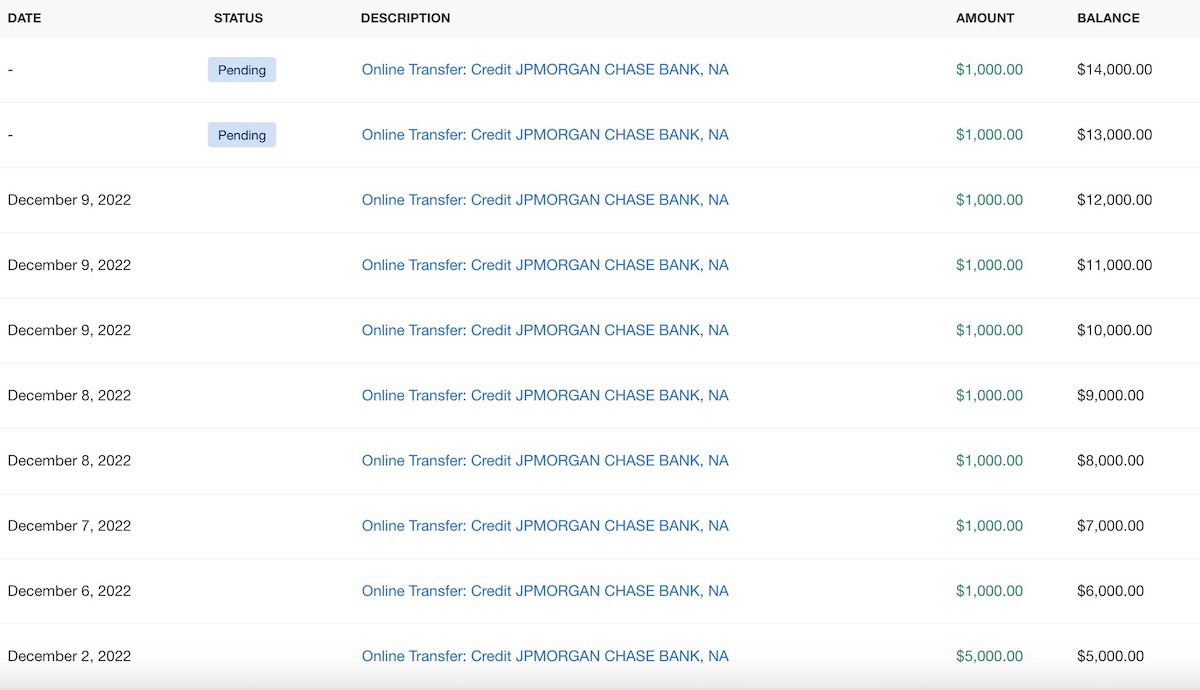 As soon as the 10 transactions showed in my Amex account, the dashboard updated to reflect that I've completed two of the three tasks required to earn the bonus. Now I just have to keep an average balance of at least $5,000 in the account for 60 days.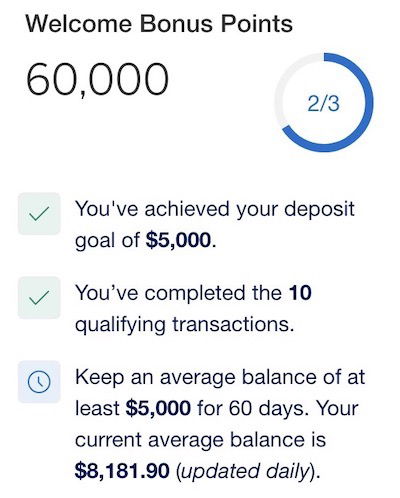 Now that I've opened this account, I actually think I might really like this Amex Business Checking concept, and could see myself keeping around this account in the long run. We'll see.
Bottom line
American Express Business Checking offers a solid and affordable business checking account option. At the moment you can earn 60,000 Membership Rewards points if you open an account and complete qualifying activity.
I went through the process of opening an Amex Business Checking account, and completing the 10 required transactions. I found the whole experience to be easy, and quite like the account interface as well. I could see myself keeping this account long term.
Anyone else plan on opening an Amex Business Checking account?