Alaska Airlines is making a minor change that will save a lot of plastic…
Alaska Airlines eliminates plastic water bottles
As of Thursday, November 4, 2021, Alaska Airlines will be making changes to its inflight water service. The airline will eliminate plastic water bottles, and will instead offer boxed water. Specifically, Alaska Airlines is partnering up with the "Boxed Water Is Better" brand. This water is in a 92% plant-based, fully recyclable, box-shaped carton, and is sealed with a plant-based cap.
On top of the switch from bottled water to boxed water, Alaska will also replace plastic cups with recyclable paper cups for those drinking water.
In early 2021, Alaska Airlines trialed boxed water in first class and Horizon Air-operated flights. The trial was successful, and in surveys passengers and employees stated that they preferred boxed water at a rate of two-to-one. That's why this is now being expanded even further.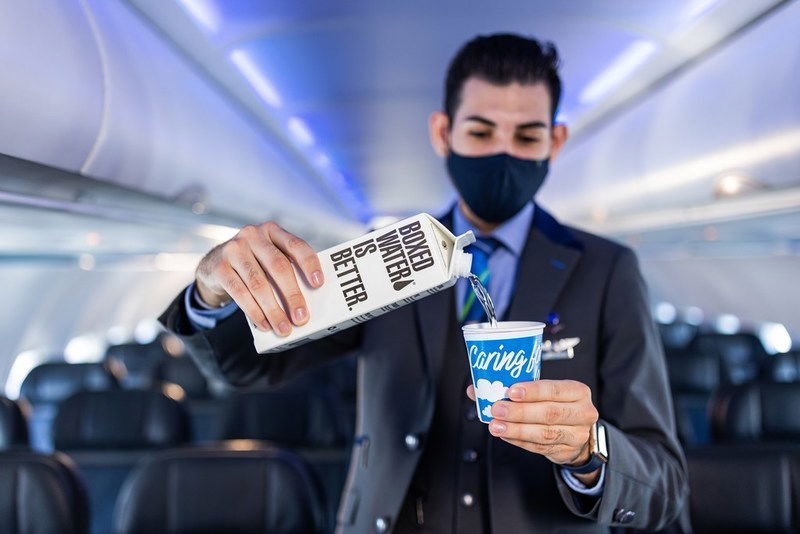 What's the impact of switching to boxed water?
Alaska Airlines claims that this change to inflight service will save an estimated 1.8 million pounds of single-use plastics per year. That's the equivalent of the weight of 18 Boeing 737s. It's stated that inflight water service is the single most significant contributor to onboard plastic waste, and that this change will remove 22 million plastic cups and 32 million plastic bottles per year from Alaska flights.
In early 2021, Alaska Airlines pledged to achieve net zero carbon emissions by 2040, and to be the most fuel-efficient airline in the United States by 2025.
Here's how Alaska Airlines' VP of Public Affairs and Sustainability, Diana Birkett Rakow, describes this change:
"As a West Coast-based airline, we fly to some of the most beautiful places on earth. Protecting these habitats is critical for our collective future, and reducing plastic waste is a key step. We're proud to partner with Boxed Water on our most impactful plastic-reduction initiative yet, on a continued journey to minimize inflight waste."
Bottom line
Alaska Airlines will shortly start serving boxed water with paper cups, in the process eliminating plastic water bottles and plastic water cups. This move is expected to remove 32 million plastic bottles and 22 million plastic cups from Alaska flights per year. This seems like an awesome development, so kudos to Alaska for rolling out this change. Here's to hoping we see similar initiatives from other airlines.
What do you make of Alaska Airlines' switch to boxed water?