South Korea's Air Premia has plans to launch a second route to the United States, and this is an interesting one.
Air Premia plans EWR flights as of May 2023
As of May 22, 2023, Air Premia intends to launch a 4x weekly flight between Seoul (ICN) and Newark (EWR). The new service will operate with the following schedule:
YP131 Seoul to Newark departing 9:05PM arriving 10:00PM
YP132 Newark to Seoul departing 12:30AM arriving 4:25AM (+1 day)
The 6,889-mile flight is blocked at 13hr55min to Newark and 14hr55min to Seoul. This will mark Air Premia's second route to the United States, as the airline started flying between Seoul and Los Angeles as of October 2022.
Air Premia will be the only airline to fly between Seoul and Newark. However, historically both Korean Air and Asiana have flown between Seoul and New York. With Korean Air and Asiana merging, this will provide some competition to the combined airline.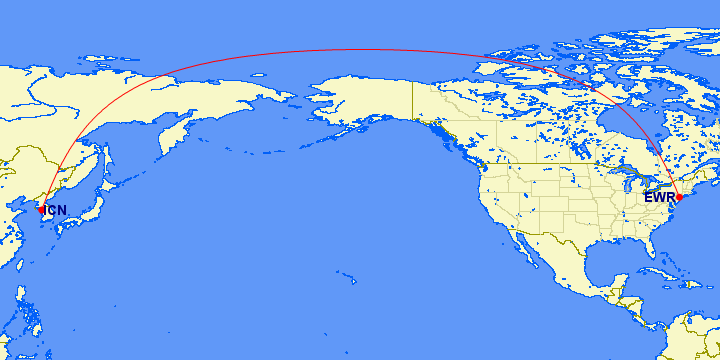 What is Air Premia, anyway?
Air Premia is a new hybrid airline startup in South Korea that launched operations in August 2021. The airline is founded by the former president of Jeju Air, which is Korea's largest low cost carrier. Air Premia plans on exclusively operating Boeing 787-9s, with a total of five on order — the airline already has three in its fleet, with a further two on order.
The airline currently operates from Seoul Incheon to Bangkok (BKK), Ho Chi Minh City (SGN), Los Angeles (LAX), Singapore (SIN), and Tokyo (NRT), for cargo and passenger flights. In the long run, the plan is for the airline to also fly to Australia and Europe.
The basics of Air Premia's Boeing 787-9s
Air Premia isn't a traditional low cost carrier. The carrier's Boeing 787-9s are in a two cabin configuration, featuring a total of 309 seats:
There are 56 premium economy seats, featuring 42″ of pitch
There are 253 economy seats, featuring 35″ of pitch (this is virtually unheard of)

Air Premia even has Wi-Fi on its Boeing 787-9s, which is something that's otherwise sorely lacking on Korean airlines.
Air Premia claims that economy tickets are priced at 80-90% of what Korean full service carriers charge in economy, while premium economy tickets are priced at 140% of what Korean full service carriers charge in economy.
Below is a video about Air Premia's Boeing 787-9 cabins (which is odd, and for that matter they can't even make the actor look like he finds the premium economy seat to be comfortable).
My take on Air Premia adding flights to Newark
We're seeing an increasing number of transpacific non-full service airlines launch (I'd say low cost carriers, but Air Premia isn't your traditional ultra low cost carrier). So far that expansion has exclusively been limited to the west coast of the United States and Hawaii.
As a matter of fact, when Air Premia launched, the company stated that planned destinations in North America included Honolulu, Los Angeles, San Jose, and Vancouver. In that sense, Newark seems to be coming out of left field, and is an interesting addition, given the sheer length of the flight. Fortunately the Boeing 787 has great economics, though still, it can be hard to make money on ultra long haul flights without premium business demand.
Air Premia will only have very limited connecting traffic for this route, it will clearly be primarily about serving the market between Seoul and the New York area. Admittedly that's a pretty substantial market, and if the pricing is attractive, I'm sure the airline will have no trouble filling seats. The question is whether the airline can do so profitably.
In fairness, we've seen a huge increase in transpacific fares in recent years, much more so than in other markets. That's because Chinese airlines have so greatly scaled back their route networks, and haven't been capacity dumping. With China now once again fully open, and Chinese airlines resuming more service, I'm curious how long that lasts.
Bottom line
South Korean carrier Air Premia has announced plans to launch Seoul to Newark flights as of May 2023. The airline will fly 4x weekly in the market, making this one of the longest routes in the world for a hybrid airline. I'm curious to see if the airline succeeds with this new service…
What do you make of Air Premia adding Newark flights?