In 2020 Air Greenland placed an order for a single Airbus A330-800neo. I've long been fascinated by the airline, so found this to be a particularly interesting development. This plane is now performing test flights and is fairly close to entering service, so I wanted to provide an update.
Basics of Air Greenland
Air Greenland is such a cool airline that I'm looking forward to flying, hopefully after it takes delivery of its new aircraft. Air Greenland currently has a single wide body plane, which is an Airbus A330-200, and it's used for flights to Copenhagen. On top of that, the airline operates a fleet of turboprops, which are used for flights within Greenland, as well as for flights to Iceland.
Air Greenland's Airbus A330-800neo order
In 2020, Air Greenland placed an order for an Airbus A330-800neo, intended to replace the company's current A330-200. The plan remains for the airline to take delivery of the plane in the coming weeks, during the fourth quarter of 2022. The aircraft is currently performing test flights with Airbus, prior to delivery.
The list price of the A330-800neo is 260 million USD, though I imagine the airline got a significant discount.
For context, the A330-200 that the airline currently operates is about 24 years old, as the plane has been flying since 1998. It initially flew for Sabena, and then has been flying with Air Greenland since 2002.
Air Greenland has tentatively scheduled the A330-800neo to enter service as of March 27, 2023. As of then, the plane is scheduled to fly between Kangerlussuaq (SFJ) and Copenhagen (CPH). Of course the schedule has the potential to be moved forward, given that delivery is expected well ahead of then (though training can take some time).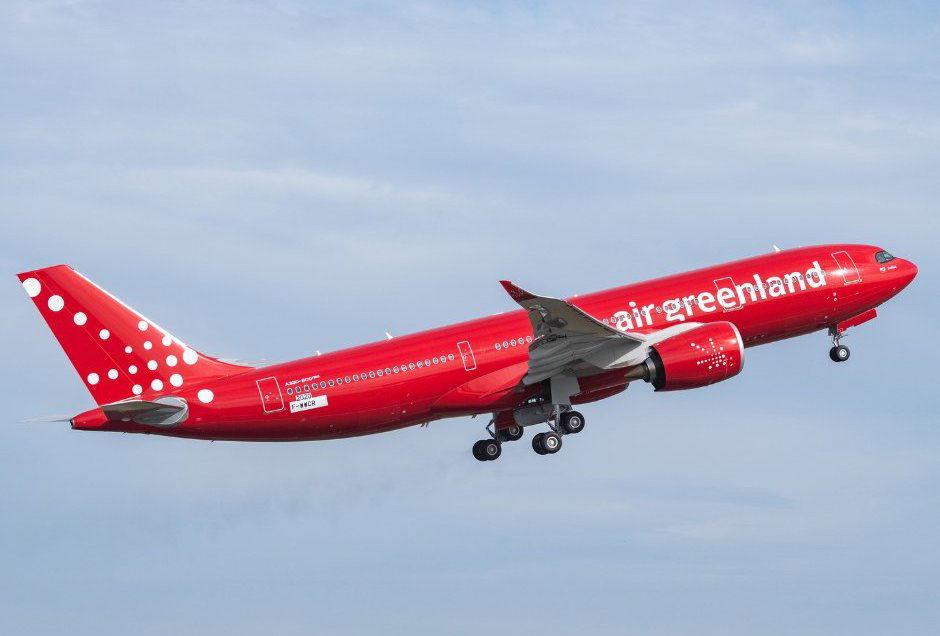 Why the Airbus A330-800neo is unpopular
In a way, Air Greenland's decision to order an A330-800neo is surprising, because this has been an incredibly unpopular plane. While the A330-900neo has been popular (with over 260 of the planes having been ordered by airlines), there haven't even been a dozen orders for the A330-800neo.
Aside from Air Greenland, the A330-800neo is flown by Kuwait Airways and Uganda Airlines, and has also been ordered by Garuda Indonesia, but that's it.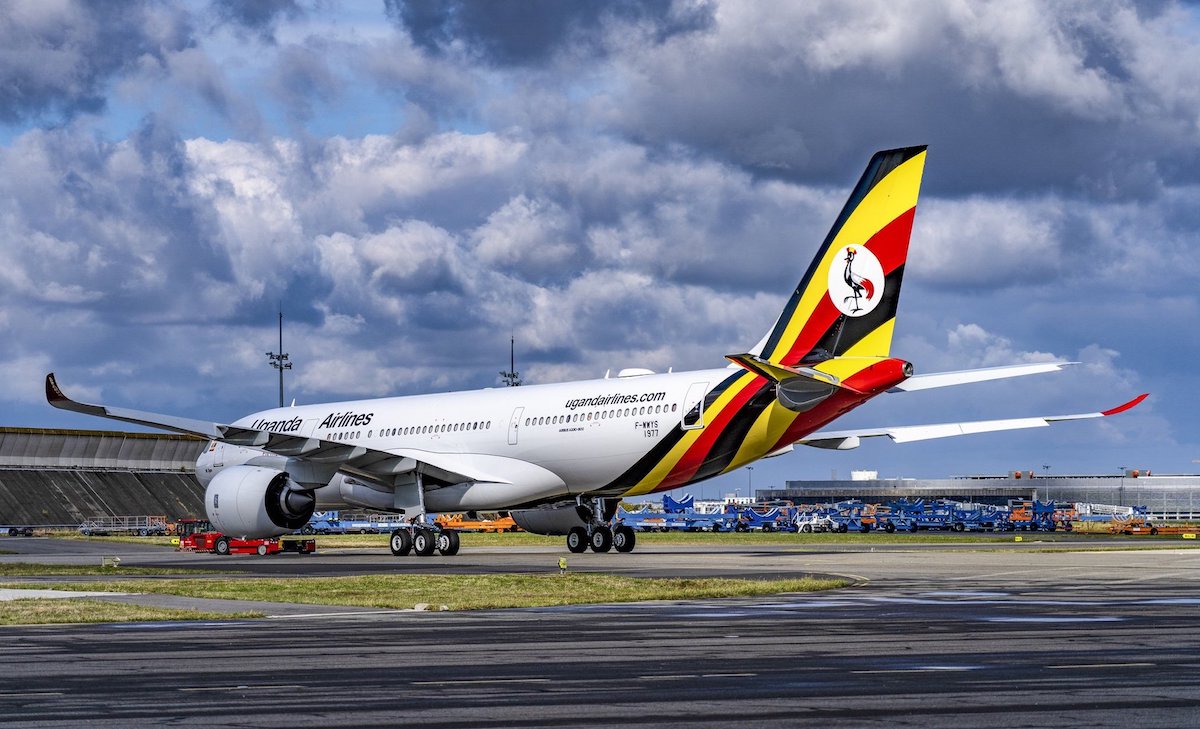 Just to compare the specs of the A330-800neo and A330-900neo:
The A330-800neo has a standard capacity of 257, while the A330-900neo has a standard capacity of 287
The A330-800neo has a range of 8,150nm, while the A330-900neo has a range of 7,200nm
The reason it's surprising that Air Greenland chose the A330-800neo is because the airline certainly doesn't need the additional range. I can understand how Air Greenland maybe doesn't need the extra capacity of the A330-900neo, but the reality is that the incremental operating cost is truly marginal for the extra capacity.
Then again, perhaps the airline can take advantage of the additional weight limit for cargo, as the Air Greenland flight to Copenhagen is one of the primary ways that supplies are shipped to Greenland. Furthermore, I believe the A330-800neo has better takeoff performance, if the airline is looking to expand to other airports in Greenland (which I'll discuss below). Lastly, I also imagine Air Greenland probably got a better deal on the jet.
Air Greenland Airbus A330-800neo configuration
I was curious to see what kind of cabins Air Greenland would install on its A330-800neos. Given that the airline exclusively flies short flights, I wasn't expecting anything too exciting, but I was hopeful that maybe we'd see something cool. Well, unfortunately I'm pretty disappointed, and it looks like these jets may represent a downgrade for the passenger experience.
For what it's worth, Air Greeland's A330-200 features 278 seats, including 30 business class seats and 248 economy seats.
Business class seats are only slightly more spacious than you'd find in domestic first class in the United States, so it's not much to get excited about. That's ultimately logical, given that Air Greenland's longest flight is under five hours, and the airline doesn't operate any redeyes.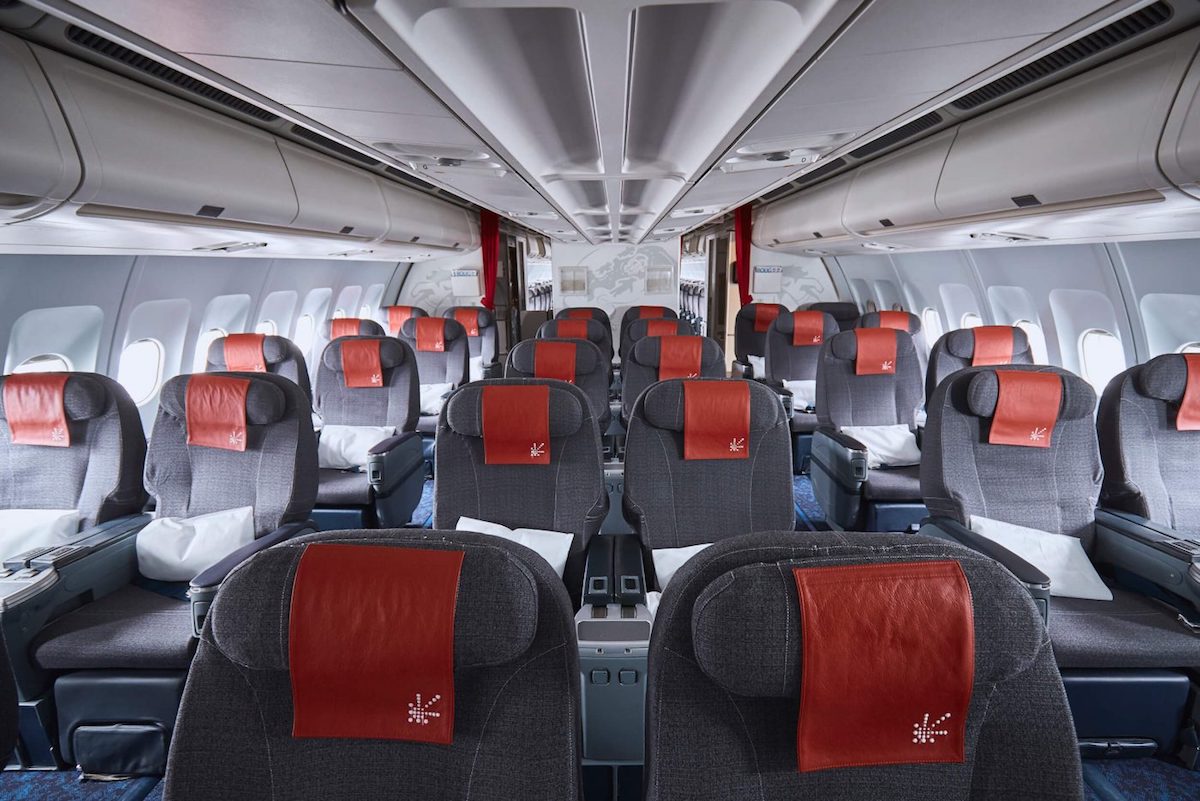 Air Greenland's A330-800neo will be really dense, as the plane will feature a total of 305 seats, including 42 business class seats and 263 economy class seats. Looking at the seatmap, business class will be in a 2-3-2 configuration, so it'll be even tighter than what's available now.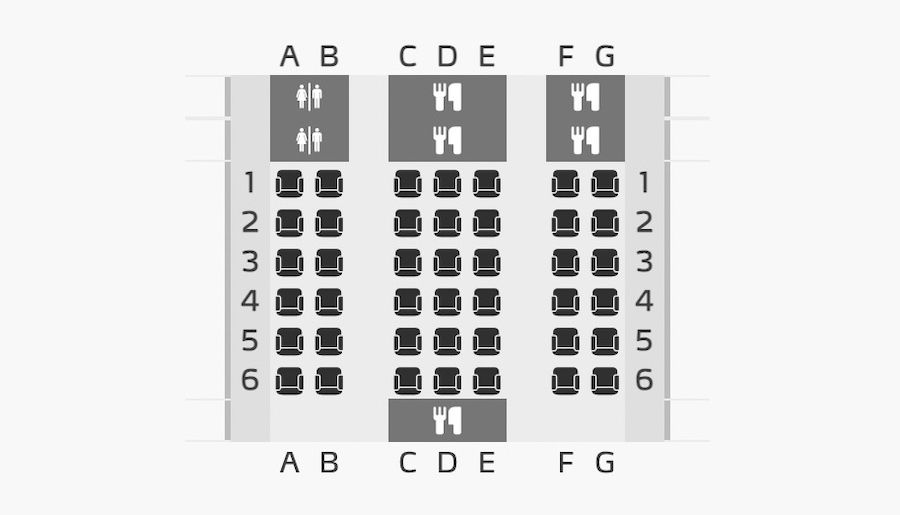 Below is a rendering of Air Greenland's new business class seats. Is it just me, or does that look like a lot of recline for a seat with very little room? Something must be wrong here, right? Like, you couldn't even watch your seatback TV if the person in front of you reclined.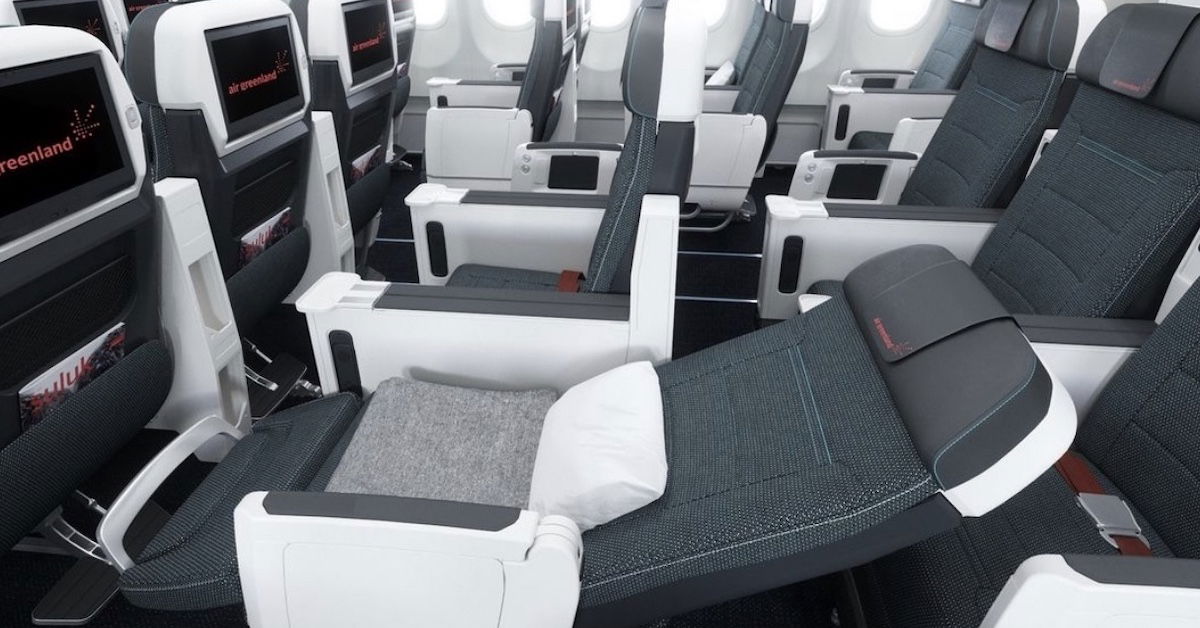 Meanwhile economy looks pretty standard for an A330, with the cabin being in a 2-4-2 configuration, and seatback entertainment at every seat.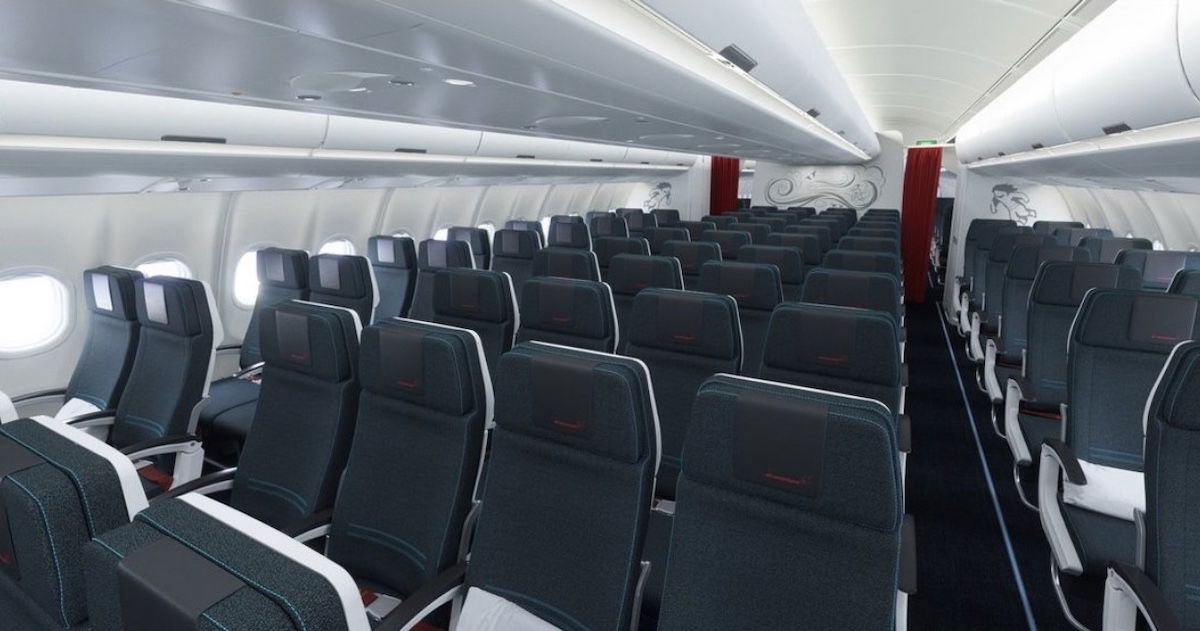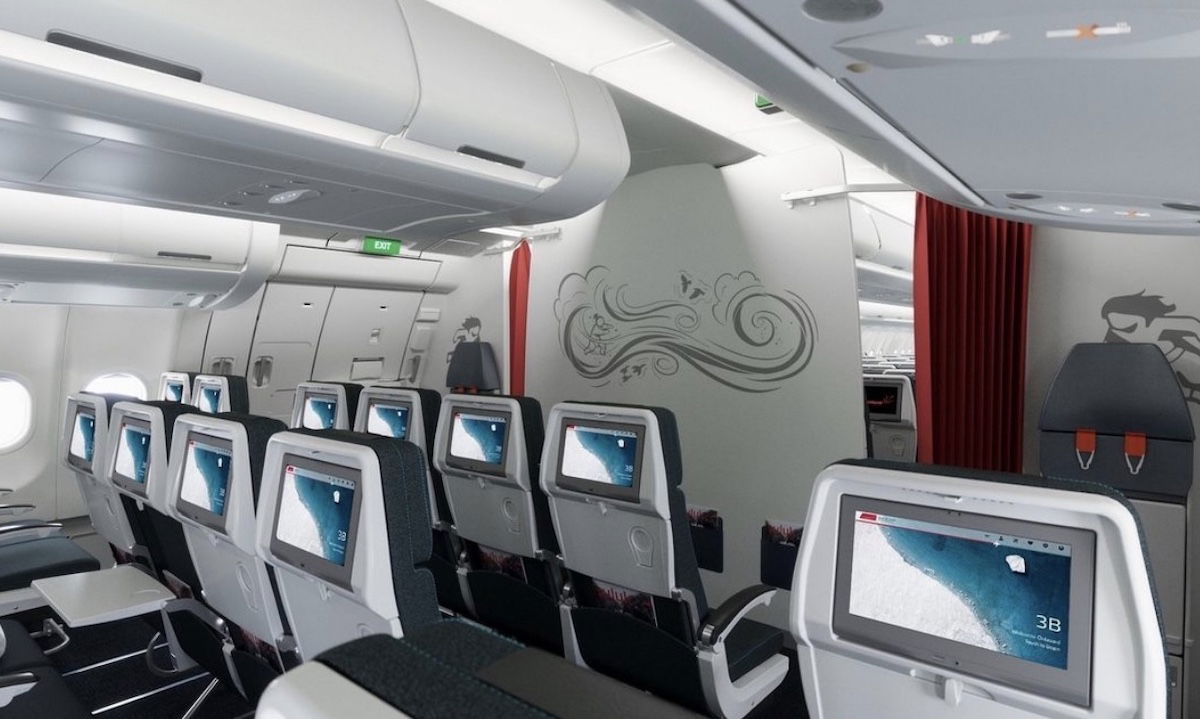 Greenland is expanding two airports
Bigger picture when it comes to aviation in Greenland, it's interesting to note how routes in the country may be changing. Currently Air Greenland's A330 exclusively operates between Kangerlussuaq and Copenhagen. Kangerlussuaq isn't a major destination in Greenland, but rather it's just the only airport with a runway capable of handling the A330.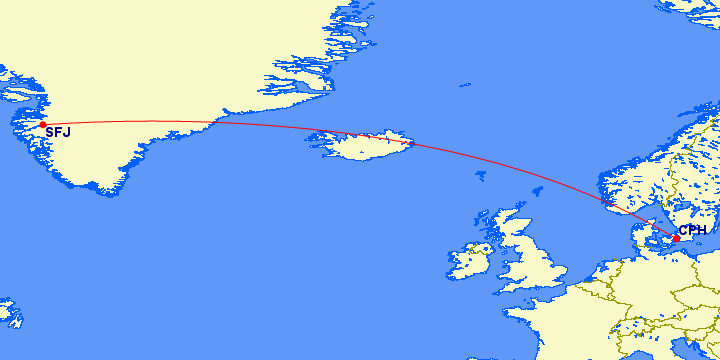 That will be changing over time. The two biggest tourist destinations in Greenland are Ilulissat and Nuuk, though currently their airports are only capable of handling smaller planes.
In 2020 it was announced that new airports are expected to open in Ilulissat and Nuuk. Last I heard the plan was for this to happen in late 2023, though only time will tell if that timeline sticks. Once that happens, the plan is to operate direct flights from Copenhagen to those destinations.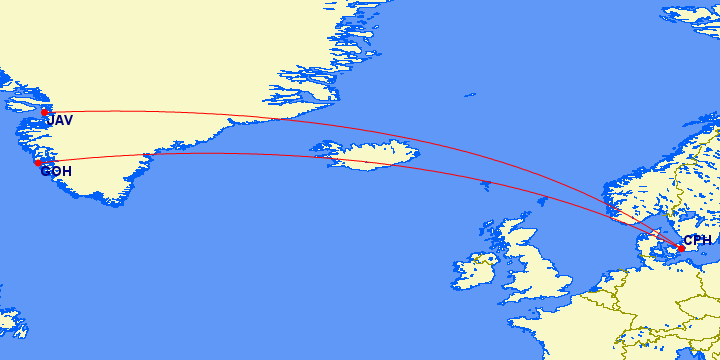 The hope is that tourism to Greenland will increase by double digits, between the opening of these new airports, along with the increase in capacity from the new plane.
Could Air Greenland ever fly to New York?
I know I'm totally dreaming here and this will almost certainly never happen, especially since Air Greenland only has a single long haul plane. But it sure would be nice to see a nonstop flight from the United States to Greenland.
Currently if you want to go to Greenland you can either:
Fly to Copenhagen and then backtrack to Greenland
Fly to Iceland, and then backtrack to Greenland on a three hour turboprop flight
New York to Nuuk is only about ~1,850 miles, so it's shorter than any flight from Copenhagen. It would be so cool to eventually see a seasonal, twice weekly flights between the markets, though unfortunately I doubt we'll ever see that.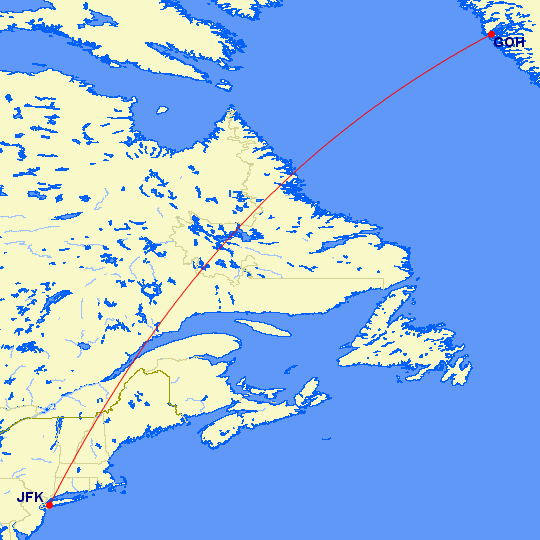 Fortunately service between Canada and Greenland is at least on the horizon, as Canadian North is considering flying to Greenland. The airline is planning a strategic partnership with Air Greenland, which could see the airline launch several routes, including:
Ottawa to Iqaluit to Ilulissat
Ottawa to Iqaluit to Nuuk
Toronto to Ilulissat and/or Nuuk in the summer months during the tourist season
It's incredible to think that the flights from Iqaluit to Ilulissat and Nuuk are just 500-600 miles.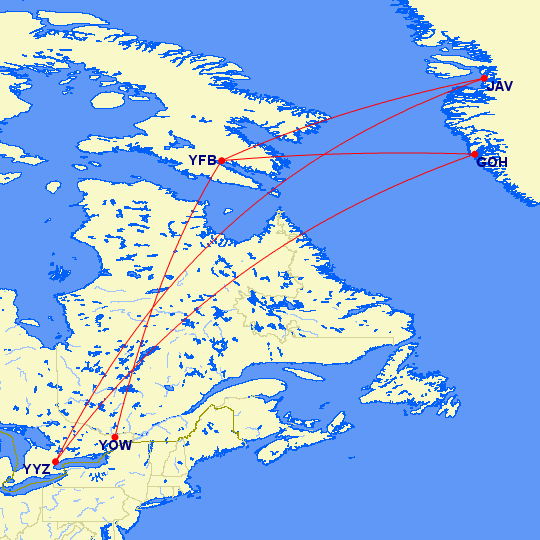 Bottom line
In 2020, Air Greenland placed an order for an Airbus A330-800neo. The plane is currently performing test flights, and should join the carrier's fleet in the coming weeks, prior to entering commercial service in March 2023.
While I'm excited to see Air Greenland take delivery of this unique jet, unfortunately don't expect much when it comes to the onboard product. Air Greenland is likely introducing a worse business class product on this plane, as there will be seven seats per row.
It's an exciting time for aviation in Greenland, between Air Greenland's A330-800neo order, Canadian North considering flights to Greenland, and airports in the country being expanded.
What do you make of Air Greenland's A330-800neo?