It looks like this may actually be happening — color me surprised!
Atlantic Airways & the Faroe Islands
The Faroe Islands has been on my bucket list for years (for those of you not familiar, it's located East of Iceland and North of the UK). I've heard it has incredible nature, and it's not nearly as overrun with tourists as the major hotspots in Iceland.
One of the reasons it's probably not as touristy is because there's fairly limited air service. Atlantic Airways is the airline of the Faroe Islands, and they only have three planes (one A319 and two A320s). In March 2019 they're also expected to take delivery of two A320neo aircraft.
Historically they've operated quite a few seasonal routes, but their big year-round destinations are Bergen, Billund, Copenhagen, and Reykjavik, in addition to summer seasonal flights to some other European destinations.
In July I wrote about rumors that Atlantic Airways was considering flying to New York. This was according to media in the Faroe Islands, though an Atlantic Airways representative claimed to know nothing about this.
Atlantic Airways does in fact want to fly to New York
It looks like this is in fact happening. Atlantic Airways has filed with the US Department of Transportation requesting permission to operate seasonal flights between the Faroe Islands and New York as of late summer 2019.
The airline proposes using a 180 seat Airbus A320neo for the route. The flight would cover a distance of just over 3,000 miles, so should be within range for the aircraft.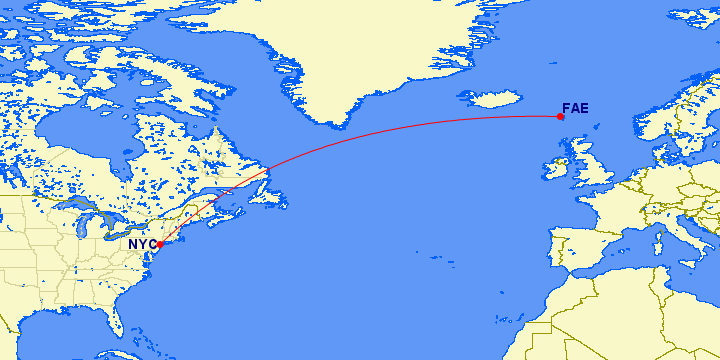 To be honest, I didn't think we'd actually see this happening. I figured it was one of those cases where something sounded fun, but the airline wouldn't follow through.
While the Faroe Islands is on all kinds of lists of hot, emerging travel destinations, it's not a terribly popular destination with Americans yet. For example, looking at the Faroe Islands' 2016 annual report, Americans accounted for only about 3,300 "bed nights." Presumably in most cases rooms have double occupancy, though I imagine most people stay for at least a few days, so that means there were likely fewer than 3,300 American tourists.
I suspect this isn't due to a lack of interest, though, but rather due to a lack of a practical way to travel between the US and the Faroe Islands. Maybe this new direct flight will actually create a lot of demand.
What do you think — while few Americans have visited the Faroe Islands, do you think this route will stimulate demand?
(Featured image courtesy of Waka77)