Back in late March, Atlantic Airways announced plans to fly to the United States, though in a very limited capacity. The airline has now put these flights on sale, so I wanted to look at the schedule and fares.
Atlantic Airways & the Faroe Islands
First for some background, the Faroe Islands are located East of Iceland and North of the UK. The destination has been on my bucket list for a long time, and boasts incredible nature, and isn't nearly as overrun with tourists as the major hotspots in Iceland.
One of the reasons it's probably not as touristy is because there's fairly limited air service. Atlantic Airways is the airline of the Faroe Islands, and only has three planes in its fleet (one A320 and two A320neos), each featuring 174 seats in a one cabin configuration. Historically the airline has operated quite a few seasonal routes to Europe, with year-round destinations including Billund, Copenhagen, Reykjavik, and Oslo.
For years, Atlantic Airways has been considering adding flights to New York. Up until now that hasn't come to fruition, but that will finally be changing.
Atlantic Airways' new route to New York
Atlantic Airways has announced that it will operate flights to New York in 2023:
The service will run from August 22 through October 4, 2023
The flight will operate once weekly, westbound on Tuesdays and eastbound on Wednesdays (presumably so that the crew can spend one night in New York, rather than having to stay for a week)
The service will operate between Vagar Airport (FAE) and Stewart Airport (SWF)
There will be a bus service timed for this flight to & from New York City, which passengers can buy tickets on
Atlantic Airways will use an Airbus A320neo for the route, featuring 174 economy seats
Flights are on sale as of May 17, 2023
The flight will operate westbound on Tuesdays and eastbound on Wednesdays, with the following schedule:
RC407 Vagar to Stewart departing 4:30PM arriving 6:50PM
RC408 Stewart to Vagar departing 10:45AM arriving 10:05PM
The 3,024-mile flight is blocked at 7hr20min westbound and 6hr20min eastbound.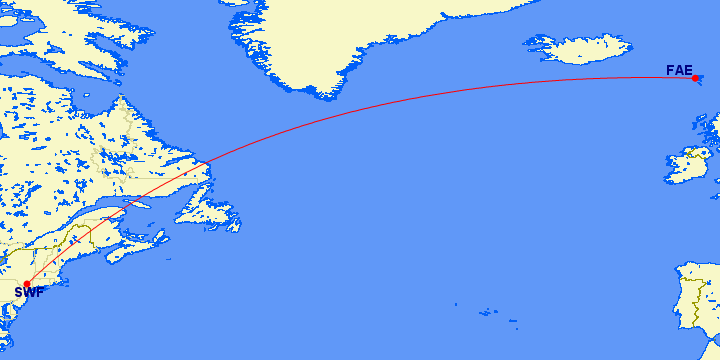 Atlantic Airways' flight pricing to New York
Now that Atlantic Airways' flights between the Faroe Islands and New York are on sale, what are the fares like? For the flight to New York, I see fares starting at $458 for the cheapest fare, up to $866 for the most expensive ticket.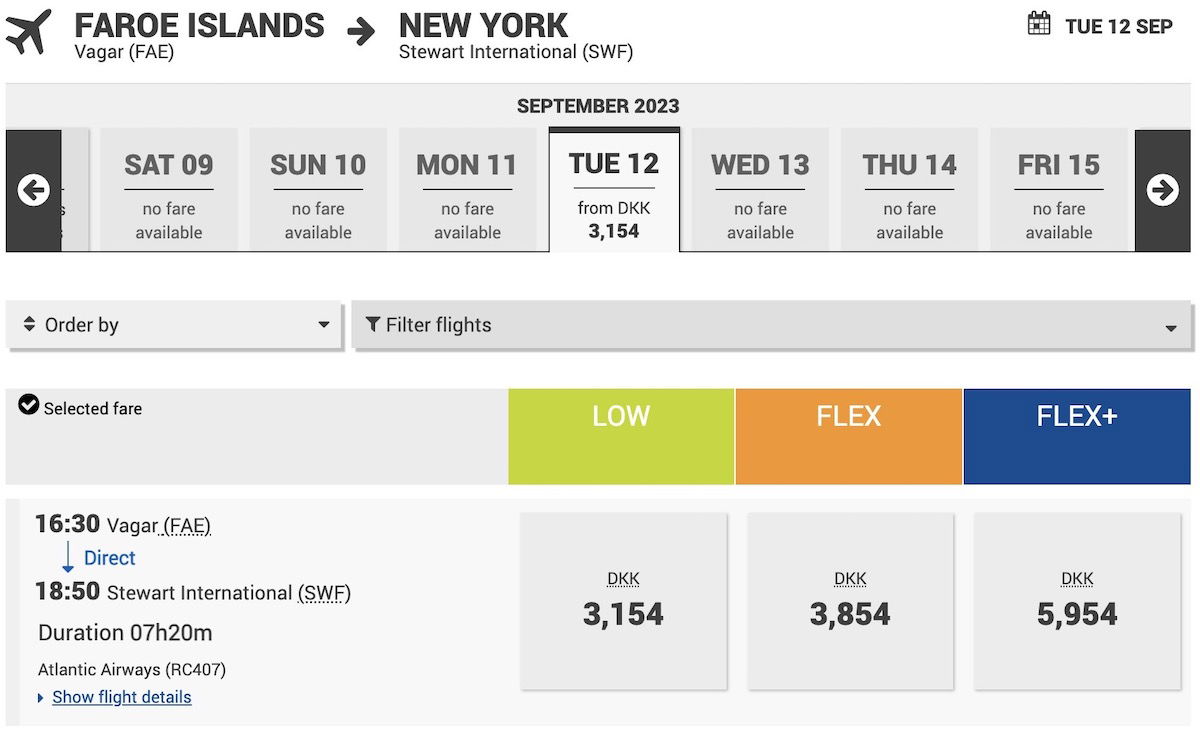 For the flight to the Faroe Islands, I see fares starting at $416 for the cheapest fare, up to $828 for the most expensive ticket.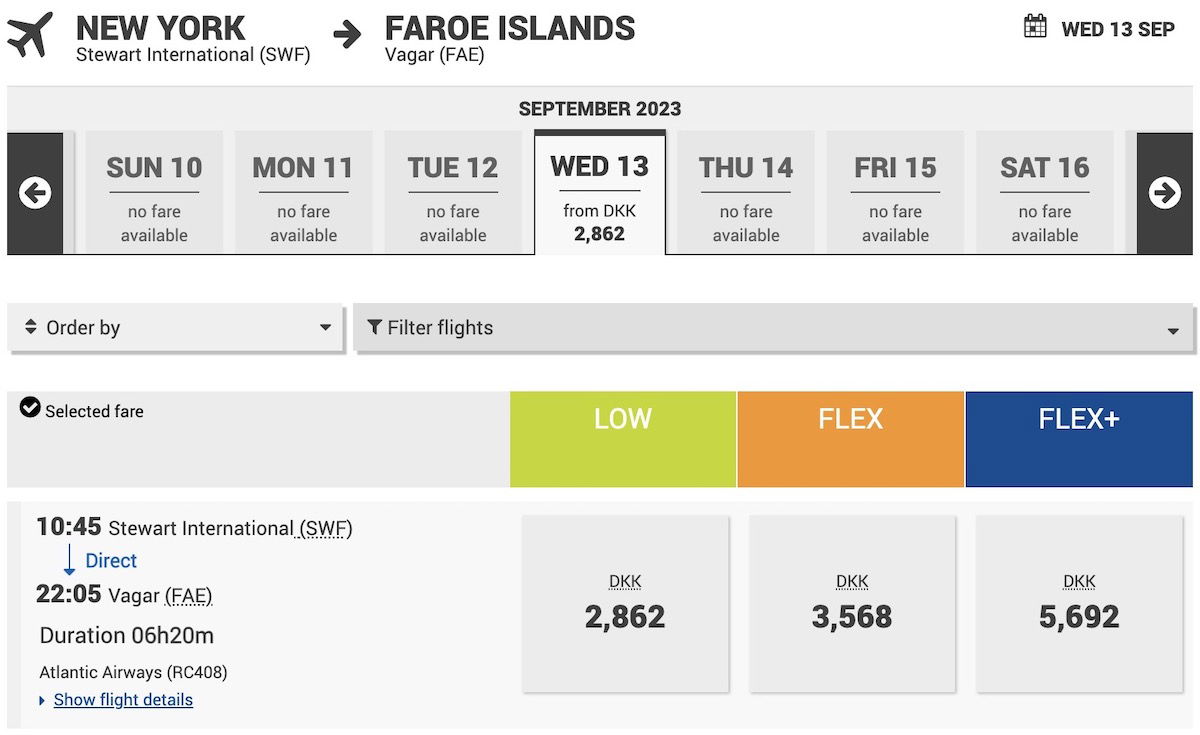 Below you can see what's included with each of these fare bundles.

My take on Atlantic Airways' service to New York
It's always fun to see airlines trying something new. This is a route that Atlantic Airways has been teasing for years, so it's exciting to see that it's finally happening this summer. Unfortunately I'm a little bit skeptical as to the viability of this route:
I understand the airline has a limited fleet and needs these planes for other routes in the peak summer season, but this route is operating after when most people in the United States have school holidays, so this won't be practical for most families
With once weekly service, the flight operating on Tuesdays and Wednesdays won't be convenient for most travelers looking to maximize vacation days
While Stewart Airport is a low cost airport that has space to accommodate Atlantic Airways, it's probably an airport many people aren't familiar with, and it's also not ideal for those booking a positioning flight
The lack of a premium cabin on Atlantic Airways may make some rich New Yorkers with time on their hands less likely to take this flight, since they might not consider flying economy across the Atlantic
Don't get me wrong, I'm excited to see this service launching, I just think the execution here might limit the potential interest. I think once weekly midweek flights after the summer peak would perform very differently than twice weekly flights over the summer peak.
The Faroe Islands hasn't historically seen many American visitors. For example, looking at the Faroe Islands' 2016 annual report, Americans accounted for only around 3,300 "bed nights." Presumably in most cases rooms have double occupancy, though I imagine most people stay for at least a few days, so that means there were likely fewer than 3,300 American tourists.
I suspect this isn't due to a lack of interest, though, but rather due to a lack of a practical way to travel between the US and the Faroe Islands. Maybe this new direct flight will actually create some demand, even if the schedule isn't ideal.
Bottom line
Atlantic Airways plans to operate a flight between the Faroe Islands and New York in the late summer and early fall of 2023. The route will operate just half a dozen times between late August and early October. While this route is awesome to see, unfortunately the execution here will leave a bit to be desired for many travelers, in my opinion. If you're interested in taking this flight, tickets are now on sale.
It's nice to see this service finally happening. Now if only Canadian North could launch a route between the Canadian Arctic and Greenland…
What do you make of Atlantic Airways' service to New York?