The Maldives is about as "aspirational" as travel destinations get, and unfortunately it's a royal pain to get there on points in most instances.
However, Korean Air will be launching service between Seoul Incheon and the Maldives starting March 9, 2013. The flight does route through Colombo, Sri Lanka, so it's quite funny that yet another airline will be offering service between Colombo and Male (in addition to Sri Lankan, China Eastern, and Emirates).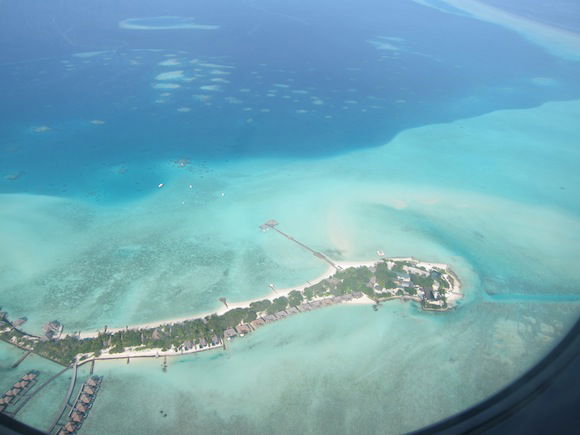 Flying into the Maldives
The new service will be operated by an Airbus 330-300, and will have the following schedule:
Korean Air 473 Seoul Incheon to Male departing at 10:40PM and arriving at 6:40AM (+1 day)
Korean Air 474 Male to Seoul Incheon departing at 3:30PM and arriving at 6:10AM (+1 day)
There are a few things that make this service really unique.
First class service to the Maldives
The flight is being operated by a three cabin plane with first class. Admittedly it's Korean Air's regional first class, but still, it's a first class product. Most airlines, like Singapore, Etihad, Qatar, British Airways, etc., don't offer a first class cabin to the Maldives.
The ability to (eventually) redeem Delta SkyMiles for travel to the Maldives
Currently there aren't any especially easy ways to get to the Maldives using Delta SkyMiles. You can fly Malaysian through Kuala Lumpur, though availability isn't great and the fuel surcharges can be hefty. The other option is Aeroflot through Moscow, though I haven't found availability to be good on the Moscow to Male segment. This will open up yet another option, probably the most direct between the US and the Maldive using SkyMiles. Now, I don't see availability loaded onto delta.com yet, though I'm sure it's just a matter of time. Delta charges 80,000 SkyMiles for a roundtrip coach award between the US and Maldives, and 120,000 SkyMiles for a roundtrip business award.
The ability to redeem for multiple premium cabin seats through Korean Air SkyPass/Chase Ultimate Rewards
I love Chase Ultimate Rewards points for a few reasons. One is the ability to transfer them to United MileagePlus miles, which is among the most valuable points currencies out there.
But I also don't think Korean Air's SkyPass program gets enough credit. While I haven't flown them, their first class product seems to be quite good. But what really makes the program awesome is just how many first class award seats they release. Nowadays it can be a real stretch to find two first class award seats between the US and Asia on a single flight at the "saver" level, while I find Korean Air to consistently have two to four first class award seats available on their own flights. So basically I'm finding space from just about any US gateway for at least two passengers for most dates that the service is operating.
You can't argue with that amount of award space!


As far as the SkyPass award costs go, here's their chart for travel to Southwest Asia:

So it's 95,000 miles for coach, 170,000 miles for their premium (Prestige Sleeper) business class, and 210,000 miles for their premium (Kosmo Suite) first class product. You can also do a one-way for half the mileage. Keep in mind that Korean Air offers Airbus 380 service to many of their US destinations, so you can even incorporate an Airbus 380 into this trip.
(Tip of the hat to Points, Miles & Martinis)