The only good thing about misconnecting at IAD this past weekend was having time to check out the new Lufthasa lounge at IAD. The lounge is located near gate B51, which is quite a hike from the C&D concourses, where United flights depart from. First you have to take the shuttle to the A&B concourse, which takes five minutes at most, but it's a long walk from there. It took me a little over five minutes, but I was walking pretty fast. Either way, it's a nice walk since it's past all the fun airlines, like Austrian, Air France, SAS, South African, Virgin, etc. The B concourse is beautiful, compared to the massive trailers known as the C&D concourses.
It's pretty easy to spot the lounge, given that the exterior is bright orange. The sign says that that the lounge is open from 1PM until 7:30PM. Upon entering there's a desk on the left. The nice thing about this lounge is that you can use it as a Star Gold traveling domestically, even if you're a United or USAir Star Gold!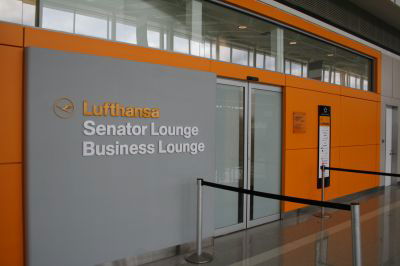 The agent admitted me to the Senator lounge, which was located to the left. To the right there was a set of stairs which lead down to the Business lounge.
The Senator lounge is a decent size, with tables, bars, stools, and a large seating area (located on the other side of the wall in the picture below).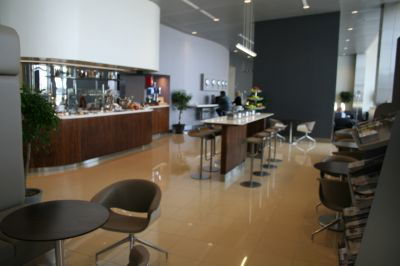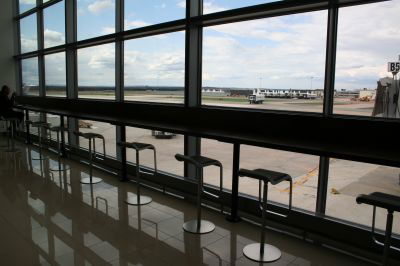 The food spread was fantastic, especially when you take into account that we're at Dulles Airport. They had salad, all kinds of meat (both hot and cold), potatoes, German Pretzels, fruit salad, cheese, sandwiches, wraps, cheesecake, cookies, gummy bears, jelly beans, etc. And it goes without saying that all beverages are complimentary.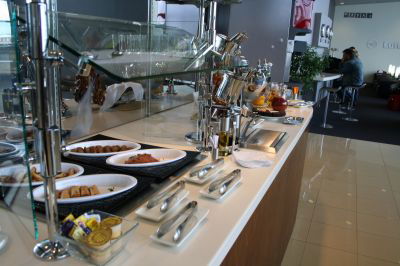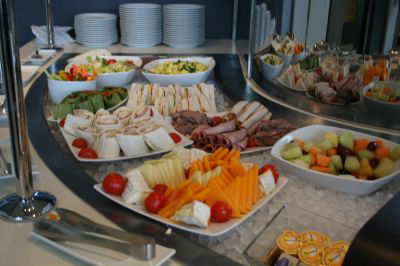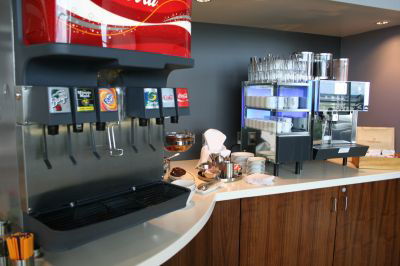 There are also two computers in the lounge for complimentary use, although otherwise you have to pay for internet, which kind of sucks. Still, this lounge is awesome, and I highly recommend checking it out before your next domestic flight.